Minnesota Vikings:

NFL Draft 2014
May, 7, 2014
May 7
1:05
PM ET
[+] Enlarge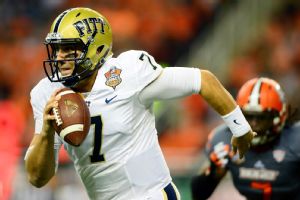 Andrew Weber/USA TODAY SportsAs the NFL draft nears, it appears that quarterback Tom Savage's stock is rising.
MINNEAPOLIS -- We're (finally) less than 36 hours from the start of the NFL draft, which means we're bringing our look at the
Minnesota Vikings
' quarterback draft options in for a landing. We'll wrap things up with a final post tomorrow on a couple other options, but we'll give our final solo spotlight today to a quarterback who has been attracting plenty of attention in the past few weeks.
Pittsburgh quarterback
Tom Savage
didn't show up as a top name in many early mock drafts, after putting up forgettable numbers behind the Panthers' shoddy offensive line, but his size and arm strength have earned him mention as a sleeper quarterback. The Vikings brought him in for their top-30 prospects event last month, and Savage has said he's met with 24 of the 32 teams in the league. Longtime NFL scout Gil Brandt, who drafted
Troy Aikman
with the
Dallas Cowboys
in 1989,
compared Savage to him last fall
, and according to NFL draft wonk Tony Pauline, the
New England Patriots
are
referring to Savage as "Tom #2,"
for the comparisons he evokes to
Tom Brady
.
So what gives? Is Savage really worth the late-developing buzz he's attracting before the draft? Once again, we'll consult our in-house experts: ESPN NFL scout Matt Williamson, who used to be a college and pro scout for the
Cleveland Browns
, and ESPN NFL analyst
Louis Riddick
(the former pro personnel director for the
Philadelphia Eagles
).
2013 stats:
61.2 completion percentage, 2,958 yards, 21 touchdowns, nine interceptions.
NFL combine measurements:
6-foot-4, 228 pounds, 31 5/8-inch arm length, 9 5/8-inch hand span.
Pros:
Savage has plenty of arm strength to make the tough throws required of a NFL quarterback, and of the quarterbacks who might be available on the second day of the draft, Riddick sees Savage as being a possible match for the Vikings. The Brady comparisons come from Savage's release, which looks similar to the Patriots quarterback's setup and allows Savage to make quick, clean throws with velocity. "The top of the second round is very reasonable," Riddick said. "If you're somewhere between (picks) 32 and 38, I would take him and keep on trucking."
Cons:
Williamson wasn't as high on Savage, saying he didn't think the quarterback was worth a second-round pick and would need more seasoning after starting just one year at Pitt. "The old (Bill) Parcells rule is where you want a three- or four-year starter with X number of reps under your belt," Williamson said. "He also had some really good receivers. That kid (Tyler) Boyd here at Pitt, nobody knows about him, but he's going to be a first-round pick someday. His line in front of him was very bad. He made a statement there; he's very tough. But he'll miss some open guys, too." According to ESPN Stats & Information, Savage was off-target with 24.7 percent of his passes,
which was the worst among the 10 quarterbacks ESPN NFL Nation reporter Kevin Seifert analyzed here.
Bottom line:
There's quite a bit of projection required with Savage, and he'd have to go to a team that could afford him time to sit and learn. That might explain some of the Patriots' interest in him, but the Vikings could have a favorable setup, where Savage can bide his time behind
Matt Cassel
, learn from Norv Turner and step into an offense with plenty of talent around him once he's ready. "It's important he continues to get the level of coaching in order for him to reach what really is tremendous potential," Riddick said. "Development programs across the NFL are not uniform. The thing about Minnesota is, Norv's one of the best. It's almost like a perfect match if he holds the prospect in the same regard." If the Vikings are still looking for a quarterback on the second day of the draft, and they're willing to let Savage grow before putting him on the field, the Pitt quarterback's name could be one to remember.
May, 7, 2014
May 7
8:00
AM ET
MINNEAPOLIS -- Since he started running the
Minnesota Vikings
' drafts in 2007, Vikings general manager Rick Spielman hasn't been shy about making moves before and during the draft. Spielman has made 16 trades involving an exchange of draft picks, trading up seven times and moving down in the draft nine times. And when Spielman's had reason to move up, it's usually been because he has his eye on an impact player: his moves up the draft board netted
Cordarrelle Patterson
,
Harrison Smith
and
Brian Robison
, among others.
(The Vikings technically moved down in the 2008 draft, based on the exchange of picks in the
Jared Allen
trade, but the deal might have been Spielman's boldest with the Vikings, bringing a four-time Pro Bowler to Minnesota in exchange for four picks. Additionally, they got the 187th pick in the trade with the Chiefs, and used it to take center
John Sullivan
.)
This year, if the Vikings are going to make a trade in the first round of the draft, it seems likely their first step would be a move downward; Spielman typically likes to have 10 picks in a draft, and is currently in possession of eight. He could pick up a couple more if the Vikings move back from the No. 8 overall pick, and that might give Spielman the flexibility to do what he's done each of the last two years, moving back into the first round to take another player.
Spielman said on Tuesday that he'd already received three calls and two text messages about possible trades, adding he'd already had offers for the Vikings' second- and fourth-round picks, among others. "Everybody is just kind of starting to line up their dance partners," he said. "It doesn't usually happen till (you) get on the clock. At least you know on potential teams who may be interested in coming up into your spot."
On Tuesday, Spielman said, the Vikings went through one of the exercises they'd used the last two years, running through a four-hour scenario of how the Vikings would handle a trade down and whom they'd target if they moved back to a certain spot.
"We do that when we're at our secondround picks (too)," Spielman said. "We go through all different kinds of mocks. To me, people get tired of talking about everything. But the more I hear things, the more we can put ourselves in scenarios, when it comes up on draft day, you've already kind of experienced the worst thing that can happen to you on draft day and how you would react.
"I think that's really helped especially over the last two years of knowing when to move down, when to trade back up, when to go get players that you covet. I think that's been beneficial. I love to be active on draft day."
May, 6, 2014
May 6
4:10
PM ET
EDEN PRAIRIE, Minn. -- Well, our ESPN NFL Nation mock draft has concluded, and for a third consecutive year, the
Minnesota Vikings
have traded back into the first round. Acting as the GM for the Vikings, I gave up my second-round pick (No. 40 overall), my fourth-rounder (No. 108) and the sixth-rounder I acquired from Houston (No. 177) to acquire the
Denver Broncos
' first-rounder and take Fresno State quarterback
Derek Carr
.
Carr
I was in trade talks to move up to No. 29 for the third year in a row, trading with the
New England Patriots
for the second straight year, until the
Jacksonville Jaguars
came up to grab Louisville quarterback
Teddy Bridgewater
. The price turned out to be better at No. 31, and I got to hang onto both of the Vikings' third-round picks.
Now, for Carr: There are some concerns about how he handles pressure, as ESPN NFL scout Matt Williamson said both in our mock draft today and in
our look at Carr last week
. But he'll be playing behind a solid offensive line in Minnesota, he's got the arm to make all the throws required in Norv Turner's offense and he's shown a strong command of an offense. And by taking him in the first round instead of the second, the Vikings would have the benefit of the fifth-year option that's automatically tagged onto each first-round pick's contract. For a player taken in 2011, that option would only pay $9.686 million in 2015, which is well below market value for a quarterback playing well enough to earn the option and keep himself in a team's long-term plans.
Yes, it's a risk, but so are many of the quarterbacks in this year's draft. In the Vikings' offense, I thought Carr was a good enough fit to be worth a shot at No. 31.
"He's going to want a guy who can hit those 15-, 20-, 25-yard dig routes, the deep post, the go route, the deep comeback on the outside -- which is really the hardest throw to make in the NFL," ESPN NFL analyst Louis Riddick said earlier this week. "To me, the one guy who can really do that, if you look at some of his older film when he was running a pro-style offense in college, is Derek Carr. Now, is Derek Carr supposed to go that high? Is he supposed to be a top-10 pick in the draft? No, he's not. But he is the guy who can really do it."
April, 24, 2014
Apr 24
12:15
PM ET
In his
latest mock draft
, ESPN NFL draft expert Todd McShay made his picks as though he were the general manager for every team in the league. In other words, he's picking the player he thinks the team should take, not necessarily whom they will take.
That's an important distinction to make, because in this particular case, it illustrates how badly the Vikings need to address their quarterback position for the future.
March, 6, 2014
Mar 6
11:00
AM ET
Todd McShay's third NFL mock draft for 2014 is out on ESPN Insider today. Of course the Vikings would ideally love to land a franchise quarterback with this pick and might even consider trading up to do so. Landing with Norv Turner,
Adrian Peterson
, some quality receiving weapons and a good offensive line, Minnesota would be a great spot for a rookie quarterback. But if that isn't in the cards, the Vikings really could more or less take the best defensive player remaining on their draft board. In fact, the Vikings could be a prime trade-down contender if they don't go quarterback.
Whom does McShay have the Vikings drafting at No. 8?
Let's take a look
:

To continue reading this article you must be an Insider