Minnesota Vikings:

Pittsburgh Steelers
September, 28, 2013
9/28/13
3:15
PM ET
PITTSBURGH -- One of countless measures as to why
Adrian Peterson
is the best running back on the planet: The Vikings star is perceived to have gotten off to a slow start even though he has rushed for 281 yards and three touchdowns in three games.
One of countless reasons why the Steelers can't think they are catching Peterson at a good time: He had 230 rushing yards through three games last year and finished with 2,097 yards -- eight fewer than Eric Dickerson's NFL single-season record.
[+] Enlarge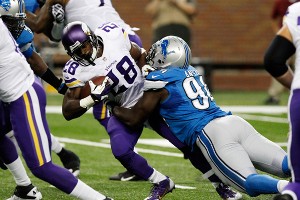 AP Photo/Duane BurlesonPittsburgh defenders know they're in for a battle Sunday against Vikings RB Adrian Peterson. "He fights for every yard," Troy Polamalu said.
Not that the Steelers don't know what they are up against when they face Peterson and the equally desperate Vikings at Wembley Stadium in London on Sunday.
"When you watch film of him, you can have an even greater appreciation for how good he is," Steelers free safety
Ryan Clark
said. "He's more talented than everybody else, but he also tries to outwork everybody else. He runs like an undrafted free agent."
Combine a maniacal work ethic with freakish physical ability and it adds up to Peterson making a serious run at Dickerson's record less than a year after tearing his ACL.
What the Steelers referenced in regard to Peterson's greatness were the runs that don't show up on "SportsCenter" or any other highlight shows.
They are the shorter ones where Peterson makes something out of nothing simply because of the indomitable will that the reigning NFL MVP also applied to his recovery from a major knee injury.
"He fights for every yard," Steelers strong safety
Troy Polamalu
said. "That's something a defensive player can really respect. We scratch and claw for every inch on defense. When you see somebody on offense that's really doing that and not running out of bounds, you get a lot of respect from defensive players for that."
The Steelers will show plenty of respect to Peterson, and not just when he runs the ball. Defensive coordinator Dick LeBeau said the 6-foot-1, 217-pounder is also the biggest weapon in Minnesota's passing game since play-action opens up the field for the Vikings receivers.
The Steelers largely contained Peterson the only other time they played against him.
He gained 129 yards of total offense and scored a touchdown, but the Steelers limited Peterson to just 3.8 yards per carry.
If they can hold him to similar numbers in their second meeting, the Steelers have to like their chances to finally get into the win column this season.
That is how important Peterson is to the Vikings offense.
"We have to try to match his mental approach to the game," Clark said. "Physically, he's going to probably be one up on everybody but Troy [Polamalu], so for us we've got to be physical with him, get people to the ball and try to get him on the ground."
September, 27, 2013
9/27/13
1:00
PM ET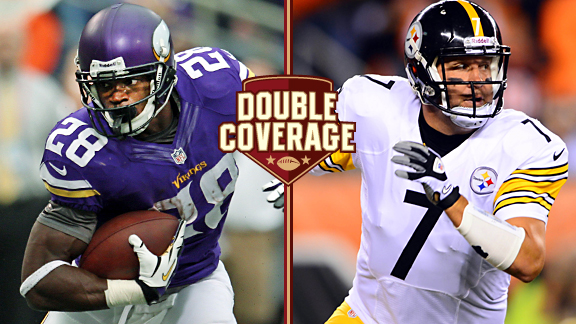 USA TODAY SportsEither Adrian Peterson's Vikings or Ben Roethlisberger's Steelers will leave London with a win.
As exports go, sending the
Minnesota Vikings
and
Pittsburgh Steelers
to London this weekend probably wasn't what the NFL had in mind.
Both teams are 0-3. The Vikings have the second-most turnovers in the NFL (10), and the Steelers are third with nine turnovers. Pittsburgh has yet to force a turnover on defense, and the Vikings gave up last-minute touchdowns the last two weeks in losses to the
Chicago Bears
and
Cleveland Browns
.
And yet, one of these teams will likely head back across the Atlantic Ocean with a win on Sunday. The other will probably have to say goodbye to their already-slim playoff hopes, so there's plenty on the line in London on Sunday. To set up the game, ESPN.com Vikings reporter Ben Goessling and Steelers reporter Scott Brown got together to break things down:
Ben Goessling:
Well, Scott, I don't think this is what either of us expected this game to be -- both of these teams, badly in need of a win, looking lost as they head over to London. For me, the most surprising thing with the Vikings has been how much trouble they've had getting
Adrian Peterson
going.
He's clearly missed fullback
Jerome Felton
(who's back this week) and he's admitted to trying to do too much on a number of runs. I think Peterson gets going this week as he follows Felton's lead, but I can't say I expected him to have only three runs longer than 10 yards through three games. What has surprised you most about how the Steelers have struggled?
Scott Brown:
Ben, to put the Steelers' running game into perspective, consider this: Their leading rusher,
Felix Jones
, has 71 yards, or seven yards fewer, than Peterson had on his first carry of the season. As bad as the running game, and the offense in general, has been, I am most surprised that the defense hasn't made more of what coach Mike Tomlin calls splash plays, especially since
Troy Polamalu
is healthy and has looked terrific. In addition to their lack of takeaways, the Steelers have yet to force a turnover.
Takeaways have been an issue since 2011, and the Steelers have to find a way to force turnovers if they want to have any chance of turning their season around. Speaking of defensive issues, the Vikings have been atrocious against the pass. Is this a get-well game for
Ben Roethlisberger
?
Goessling:
Yes, I think it could be, especially considering how many issues the Vikings appear to have in their secondary.
Chris Cook
,
Jamarca Sanford
and
A.J. Jefferson
are all in some danger of missing the game Sunday, which would likely leave
Josh Robinson
and
Marcus Sherels
as the starters, and
Xavier Rhodes
as the only other healthy corner on the roster.
I've always thought Roethlisberger is one of the league's best at exposing a suspect secondary, since he can extend plays and force defensive backs to stick on their receivers longer than they should need. As effortlessly as everyone has been able to throw on the Vikings so far, I don't see why Sunday's game should be much different.
Let's switch sides of the ball. If
Christian Ponder
plays -- and that appears to be in at least some doubt now that he has a rib injury -- he'll have to properly diagnose the Steelers in their 3-4 defense. As hesitant as Ponder can be sometimes, is this a chance for the Steelers to put some heat on a quarterback?
Brown:
Dick LeBeau will try to confuse Ponder, and the longtime defensive coordinator has traditionally tormented young quarterbacks who struggle to figure out where the Steelers are blitzing from and when they are sending an extra pass-rusher. The best thing the Vikings can do for Ponder, or whoever plays quarterback, is to win on first and second down.
They have just the player who can help them do that and keep them out of third and long in Peterson. He is the best running back on the planet and he is catching the Steelers at a time when their run defense looks vulnerable.
The Steelers are giving up 115.3 rushing yards per game, which is exceedingly high for a team that has finished among the NFL's top three rushing defenses 13 of the past 19 seasons. They yielded 5.4 yards per carry last Sunday night to Chicago's
Matt Forte
. Forte is a good back, but he is no Peterson. Ben, here is my final question for you: What has to happen for the Vikings to win?
Goessling
: Peterson has to have a big day. They haven't had a game yet this year where he's been able to take control of things, and if he can do that Sunday, that'd be a huge help to whomever the Vikings quarterback will be. My hunch is Ponder's injury will be just bad enough -- or it will at least be portrayed as such -- to make
Matt Cassel
the starter, but regardless of the quarterback, the Vikings need Peterson to do what he did last year.
They've also got to cut out the turnovers. Their own 10 turnovers have washed out their defensive productivity in that area, and on a couple occasions, the Vikings have given the ball back right after their defense took it away. That can't happen against a defense that hasn't forced one yet. What's the key for the Steelers to come away from London with their first victory?
Brown:
Contain Peterson. I don't think it is realistic to shut him down, but the Steelers need to put the Vikings in enough third-and-long situations where they can really go after Ponder or Cassel. They also need to generate a couple of takeaways.
The offense also has to build on the positives it produced last Sunday night against the Bears when it gained 459 total yards. Yes, the five turnovers were a killer but I also think the generosity displayed by Roethlisberger (two lost fumbles and two interceptions) was also an anomaly. If the Steelers protect the ball and take it away here and there from the Vikings, I think they win.
.
September, 27, 2013
9/27/13
11:30
AM ET
PITTSBURGH -- A funny thing happened when the
Minnesota Vikings
officially declared
Christian Ponder
out and tabbed
Matt Cassel
to start at quarterback against the Steelers.
Cassel
As much tape as they have watched of Ponder, the Steelers are actually more familiar with his backup having played against Cassel three times, including once last season.
That sample size suggests that the Vikings will rely on All-Pro running back
Adrian Peterson
more than ever Sunday at Wembley Stadium.
Cassel, who started the past four seasons for Kansas City before signing with Minnesota, has completed just 47.4 percent of his passes in the three starts he has made against the Steelers.
He has averaged 190.3 passing yards in those games and thrown two touchdown passes and three interceptions. Cassel is 1-2 against the Steelers in those starts, having played well against them in 2009 in beating them at Arrowhead Stadium.
History isn't all that could benefit the Steelers from the switch the Vikings made because of the rib injury that has sidelined Ponder.
The Steelers had been worried about Ponder's scrambling ability, and that is not as much of a concern with Cassel.
The key for the Steelers is to stop Peterson and make Cassel beat them. If they are successful in doing that the turnovers that have eluded the Steelers defense could come in London.
"There's no question we've got to help our [offense]," defensive coordinator Dick LeBeau said of the Steelers not forcing a turnover through three games this season. "We've had the ball out. We've had the ball bouncing around but haven't got it. I think we're going to get some turnovers."
The Vikings have already committed 10 of them, and if the Steelers can jump on them early they could force Minnesota to rely on Cassel's right arm more than it wants.
Consider that the Steelers' only leads this season have been 3-0 and 2-0.
"It's tough when games are tight and you're not putting quarterbacks in possession where there's long yardage and they're taking risks down the middle of the field," strong safety
Troy Polamalu
said. "That's what makes it tough getting turnovers."