Minnesota Vikings:

2013 Week 12 MIN at GB
November, 24, 2013
11/24/13
8:55
PM ET
GREEN BAY, Wis. --
Greg Jennings
has now finished his first season of games against the
Green Bay Packers
, and we're effectively assured that the most dramatic moments involving the
Minnesota Vikings
receiver and his old team will have been over the summer and in Jennings' long postgame embrace with
Aaron Rodgers
last month.
Jennings
He didn't do anything during Sunday's
26-26 tie
to change that. Jennings, who caught one pass for 9 yards in the Vikings' 44-31 loss to the Packers in October, wasn't targeted with a pass in the first half on Sunday and ended his return to Lambeau Field with two catches, 29 yards and a dropped pass that could have extended a Vikings drive in overtime.
Asked if he'd like to have the play back, Jennings said, "I'd like to have a lot of things back, but yeah."
Jennings was booed -- as were the rest of the Vikings -- when the team emerged from the locker room before the game, but fans didn't get much of a chance to show him any vitriol for the offseason barbs he tossed at the Packers until he caught his first pass. On that reception -- a 21-yarder -- and the 8-yarder that came later, boos rained down on Jennings from the crowd of 77,871.
"It was great to play back here at Lambeau," he said. "I really wasn't looking for any type of reception. I came here with my teammates in this locker room, and that is really all the reception I need."
The fact that Jennings was so quiet in both games -- and Rodgers wasn't in uniform on Sunday -- put a damper on the receiver's return, and though there will be other games between the Vikings and Packers during Jennings' five-year, $45 million contract, it's safe to say the luster over the Jennings-vs.-Packers angle will die down from here.
November, 24, 2013
11/24/13
8:40
PM ET
GREEN BAY, Wis. --
Toby Gerhart
has talked on numerous occasions this year, with surprising candor, about how he feels like he might be auditioning for his next job with another team whenever he gets a chance to play for the Vikings this season. There's little reason for Gerhart
not
to feel like that, not with
Adrian Peterson
signed through 2017, but it's rare for players in 2013 to speak so openly about a change of scenery.
The former Heisman Trophy runner-up probably feels like he can be a featured back somewhere, though. He's shown it in the past, when he ran for 531 yards in 109 carries in 2011, and his performance on Sunday might have provided Gerhart another way to sell himself when he becomes a free agent after the season.
[+] Enlarge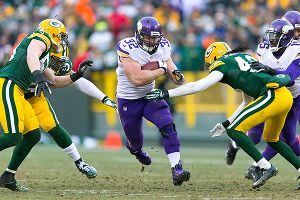 Jeff Hanisch/USA TODAY SportsToby Gerhart made the most of his limited opportunities Sunday, averaging 11.4 yards per carry on eight attempts.
He ran for 91 yards on eight carries on Sunday, spelling Peterson as the Vikings ran 43 times for a season-high 232 yards in a
26-26 tie
with the
Green Bay Packers
. Peterson carried 32 times for 146 yards -- the only time in his career he's carried more was in the Vikings' Week 17 win over the Packers last season -- but it was Gerhart doing most of the work on the Vikings' game-tying field goal drive in overtime. He carried four times on that drive, collecting 33 yards as the Vikings moved to the Packers' 12.
His first four carries came in the third quarter, after Peterson came out of the game with five minutes left. Gerhart gained 58 yards on those four carries, setting up the last points the Vikings would score before overtime.
"Adrian got banged up on a play and I was able to come in and get into a little groove," Gerhart said. "We started going back and forth a little bit, and it felt good."
It would seem unlikely the Vikings will use Gerhart in anything resembling a tandem with Peterson, but the reigning NFL MVP is playing with a strained groin. With five games left in the season and the Vikings now guaranteed to finish with a losing record, it might make sense for them to give Gerhart a little more work while reducing Peterson's exposure to defenses.
Then again, there might be a little part of the Vikings that doesn't want to help Gerhart audition for too many teams. They value him as a pass-blocker and a third-down back, as much as he'd like to be the No. 1 option somewhere, so it wouldn't be out of the question that they'd try to re-sign him if the price is right.
He showed again on Sunday what he can provide -- whether that's for the Vikings or someone else.
"Adrian got a little fatigued, and he [Gerhart] did a terrific job," coach Leslie Frazier said. "He does a great job every time he gets in the ballgame. To get our running game going the way we did, it was big for our team."
November, 24, 2013
11/24/13
7:19
PM ET
GREEN BAY, Wis. -- For the first time since 2009, the
Minnesota Vikings
left Lambeau Field on Sunday evening with something other than a loss. But to get from where they were early in the fourth quarter -- sitting with a 23-7 lead, a running game that was battering the
Green Bay Packers
' defense and an opponent who gained just 40 yards in the third period -- to a
26-26 tie
, the Vikings had to face many of the same defensive issues they've had all season.
They let
Matt Flynn
throw for 119 yards in the fourth quarter after he replaced
Scott Tolzien
on Sunday, and gave up another 53 rushing yards as the Packers stormed back to score 16 points and force overtime. The Vikings allowed 13 first downs in the quarter -- even though the Packers went 1-of-5 on third downs -- and handed Green Bay another 43 yards in penalties. And on offense, the Vikings could manage just two first downs, once again failing to run the clock out on a trailing opponent
That meltdown didn't lead to the Vikings fourth come-from-ahead loss of the year, thanks to the Packers' failed two-point conversion in the fourth quarter and their inability to punch the ball in from the Vikings' 2 in overtime. But even if the final result wasn't the same as many of the Vikings' defeats, some of the symptoms were.
"It's a weird outcome," linebacker
Chad Greenway
said. "It feels more like a loss in this locker room. I feel like the way things went in that fourth quarter -- opportunity to get off the field, and we get a penalty -- it's kind of the same, shoot-yourself-in-the-foot things we've done all year."
Of chief concern was probably the 35-yard pass interference penalty
Marcus Sherels
committed on
James Jones
to set up the Packers' first touchdown, followed by defensive end
Jared Allen
's illegal-use-of-hands infraction on third-and-10 from the Vikings' 15. The Packers were a yard short of a first down before Allen's penalty, which gave Green Bay a new set of downs at Minnesota's three, and
Eddie Lacy
scored on the next play.
And then, on the Packers' final drive, defensive end
Everson Griffen
jumped offside, giving Flynn a free play and setting up the jump ball he threw to Jones, who beat Sherels for 28 yards. The issues continued in overtime, when
Robert Blanton
's holding penalty nullified Greenway's sack and extended a Packers drive that ended in
Mason Crosby
's field goal.
"It ends up obviously being a big play in the game," Greenway said. "You want to sit here and point blame at Blanton, it's just a tough situation. Those situations we were putting our DBs in today, it was a lot of man coverage, and challenging those guys. You're going to have some of that when you're doing that."
The offense wasn't without blame, either.
When the Vikings got the ball back after the Packers' second touchdown with 3:30 left, they had their fourth chance of the year to run the clock out and seal a victory. For the fourth time, they couldn't do it.
Ponder said a fumbled snap on 2nd-and-8 was due to a miscommunication in the exchange between him and center
John Sullivan
, adding, "It seems like late in games, we have these mess-ups that cost us games." Ponder lost three yards after recovering the ball, and was sacked on third-and-11 before the Vikings punted.
And with a chance to win the game in overtime,
Cordarrelle Patterson
couldn't corral Ponder's throw to the back of the end zone after
Davon House
tipped it slightly. Patterson said he lost focus on the ball for a second, and Ponder said, "That's something we've got to convert on to win a game."
If any one of several plays had gone differently, the Vikings might have put their division rivals' playoff chances to bed. As it was, they headed for home trying to process a strange result.
"At the end of the day, they made a few more plays than we did to get back in the game," defensive back
Chris Cook
said. "That's the way football goes sometimes."
November, 24, 2013
11/24/13
4:58
PM ET
GREEN BAY, Wis. -- A few thoughts on the
Minnesota Vikings
'
26-26 tie
with the
Green Bay Packers
on Sunday.

What it means:
Well, it's hard to say. On one hand, the Vikings (kind of) broke their four-game losing streak at Lambeau Field, and have to be encouraged by many of the things
Christian Ponder
did on Sunday. But there's no getting around the fact Minnesota had a 23-7 lead in the fourth quarter and appeared ready to deliver a body blow to their biggest rival. Well, at least we know they probably won't end up in a tie in the draft standings.
Stock watch:
Rising:
Toby Gerhart
. The backup running back has talked many times about how he's auditioning for his shot at free agency next year after spending three years behind
Adrian Peterson
, and when he got his chance to work on Sunday, Gerhart didn't disappoint. He gained 91 yards on eight carries, getting more work than usual while Peterson played with a strained groin, and broke several big runs on the Vikings' game-tying overtime drive after the Packers started the extra period with a field goal. Gerhart didn't match his career high of 109 yards, but as he gets close to free agency, he might have made himself a little money with what he did on Sunday.
Running game surges:
Peterson, who was listed as questionable with a strained groin, churned out 146 yards on 32 carries, joining Gerhart to put together the Vikings' best running game of the season. The Vikings finished with 232 rushing yards, eclipsing their previous season-best total of 169 yards on Nov. 3 against the Cowboys.
Vikings' CB depth tested:
Rookie cornerback
Xavier Rhodes
had the finest game of his short career, breaking up a handful of passes, including one in the end zone, but he left the game for several series after landing awkwardly on a pass breakup late in the third quarter. As a result, the Vikings -- who had already lost
A.J. Jefferson
to a neck injury and were missing
Josh Robinson
because of a fractured sternum -- had to use backup safety
Robert Blanton
at slot cornerback while
Marcus Sherels
took Rhodes' spot in the base defense. Rhodes was able to return to the game in the fourth quarter, before eventually leaving with concussion symptoms.
What's next:
The Vikings (2-8-1) return home to face the
Chicago Bears
next Sunday.