Minnesota Vikings:

2013 Week 15 PHI at MIN
December, 15, 2013
12/15/13
9:35
PM ET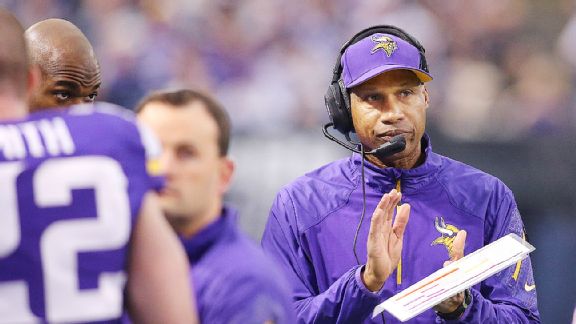 Adam Bettcher/Getty ImagesLeslie Frazier led the Vikings to an impressive thumping of the Eagles but his future in Minnesota is still in doubt.
MINNEAPOLIS -- If Leslie Frazier is in his final days as the
Minnesota Vikings
' coach, if he's soon to pay for the Vikings' fall to last place after their surprising 2012 playoff run, he's at least doing what he has done best.
Frazier took over the 2010 Vikings after ownership fired Brad Childress with the team at 3-7. He coaxed a 3-3 finish out of the team, even after the Metrodome roof collapsed, which forced the Vikings to move two home games. A snowstorm also forced them to play another game in Philadelphia on a Tuesday night. Frazier got the interim tag removed from his title after that season, and when
Adrian Peterson
tore his ACL on Christmas Eve, Frazier watched his young team grind out a road win in Washington. The Vikings fell from 4-1 to 6-6 last year, only to rally for four consecutive wins in December, clinching a playoff spot on their last play of the season.
Those rallies have earned Frazier praise from players for what he does best: preach unity and coax effort out of his team in the midst of adversity, and he looks like he might be in the middle of another impressive late-season run.
The Vikings are 3-2-1 in their past six games, and without Peterson,
Toby Gerhart
or their top three cornerbacks on Sunday, they scored their
biggest win of the season
in a 48-30 thumping of the
Philadelphia Eagles
. That might not be enough to save Frazier's job this time, especially in light of how much adversity the Vikings have created for themselves this season.
They have shuttled through three different quarterbacks, blown five last-minute leads and played some of the most statistically porous defense in the league. Since the Vikings were 1-7, rumors have been circulating about
Frazier's future
, about which candidates might line up to take his place, and Sunday was no different.
NFL Network cited team sources and sources familiar with the ownership's thinking who said Frazier's future was "grim," adding the Vikings likely would target a young NFL assistant with "star power." CBS Sports said the Vikings already have approached Penn State coach Bill O'Brien. Those two reports posit two different paths for the Vikings' next coach, and there are sure to be more theories about where the Vikings could go next between now and when -- or if -- the team parts with Frazier.
The coach effectively was put on notice when the Vikings decided to pick up his 2014 option -- not offer him a long-term contract extension -- after the team's 10-6 season in 2012. Though the Vikings have little stability at what might be the two most important spots in the modern NFL (quarterback and cornerback), they'd be atop the NFC North right now if they had been able to hang onto their late leads. And Sunday, again, called into question what might have been if the Vikings had stuck with
Matt Cassel
all season, rather than handing starts to
Josh Freeman
and
Christian Ponder
after Cassel's first -- and to date, only -- bad game.
"We made those decisions at the time for different reasons. We always felt good about Matt but there were some things we needed to see [from Freeman and Ponder]," Frazier said. "Unfortunately, we weren't able to get wins when we were going through the process. That would have been a lot better. We knew why were doing it back then, so hindsight is always 20/20."
If one can make the case the Vikings could be in playoff contention with their current roster -- and it certainly appears that theory is valid -- then poor decision-making by coaches often leads to them taking the fall before front office people. It has always seemed possible that could happen in Minnesota, though team president Mark Wilf and general manager Rick Spielman would not comment on a report that Spielman has been told his job is safe for 2014.
While Frazier can't reverse those last-minute collapses or the quarterback decisions now, he can make one more statement about how good he has been at getting his teams to play their hardest. He made that statement again on Sunday, and if he can do it twice more, maybe he'll scrape together enough goodwill to save his job when the chances of him keeping it appear slim.
"I think a report is a report. When your team has four wins, it's going to happen," linebacker
Chad Greenway
said. "I have been with Leslie for seven years out of my eight in the NFL, so there are guys here that you create good bonds with that have done a great job coaching. It's not my decision to make one way or the other, but I appreciate the things they continue to do for us to put us in the best position to get wins."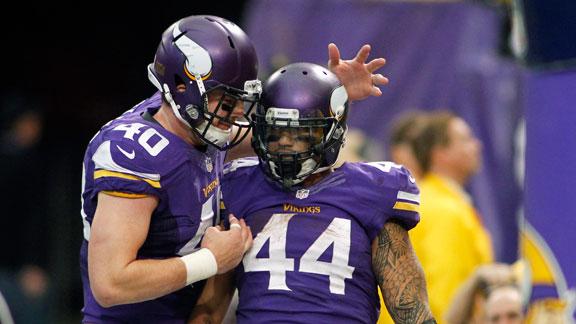 December, 15, 2013
12/15/13
9:25
PM ET
MINNEAPOLIS -- In a season full of quarterback decisions for the
Minnesota Vikings
, Leslie Frazier's easiest might have come after
Matt Cassel
played the best game by a Vikings passer since Frazier arrived in Minnesota.
Cassel completed 26 of his 35 passes for 382 yards and two touchdowns, with one interception, good for a Total QBR of 96.3, according to ESPN Stats & Information. A rating of 100 is perfect, and no Vikings quarterback -- not
Christian Ponder
, not
Tarvaris Jackson
, not
Brett Favre
-- has posted a better single-game total since Frazier came to Minnesota as defensive coordinator in 2007.
[+] Enlarge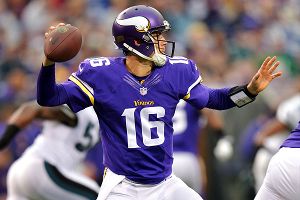 Drew Hallowell/Philadelphia Eagles/Getty ImagesMatt Cassel threw for two touchdowns, ran for one and completed 26 of 35 passes for 382 yards.
Asked if there was any question about who the Vikings' starting quarterback would be against the
Cincinnati Bengals
next week, Frazier chuckled and said, "No. No questions. I don't think there are any questions."
In fact, the only question after Sunday's game might have been: Where would the Vikings be if Cassel had started at quarterback all season?
He has started in two of their four wins, and he replaced an injured Ponder in the other two, leading a 10-point fourth-quarter comeback two weeks ago against Chicago. Cassel is the only Vikings quarterback to throw for at least 240 yards in a game this season, and on Sunday he directed the Vikings to their biggest win of the season without the help of
Adrian Peterson
or
Toby Gerhart
.
Cassel led the Vikings to their first win of the season on Sept. 29 in London, got one more start after that game and ceded the job to
Josh Freeman
the next week. He sat for another six weeks (playing some in spot duty) after Freeman got a concussion and Ponder replaced him, and finally regained the job once Ponder got his own concussion on Dec. 1 against the Bears. He might hold onto it for the rest of the season, and it's feasible that Cassel will be the one Vikings quarterback who's with the team next year.
He can opt out of his contract after this season, but if the Vikings take a young quarterback in the draft, Cassel might be the perfect veteran to start the season, give the team a steady hand and slide into the background when the rookie is ready. The Vikings don't have a long-term commitment to him. There's not an ideological attachment to him like there would be with a first-round pick, and while he's done a solid job this season, he doesn't have the kind of long track record that would preclude the Vikings from making him the backup if they had a young passer ready to take over later in 2014. And if Cassel plays well, even better: The Vikings could give a young QB a season to develop, and make a decision about their future after 2014.
Cassel has certainly done enough to suggest he should have gotten more time than he has this season. He's made
Greg Jennings
look like the receiver he was in Green Bay, has developed a rapport with rookie
Cordarrelle Patterson
and has shown a quick-enough release to remedy some of the problems the Vikings had protecting Ponder. While he can't reverse what happened early this year, he could use the results to buy himself more time as the Vikings' starter.
"The one thing about this league and the NFL is that you never know what is going to happen," Cassel said. "I really don't concentrate on that too much, because I think as long as you go out there, you perform, and you play well, the rest of it will take care of itself."
December, 15, 2013
12/15/13
7:15
PM ET
MINNEAPOLIS --
Minnesota Vikings
receiver
Jerome Simpson
, who was called for a taunting penalty in the fourth quarter of the Vikings'
48-30 win
over the
Philadelphia Eagles
on Sunday, said the same official who threw the flag said "controversial things" to several Vikings players during the game.
Simpson would not disclose what the referee said, other than to say the remarks were not racist, and said he did not plan to talk to the league about the incident, but added "I really didn't like what he said."
When asked which official it was, Simpson said, "Back right side. I didn't like it, but I'm going to let him live on it. What he said, though, it ain't right what he said."
Simpson said he tried to ask the official on referee Walt Anderson's crew about the remarks after the game, "but he took off to go into the locker room."
The receiver also didn't understand why he was called for taunting with 10:14 left in the game, saying he was congratulating an Eagles player after
Mychal Kendricks
stopped
Matt Asiata
for a two-yard loss.
"I was patting a guy on the butt, telling him, 'Good job.' He was smiling and whatever, too, and then he pushed me and I fell," Simpson said. "They huddled there -- the refs -- they huddled there for a minute and they called it on me. I don't know. They said I was taunting. I really don't know how that was called on me."
December, 15, 2013
12/15/13
6:30
PM ET
MINNEAPOLIS --
Minnesota Vikings
coach Leslie Frazier fought his temptation to play
Adrian Peterson
with a sprained foot, and won a game against the
Philadelphia Eagles
. And the week off for Peterson, Frazier said, could put him in better position to return next Sunday against the
Cincinnati Bengals
. But the ultimate decision wasn't easy, and Peterson didn't make it any easier.
The reigning NFL MVP, who had vowed to play all week after spraining his right foot last Sunday against the
Baltimore Ravens
, lobbied to play until Sunday morning, Frazier said. Peterson told reporters in the press box before Sunday's game that the "decision was taken out of my hands." But Frazier decided it was better to "look at it globally, not just look at this one game," and in the end, the Vikings got both a win and a chance to rest Peterson.
"That was not easy, now," Frazier said. "I watched him work out on Friday. He did some good things. He did some more on Saturday that kind of clouded my mind as to what decision to make. He was pushing, all the way through this morning. I had to fight the urge to say, 'OK, give it a shot.' But I think at the end of the day, he realized it was the right thing to do. He is superhuman in so many ways, but the risk-reward, I just couldn't see it."
Frazier said he was more optimistic that running back
Toby Gerhart
would be able to play than Peterson, but Gerhart still wasn't able to accelerate like the Vikings wanted to see.
"We thought he was going to make it," Frazier said. "He did some good things in Friday's practice. I really thought for the longest, Toby would be the one that would be closer. But when it came to bursting, that was his concern. He was fine just hitting the holes, but once he got in the clear, he was concerned about that. You run the risk of playing one or two plays, and then he's out for another week or two, so we pulled back on him."
December, 15, 2013
12/15/13
6:00
PM ET
MINNEAPOLIS --
Minnesota Vikings
team president Mark Wilf would not comment on the futures of general manager Rick Spielman or coach Leslie Frazier after the team's 48-30 win over the
Philadelphia Eagles
on Sunday, saying the team's owners were "just going to enjoy the win and try to win out the season."
Frazier, who was not offered a contract extension after the Vikings went 10-6 and made the playoffs last season, is only signed through the 2014 season and was thought to be on the hot seat when the Vikings started the season 1-7. Team owner Zygi Wilf said after a loss to the
New York Giants
on Oct. 21 that "I'm sticking with our team" when asked about the prospect of in-season staff changes, and Wilf also declined to talk about the futures of Spielman and Frazier after the Vikings' stadium groundbreaking earlier this month.
A NFL Network report on Sunday morning said Frazier's future looked "grim," adding that Spielman had already been told he would return for the 2014 season. When asked about his future after the game on Sunday, Spielman said, "I'm not going to talk about anything."
When discussing Frazier's future during his mid-season news conference on Nov. 1, Spielman said, "We back coach Frazier 100 percent and we'll do everything we can to to help him get this thing turned around." When he was asked if Frazier might be let go during the season, Spielman said, "Leslie Frazier is not going anywhere. I am telling you that we are very committed to Leslie Frazier and this coaching staff."
The Vikings are now 3-2-1 in the second half of the season, but have blown last-minute leads in five games this year. Frazier said, though, that he's not looking at late-season wins as a way to make a statement about saving his job.
"We are approaching these ballgames like we did in September and October," Frazier said. "Nothing has changed for our team or myself. Those of you who know me in the press know that is not my mindset. We were focusing today on the Eagles and what we had to get done in this ballgame. We'll do the same thing next week."
December, 15, 2013
12/15/13
4:25
PM ET
MINNEAPOLIS -- A few thoughts on the
Minnesota Vikings
' 48-30
win
over the
Philadelphia Eagles
:

What it means:
With no
Adrian Peterson
, no
Toby Gerhart
and none of the Vikings' top three cornerbacks, Minnesota beat the NFC East-leading Eagles at home for its most lopsided win of the season. Makes perfect sense, right? Well, the game might have at least given credence to the idea that
Matt Cassel
should have been the Vikings' starting quarterback for much more of the season than he's been. Cassel threw for 382 yards, helped
Greg Jennings
catch a career-high 11 passes and ran for a score. His future in Minnesota -- as well as the futures of the people who saw fit to keep him on the bench for so much of the season -- are bound to be tantalizing topics after this game.
Stock watch:
Rising: Cassel. His 382 passing yards were the most by a Vikings quarterback since
Brett Favre
was under center, and he also ran for a touchdown on what was either a called run or a play that Cassel changed at the line of scrimmage. Either way, he continued to enable Jennings like no other quarterback on the Vikings' roster, and he did it without the help of Peterson, who missed the game with a sprained right foot. There's little question Cassel will start next week against Cincinnati, and he continued to make the case he should be in the Vikings' future plans, if as nothing other than a veteran caretaker until the team gets its next young quarterback ready.
Jennings comes up big:
All three of Jennings' touchdowns before Sunday had come with Cassel at quarterback, but he also added his first 100-yard game since Week 17 of the 2012 season, when Jennings was playing in the Metrodome as a member of the
Green Bay Packers
. His 57-yard touchdown in the first quarter was a tremendous reminder of how good Jennings can be after the catch, and his success with Cassel is another factor that could cause Vikings fans to wonder what might have been if Cassel were the starter all season.
Allen closes in on double digits -- and pulls double duty:
With plenty of chances to rush the passer on Sunday, defensive end
Jared Allen
registered two sacks of
Nick Foles
, giving him nine for the season. He said this week that double-digit sacks "mean the world to me," and he's now got two games to get one more and post his seventh straight season with at least 10 sacks. He also filled in at long-snapper for the first time since 2011, snapping a punt to
Jeff Locke
when
Cullen Loeffler
went out briefly with a hand injury in the second half.
What's next:
The Vikings (4-9-1) travel to Cincinnati for their final road game of the season against the Bengals on Sunday.