Minnesota Vikings:

Aaron Murray
May, 8, 2014
May 8
11:00
AM ET
MINNEAPOLIS -- Well, we've reached draft day at last, which means our series looking at the Vikings' quarterback possibilities comes to a conclusion today. This post will be a quick-hit look at some of the other options in the class. Several of them, like Alabama's AJ McCarron, could be viable possibilities for the Vikings in this draft, so we'll spend more time on some quarterbacks than others in this post, but this is meant to wrap up the series with some final words from our resident experts: ESPN NFL analyst Louis Riddick (a former pro personnel director for the
Philadelphia Eagles
) and ESPN NFL scout Matt Williamson (who used to be a college and pro scout for the
Cleveland Browns
):
AJ McCarron, Alabama
2013 stats:
67.3 completion percentage, 3,063 yards, 28 touchdowns, seven interceptions
NFL combine measurements:
6-foot-3, 220 pounds, 31 1/2-inch arm length, 10-inch hand span
Williamson's take:
"I don't like McCarron at all, especially not for them. I think he's vastly overrated as a player, and certainly as a passer."
Riddick's take:
"I'm not someone who dings players for playing with other good players. AJ has shown more than enough, as far as executing the things you need to see a college quarterback execute, regardless of who he's playing with, to say he projects as being a good pro in the right context. Knowing his background, he's another guy that, despite playing in that pro style, can really benefit from going to a place where footwork, mechanics, progression reading, essentially staying within the structure of the offense and not being given any slack will benefit him greatly. A place like Kansas City -- and I say Kansas City because of Andy Reid -- is the kind of place he really needs to go. I like him a lot."
Aaron Murray, Georgia
2013 stats:
64.8 completion percentage, 3,075 yards, 26 touchdowns, nine interceptions
NFL combine measurements:
6-foot-1, 207 pounds, 30 5/8-inch arm length, 9 1/8-inch hand span
Riddick's take:
"I've talked to people who say, 'Slow down (on his return from a torn ACL).' If you're going to draft him high, understand that it's probably best for him to sit a year, whether that be starting off on the PUP (physically unable to perform list). If it weren't for the knee, and how much it would benefit him to have a quote-unquote 'redshirt' year, and not have to be rushed into action, the only thing you would be noticing about Aaron Murray is the same thing you were noticing about
Russell Wilson
when he came out. It was just, 'But he's not 6-5.' That's the only thing you would be able to say, because the kid ran an offense that was as multiple as any in college football, and probably as multiple as many in the National Football League. He executed from the pocket, from the shotgun, he executed situational football brilliantly. He made big plays with his feet, he threw on the run. He did every single thing. This past year, he lost his top three receivers, his top two running backs, and was still balling. If it wasn't for the knee, there would be no other reason besides our preconceived notions (to keep him from) being a top-level pick. What else are you going to say? I like Aaron Murray a whole, whole lot."
Jimmy Garoppolo, Eastern Illinois
2013 stats:
66.0 completion percentage, 5,050 yards, 53 touchdowns, nine interceptions
NFL combine measurements:
6-foot-2, 226 pounds, 31-inch arm length, 9 1/4-inch hand span
Riddick's take:
"Of all these guys, he has the longest road to travel before he's ready. His offense was nothing like what he's going to be asked to do in the NFL, unless they're going to take his offense there. He has so much to learn, just from a footwork perspective. He had a lot of yards last year, a lot of short passes, a lot of bubble screens, didn't look very comfortable in the pocket, didn't look comfortable at all under pressure. He seems to be the most green, and has the biggest road to travel as far as development. He's a great kid, very smart and he has a quick release. He doesn't have a great arm. He's never demonstrated pro-style footwork and/or mechanics, and he played at a lower level of competition, although he dominated that level of competition. To me, it's a very vague projection. It's almost more of a guess. When I start thinking in those terms, I'm not going very high for that player."
Logan Thomas, Virginia Tech
2013 stats:
56.6 completion percentage, 2,909 yards, 16 touchdowns, 13 interceptions
NFL combine measurements:
6-foot-6, 248 pounds, 34 1/4-inch arm length, 10 7/8-inch hand span
Williamson's take:
"He might be a real good fit for Minnesota's offense. He's got a rocket launcher for a right arm, and he's got unbelievable physical characteristics, but he needs time. He's the type of guy that, if you draft him in the second or third round -- the second's probably a little rich -- you'd hope he doesn't see the field at all in 2014. You groom him, you let Norv (Turner) and (Matt) Cassel take him under their wing. To me, he's got more upside than (Zach) Mettenberger, (Tom) Savage, maybe more than anyone in the draft, to be honest with you. I think he's as gifted, and probably more so, in terms of arm strength, athletic ability, size, he's more gifted than anyone else in the draft."
May, 6, 2014
May 6
8:00
AM ET
MINNEAPOLIS -- We've moved past the quarterbacks largely thought to be first-round possibilities as we look at options for the
Minnesota Vikings
; the remainder of our series will focus on quarterbacks that would seem more likely in the second round and beyond. As such, the quarterbacks we'll examine here require a bit more projection.
Still, the quarterback class of 2014 is crowded enough that some of the second- and third-round options could be among the best fits for the Vikings. That includes the quarterback we'll examine here today: LSU's
Zach Mettenberger
, who has been connected to the Vikings since February in large part because of his college offensive coordinator Cam Cameron's relationship with Vikings offensive coordinator Norv Turner.
[+] Enlarge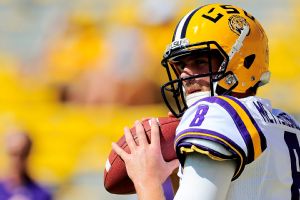 Stacy Revere/Getty ImagesZach Mettenberger passed for 3,082 yards and completed 64.9 percent of his passes for LSU last season.
When Turner got his first head coaching job with the
Washington Redskins
in 1994, he hired Cameron as his quarterbacks coach. Cameron succeeded Turner as the
San Diego Chargers
' offensive coordinator in 2002, then left for Miami when Turner became the Chargers' head coach in 2007. The careers of both men have crisscrossed each other, and they've both peddled the Air Coryell offense around the country, which led to Mettenberger effectively running Turner's scheme while he was in college.
There are plenty of questions about the 22-year-old, though, from his health (he tore his ACL last November) to his character (he pleaded guilty to two sexual battery charges in 2010 and produced a diluted urine sample at the NFL scouting combine in February, according to ESPN NFL Insider Adam Schefter). To make sense of Mettenberger, we've again enlisted the help of our resident experts: ESPN NFL analyst Louis Riddick (who used to be the
Philadelphia Eagles
' pro personnel director) and ESPN NFL scout Matt Williamson (a former college and pro scout for the
Cleveland Browns
):
2013 stats:
64.9 completion percentage, 3,082 yards, 22 touchdowns, eight interceptions
NFL combine measurements:
6-foot-5, 224 pounds, 32 3/8-inch arm length, 9 3/4-inch hand span
Pros:
Having essentially played in Turner's offense in college, Mettenberger comes to the NFL with a closer approximation of the Vikings' scheme than any other quarterback in the draft. Williamson said Mettenberger stands out to him as the best fit for the Vikings of any QB in the draft, and thought the quarterbacks could have been a Round 1 pick if not for concerns about his knee. He's got the arm and the size that Turner has typically looked for in quarterbacks, and he's built his résumé running a Turner-style offense against the closest thing you'll find in college football to NFL-caliber competition. "With that line and a good running game," Williamson said. "I think he's just what you want."
Cons:
Riddick didn't think Mettenberger's arm was quite on par with Pittsburgh's
Tom Savage
and Fresno State's
Derek Carr
, which means the quarterback can get in trouble when he relies too much on his arm and doesn't get his lower body involved in the throw. He'll probably need to learn to drive the ball while under pressure in the NFL, and he'll need to be better at putting touch on the ball. The injury and character concerns with Mettenberger are also a major part of the equation, especially in light of his diluted urine sample and his physical therapist's claim to Pro Football Talk that his ACL rehab called for him drinking so much water. Even if Mettenberger is clean, he'll need time to recover fully from knee surgery. "I've talked with people who would advise both of these guys (Mettenberger and Georgia's
Aaron Murray
, who also is recovering from a torn ACL) to slow down, and not keep pushing the envelope," Riddick said. "It's probably best for teams with those two guys, if you're going to draft them, to understand that it's best for them to sit a year."
Bottom line:
Mettenberger represents a risk, but the Vikings spent plenty of time with him before the draft to know what they'd be getting. His familiarity with Turner's system and his arm strength make him a definite possibility for the Vikings, though they likely wouldn't take him until Round 2 at the earliest. Of the prominent quarterbacks in this draft, Mettenberger might have one of the slimmest chances of starting as a rookie, thanks largely to his health concerns, but if the Vikings are true to their word about wanting a rookie quarterback to sit for a year, they wouldn't have a problem anyway. Mettenberger represents a definite option for the Vikings if they're comfortable with his attendant risks.
April, 16, 2014
Apr 16
1:39
PM ET
MINNEAPOLIS -- Some quick thoughts on a few
Minnesota Vikings
quarterback items:
Freeman

Josh Freeman has signed a one-year deal with the New York Giants -- the beneficiaries of his now-infamous "Monday Night Football" misadventure last October -- and one of the most bizarre quarterbacking episodes in Vikings history has an appropriately perplexing conclusion. But for a team like New York, who has a proven quarterback in Eli Manning, there might be some logic behind the move. The Giants obviously evaluated Freeman on more than his 20-for-53 performance against them at MetLife Stadium, and after Freeman's 2013 season -- which included an unsightly divorce with Tampa Bay Buccaneers coach Greg Schiano -- the Giants probably didn't spend much to acquire the quarterback. If they felt they could rehabilitate his game away from the pressure of a starting spot, they might have made a sensible move in signing Freeman. It's essentially the same reason the Green Bay Packers would have had interest in signing Freeman had they not brought back Matt Flynn, according to ESPN NFL Insider Adam Caplan, and it's a derivation of what the Vikings were trying to do with Freeman, with one important difference. The Vikings didn't have a stable enough quarterback situation to treat Freeman purely as a speculative signing, which is probably what they should have done. Instead, they tried to rush him into the lineup, and paid for it with an embarrassing loss to an 0-6 team on national TV.
Ponder

By May 3, NFL teams have to decide whether they will exercise fifth-year contract options for 2011 first-round picks, keeping those players under contract through the 2015 season. Those options are guaranteed only against injury; otherwise, teams face no penalty for cutting a player before the start of the 2015 season. If the Vikings picked up quarterback Christian Ponder's option for the 2015 season, and Ponder played under that contract, it'd cost the team the average of the third through 25th-highest paid quarterbacks in the NFL, or $9.686 million. As expensive as that number sounds, the Vikings could always buy insurance against injury and pick up the option if they saw any chance of offensive coordinator Norv Turner coaxing more out of Ponder. Essentially, it's another year of control that likely doesn't include any guaranteed money, since insurance would get the Vikings a cap credit in the event of injury -- and the only way Ponder would play at that number in 2015 is if he surprised the Vikings so much in 2014 that they felt compelled to keep him. The decision will indicate what the Vikings still think they have in Ponder: whether they see any potential left, or whether they're just hanging onto him as a backup in case they only take a developmental QB in the draft. If the Vikings do harbor any belief Ponder can still improve, though, they'll be going against the current of history, as ESPN NFL Insider Mike Sando points out. There's a strong historical precedent to suggest quarterbacks are who they're going to be after just 16 starts.
Georgia quarterback Aaron Murray threw at his pro day on Wednesday morning, five months after tearing his ACL, but as CBS Atlanta reporter Robbie Rosenhaus told Vikings play-by-play guy Paul Allen on his show this morning, the Vikings only had a scout there. General manager Rick Spielman and coach Mike Zimmer were both at the team facility during the Vikings' offseason workout on Tuesday, and the Vikings have draft hopefuls in town on Wednesday and Thursday for their top-30 prospects event. They've typically been sending Spielman, Zimmer and Turner to meet with quarterbacks after their pro days, and though the Vikings could still schedule a private workout with Murray between now and the draft, their approach to his pro day might indicate he's not as high on their list as other quarterbacks. Then again, we're in that time of year where teams are doing their best to conceal their intentions, and it's always possible the Vikings are trying to do that with Murray.
April, 7, 2014
Apr 7
10:10
AM ET
MINNEAPOLIS -- As we get closer to next month's NFL draft, there is probably no
Minnesota Vikings
question we've discussed more than this one: If the Vikings find themselves with an opportunity to take a quarterback with the eighth overall pick on May 8, should they do it? Or should they address another need, return to the quarterback position later in the draft and take their chances on the players they find there?
That question has been complicated further by the fact that none of the top quarterbacks in this year's draft seems to have asserted himself as a sure thing. ESPN NFL draft expert Mel Kiper said there is a "super seven" group of players at the top of the draft board -- in what many football people have called one of the best drafts in years -- and none of the quarterbacks are in it.
The group, Kiper said, consists of South Carolina defensive end
Jadeveon Clowney
, Buffalo linebacker
Khalil Mack
, Clemson wide receiver
Sammy Watkins
, Texas A&M offensive tackle
Jake Matthews
, Auburn offensive tackle
Greg Robinson
, Michigan offensive tackle
Taylor Lewan
and Texas A&M receiver
Mike Evans
.
"That's your super seven," Kiper said. "After that, I don't see anybody that belongs in that group right now. I don't think any of the quarterbacks do, and I don't see any other players jumped up that far. So that's your sensational seven, if you want to say that. Then you're getting into the range where the eighth guy could be the 18th guy on some boards. To me, the seven are the consensus seven."
The problem for the Vikings with that group is that three members are offensive tackles. Minnesota is set at that position with
Matt Kalil
and
Phil Loadholt
. Watkins or Evans could be an option, but with
Greg Jennings
and
Cordarrelle Patterson
already on the roster, the Vikings would probably take another receiver only if they thought stockpiling the position was worth passing on a chance to fill another need. Clowney and Mack seem likely to be gone by the time the Vikings pick.
But if one team above the Vikings takes a quarterback, or drafts another player, one of those seven players would be on the board at No. 8. Even if that group is gone, the Vikings could choose from a number of other players to help their defense. Is it worth passing on a quarterback to go that direction?
"It's incredible. There are about a dozen quarterbacks that could be starters, and out of those dozen, there are some that argue that all 12 of them will never be a successful starter," Kiper said. "This is a crazy year for quarterbacks. There is a lot of quantity, but how much quality is debatable. But if [Central Florida's Blake] Bortles is there at 8, unless they just don't like Bortles, it would be tough to pass him up.
"The bottom line with the Vikings -- and I've said this for three months -- is, I don't care who they like or don't like, they've got to get a quarterback. And however they do it, they've got to get a lot better at quarterback. You can't be the fourth team in the division at quarterback by a wide margin and have any chance of being any more than a borderline playoff team at best, and probably in the cellar, more than likely, if things at other positions don't go your way."
Of the top three quarterbacks in the draft, Kiper said Bortles was "more of a consensus" in the top eight picks than Texas A&M's
Johnny Manziel
or Louisville's
Teddy Bridgewater
.
If the Vikings did pass on one in the first round, they could come back for someone like Fresno State's
Derek Carr
, Alabama's AJ McCarron, LSU's
Zach Mettenberger
, Eastern Illinois'
Jimmy Garoppolo
or Georgia's
Aaron Murray
later in the draft. Kiper said some teams feel Carr is better than the top three quarterbacks and assuaged some concerns about Murray's arm strength, saying it's "more than good enough."
"Which quarterback do [the Vikings] like? We don't know right now. Everybody's trying to figure that out," Kiper said. "Everybody's not going to like Bortles, everybody's not going to like Manziel, Bridgewater, Carr, this whole group. There's some that really like these guys. There's some that really don't like these guys."
January, 11, 2014
Jan 11
8:00
AM ET
Each week, I will answer questions via Twitter with the hashtag #VikingsMail, then will deliver the answers over the weekend.
.
January, 8, 2014
Jan 8
2:00
PM ET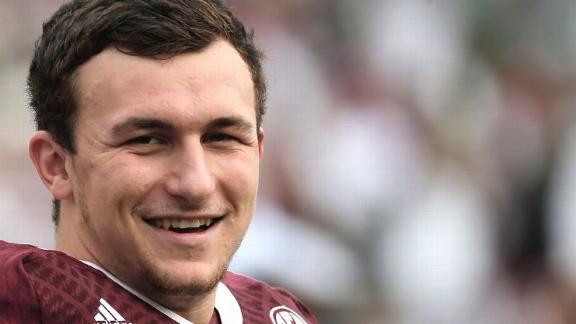 EDEN PRAIRIE, Minn. -- Well, Johnny Football has announced he's going pro. The top of the quarterback class for the 2014 NFL draft is effectively set. And among the many pivotal decisions
Minnesota Vikings
general manager Rick Spielman has to make this offseason, one of them could be this: Should the Vikings trade up from the No. 8 overall pick to give themselves a better chance at one of the top quarterbacks in the draft?
I'm inclined to think the answer there is no, even if that puts the Vikings at great risk of not getting one of the top prospects (
Johnny Manziel
, Louisville's
Teddy Bridgewater
, Central Florida's
Blake Bortles
and Fresno State's
Derek Carr
). The Vikings have an extra third-round pick, courtesy of the trade that sent
Percy Harvin
to Seattle last year, but that pick could effectively be a fourth-rounder, if the Seahawks reach the NFC Championship Game or the Super Bowl. And with as many needs as the Vikings have, the price might be too steep to move up to say, No. 5 or No. 6 and put themselves in line to get one of the top QB prospects.
Now, that's not to say a franchise quarterback isn't the Vikings' biggest need. It is. They know it is. Spielman said as much earlier this month when he said, "it's maybe the most difficult position to fill, but we're going to do everything and use every resource we can to try to get that corrected." As we've discussed in the past,
one of the great benefits to having a franchise quarterback
is how many other holes he can cover up.
But these decisions all come with a price. And with as much star power as there is at the top of this quarterback class, the general opinion from talent evaluators is that there's no
Andrew Luck
here, no sure thing that would almost guarantee a sizable return on a major investment. What if the Vikings forked over three or four picks to move up, missed on chances to fill other holes on their roster and wound up with another first-round bust? As Spielman admitted last week, he hasn't gotten the quarterback decision right yet, and another failed first-round QB would likely cost him his job. He might be better off finding a linebacker or a cornerback in the first round and coming back later to take a look at someone like Alabama's
AJ McCarron
or Georgia's
Aaron Murray
. That route would put less pressure on a rookie QB to succeed right away, and it would put less pressure on Spielman to nail the draft pick. And if
Matt Cassel
decides not to opt out of his contract, the Vikings would be able to cover themselves for at least a couple months while a new QB develops.
Now, there is enough uncertainty with this group of QBs that it's possible one could fall to the Vikings at No. 8, and at that spot, it'd be tough for Spielman not to take one. If it came to trading up, though, and adding even more of a cost to a decision where the stakes are already so high, the Vikings would have to think very carefully before making a move like that.
Finding a great QB is unquestionably their biggest need, and it's entirely possible they could get one in this draft. I'm drawn more to college players who have won on the field more than I am to players who impress scouts in workouts, and Manziel fits that description wonderfully. His confidence and playmaking ability, in the same backfield as
Adrian Peterson
, could be a blast to watch and a chance for big-time success. But there are many other teams that probably have similar visions for Manziel, or Bridgewater or Bortles or Carr, and if the Vikings have to mortgage a big chunk of their draft to secure their own plans, they'd better be sure of what they're going to get out of it.