Minnesota Vikings:

Adam Zimmer
December, 27, 2014
12/27/14
8:00
AM ET
MINNEAPOLIS -- Thanks to all of you who submitted questions for this week's
Minnesota Vikings
mailbag. You can submit them at any point during the week on Twitter, using the hashtag
#VikingsMail
.
how will Vikings look to build around Bridgewater? defense needs more pieces right now so which direction will the off go #VikingsMail

— John Murray (@J_LouisVillain) December 26, 2014
@GoesslingESPN:
Good morning, everyone. Hope you had a great holiday season. We'll get started here. John, you're correct in saying the Vikings' defense needs more pieces, and I think the primary focus of the offseason will be improving that group to a point where it can be a top-10 unit next season. That said, the Vikings have some questions at most levels of the offense, too. The biggest priority, to me, is identifying a No. 1 receiver. Do they have a player on their roster who can be that type of weapon? I'd start there. The offensive line is an issue, as well, but I don't think they're ready to give up on
Matt Kalil
, who has played better in the second half. A change at left guard, as well as a veteran backup who could fill in at tackle if Kalil or
Phil Loadholt
has a bad season, could be options. And then there's the running back situation: The Vikings would absolutely benefit from having
Adrian Peterson
in their offense, but at what price? He said earlier this month he doesn't believe he should take a pay cut, and I don't think the Vikings will agree with that. Can they come to an agreement, or will Peterson want to head elsewhere? I'm inclined to think he'll decide to play somewhere else if he has to take less money, and if that's the case, the Vikings might look at a deep running back class for a player to pair with
Jerick McKinnon
.
Teddy Bridgewater
has given the Vikings' offense hope for the future, but there are still some loose ends to tie up.
@GoesslingESPN What's one surprising player release or acquisition you think the Vikings will make in the offseason? #VikingsMail

— Bryce Ketcheson (@BayouBryce) December 24, 2014
@GoesslingESPN:
It's hard to predict acquisitions at this point simply because it's too early to tell which impending free agents are going to hit the open market. One player I'd keep an eye on, though, is wide receiver
Greg Jennings
. He turns 32 next September, is scheduled to count $11 million against the cap, and though the Vikings' quarterback instability has hurt his production the last two years, Jennings hasn't put up numbers to fit that kind of salary. The team would save $9 million by cutting him after June 1, and though I'd expect a restructuring could be in order -- he's a good route-runner and has been useful for Bridgewater in recent weeks -- the Vikings could decide to move on if they can't make the money work. That would grab headlines just two years after the team signed Jennings, but the Vikings structure their contracts a certain way to give themselves flexibility for quick changes.
A few people have asked about the possibility of cutting
Captain Munnerlyn
just one year after the team signed him; I can't see that one happening. Yes, the Vikings would only have to eat $1.67 million if they released him, but they'd only save $2.17 million by cutting him before June 1. And think about how big of an issue that slot cornerback position was in 2013. Do the Vikings really want to address it again in 2015? It's possible, but I don't think Munnerlyn's struggles have been to the point where the team would cut him. I could see them trying to add another top-flight corner to play in the base defense and making Munnerlyn purely a slot corner, though. If you've got two big corners, Munnerlyn as your slot guy,
Josh Robinson
as your No. 4 corner and an upgrade at safety next to
Harrison Smith
, that's a pretty darn good secondary.
#VikingsMail what grade would you give Zimmer for year one and it seems players react well to him but have had a few eggs this year

— zach sween (@1Sween) December 25, 2014
@GoesslingESPN:
Given everything he's had to manage in his first year on the job, and considering how much the defense has improved in its initial year in his scheme, I'd have to give Zimmer a B+. Even with a rookie QB, a decimated offensive line and no Adrian Peterson, the Vikings are essentially four close losses (to Buffalo, Detroit, Green Bay and Miami) from fighting for a playoff spot this weekend. Yes, they've got to get better in those situations, and there are some in-game situations that haven't gone well for Zimmer -- he regretted not taking a timeout before the fourth-and-20 in Buffalo, and the Vikings' clock management on their final drive in Detroit wasn't good -- but he has the defense headed the right way, and players seem to have responded to him. The teams that are consistently successful in the NFL are the ones that have a solid coach-QB partnership -- Bill Belichick and
Tom Brady
, Mike McCarthy and
Aaron Rodgers
, Sean Payton and
Drew Brees
-- and the Vikings have good reason to hope they've got the makings of one in Zimmer and Bridgewater.
@GoesslingESPN Is Chad Greenway back in 2015? #VikingsMail

— Brad Carlson (@Brad_Carlson) December 26, 2014
@GoesslingESPN:
It depends on his contract --
Chad Greenway
is due to count $8.8 million against the cap next season -- but right now, I'm going to say yes. He's said he wants to stay here, and with three kids at home, he doesn't have a great interest in uprooting his family. He's been smart enough with his money that he could accept a big pay cut and finish out his contract here, and I think Zimmer sees value in the leadership Greenway provides to the Vikings' younger linebackers (remember, Greenway is a year and a day older than his position coach, Adam Zimmer). The trick might be coming to an arrangement that allows
Gerald Hodges
to take on a larger role while still keeping Greenway involved enough to justify a salary that would likely still be several million dollars, but maybe Greenway sees some time at middle linebacker, where he practiced a little bit before this season. My hunch is, though, there's enough interest in both sides that Greenway will spend 2015 in a Vikings uniform.
@GoesslingESPN Will @MrMankatoVikes Adam Thielen be on the team next year? #VikingsMail

— Andrew Krammer (@Andrew_Krammer) December 26, 2014
@GoesslingESPN:
We'll close the final mailbag of 2014 with a question from my buddy Andrew Krammer, the Vikings beat writer at 1500ESPN.com. For those of you who haven't noticed on Twitter, Andrew and I often trade good-natured barbs about
Adam Thielen
; I told him back in OTAs that I thought Thielen could be a sleeper pick to make the team in 2014, and there's a chance I've reminded him about that a time or two since then. :-) So what does 2015 hold for the receiver, who was unanimously selected as 1500 ESPN's "Mr. Mankato" award winner as the star of training camp? He's become an integral piece of the Vikings' special teams units, and with special teams coordinator Mike Priefer in Thielen's corner, he'll have a good shot to return next season. Thielen caught the eye of general manager Rick Spielman and coach Mike Zimmer with how he'd improved as a receiver last spring, but he'll probably need to keep improving if he wants to have a role as more than a special-teams guy (and thus, more job security). There have been a few times where he's looked a little wide-eyed as a receiver this season, and he could probably benefit from another year of speed and strength training. But the Vikings love his work ethic, and he'll likely keep fighting to stay around next season. But don't worry, Andrew -- I'll leave the I-told-you-sos in 2014.
That'll do it for this week's mailbag. Thanks for the great questions, everyone. We'll keep this rolling on Saturdays in the offseason, though we might take a week off from time to time. Talk to you on Sunday from TCF Bank Stadium for the season finale.
October, 26, 2014
10/26/14
7:30
PM ET
TAMPA, Fla. -- The play began, as Mike Zimmer reminded
Anthony Barr
, with a mistake.
The
Minnesota Vikings
' rookie linebacker was in man coverage on
Tampa Bay Buccaneers
tight end
Austin Seferian-Jenkins
on Tampa Bay's first play in overtime, and when the tight end leaked out toward the sideline, Barr was too far inside to prevent him from making the catch. It was a similar route to what the Buccaneers had run on
Mike Glennon
's go-ahead touchdown pass to Seferian-Jenkins with two minutes left in the fourth quarter, and after the Vikings rallied to tie the game at 13, the Buccaneers had gone right back at Barr.
"Initially, I was a little upset with him," Zimmer said. "He wasn't being [wide in coverage] with the tight end enough, and he let him catch the ball. But now that it's over, I'm glad he did."
Barr
The game ended on that play because of what Barr did after he got beat. He put his right hand on Seferian-Jenkins' back, used his left hand to rip the ball out of the tight end's grasp, retrieved it from the turf and raced 27 yards for a game-winning touchdown that ended a three-game skid for the Vikings and served as another reminder of what a force the ninth overall pick in the draft already is, even if he doesn't have all the rough edges of his game smoothed out yet.
When he does? Barr stands a chance to be an absolute terror. He has recovered three fumbles in the last two weeks, and he recorded his third sack of the season to go along with eight tackles. He's just three years removed from playing running back at UCLA and is learning his responsibilities in a 4-3 defense after mostly rushing the passer as an outside linebacker in a 3-4 scheme with the Bruins. He wasn't able to start his career in Minnesota until a month after the draft, thanks to UCLA's quarters system that had Barr reviewing practice film with linebackers coach Adam Zimmer over Skype from thousands of miles away. But veterans in the Vikings' locker room raved about how quickly Barr has come to understand his assignments, and the play he made on Sunday showed the instincts of a player several years his senior.
"He knew he had help coming [in safety
Harrison Smith
]. You could see him," linebacker
Chad Greenway
said. "He knew the carrier was going to go down. I don't think he was concerned about that. He just made the play; it was exactly how you'd draw it up. Sometimes it's hard to get in there, but sometimes your hand just falls right."
Barr said he's getting more comfortable understanding concepts and routes as he drops back into coverage, though he might have more work to do there than he does against the run or rushing the passer. The Vikings are able to play with him learning on the fly, though, because of how much he already understands and how ferocious he already can be.
"His first time he came into practice, he knew all his assignments," Smith said. "He wasn't looking around all over the place, which is hard as a rookie. It's hard to come in and know what to do, and line up in the right spot, even. But the day he got here, he was doing things right. He's just getting better and better. ... His upside is as high as you can go."
September, 18, 2014
9/18/14
8:00
AM ET
Welcome to Around the Horns, our daily look at what's happening on the Vikings beat:
When the
Minnesota Vikings
travel south to face the
New Orleans Saints
this weekend, the game will have a bit of a family reunion feel for Mike Zimmer and his son Adam.
Mike Zimmer was on the
Dallas Cowboys
' coaching staff for three seasons with New Orleans Saints coach Sean Payton, who served as the Cowboys' assistant coach under Bill Parcells when Zimmer was the defensive coordinator. When Payton became the Saints' head coach in 2006, he hired Adam Zimmer -- now the Vikings' linebackers coach -- as an assistant coach. Adam Zimmer worked for Payton during his first four seasons in New Orleans, winning a Super Bowl with the Saints in 2009.
"I would consider him a very close friend, but that being said," Payton said in a conference call with Twin Cities reporters. "He's someone I've known for a long time; obviously, we spent three years together in Dallas. I had a chance to hire his son Adam; he worked with us here, was part of our Super Bowl team, and I know Adam's there doing a great job. Their whole family, we've had a great relationship for quite a while. I'm thrilled that he's got this opportunity. I think he's a great choice for the Vikings. I'm biased, obviously, but you look at his history, the defenses and winning programs he's been a part of, it's much deserved. Already on film, you can see the impact he's having."
Payton said he hasn't had a chance to talk with Zimmer about the
Adrian Peterson
situation yet, but said he had no doubt the coach would handle it well. "Whenever you're a head coach, you try to eliminate distractions, but yet, they come," Payton said. "That being said, he'll handle this in a great manner. His demeanor is such that I'm sure he'll get the focus on football for the players who are going to be playing in this game. That's a strong suit of Mike's."
In case you missed it on ESPN.com:
Best of the rest:
August, 13, 2014
8/13/14
8:00
AM ET
MANKATO, Minn. -- Setting up the day at
Minnesota Vikings
training camp:
Today's schedule:
The Vikings' penultimate practice at Minnesota State comes at 3:00 p.m. Central time, and will be preceded by the morning walkthrough from 10:30-11:30. Players were off on Tuesday, and it's possible coach Mike Zimmer will shorten Wednesday's walkthrough to a special teams-only session, like he's done after the Vikings' last two off-days. Zimmer is scheduled to address reporters on Wednesday, as is running back
Adrian Peterson
.
More observations from Monday's practice:
Audie Cole's interception of Teddy Bridgewater during a red zone drill was an impressive play by the linebacker in pass coverage; he saw where Bridgewater was headed with the ball, and stepped in front of tight end Mike Higgins to make the play. Cole is taller and faster than Jasper Brinkley, and probably has more playmaking ability. Brinkley might be tougher in the box, but Cole's instincts are one of his better attributes in his bid to win the middle linebacker job.
Quarterback Matt Cassel got all of the first-team snaps on Monday, and it would seem like he's created a bit of separation between himself and Bridgewater. We could hear more about the Vikings' plan for their quarterbacks on Wednesday or Thursday -- Zimmer hasn't yet said who will start on Saturday night against the Arizona Cardinals -- but it wouldn't be surprising to see Cassel again open the game and get a little more work than the 10 plays he saw last week against the Oakland Raiders.
After practice, wide receiver Greg Jennings got a bit philosophical about the finer points of the receiver position, relaying to reporters a conversation he'd had with Cassel about the importance of receivers drawing coverage away from other wideouts who might be able to make a play. "I was talking to him just earlier about sometimes knowing when to give yourself up during the concept, when you know that you're not the guy on this particular play, because the coverage is going to allow someone else to come open -- playing that role, and doing it well, and allowing your teammate to make a play, and being the guy that made the play happen, but no one even knows about it," Jennings said. "I really feel like, if we can get better at that, being unselfish and allowing other guys to make plays within the play that we make, that creates the play, we can be a really good football team."
What I'm watching:
Zimmer and defensive coordinator George Edwards both spoke highly on Monday of rookie defensive tackle
Shamar Stephen
, who got some action at both the nose and three-technique tackle positions on Friday night. Stephen held up well at the point of attack and got some penetration into the backfield a couple times against the Raiders. The seventh-round pick could get a longer look with
Linval Joseph
out, and he seems to be putting together a solid bid for a roster spot (or at least inclusion on the practice squad).
They said it:
"When I was with him in Cincinnati, too, there'd be times where he'd get upset, and he'd yell. I'd say, 'Let me be the bad guy. You coach them. You don't have to be like me; be like you.' It's important that we're all ourselves." --Zimmer, on advice he gave his son Adam Zimmer, the Vikings linebackers coach who isn't quite as animated on the practice field as his father.
July, 24, 2014
7/24/14
8:00
AM ET
MINNEAPOLIS -- Between now and the
Minnesota Vikings
' first training camp practice July 25, we will break down each position group. We'll look at the linebackers this morning.
Returning players:
Chad Greenway
,
Michael Mauti
,
Gerald Hodges
,
Audie Cole
,
Larry Dean
Gone from last season:
Erin Henderson
,
Desmond Bishop
,
Marvin Mitchell
New this season:
Anthony Barr
(first-round pick from UCLA),
Brandon Watts
(seventh-round pick from Georgia Tech),
Jasper Brinkley
(free agent from Arizona),
Dom DeCicco
(free agent from Tampa Bay),
Mike Zimmer
(free agent from Jacksonville)
Position coach:
Adam Zimmer (first season)
Biggest issue:
As the Vikings begin camp, they've almost got a blank slate at the position. Greenway figures to start, but will it be at middle linebacker or weak-side linebacker? Will Brinkley return to start in the middle? Will Cole be able to lock down a starting spot after playing well at the end of last season? And will Barr be ready for a featured role in the Vikings' defense after the team used the No. 9 pick in the draft on him? There's some young talent at the position, but the Vikings don't have much settled at linebacker, and they'll have to run through a number of permutations to figure out what will work. Hodges -- who struggled as a rookie and didn't seem to play with the edge the Vikings wanted to see -- could also get a chance to turn things around and showcase his quickness in Mike Zimmer's defense.
Player to watch:
Barr is the obvious choice -- the Vikings seem to have big plans for him as a pass-rusher that can occasionally set up on the defensive line. He'll have to prove he can handle coverage responsibilities, especially in light of the fact the Vikings toyed with him in their nickel package during minicamp, and he'll have to adjust to offensive linemen that know how to counter his pass-rushing moves. But the Vikings were thrilled to get him, and if he's able to handle the learning curve as a rookie, he's got the potential to unlock a series of different looks for the Vikings defense.
Medical report:
Greenway played with a broken wrist last season, but is healthy this season, and Mauti, who had three ACL operations in college, is now 20 months removed from his last surgery.
Help wanted:
The Vikings seemed confident enough in their young linebackers not to pursue much help (outside of Brinkley) in free agency, and barring injury, they're likely to head into the season with the group they've got at the position.
Quotable:
"When you go into a game with six linebackers, if something happens, they've got to be ready to go, so part of the deal with guys is we're trying to give them a lot of different things to do," Mike Zimmer said. "I've always felt like the more you can do, the more valuable you are on game day."
June, 16, 2014
6/16/14
8:00
AM ET
MINNEAPOLIS -- When the
Minnesota Vikings
re-convene for the start of their mandatory mini-camp on Tuesday, they'll have their roster together at last. That means the three draft picks they've so far only been able to work with on a remote basis -- first-rounder
Anthony Barr
, third-rounder
Scott Crichton
and fifth-rounder
David Yankey
-- will finally be at the team facility, ready to jump in with a group that's been going through organized team activities without them for the last three weeks.
Barr, Crichton and Yankey were on the quarters system at UCLA, Oregon State and Stanford, respectively, meaning they didn't finish school until last week. The Vikings were only able to communicate with them over the phone and
in a handful of on-campus visits (where they weren't allowed to coach the players on the field)
, and while they tried to get as innovative as they could, they weren't going to be able to be anywhere near as productive with the three players as if they'd been allowed to spend the five weeks since the NFL draft in Minnesota.
Now, the Vikings should have complete access to the three rookies. Yankey took a red-eye flight to the Twin Cities after finishing his finals last Tuesday, arriving in time to participate in the Vikings' last two OTAs last week. Barr was scheduled to take his last final on Friday, graduate the same day and fly to Minnesota on Saturday. But now that those two players and Crichton are full-time professionals, coach
Mike Zimmer
said, the Vikings will have to check their desire to get them working too quickly.
"We're going to try to kind of ease those guys into it a little bit, so we don't confuse them," Zimmer said at the Vikings' charity golf tournament last Thursday.
Yankey's experience in a pro-style offense at Stanford should help him make the transition to the NFL, and while he figures to be behind
Charlie Johnson
at left guard for now, he might push the veteran for that spot eventually. Crichton will be part of the Vikings' defensive line rotation, and will probably line up at both defensive end and tackle; he'd had some experience in college rushing from the inside, and could find a niche there in the Vikings' nickel defense if the team looks to keep
Everson Griffen
outside on third downs.
Most of the attention, though, will be on Barr, who'll be trying to win the strong-side linebacker job after the Vikings took him ninth overall. The Vikings have big plans for him in their defense, and how quickly they can expand his role will depend on how much they can throw at him next week and in training camp. Barr said earlier this month he thought his remote work with linebackers coach Adam Zimmer had gone about as well as it could, adding, "I'm not behind at all."
There's bound to be an adjustment period once he gets on the field, but Barr's relative inexperience at the position hasn't seemed to worry the running back-turned-linebacker or his new coach. "I know that's a big thing with everybody -- he's only played two years [at linebacker]," Zimmer said last month. "The things he's done defensively, he's done pretty well."
Now the Vikings will get three days to work with Barr in their full defense before the start of training camp. There's bound to be some eagerness to turn him loose, as well as Crichton and Yankey, but Zimmer is preaching patience for now.
"In college football -- and I'm not trying to knock them -- but there's one quarterback, two quarterbacks a year that are really good and here you're playing against really good ones," Zimmer said last month. "Same with receivers and offensive lineman – now you're playing a bunch of elite. It's like when they play in the all-star games.So I think the big thing is the competition level raises quite a bit, the speed of the game and then having to learn terminology and how fast they can catch on."
June, 5, 2014
6/05/14
8:00
AM ET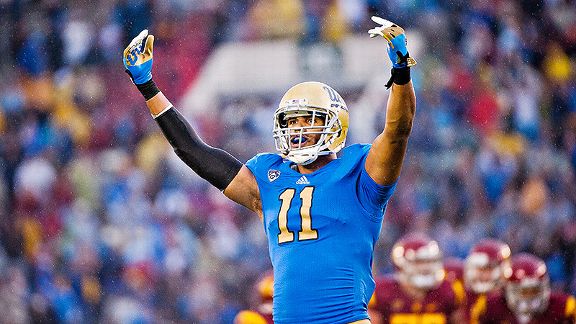 Jonathan Moore/Getty ImagesRookie linebacker Anthony Barr won't be able to work with the Vikings on a full-time basis until he graduates from UCLA later this month.
MINNEAPOLIS --
Anthony Barr
packs up the iPad the
Minnesota Vikings
gave him during their rookie camp, stakes out a spot in a UCLA campus library or in one of the football coaches' offices. He downloads the film from that day's practice, watching a team he doesn't yet feel part of and projecting where he'll fit. Several times a week, he'll plug his headphones and a microphone into his iPhone, so he can keep his hands free to run the iPad while Vikings linebackers coach Adam Zimmer talks through the film over the phone, telling Barr to imagine he is occupying the Vikings' strongside linebacker spot, rather than the player on the screen who will ostensibly be competing with Barr for playing time in training camp.
The ninth overall pick in the NFL draft can have only limited contact with his coaches and can devote only so much time to football while trying to manage the 20-credit load he's taking to finish a degree in sociology this spring. Barr had to miss several midterms in those classes in April while he was working out for teams before the draft, and he's hoping he'll be able to pass the courses without doing too much damage to his 3.0 GPA. Much of his attention, though, is on his employer 1,900 miles away.
"It kind of sucks," Barr said. "I want to be out there, but I'm not allowed to. I wish it was my decision."
This is how Barr is spending his final weeks of college, straddling the line between a degree he's trying to finish and a job he's technically not able to start, at least not completely. UCLA is on the quarters system, like three other schools in the Pac-12, and Barr won't be done with his classes until June 13. Thanks to a 1990 rule the NFL established with the help of the American Football Coaches Association, draft picks from schools on the quarters system are allowed to attend only one minicamp before their classes are done. Beyond that, they are prohibited from being on the field with their coaches, and three of the Vikings' top five picks -- Barr, Oregon State defensive end
Scott Crichton
and Stanford guard
David Yankey
-- are trying to catch up from two time zones west of Minnesota.
The Vikings are doing their best to keep the players on track -- Zimmer will make his second visit to Los Angeles on Friday, and offensive line coach Jeff Davidson will return to Stanford to work on installing the Vikings' scheme with Yankey -- but the system forces teams and rookies to be resourceful under some unique constraints. Barr's friend and former teammate, linebacker
Jordan Zumwalt
, is going through a similar process after the
Pittsburgh Steelers
drafted him in the sixth round.
"We're pretty thorough with it," Barr said. "It's been nice to have [Zimmer], so I don't feel like I'm kind of in the unknown and trying to step in when I get back. It's like I'm just one of the guys."
Barr took the winter quarter off from school while he prepared for the NFL scouting combine, but figured he would stay in school and finish his degree, rather than returning to get it later. That choice put him under the NFL's rule, which attempts to keep players focused on their studies while they're still technically in college. The rule was adopted long before the lengthy offseason programs teams now use, and Barr said it has left him wishing he had more control over how he's able to manage his time, rather than the league mandating he can only spend so much time on the phone and in meetings with Zimmer. He feels as though he's mostly up to speed on what the Vikings are doing, and probably will find a little leeway in the fact that the team's veterans are learning a new defense, too, but head coach Mike Zimmer has talked about how the Vikings have big plans for how they'll use Barr, and those plans will have to wait until minicamp and training camp to be installed on the field.
Barr plans to walk in a commencement ceremony at Pauley Pavilion on June 13, and he'll be on a plane for the Twin Cities the next day, getting to town a couple of days before the Vikings begin minicamp June 17. He hasn't had a chance to look for a house yet, and doesn't know where he'll be staying during the Vikings' three-day minicamp. "Hopefully they'll put me up somewhere the week I'm there," he said.
Those concerns, though, will be secondary to the Vikings' top pick finally getting to step on the field and start a career he's been preparing for through unusual circumstances.
"I'm looking forward to showing them who I am, how much I love the game and just making a good impression on them," he said.
May, 19, 2014
5/19/14
3:40
PM ET
MINNEAPOLIS -- The
Minnesota Vikings
announced on Monday afternoon they'd signed two of the players who tried out for the team during its rookie camp last weekend. One of them is going to create a bit of confusion for as long as he's around.
Former Illinois State linebacker Mike Zimmer, who was in the
Jacksonville Jaguars
' camp last season, signed with the team, where he'll work with linebackers coach Adam Zimmer, son of head coach (and former Illinois State linebacker) Mike Zimmer. Got all that?
The Vikings clarified the linebacker and coach are not related. That's a relief, since it means we're not in one of those situations Doc Brown warned us about, where the space-time continuum can be torn apart if Marty McFly were to run into his future self.
Now that we've got that joke out of our system, on to the nuts and bolts of the roster moves: The Vikings also added linebacker
Dom DeCicco
, who played in 20 games with the
Chicago Bears
from 2011-12, and spent the 2013 preseason with the
Tampa Bay Buccaneers
. To make room for the two players, they released guard
Conor Boffeli
and quarterback
Travis Partridge
, who had signed with the team as undrafted free agents.
There you go: A little news, a little humor, all in a tidy 220-word post. What more could you want?
February, 27, 2014
2/27/14
10:25
AM ET
MINNEAPOLIS -- If the
Minnesota Vikings
aren't able to land a quarterback with the No. 8 overall pick in the draft in May, one popular alternative is for them to take a linebacker -- possibly Buffalo's Khalil Mack or Alabama's
C.J. Mosley
-- who could help shore up the middle of their defense.
They might, however, have another option worth considering before then. The
Cleveland Browns
released linebacker
D'Qwell Jackson
on Wednesday, parting ways with the leader of their defense instead of paying him $4.1 million in bonuses on March 15.
Jackson is 30 years old, and reportedly already had interest from seven teams after the Browns cut him, so the Vikings would have to decide how much they'd want to pay for a linebacker entering his eighth season. They unsuccessfully tried a similar tack with former
Green Bay Packers
linebacker
Desmond Bishop
last year, though injuries were a major risk factor with Bishop while Jackson has been durable for most of his career. But Jackson, like Bishop, is well-respected around the league and might be worth a look from the Vikings, especially considering how much their new coaching staff already seem to know about him.
Offensive coordinator Norv Turner and quarterbacks coach
Scott Turner
were on the Browns' staff with Jackson last season, and though they wouldn't have coached him directly, they could vouch for his character and leadership abilities. Similarly, coach Mike Zimmer and linebackers coach Adam Zimmer wouldn't have game-planned against Jackson while they were in Cincinnati, but they'd at least have had two chances to watch him each season.
Jackson has been a solid tackler throughout his career, though he's historically not been the kind of linebacker you look to for a huge number of impact plays. The Vikings already have a linebacker like that in
Chad Greenway
, who turned 31 in January, and there's an argument to be made for younger, cheaper middle linebacker options like
Audie Cole
and
Michael Mauti
. But the Vikings defense suffered a leadership void when the team released
Antoine Winfield
last March, and Jackson could help provide some direction for a defense that figures to change dramatically under Zimmer this season. That alone might be enough for the Vikings to take a look at him.
January, 29, 2014
1/29/14
4:45
PM ET
MINNEAPOLIS -- As we wait for the grand unveiling of the
Minnesota Vikings
' new coaching staff, another one of the team's former assistant coaches has found a new job.
Defensive line coach Brendan Daly, who was in that position for the last two years after first working with the Vikings from 2006-08, was hired on Wednesday as a defensive assistant with the
New England Patriots
, the team announced on Wednesday. It was unclear whether Daly would get a chance to stay on with new coach Mike Zimmer, but he's evidently moved on to a job with the Patriots.
That means the name of a Vikings defensive line coach hasn't surfaced yet, which leaves at least one gap in our understanding of the team's defensive staff. Zimmer's son, Adam, is expected to take a job on the defensive staff, former
Tennessee Titans
defensive coordinator Jerry Gray will reportedly be the defensive backs coach, and former defensive backs coach Joe Woods said last week that linebackers coach Fred Pagac would be among those who got a chance to interview for a job on Zimmer's staff. Offensive coordinator Norv Turner's staff will reportedly include his son, Scott, and former
Pittsburgh Steelers
running backs coach Kirby Wilson. Woods also said offensive line coach Jeff Davidson and wide receivers coach George Stewart would get chances to interview for jobs with Zimmer.
Zimmer had said he would wait to confirm any coaching hires until the whole staff was in place, but he did confirm that Norv Turner will be the offensive coordinator on ESPN's "NFL Insiders" show on Wednesday afternoon. That had been widely reported, as had the addition of defensive coordinator George Edwards to the staff, but Wednesday's interview was Zimmer's first confirmation of the Turner hire after both general manager Rick Spielman and running back
Adrian Peterson
had talked about it in previous interviews.
One holdup to the staff, as we've discussed, might be the investigation of former punter
Chris Kluwe
's allegations against special teams coordinator Mike Priefer. Woods said Priefer would likely interview for a job, and it is believed Priefer would have a strong chance to stay, but the Vikings might be waiting to see where an independent investigation of Kluwe's allegations goes. Considering the conclusion of that investigation might still be a month away, it should become evident if the Priefer situation is holding things up if the Vikings still haven't announced a staff in the next week or two.
January, 25, 2014
1/25/14
8:15
PM ET
MINNEAPOLIS -- We say this with a disclaimer, since the
Minnesota Vikings
haven't released any names on their coaching staff and new coach Mike Zimmer has declined to comment on any hires until the whole group is in place. But based on what we've been able to cobble together from various reports and sources, the team's coaching staff could be almost complete.
The Vikings have hired
Pittsburgh Steelers
running backs coach Kirby Wilson to do the same job for them,
according to the Pittsburgh Post-Gazette
. Wilson would replace James Saxon, the Vikings' running backs coach for the last three seasons.
The Minneapolis Star Tribune has reported Scott Turner, the son of new Vikings offensive coordinator Norv Turner, was seen conducting the Vikings' quarterback meetings at the Senior Bowl. Former Vikings defensive backs coach Joe Woods said earlier this week that offensive line coach Jeff Davidson and wide receivers coach George Stewart would be given opportunities to interview for jobs on Zimmer's staff. It's unknown whom the Vikings would hire as a tight ends coach after letting Jimmie Johnson go, but other than that, their main position coaches under Turner would appear to be set.
On defense, the Vikings have reportedly hired former
Tennessee Titans
defensive coordinator Jerry Gray to coach their defensive backs under coordinator George Edwards, and Zimmer's son Adam could also land a role on his father's staff. Woods also said linebackers coach Fred Pagac and would get a chance to interview for a job with Zimmer.
It remains to be seen whether the Vikings would keep defensive line coach Brendan Daly, and it's entirely possible that some of the holdovers from Leslie Frazier's staff wouldn't get jobs after interviewing with Zimmer. The Vikings could also add a second coach at a number of positions, as they had under Frazier. But the Vikings appear to be closing in on completing their offensive staff, with their defensive group not far behind.
The big question, of course, is what will happen with special teams coordinator Mike Priefer in light of an investigation into former punter
Chris Kluwe
's allegations that Priefer made homophobic remarks during the 2012 season. Kluwe's attorney, Clayton Halunen, said on Saturday that it would be "very irresponsible" for the Vikings to announce Priefer was staying on the team's staff until after the investigation is complete. But Woods said earlier this week he believed Priefer would stay on staff with the Vikings.
January, 22, 2014
1/22/14
11:35
PM ET
MINNEAPOLIS -- As the
Minnesota Vikings
continue to fill out their coaching staff, they've started to let more of former coach Leslie Frazier's assistants know where they stand.
Defensive backs coach Joe Woods, who had been with the Vikings since Brad Childress took over as head coach in 2006, said new coach Mike Zimmer told him today he was going in a different direction. The Vikings reportedly will bring in former
Tennessee Titans
defensive coordinator Jerry Gray as their defensive backs coach.
Woods said Zimmer has told a handful of coaches they'll get opportunities to interview for jobs on the Vikings' staff. Woods said he believed special teams coordinator Mike Priefer, offensive line coach Jeff Davidson, wide receivers coach George Stewart and linebackers coach Fred Pagac are among those who will get interviews for jobs on Zimmer's staff.
The Vikings had blocked Davidson from interviewing for a job with the
Atlanta Falcons
, and a league source said on Tuesday that Davidson and Stewart both had solid chances to stay. Stewart, whose time as a receivers coach dates back to his work with
Jerry Rice
and
Terrell Owens
in San Francisco, had developed a relationship with rookie receiver
Cordarrelle Patterson
, and could be brought back to continue his work with the talented wideout, among others.
Former offensive coordinator
Bill Musgrave
had already accepted a job as the
Philadelphia Eagles
' quarterbacks coach, and former quarterbacks coach Craig Johnson was announced on Wednesday as the
New York Giants
' running backs coach. Linebackers coach Mike Singletary had already informed the Vikings he was leaving, and defensive coordinator Alan Williams is believed to be joining Jim Caldwell's staff as a defensive backs coach in Detroit, after doing the same job for Caldwell when both were in Indianapolis.
Priefer, whom former punter
Chris Kluwe
alleged had made homophobic remarks during the 2012 season, could stay if an internal investigation clears him of any wrongdoing. He is well-respected around the league, having interviewed for the
Chicago Bears
' head coaching position last winter, and might retain his job based on the strong performances of return men like Patterson,
Marcus Sherels
and
Percy Harvin
over the years.
As for Woods, who presided over a secondary in transition after general manager Rick Spielman decided to cut
Antoine Winfield
last spring, the defensive backs coach said he didn't expect to be brought back. The Vikings allowed more points than any team in the league last season, and their secondary was a major reason why.
Woods was given the opportunity to go to the Senior Bowl with the Vikings' staff, but declined. He said he's talked to several other teams about jobs, but is still waiting to see where he'll land.
"I kind of anticipated it," he said of being let go by the Vikings. "When we played so poorly on defense, it seemed likely."
Zimmer has said he will announce his entire coaching staff at once, but the Vikings have already hired former
Cleveland Browns
offensive coordinator Norv Turner to run their offense, and former
Miami Dolphins
linebackers coach George Edwards to be their defensive coordinator. Turner's son Scott has reportedly been running the Vikings' quarterback interviews at the Senior Bowl, and Zimmer's son Adam -- who was the Bengals' defensive backs coach under his father last year -- appears to be a likely addition to the staff, as well.
January, 21, 2014
1/21/14
3:15
PM ET
MINNEAPOLIS -- The
Minnesota Vikings
will announce all of Mike Zimmer's coaching staff once it's finished, but we're starting to get some sense of how the group will look.

We know it will not include former offensive coordinator Bill Musgrave; Fox Sports reported on Tuesday that Musgrave has accepted a job as the Eagles' quarterbacks coach. That's not a big surprise, considering the Vikings had already replaced Musgrave with Norv Turner, but Tuesday's news rules out any chance of Musgrave returning to the Vikings in a smaller role.
The Vikings have defensive coordinator George Edwards reportedly in place, as well, and the
Minneapolis Star Tribune's Master Tesfatsion, who's at the Senior Bowl in Mobile, Ala., reports he saw Turner's son Scott
conducting the Vikings' meetings with quarterbacks -- which is a likely indicator the younger Turner, who was the Browns' wide receivers coach last season, will be on his father's offensive staff for a second season in a row.
Cincinnati Bengals
defensive backs coach Adam Zimmer, who worked for his father last season,
is also expected to join the Vikings' staff.
How many of former coach Leslie Frazier's assistants could stay on with Zimmer? According to a NFL source, wide receivers coach George Stewart and offensive line coach Jeff Davidson both have decent chances. Stewart, who is at the Senior Bowl this week, had developed a bond with rookie receiver
Cordarrelle Patterson
dating to last year's scouting combine, and he has worked with Jerry Rice and Terrell Owens in the past. The Vikings blocked Davidson from interviewing for a job with the
Atlanta Falcons
, which would seem to indicate they would like to keep him on Zimmer's staff.
There are bound to be plenty of questions about special teams coordinator Mike Priefer, who was accused by former punter Chris Kluwe of making homophobic remarks during the 2012 season. The Vikings are investigating the matter, and that investigation could help delay an announcement of the Vikings' coaching staff. Priefer is well-respected as a coach, but the Vikings might want to get the situation resolved before announcing a staff with or without Priefer on it.
The rest of the group is still waiting to see what decisions Zimmer makes, but the Musgrave move is at least an indication that the Vikings have given some coaches the chance to accept jobs elsewhere.