Minnesota Vikings:

Andrew Luck
January, 27, 2015
Jan 27
6:35
PM ET
MINNEAPOLIS -- It appears the
Minnesota Vikings
' efforts to land another receiver named Carter will come up empty-handed.
ESPN NFL Insider Adam Schefter reported on Tuesday evening that Montreal Alouettes receiver Duron Carter -- a CFL All-Star and the son of Vikings Hall of Famer Cris Carter -- is closing in on an agreement with the
Indianapolis Colts
. After Carter worked out with the Vikings on Jan. 9, he said the team was at the top of his list, along with the Colts, and it's believed Carter was being offered a three-year deal with a signing bonus in the neighborhood of $100,000. That's big money for a CFL receiver, and when Carter narrowed his list down to two teams late last week, the Vikings appeared to still be in the thick of things.
[+] Enlarge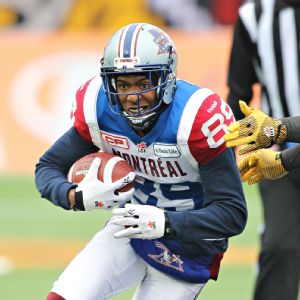 Claus Andersen/Getty ImagesIt appears CFL star Duron Carter, the son of Hall of Fame receiver Cris Carter, will not be joining the Vikings.
There are some valid reasons for Carter to head to Indianapolis, though, and as you might expect, the biggest one wears No. 12.
Andrew Luck
directed the league's most prolific passing offense last season, and the Colts' receiver group could be in flux with
Reggie Wayne
and
Hakeem Nicks
possibly on the way out. Carter also has a couple former college teammates on the Colts' roster in linebacker
Jonathan Newsome
and running back
Trent Richardson
. And while he'll always be compared to his father on some level, those comparisons would be much louder in Minnesota. If part of Carter's motivation was a desire to forge his own path, there's something to be said for that.
What we can draw from the process, though, is further confirmation the Vikings are in the market for a receiver. They'd stayed in touch with Carter since his rookie camp tryout two years ago, and they liked the idea of pairing him with
Teddy Bridgewater
. There will be other avenues available to the Vikings if they want a playmaking wideout this offseason. The team is still hoping
Cordarrelle Patterson
can emerge in Year 3, though it remains to be seen if he'll work in more of a specialty role than as a split end. Players like Louisville's
DeVante Parker
and West Virginia's
Kevin White
could be options with the 11th overall pick, and there's plenty of talent among this year's group of unrestricted free agents. If Carter does indeed finalize a deal with the Colts -- as it appears he will -- the Vikings will have lots of other options this spring.
October, 23, 2014
10/23/14
3:45
PM ET
EDEN PRAIRIE, Minn. -- In the recent annals of performances by rookie quarterbacks, the number of times
Teddy Bridgewater
's been taken to the ground has been startling.
The
Minnesota Vikings
rookie quarterback has been sacked 15 times in just four games, or on 11 percent of his dropbacks.
In other words, according to ESPN Stats and Information, Bridgewater is on pace to be the most frequently-sacked rookie quarterback in the league since the
Dallas Cowboys
' Chad Hutchinson in 2002. He's been pressured on 27.9 percent of his dropbacks, and he's thrown just one touchdown pass against five interceptions so far.
Bridgewater
I've heard some talk recently about the idea that the Vikings could be "ruining" Bridgewater by exposing him to so much pressure -- and running the risk of either getting him injured or making him skittish -- as a rookie. The name David Carr usually comes up in these conversations as a cautionary tale, after the former first overall pick was subjected to 76 sacks in the
Houston Texans
' inaugural season, and then another 173 in the following four seasons, before the Texans let him go.
It's true that the list of the most-sacked rookie quarterbacks in history (usually passers playing for bad teams behind leaky offensive lines) includes a number of busts: Carr tops the list at 76, followed by Tim Couch at 56, Jake Plummer at 52, Dieter Brock at 51, Tony Banks at 48 and Rick Mirer at 47. But then we come to names like Warren Moon and Jim Kelly (albeit after time in the CFL and USFL, respectively), and
Andrew Luck
, who was taken down 41 times as a rookie and pressured on 28.8 percent of his dropbacks while playing for a team that threw the ball 627 times. Phil Simms took 39 sacks as a rookie.
Russell Wilson
was sacked 33 times,
Joe Flacco
32 and
Ben Roethlisberger
30.
It'd be one thing to worry if Bridgewater was showing signs of letting the rush affect him, either by taking off early or hurrying throws to avoid sacks. We've seen him rush throws on a couple occasions, but not to the point where I'd attribute it to something more deep-seeded than a rookie still figuring out his timing in the NFL. He rebounded from two interceptions on Sunday, making some of his best throws when he stood in the pocket and fired decisively to a receiver, and offensive coordinator Norv Turner sounded pleased on Thursday with how composed Bridgewater has remained in the face of all the pressure.
"He's got good sense in the pocket. He's getting better at getting the ball out," Turner said. "He threw the ball away a couple times Sunday when there was nowhere to throw it, where against Detroit [on] those plays he took sacks. We're working on getting him a lot quicker, we're working on design to help get the ball out quick, we're working on protection so we don't have to have the conversation about how he handles it."
If the Vikings keep giving up pressure to the point where Bridgewater's sack totals are pushing into the 50s, then we might have something to worry about long-term. But right now, the issue seems to be affecting the Vikings' ability to win in the present more than it's stunting Bridgewater's growth. The amount of pressure the Vikings have allowed is alarming, especially from an offensive line that was supposed to be one of the team's strengths. But the Vikings were drawn to Bridgewater in part because of how masterfully he handled pressure in college, and any sense of a maladjustment because of what he's faced as a rookie probably is premature.
May, 9, 2014
5/09/14
5:00
PM ET
EDEN PRAIRIE, Minn. -- Three years ago, the
Minnesota Vikings
took Florida State quarterback
Christian Ponder
with the 12th overall pick in the draft, setting in motion a chain of events that ended -- or at least crossed the start/finish line for a second lap -- on Thursday night, when they spent the 32nd overall pick on Louisville quarterback
Teddy Bridgewater
, hoping to give new coach Mike Zimmer a better solution at quarterback than they gave former coach Leslie Frazier.
[+] Enlarge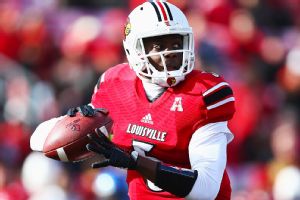 Andy Lyons/Getty ImagesWith QB Christian Ponder mostly ineffective in his three seasons in Minnesota, the team will be looking to quickly develop Teddy Bridgewater.
It was no surprise at all the Vikings would take a quarterback high in the 2014 draft, after emerging from the rubble of what turned out to be a disappointing 2011 quarterback class. What was interesting, though, was how much company they had in making a quick pivot at the position.
According to ESPN Stats & Information, the Vikings,
Jacksonville Jaguars
and
Cleveland Browns
became just the fourth, fifth and sixth teams in the common draft era to take a quarterback in the first round for the second time in three years. Before Thursday night, it had never happened twice in the same draft, and it hadn't happened at all since 2005, when the
Washington Redskins
took
Jason Campbell
three years after drafting Patrick Ramsey.
There are multiple reasons why it's easier to move on from quarterbacks after the 2011 collective bargaining agreement than it used to be, but the structure of the current CBA -- and the profound changes it's enacted on rookie contracts -- might also be driving teams to be less patient. Gone are the days of contracts like the six-year, $78 million deal the
St. Louis Rams
had to give No. 1 overall pick
Sam Bradford
in 2010.
It's much less cost-prohibitive to replace a quarterback, with both salaries and contract guarantees down significantly for young players, and there's also an incentive to get players on the field sooner. Four of the final six teams playing last season -- the
Seattle Seahawks
,
San Francisco 49ers
,
Carolina Panthers
and
Indianapolis Colts
-- all had quarterbacks playing in their rookie deals, and all four got high-level quarterback play at a price that allowed them to spend money on other players. Those teams all have bills coming due for
Russell Wilson
,
Colin Kaepernick
,
Cam Newton
and
Andrew Luck
, respectively, but they've combined to get seven playoff appearances out of those players while ranking in the bottom half of the league in quarterback spending.
With quarterbacks directing more complex offenses in college and high school, it's easier to expect more out of them at a young age, and while the Vikings have talked about wanting Bridgewater to sit this season, it wouldn't be surprising if they want to have him on the field by 2015. They've got a little extra time, thanks to the fifth-year option that will automatically be added to his contract after they took him in the first round, but one of the best tools in roster construction these days is to have good quarterback play at below-market cost.
If the Vikings can capitalize on those years from Bridgewater, they'll be in great shape to put a playoff team around him. If they can't? Well, as Ponder can attest, it isn't expensive to be impatient in today's NFL.
April, 5, 2014
4/05/14
8:00
AM ET
Each week, I will field questions via Twitter with the hashtag #VikingsMail, then will deliver the answers over the weekend.
February, 28, 2014
2/28/14
12:00
PM ET
MINNEAPOLIS --
We talked this morning
about the rising NFL salary cap and how veteran players like former
Cleveland Browns
linebacker
D'Qwell Jackson
(in whom the Vikings are reported to have interest) could find a kinder free-agent market this spring than they have in the past. What we didn't discuss was the projections for the salary cap in future years. Those figures, according to ESPN NFL Insider Adam Schefter, are expected to be stratospheric.
Schefter reports the cap will likely increase from $132 million in 2014 to over $140 million in 2015. It will surpass $150 million in 2016, Schefter reports, as new TV money juices the league's revenue even more. Teams aren't required to spend to the cap, but they must spend an average of at least 89 percent of the cap in cash on a four-year basis from 2013-16, and again from 2017-20. In other words, the NFL's rising financial tide will lift all boats, in one form or another.
[+] Enlarge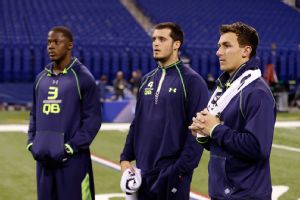 AP Photo/Michael ConroyIf the Vikings select one of the potential franchise quarterbacks -- such as Teddy Bridgewater, Derek Carr or Johnny Manziel -- in this year's draft, they'll have every incentive to play him early.
Where will the money go? It's a good bet we'll see some of it handed out in the form of new deals for young quarterbacks like
Andrew Luck
,
Russell Wilson
and
Colin Kaepernick
in coming years. Those QBs are all playing on their rookie deals, and they have six playoff appearances, four Pro Bowls, two Super Bowl trips and one championship between them. In other words, they've all delivered big results for their teams on the most cap-friendly contracts they'll ever have.
That brings us to the Vikings, and another aspect of their search for a franchise quarterback this spring. They've played with remarkably small expenses at the quarterback position for some time -- they've been in the league's bottom quarter of cap commitments at quarterback for six of the past nine seasons -- and thanks to the 2011 collective bargaining agreement, the Vikings are now in an era where they can get big-time production from a young quarterback before having to pay for it.
The financial reality means that if the Vikings can find the right quarterback in the draft this spring, they'll have every incentive to get him on the field quickly. It would certainly be a prudent move to sign the much-discussed veteran bridge this spring, whether that's by bringing back
Matt Cassel
or finding another quarterback on the open market, but if the Vikings get a franchise-caliber quarterback, the league's salary structure incentivizes them to play him quickly. If he can produce early, he'll also produce cheaply, and the Vikings could fill other holes under the league's rising cap ceiling, much like the 49ers and Seahawks have been able to do while going to Super Bowls with quarterbacks on their rookie deals.
None of this is to say the Vikings
should
rush a young quarterback into action; if he can't play, he can't play, and we've seen with
Christian Ponder
the organizational consequences of trusting a young quarterback who doesn't get the job done. But there's a major financial advantage waiting for teams who can get a young quarterback on the field quickly. It's why the days of
Aaron Rodgers
-like apprenticeships are essentially over, and why the Vikings can get ahead of the game, financially and competitively, if they make the right moves at quarterback in the draft.
January, 16, 2014
1/16/14
10:00
AM ET
It's probably no coincidence that all 10
Minnesota Vikings
players surveyed for ESPN's NFL Nation Confidential survey named a quarterback when asked whom they would take if they had to start a team with one player. New England's
Tom Brady
, Denver's
Peyton Manning
and Green Bay's
Aaron Rodgers
claimed all 10 votes, from a team that's been without a consistent starting quarterback for almost a decade and might not have had a bona fide franchise QB since Fran Tarkenton in the 1970s.

But the Vikings were hardly alone in that opinion. Of the 320 players ESPN surveyed, more than 220 provided the name of a quarterback when they were asked that question. Manning won the ballot, with 62 votes -- six more votes than
Andrew Luck
, his successor in Indianapolis. Brady finished third with 41 votes, Rodgers came in fourth with 40 and
Detroit Lions
wide receiver
Calvin Johnson
finished fifth with 37. Johnson finished higher than any non-quarterback, and then the results dropped all the way down to Vikings running back
Adrian Peterson
, who finished sixth with 20 votes.
It's impossible to know how every player answered the question, and Manning's age (37) might have led some players around the league to vote for Luck, who's the only quarterback in his 20s among the top four. But it's a hypothetical question, and if we're answering regardless of age, it's hard to come up with a name other than Manning, who just finished the most prolific season by a quarterback in NFL history.
Vikings players who voted for Manning certainly admired what he did this season, and given the team's current state at quarterback, the Vikings can't be blamed for wishing they had someone such as Manning, whose father finished his career playing in the Metrodome. As the Vikings prepare to possibly select their next quarterback in this spring's draft, Manning is still the gold standard of what they'd hope to find.