Minnesota Vikings:

Barry Sanders
December, 27, 2013
12/27/13
5:35
PM ET
EDEN PRAIRIE, Minn. -- Even before Friday's news that he would be listed as doubtful for the final game of the
Minnesota Vikings
' 2013 season, this year would have to qualify as a trying one for
Adrian Peterson
. The reigning NFL MVP began with talk of breaking
Eric Dickerson
's season rushing record after falling just 8 yards short last year, and his team had aspirations of a deep playoff run after a surprising 10-6 finish in 2012.
[+] Enlarge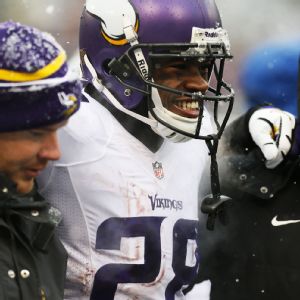 Mitch Stringer/USA TODAY SportsHistory suggests that Adrian Peterson, who will be 29 at the start of next season, may have peaked as a running back.
Only time will tell whether Peterson's 2013 season was an injury-induced fluke, a regression to the mean or the toll of a heavy workload catching up with him. And it's not like he's had a bad season. Assuming he doesn't play Sunday, Peterson will still, in all likelihood, finish among the league's top five or six rushers, despite carrying just 18 times in the Vikings' final four games. He had a shot at his second straight rushing title despite playing much of the year with nagging hamstring, groin and foot injuries that sapped his breakaway speed and made Peterson, by his own admission, run tentatively at times.
But time won't give Peterson -- or the Vikings -- this year back, and by the next time he steps onto a football field, he'll be 29 years old, gearing up for the first of two seasons outdoors. The Vikings' next indoor home game will come when Peterson is 31 years old in 2016. In light of all that, it's not hard to feel a lingering sense that Peterson's time as an elite running back might be slipping away.
History certainly doesn't play in his favor. Peterson has run for at least 1,300 yards in four of his seven NFL seasons; since the 1970 AFL-NFL merger, only 11 running backs have run for at least 1,300 in a season. The number of 1,300-yard seasons by a 30-year-old running back drops to nine, and by age 31, it's down to five. Only one running back since the merger -- Walter Payton in 1986 -- has run for more than 1,300 yards at age 32, and Payton is the only one even to eclipse 1,200 yards at that age.
Peterson's 1,266 yards are the 20th-most by a 28-year-old running back, behind lesser lights like William Andrews, Christian Okoye and
Terry Allen
. None of those players eclipsed 1,300 yards again after their age-28 season, and only Okoye posted another 1,000-yard season.
Peterson has much more in common with thoroughbreds like
Emmitt Smith
,
Barry Sanders
and Payton, and all three had seasons between the realms of great and dominant after they hit 29; Smith hit 1,332 yards at 29 and 1,397 at 30, Payton ran for at least 1,300 yards each year from 29 to 32, and Sanders had his MVP-winning, 2,053-yard season at 29 before running for 1,491 at 30 and then calling it quits.
But let's say Peterson can do that. He'll still have to carry a Vikings team that could be breaking in another new quarterback, and he'll have to play the next two seasons outdoors, where he's averaged about a quarter yard less (4.84) a carry in his career than he has indoors (5.08), according to ESPN Stats & Information. The running back has made no secret of his disdain for playing outdoors, and while bad weather might limit passing games, it can also slow down backs looking for big gains.
These numbers won't be popular with Vikings fans -- and probably not with Peterson, who enjoys few things more than excelling in the face of long odds. But Smith, Sanders and Payton enjoyed defying the odds, too, and time eventually caught up with all of them; Payton retired after a 533-yard season at age 33, while Smith never averaged more than four yards a carry after 32.
There's strong statistical evidence that elite seasons by a running back become increasingly rare after the age of 28, and even if Peterson can crank out a few more, the Vikings can't count on him being in a stratosphere of his own for much longer. That they couldn't do more with his age-28 season has to register as a disappointment.
September, 3, 2013
9/03/13
2:35
PM ET
We've only talked in passing detail about
Adrian Peterson
's attempt to chase
Eric Dickerson
's single-season rushing record for a second straight season -- probably because there's been so much chatter about the topic in other places. Whether it's Peterson talking about wanting to run for 2,500 yards or experts saying he can't possibly duplicate last year's 2,097-yard season, the topic has been a frequent source of conversation heading into the season.
We won't belabor the point here today, other than to mention a couple unique things about Peterson's 2012 season that might, in fact, be unique -- as in, they can't be duplicated again.
According to ESPN Stats & Information, Peterson ran for 1,019 yards after contact in 2012, for an average of 2.9 yards a carry. In other words, nearly half of Peterson's yards came on his ability to take a hit and keep running for an average of almost 3 yards. Essentially, after he took a hit last year, he was still better than the Raiders'
Rashad Jennings
, who ran for 2.8 yards a carry -- with or without contact! -- in 2012. And only one running back in the league --
Maurice Jones-Drew
, with 785 yards after contact in 2011 -- has even come within 250 yards of Peterson's total since Stats & Information started tracking the statistic in 2009.
From 2009 to 2011, Peterson's post-contact average was 2.3 yards per carry. If he carried the same number of times in 2013 as he did in 2012 (348) and dropped back to his 2009-11 average, he'd run for 219 fewer yards. If we add the 2012 season back in, bumping Peterson's average after contact back up to 2.49, and assume he hits that figure this year on 348 carries, he'd run for 152 fewer yards.
Then there's this: Peterson had 27 runs of 20 yards or more in 2012. That was the most in football last year by 15. Since 2008, only five other running backs have even recorded half that many long runs, one of them being Peterson himself in 2008.
We can all remember the highlights of Peterson breaking one tackle and busting loose for 60 or 70 yards. If he can't do that with the same regularity this year, he'd have to find another way to make up for those yards -- most likely by getting more carries or increasing his productivity on his shorter runs. Considering he had the second-most carries of his career last year, and his highest yards-per-carry figure, it seems unlikely to expect Peterson to put up even bigger numbers without the efficiency afforded by a 70-yard romp.
Finally, we've got to consider this point: Of the 18 men in NFL history to carry more than 300 times in a season and average more than five yards a carry, only two --
Barry Sanders
and
Tiki Barber
-- did it in back-to-back years. Sanders actually crossed the 2,000-yard plateau in his second trip over the 300-and-5.0 barrier, when he ran for 2,053 yards on 335 carries (an average of 6.13 yards per attempt) in 1997. And Barber did it at ages 30 and 31, when he averaged 5.21 and 5.08 yards per attempt in 2005 and 2006. But considering Peterson's 6.03 yards per attempt tied O.J. Simpson for the second most of anyone who carried more than 300 times in a season, it probably isn't realistic to expect him to do it again. No running back in history has ever crossed 1,500 yards a year after running for 2,000, and the drop-off in yards-per-carry is part of the reason why.
In all likelihood, topping Dickerson would likely require even more carries than Peterson got last year (Dickerson, it should be noted, carried 379 times when he set the record in 1984). When the Vikings drafted
Cordarrelle Patterson
and signed
Greg Jennings
in an effort to balance their offense, it's worth asking whether Peterson's workload might even drop this year.
After watching Peterson last year, it's awfully tough to say he's incapable of anything. If he's determined to break Dickerson's record -- as he certainly seems to be -- he'll probably give himself a reasonable shot. But as Dickerson has said, so many things would have to go right for Peterson to do it again. History, at least, is not on the running back's side -- not that he's ever been particularly concerned with that.
Maybe it's best to treat Peterson's 2012 season for what it was: a singular act of brilliance by a running back driven to make a dramatic comeback from knee surgery, and not the new normal. Yes, Peterson will be healthier this season than he was last year. Yes, the Vikings will likely be willing to use him early in the season more than they were last year (the fact that Peterson didn't cross 150 yards until Week 7 makes what he did even more remarkable). But it's unreasonable to expect a running back to break tackles and explode for long runs with the regularity Peterson did last year.
If he does it again, and topples Dickerson in the process, Peterson will and should be celebrated for years to come. But last year should be enough to get him that anyway, especially considering how heavily history is stacked against him replicating it.