Minnesota Vikings:

Ben Roethlisberger
April, 29, 2014
Apr 29
5:05
PM ET
MINNEAPOLIS -- The NFL draft is now just nine days away, and for the better part of the next week, we're going to spend some time breaking down the quarterbacks who might come to the
Minnesota Vikings
, either with the eighth overall pick or in the draft's later rounds.
Bortles
We'll be doing that with the help of Matt Williamson, ESPN's resident NFL scout who used to be a college and NFL scout for the
Cleveland Browns
(in other words, he's spent some time assessing options for a quarterback-needy team). Williamson said earlier this week he believes the Vikings are actually in the best position of any team needing a quarterback in this draft, because of how many pieces they have in place on offense and how much better
Matt Cassel
is than the stopgap options available to other teams looking at a passer.
"Cassel, I think, you can win with. I could see him being
Matt Schaub
with the Texans before Schaub (struggled) a year ago," Williamson said. "If quarterbacks fly off the board, you're getting some high-quality prospects at other positions. I would view this (quarterback) class, for the Vikings, as, 'We're going to get a quarterback in one of the top two rounds, and we don't mind if he's somewhat developmental.'"
To get started with our look at the quarterbacks, we'll take a look at Central Florida's
Blake Bortles
, whom ESPN's Mel Kiper Jr. and Todd McShay both have the Vikings taking with the eighth overall pick:
Bortles, Central Florida junior
2013 stats:
67.8 completion percentage, 3,581 yards, 29 touchdowns, eight interceptions.
NFL combine measurements:
6-foot-5, 232 pounds, 32 7/8-inch arm length, 9 3/8-inch hand span.
Pros:
Of the quarterbacks widely projected to be taken first, Bortles might be the best fit for the Vikings; he's got the size that offensive coordinator Norv Turner has typically sought in his quarterbacks, and while his arm strength might not be at the top of the draft, he's got enough to make the throws required in Turner's offense. He hit 13 of 22 throws of 16 yards or more when he was under pressure last season, according to ESPN Stats & Information, and would seem to have the mobility and athleticism to drive the ball downfield while facing a rush. There aren't any character questions with Bortles, and there's little doubt about his eagerness to learn. "He's a ways away, but I think that's OK for the Vikings' situation," Williamson said. "I don't think they need a 'now' guy. Would you use that pick on him? I don't think he's going to be there, but of the three (Bortles, Texas A&M's
Johnny Manziel
and Louisville's
Teddy Bridgewater
), he's the best fit."
Cons:
Bortles' footwork probably needs to be refined at the NFL level, as he got himself in trouble by not stepping into throws and allowing the ball to flutter at times last season. He's been compared to
Ben Roethlisberger
, but Williamson said those parallels shouldn't be drawn. "Ben, I think, has as much functional arm strength as anyone in the league," Williamson said. "It's not just standing in the pocket and throwing rockets. I mean, with people all over him, he throws the ball 65 yards down the field. I don't see Bortles ever being that guy. I think he probably is a better athlete than Ben, in terms of foot speed, but I don't think he's nearly as functionally strong." He also would need time to absorb the complexity of an NFL offense after playing at Central Florida. "I don't think they put a lot on his plate," Williamson said. "I think he's very much a work in progress."
November, 29, 2013
11/29/13
5:20
PM ET
EDEN PRAIRIE, Minn. -- Based on whatever abilities I have to gauge the mood of a team by its atmosphere in a postgame locker room, the loss that jarred the Vikings the most this season was their 31-30 defeat in Week 2 against the
Chicago Bears
.
The Vikings were playing their second straight division game on the road, coming off a loss to the
Detroit Lions
in which they'd contained
Calvin Johnson
and forced a pair of turnovers. They still had a chance to put their season on the right path with a win in Chicago, and after
Letroy Guion
recovered
Matt Forte
's fumble at the Bears' 47 with 6:28 to go, it was easy for an optimist to map out what would happen next: The Vikings would ride to a game-sealing touchdown behind
Adrian Peterson
and a solid second half from
Christian Ponder
, head home with their first win in Chicago since 2007, claim a victory in a winnable home opener against the
Cleveland Browns
and head to London with hopes of a second straight playoff berth very much alive.
What happened instead, of course, is this: The Vikings drove to the Bears' 4, only came away with a field goal, kicked short to avoid
Devin Hester
, gave
Jay Cutler
3:15 to move the Bears 66 yards, let Cutler pick away at their zone defense and gave up a 16-yard touchdown to
Martellus Bennett
with 10 seconds left, on a play where confusion reigned and frustration spilled into the visitor's locker room afterward.
Until that point, the Vikings had every reason to feel their season could be righted with a quick fix. As players tried to maintain a lid on their emotions afterward, it was tough to escape the ominous facts about what happens to 0-2 teams. What the Vikings couldn't have predicted at that point, though, was that they'd be faced with the same situation five times in their next nine games -- and only come away winners twice.
Minnesota has played more defensive snaps with a late lead than any team in the NFL this season, with worse results than any club in the league. When leading by seven or fewer points in the final three minutes of a game, the Vikings have allowed quarterbacks to go 30 of 47 for 365 yards and three touchdowns, according to ESPN Stats & Information. Teams have run for another 36 yards and gained a total of 23 first downs. The Vikings' only sack, and only turnover, came when
Everson Griffen
took
Ben Roethlisberger
down and forced a fumble to end the Vikings' win over the
Pittsburgh Steelers
in London. But since Cutler beat them, Cleveland's
Brian Hoyer
and Dallas'
Tony Romo
have done the same, and Green Bay's
Matt Flynn
drove the Packers to a game-tying field goal last Sunday.
"The results don't say we've learned a lot [from the first Bears game]," coach Leslie Frazier said. "We haven't produced in these situations as often as we need to, obviously. I think we did learn some things from that situation. We've just got to find a way to make some plays. We did in the Washington game and the Pittsburgh game but we haven't done it enough."
There's not much of a silver lining in blowing four last-minute leads this season, but Frazier tried to find one Friday by pointing out the Vikings' defense stiffened and held the Packers to a field goal in Sunday's tie. The Vikings have also taken to calling timeouts on two-minute drills in their last two games, both to give their offense another crack at scoring and to make sure their defense is set. Frazier blamed himself for not getting more involved in the defensive play-calling at the end of the Bears game, and linebacker
Erin Henderson
said defensive coordinator Alan Williams' call on the touchdown was something the Vikings hadn't practiced in last-minute situations leading up to the game.
"It does help to get our guys settled," Frazier said. "Each situation is different. And with all the new people we're playing now. Being in these situations for the first time you want to make sure that we know what we're doing and you can't worry about the other team. We just got to make sure we know what we're doing.''
The youth of the Vikings' secondary has rarely been more apparent this season than it was that Sunday in Chicago, and Frazier wanted to believe they'd be better on Sunday if the Vikings found themselves in the same situation. With so many injuries sapping the Vikings' cohesiveness in the defensive backfield, though, it's hard to know exactly what would happen.
Against
Josh McCown
--
who's 10 years removed from his own memorable last-minute moment against the Vikings
-- now would be as good a time as any to turn it around.
"We'll get another opportunity -- maybe -- against Chicago," Frazier said. "And if we do I think there are some things we learned from that situation that should help us on Sunday."
September, 29, 2013
9/29/13
9:10
PM ET
LONDON -- In their first three games, the
Minnesota Vikings
' defense has been vexed by quarterbacks who were often able to get rid of the ball quickly, either by dumping it off to a running back (Detroit's
Matthew Stafford
), finding holes in the Vikings' porous pass coverage (Cleveland's
Brian Hoyer
) or both (Chicago's
Jay Cutler
).
Allen
The Vikings had only nine sacks in three games, despite pressuring opposing quarterbacks on 43 dropbacks, according to ESPN Stats and Information. That was the 10th-best total in the league, but it only left the Vikings tied for 14th in sacks. A team that is at its best with pressure from its front four wasn't taking quartebacks down enough to protect the rest of its defense from looking vulnerable, and in their past two games, the Vikings were left stunned by quarterbacks who engineered last-minute comebacks.
That Pittsburgh's
Ben Roethlisberger
-- who has led 25 fourth-quarter comebacks in his career, including one in Super Bowl XLIII -- wasn't able to pull the
Pittsburgh Steelers
even on Sunday night reflects mostly on the Vikings' defensive line. The group had four of the team's five sacks, including the final one from
Everson Griffen
that forced a game-sealing fumble, and harassed Roethlisberger throughout a game where the Steelers were forced to throw the ball 51 times.
Roethlisberger threw for 382 yards on Sunday night, burning cornerback
Josh Robinson
for large chunks of it, but he also threw 18 times in the fourth quarter as the Steelers tried to erase a 17-point deficit. The Vikings' pass rush helped create that deficit by getting to Roethlisberger enough early in the game to thwart the Steelers' drives.
"We kind of say when the rush and coverage matches up, that's when you make plays," safety
Harrison Smith
said. "The rush was there all night long. Still got to shore some things up on the back end, but ultimately it was enough to win."
The Vikings have major reasons to be concerned with their secondary, especially with
Chris Cook
and
Jamarca Sanford
out on Sunday night. Both could be back after the bye, but Roethlisberger picked on Robinson all night, and
A.J. Jefferson
has also struggled in coverage this season.
But
Jared Allen
devoured Steelers left tackle
Mike Adams
, and fought through some of the double-teams Pittsburgh started throwing at him later in the game.
Sharrif Floyd
shared a sack with Allen. Greenway got another one on a linebacker blitz, and Griffen, who hadn't had one in three games after entering the season with high expectations, made the biggest play of the game.
After the Vikings' offense had played it safe on third down and cost themselves the chance to put an opponent away for the third week in a row, Frazier turned to his defense. Fittingly enough, when Minnesota was reeling again, its pass rush was what had the last word.
"Our defense went out and did a great job," Frazier said. "I just did not believe that we were going to lose that game, even though we looked precarious at times."
September, 27, 2013
9/27/13
1:00
PM ET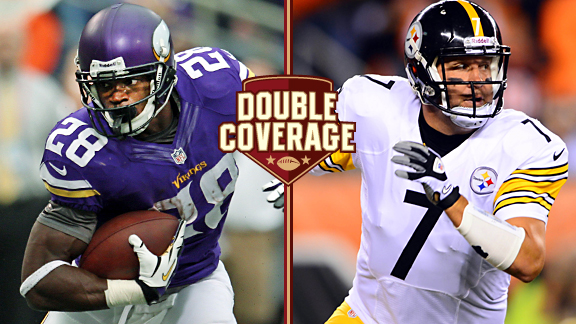 USA TODAY SportsEither Adrian Peterson's Vikings or Ben Roethlisberger's Steelers will leave London with a win.
As exports go, sending the
Minnesota Vikings
and
Pittsburgh Steelers
to London this weekend probably wasn't what the NFL had in mind.
Both teams are 0-3. The Vikings have the second-most turnovers in the NFL (10), and the Steelers are third with nine turnovers. Pittsburgh has yet to force a turnover on defense, and the Vikings gave up last-minute touchdowns the last two weeks in losses to the
Chicago Bears
and
Cleveland Browns
.
And yet, one of these teams will likely head back across the Atlantic Ocean with a win on Sunday. The other will probably have to say goodbye to their already-slim playoff hopes, so there's plenty on the line in London on Sunday. To set up the game, ESPN.com Vikings reporter Ben Goessling and Steelers reporter Scott Brown got together to break things down:
Ben Goessling:
Well, Scott, I don't think this is what either of us expected this game to be -- both of these teams, badly in need of a win, looking lost as they head over to London. For me, the most surprising thing with the Vikings has been how much trouble they've had getting
Adrian Peterson
going.
He's clearly missed fullback
Jerome Felton
(who's back this week) and he's admitted to trying to do too much on a number of runs. I think Peterson gets going this week as he follows Felton's lead, but I can't say I expected him to have only three runs longer than 10 yards through three games. What has surprised you most about how the Steelers have struggled?
Scott Brown:
Ben, to put the Steelers' running game into perspective, consider this: Their leading rusher,
Felix Jones
, has 71 yards, or seven yards fewer, than Peterson had on his first carry of the season. As bad as the running game, and the offense in general, has been, I am most surprised that the defense hasn't made more of what coach Mike Tomlin calls splash plays, especially since
Troy Polamalu
is healthy and has looked terrific. In addition to their lack of takeaways, the Steelers have yet to force a turnover.
Takeaways have been an issue since 2011, and the Steelers have to find a way to force turnovers if they want to have any chance of turning their season around. Speaking of defensive issues, the Vikings have been atrocious against the pass. Is this a get-well game for
Ben Roethlisberger
?
Goessling:
Yes, I think it could be, especially considering how many issues the Vikings appear to have in their secondary.
Chris Cook
,
Jamarca Sanford
and
A.J. Jefferson
are all in some danger of missing the game Sunday, which would likely leave
Josh Robinson
and
Marcus Sherels
as the starters, and
Xavier Rhodes
as the only other healthy corner on the roster.
I've always thought Roethlisberger is one of the league's best at exposing a suspect secondary, since he can extend plays and force defensive backs to stick on their receivers longer than they should need. As effortlessly as everyone has been able to throw on the Vikings so far, I don't see why Sunday's game should be much different.
Let's switch sides of the ball. If
Christian Ponder
plays -- and that appears to be in at least some doubt now that he has a rib injury -- he'll have to properly diagnose the Steelers in their 3-4 defense. As hesitant as Ponder can be sometimes, is this a chance for the Steelers to put some heat on a quarterback?
Brown:
Dick LeBeau will try to confuse Ponder, and the longtime defensive coordinator has traditionally tormented young quarterbacks who struggle to figure out where the Steelers are blitzing from and when they are sending an extra pass-rusher. The best thing the Vikings can do for Ponder, or whoever plays quarterback, is to win on first and second down.
They have just the player who can help them do that and keep them out of third and long in Peterson. He is the best running back on the planet and he is catching the Steelers at a time when their run defense looks vulnerable.
The Steelers are giving up 115.3 rushing yards per game, which is exceedingly high for a team that has finished among the NFL's top three rushing defenses 13 of the past 19 seasons. They yielded 5.4 yards per carry last Sunday night to Chicago's
Matt Forte
. Forte is a good back, but he is no Peterson. Ben, here is my final question for you: What has to happen for the Vikings to win?
Goessling
: Peterson has to have a big day. They haven't had a game yet this year where he's been able to take control of things, and if he can do that Sunday, that'd be a huge help to whomever the Vikings quarterback will be. My hunch is Ponder's injury will be just bad enough -- or it will at least be portrayed as such -- to make
Matt Cassel
the starter, but regardless of the quarterback, the Vikings need Peterson to do what he did last year.
They've also got to cut out the turnovers. Their own 10 turnovers have washed out their defensive productivity in that area, and on a couple occasions, the Vikings have given the ball back right after their defense took it away. That can't happen against a defense that hasn't forced one yet. What's the key for the Steelers to come away from London with their first victory?
Brown:
Contain Peterson. I don't think it is realistic to shut him down, but the Steelers need to put the Vikings in enough third-and-long situations where they can really go after Ponder or Cassel. They also need to generate a couple of takeaways.
The offense also has to build on the positives it produced last Sunday night against the Bears when it gained 459 total yards. Yes, the five turnovers were a killer but I also think the generosity displayed by Roethlisberger (two lost fumbles and two interceptions) was also an anomaly. If the Steelers protect the ball and take it away here and there from the Vikings, I think they win.
.