Minnesota Vikings:

Bill Parcells
January, 19, 2014
Jan 19
2:05
PM ET
MINNEAPOLIS -- After he was hired as the
Minnesota Vikings
' head coach on Wednesday, Mike Zimmer got a call from Hall of Fame coach Bill Parcells, for whom Zimmer had worked in Dallas. When Zimmer was Parcells' defensive coordinator with the Cowboys, Parcells made a habit of heading to Zimmer's adjacent office with points he wanted Zimmer to write down for when he was a head coach.
After congratulating Zimmer on Wednesday, Parcells gave him three more things to write down. Zimmer wouldn't share what those were with reporters after his introductory news conference on Friday, but according to ESPN NFL Insider Chris Mortensen, Parcells' three points were:
1. Your best friends will disappoint you.
2. Four or five things happen in pro football every day that you wish wouldn't happen. If you can't handle those, you need to get another job.
3. It's lonely.
As you can see, Parcells -- who became the first coach in NFL history to take four different teams to the playoffs -- didn't regale Zimmer with stories of his three Super Bowl appearances and two championships, or his ride to a rarefied place in NFL coaching history. He reminded Zimmer that he's about to take an enormous leap in responsibility, and while the accolades can be worth it in the long run, the most immediate difference Zimmer will see is just how much is out of his control. Zimmer seemed well aware this week of what he's about to take on, but there are probably some elements of the job he won't fully grasp until he gets into it.
In any case, it's interesting to hear Parcells' words to Zimmer, from a legendary coach to a new head coach, and what they reveal about the day-to-day nature at the top of the NFL.
January, 17, 2014
Jan 17
5:20
PM ET
EDEN PRAIRIE, Minn. -- New Vikings coach Mike Zimmer didn't offer many details at his introductory press conference Friday about how the team will be structured, partially because he doesn't yet have a staff in place to help him make those decisions. But Zimmer did provide context about his plan for the Vikings' defense.

He expects the Vikings' defense to be similar to what he did in Cincinnati, where the Bengals ran a 4-3 base scheme that emphasized pressure from the front four and used man coverage more liberally than the Vikings did under Leslie Frazier. In six seasons with Zimmer, the Bengals blitzed on 1,027 snaps, which was the 11th-fewest in the league, according to ESPN Stats & Information. Frazier was either the Vikings' defensive coordinator or head coach that entire time, so we can draw a fairly reliable comparison between the two. The Vikings blitzed on 1,049 snaps from 2008-13, 13th-fewest in the league.

Zimmer did coach in a 3-4 scheme in Dallas, when Bill Parcells wanted to switch from the 4-3 defense the Cowboys had run during Zimmer's first years there, and Zimmer's adaptability is one of the things for which players praise him the most. George Edwards, the Miami Dolphins linebackers coach whom Zimmer has reportedly talked to about the Vikings' defensive coordinator job, has also coached in 3-4 schemes, so it's not impossible the Vikings would entertain the idea of a switch. But the safer bet would seem to be the team sticking with a 4-3 under Zimmer.

The coach also said he plans on being "very" involved in structuring the defense, partially because it's what he's always done, and said he could wind up calling defenses on game day. He acknowledged, though, that he'll have to adjust to being a head coach and not just a coordinator.

"I do think that's one of my expertise areas," Zimmer said of calling defenses during games. "That'll be a little bit of a transition, and I'll have to work through that. I think part of that, for me, will be the preseason games -- how I feel about the things we're doing defensively and how I feel about the game management, communicating with offense. I think all those things will be a little bit of a 'Let's wait-and-see.'"
January, 16, 2014
Jan 16
7:10
PM ET
MINNEAPOLIS -- In the simplistic terms, the
Minnesota Vikings
went from a soft-spoken father figure who rarely showed any signs of anger on the sideline to a demonstrative, fiery head coach with a strong command of four-letter vocabulary. Their switch from Leslie Frazier to Mike Zimmer could be viewed in terms of one of the most reliable cliches in coaching -- that when a team fires a coach, it always hires the opposite of what it just had -- but that makes it hard to know what to do with this:
When the Vikings fired Frazier, numerous players talked about what he'd meant to their lives, and running back
Adrian Peterson
-- who'd campaigned for the Vikings to keep Frazier -- was so upset he wouldn't talk to reporters about it
until we caught up with him this week
. Zimmer comes to Minnesota with an equally fierce adoration from the players he's coached, and retired linebacker
Scott Fujita
-- who was one of the game's most perceptive and thoughtful players --
penned this ode to Zimmer
for Fox Sports.
[+] Enlarge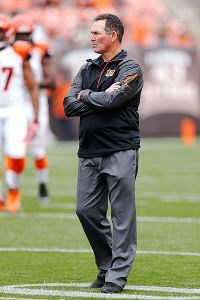 AP Photo/Joe RobbinsMike Zimmer will bring a different coaching style to Minnesota than the one the Vikings had under Leslie Frazier.
That's as impassioned an homage to a coach as I've seen a player write, and in it, Fujita raises a good point: The definition of what constitutes a "players' coach" is probably too simple.
"I honestly don't even know what a players' coach is and in the past few days, I've read reports that describe Zimmer as such," he writes. "Well if being a players' coach means that the players have a long leash, and that the coach 'takes care of his guys' and is quick to throw them a bone, then I don't know if I'd describe Zim that way. I think the more important questions about whether someone is a players' coach
should
be this: Do his guys
want
to play for him? When he stands in front of the room, do they respect him and respond to him? Is he able to reach his players? From personal experience, I can answer
yes
to each of those questions as it relates to Mike Zimmer."
The funny thing is, I'd say Frazier got the same response out of his locker room. The success of coaches like Tony Dungy -- under whom Frazier worked in Indianapolis -- has done plenty to break down the stereotype of how a football coach has to behave, and from what I've heard players say about Zimmer, he doesn't necessarily fit into the typical hard-headed disciplinarian mode, either. He'll likely be louder, more blunt and more direct with criticism, but he also seems to exude a passion for the game that players love.
Can both approaches be effective? Vikings linebacker
Chad Greenway
, who played for Kirk Ferentz (a Bill Belichick disciple) in college, had Mike Tomlin as his first defensive coordinator and spent the last seven years with Frazier, says yes.
"I think all different styles can work," Greenway said. "You see guys from Tony Dungy to Belichick to (Bill) Parcells all win in different ways. It's more about who can get results. A change was made, and it'll be a different approach. I hope that breeds success. We'll get a new system with a little bit different style, and hopefully it leads to wins."
Both defensive end
Brian Robison
and fullback
Jerome Felton
had close friends who'd played for Zimmer and raved about him; Robison talked with Cowboys defensive tackle
Jason Hatcher
, who had Zimmer as his first defensive coordinator, and Felton spoke with Bengals safety
Taylor Mays
, who played for Zimmer the past three seasons. Both got the same report on Zimmer: Tough, profane, emotional and direct, both with criticism and praise.
Felton, who loved playing for Frazier, sounded particularly optimistic about that last trait.
"One of the most stressful parts about the NFL is wondering where you stand," Felton said. "If you can get an idea of where you stand, gives you a chance to know what you need to work on. You can just focus on football, rather than wondering, 'What's going on? Why is this the situation happening?' When everybody asks what you want from a coach, I always talk about being an authentic person."
If there's going to be a major difference between Frazier and Zimmer -- both former Bengals defensive coordinators under Marvin Lewis -- it might be more in the scheme than anything else. The days of Frazier's Tampa-2 scheme are probably gone; Zimmer hasn't blitzed much more than Frazier in his career, according to ESPN Stats and Information, but he's been known to play more aggressive man coverage and use a number of different stunts to get his defensive linemen to the quarterback.
He coached in a 3-4 under Parcells, but has largely used a 4-3 scheme over the years, and Greenway expects the Vikings will stay with something similar to the 4-3 defense Zimmer called in Cincinnati.
"It's not that Coach Frazier and his ways can't win. It just wasn't working for us last year," Greenway said. "A new scheme, to a point, will be refreshing, and I hope, successful."
The Frazier-vs.-Zimmer comparison will be done ad nauseam in the coming weeks, but the NFL has a wider scope of coaching personalities today than it probably ever has. If Zimmer succeeds in Minnesota, it won't be because he's the opposite of what the Vikings had before. It will be because he can maximize what they have now.
"It's my first time going through a true coaching change, after Leslie taking over for Brad (Childress in the middle of 2010)," Greenway said. "It will be a lot of new things. That's not bad; it's just new and different."