Minnesota Vikings:

Blake Bortles
March, 7, 2014
Mar 7
9:40
PM ET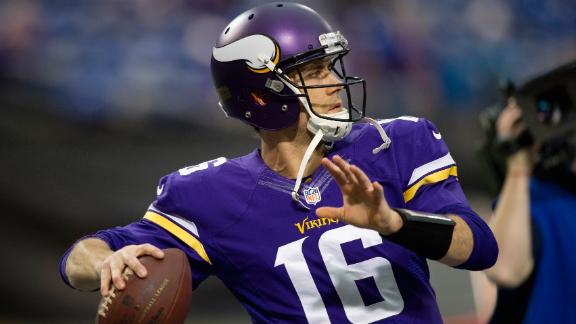 MINNEAPOLIS -- Ever since
Matt Cassel
opted out of his contract with the
Minnesota Vikings
after the Super Bowl, bringing him back for the 2014 season and buying some time at the quarterback position was always the move that made the most sense. The Vikings approached it that way, too, talking with Cassel's agent at the NFL scouting combine and letting him know they'd like to have him back.
Put simply, while Cassel is far from a perfect option, the alternatives without him were too dicey for the Vikings to approach it any other way.
That's why the Vikings re-signed Cassel to two years for $10 million.
Had they not brought Cassel back, they would have had to navigate the following currents to find a starting quarterback:
1. The rest of the free agent market is thin, with a soon-to-be 34-year-old
Michael Vick
possibly being the best option.
2. The eighth pick in the draft means the Vikings could be on the clock with
Blake Bortles
,
Teddy Bridgewater
and
Johnny Manziel
already off the board.
3. The Vikings' only other quarterback under contract before the start of free agency was
Christian Ponder
.
Now, the Vikings at least have their much-discussed bridge to the future, whatever that is. If they don't get a quarterback in the first round of the draft, they can at least take one in a later round and let him compete for the job with Cassel, knowing they can probably survive if he's not ready to play right away. And if they choose to look toward a 2015 quarterback class that could include Oregon's Marcus Mariota and UCLA's Brett Hundley, they could have Cassel's hand at the helm for 2014.
Let's be clear about what Cassel is, and is not. He is the most reliable quarterback on the Vikings' roster at the moment, after turning in more solid performances than bad ones in a goofy year at quarterback in Minnesota. He is not the kind of QB the Vikings will build around, and his two-year deal reflects that. He's had two good full seasons as a starting quarterback -- in 2008 for the Patriots and 2010 for the Chiefs -- and has been mediocre in the full-time role otherwise. But the Vikings were never asking Cassel to be a long-term solution at the position. They were simply hoping he could drive them from here to their next quarterback without banging the car up too badly. He should be able to do that, and now, the Vikings don't have to head into the rest of the spring staring at a gaping hole at the NFL's most important position.
The Vikings shouldn't feel like they don't have a major need at quarterback. They should feel like they don't have an imminent crisis on their hands. They've bought themselves some assurance, and Cassel -- who was scheduled to make $3.7 million under the terms of his old deal -- has a better contract with a team that should give him a good chance to play. That sounds like a good, sensible deal for all parties involved.
March, 1, 2014
Mar 1
8:00
AM ET
Each week, I will field questions via Twitter with the hashtag #VikingsMail, then will deliver the answers over the weekend.
February, 23, 2014
Feb 23
2:00
PM ET
MINNEAPOLIS -- The group of quarterbacks the
Minnesota Vikings
will assess during the lead-up to this year's NFL draft include Central Florida's
Blake Bortles
(6-foot-5), LSU's
Zach Mettenberger
(6-foot-4) and Virginia Tech's
Logan Thomas
(6-foot-6). It will also include Louisville's
Teddy Bridgewater
(6-foot-2), Fresno State's
Derek Carr
(6-foot-2), San Jose State's
David Fales
(6-foot-1), South Carolina's
Connor Shaw
(6-foot-0) and Texas A&M's
Johnny Manziel
(5-foot-11).
That there are so many shorter quarterbacks near the top of this year's draft class owes plenty to Seattle's
Russell Wilson
, who stands 5-foot-11 and led the Seahawks to a win over
Peyton Manning
and the
Denver Broncos
in Super Bowl XLVIII. It also owes something to New Orleans'
Drew Brees
, the record-setting quarterback and MVP of Super Bowl XLIV who stands just six feet tall. But it also is because of a changing game that's asking quarterbacks to move more and is setting them up to throw in places where being 6-foot-5 isn't as important as it used to be.
More teams are rolling their quarterbacks out and using moving pockets to neutralize pass rushes and keep defenses uncomfortable. Shotgun and pistol schemes have made it easier for short QBs to find throwing lanes. And players like Wilson have done enough to make general managers realize they might have discredited good QB prospects because of one trait.
"It was height, period," Colts general manager
Ryan Grigson
said. "But Ill tell you what: He's going to open the floodgates for people breaking through that stigma of, you need a really tall quarterback. You've got to pinpoint, are people batting down passes? He didn't have a lot of batted balls (in college) at Wisconsin. He's able to find those passing lanes that usually you'd think were solely based on height. But he's been effective."
Manziel's height was as big a topic at the NFL scouting combine as his off-field issues, but the 2012 Heisman Trophy winner said, "I feel like I play like I'm 10 feet tall," and turned heads with an unofficial time in the 40-yard dash of 4.56 seconds (his official time was 4.68). Manziel's hands are nearly 10 inches long, when measured from thumb to pinky, which should eliminate some of the concerns that would naturally come up with his size. The success of quarterbacks like Wilson and
Colin Kaepernick
should take care of others.
"For those guys, being able to evade a first wave of pass rush, really extend the play just a little bit, be able to move the pocket and do some things like that, it really opens the playbook up a little bit more," Manziel said. " The young guys who are doing that, the guys that I enjoy watching, I think they're really doing a good job for some of the mobile quarterbacks in college right now."
Shaw, who officially ran a 4.66 40 on Sunday, said he met with the Vikings twice at the combine, and added the team told him "there would be good opportunities if I were to land at that place because they had a little quarterback battle going on." His arm strength has been a concern, and his scouting report on NFL.com says he "can be too jittery vs. pressure and quick to tuck and run" (remind you of anybody?)
But Shaw will be another quarterback who gets a look because of his speed. Thanks to QBs like Wilson, he won't immediately be discredited because of his size.
"There is not a specific mold you have to fit anymore to be an NFL quarterback," he said. "You see Russell Wilson and he's kind of proved that. He's got a shiny rock on his finger now and he's 6-foot. I don't think there is a prototypical quarterback size anymore."
February, 20, 2014
Feb 20
2:55
PM ET
INDIANAPOLIS -- Vikings general manager Rick Spielman is deep into a quarterback search that already includes private workouts with "eight or nine" prospects, he said.
Spielman is meeting with
Matt Cassel
's agent later Thursday to talk about re-signing the veteran QB to a new deal. And he said he'll lean on the expertise of new offensive coordinator Norv Turner, whose clientele has included everyone from
Troy Aikman
to
Brandon Weeden
at quarterback.
We've talked at length about how the Vikings have other needs this spring, and I've heard from plenty of you who strongly believe quarterback isn't even the team's biggest problem heading into 2014. The way Spielman talked in a session with Vikings beat writers Thursday, though, would suggest that he's got the position at the top of his priority list.
"People who don't have one are always swinging to get one, and sometimes you go through two or three or four before you finally get one," he said. "If you're lucky to get one on the first go-around, you're great. Indy, here, they had
Peyton Manning
they took one, and then they got
Andrew Luck
because they were one again. That's pretty good because they don't have to worry about that position. But you're hoping like I said to be aggressive at that spot to hit on one. If you're sitting there not being aggressive, then how are you going to hit on one?"
There is enough depth in the quarterback class, Spielman said, that the Vikings wouldn't have to take one with the eighth overall pick. But he said in an ideal world, the Vikings would add a young quarterback and a veteran to go with
Christian Ponder
, who is still under contract for the 2014 season.
If the Vikings are able to get a veteran, and they invest a high draft choice in a quarterback, it's difficult to see much of a role for Ponder beyond backup duty. The Vikings will have to make a decision on Ponder's 2015 option by May, and if they pick it up, the deal would be guaranteed against injury.
The Vikings will get a chance to meet with many of the quarterbacks in this year's class at the combine, but they won't get to see all of them throw. Texas A&M's
Johnny Manziel
reportedly doesn't plan to throw at the combine, while Central Florida's
Blake Bortles
and Louisville's
Teddy Bridgewater
plan to throw.
"The one thing I would say [to] these quarterbacks that don't throw here, what you're trying to do is you're trying to see his mechanics, his release," Spielman said. "They have a great opportunity, even with receivers running the 40, they have the cameras down actually on the field and they're taking shots of how he holds the ball. You can see from behind, even when they're throwing to stationary targets his release, how he looks throwing on the move. Stuff you're going to go out and see at his pro day if you're going to go out and see it. It's an opportunity to put yourself to start jockeying for position.
"To me, it's always -- whether agents agree or disagree -- it's a chance to compete and I don't put as much stock into the accuracy thing because I understand they haven't worked with these receivers and the timing. It's more just looking at the throwing motion, the mechanics, things like that. The arm strength. I think if you have a chance to compete, you should get out there and compete. An example has been
Ben Roethlisberger
. I remember everyone on him -- he didn't look very good and he ended up being a pretty damn good quarterback and still taken in the first round. So I think agents and players sometimes overthink this. Just go out there and give me a ball a let me throw it. Who cares?"
February, 20, 2014
Feb 20
10:05
AM ET
INDIANAPOLIS -- We're wrapping up our Countdown to combine series this morning, since, well, the NFL scouting combine is here. Things get started at Lucas Oil Stadium today, so we'll conclude our preview by looking at one last position of need for the Vikings.

Position of need:
Quarterback
This is an obvious one, isn't it? The Vikings have had a hole at the position for years, and could be back in the market for a quarterback three years after their ill-fated selection of
Christian Ponder
in the first round of the 2011 draft. At the moment, Ponder is the only quarterback on their roster after
Matt Cassel
opted out of his deal, and the Vikings have said they'd like to bring in a young quarterback. They might not have a shot at the top quarterbacks in the draft with the No. 8 overall pick, but they could find options in the second or third round of the draft, as well.
Three players the Vikings might be targeting:
Johnny Manziel, Texas A&M:
The odds of Johnny Football still being available at No. 8 are slim, and the price to trade up and get him would be steep, but you never know. Some teams could pass on Manziel because of his size (we''ll see at the combine if he checks in under 6 feet) and his reputation for enjoying the spoils of his position. But he was the first freshman ever to win the Heisman Trophy, and it's tough to argue with his performance at Texas A&M.
Russell Wilson
and
Drew Brees
have proved short quarterbacks can succeed in the NFL, and the Vikings could use a dose of Manziel's swagger.
Teddy Bridgewater, Louisville:
Another quarterback who could be gone by the time the Vikings pick, Bridgewater will nonetheless merit a long look from the Vikings. He might be the most polished quarterback in the draft, though his arm strength isn't on par with Manziel or Bortles, and his mobility will certainly attract plenty of attention. Though Adrian Peterson has said he'd like to play with Manziel, the possibility of Bridgewater and Peterson in the same backfield is enticing, too.
Blake Bortles, Central Florida:
Some mock drafts have Bortles going ahead of Bridgewater or Manziel, which means there's a good chance he'll be gone by No. 8. He's probably the most traditional of the big quarterbacks in this draft -- he stands 6-foot-4, weighs 230 pounds and has an above-average arm -- so if the Vikings were to get a shot at him, they'd be acquiring a quarterback who could fit well in Norv Turner's offense.
February, 6, 2014
Feb 6
3:00
PM ET
ESPN NFL draft analysts Mel Kiper and Todd McShay have each rolled out new mock drafts today on ESPN.com. And while
Kiper's presents a scenario

by which the Vikings could get one of the top quarterbacks available with the No. 8 overall pick (Central Florida's
Blake Bortles
),
McShay's shows what the Vikings

could do if the three QBs thought to be at the top of the class (Texas A&M's
Johnny Manziel
, Louisville's
Teddy Bridgewater
and Bortles) are all gone.

Kiper has the Vikings taking Bortles after two teams that need quarterbacks (the Jaguars and Raiders) draft South Carolina defensive end
Jadeveon Clowney
and Clemson wide receiver
Sammy Watkins
third and fifth overall, respectively. In McShay's version, Bridgewater, Bortles and Manziel go with the third, fourth and fifth picks, leaving the Vikings with Alabama linebacker
C.J. Mosley
after the
Tampa Bay Buccaneers
grab Buffalo linebacker
Khalil Mack
with the No. 7 pick.
Either of those scenarios, I'd think, would be ones the Vikings would be willing to accept. Quarterback is such a glaring need for the franchise -- especially now that the Vikings would have to work to re-sign
Matt Cassel
as a temporary insurance policy -- that they'd welcome a chance to get a young passer with the physical tools of Bortles. But even if the Vikings have that chance, they saw three years ago what can happen when they reach for a quarterback and the decision doesn't pan out. General manager Rick Spielman can't afford to make that mistake again, and getting a dynamic linebacker like Mack or Mosley would also make sense. Mosley comes into the draft with injury concerns, but putting him at weakside linebacker would give the Vikings the kind of aggressive playmaker they've been missing for years.
January, 15, 2014
Jan 15
3:00
PM ET
In his first mock draft, ESPN NFL draft Insider
Mel Kiper delivers a pick

for the Vikings that fans -- and the team -- would likely love: Louisville quarterback
Teddy Bridgewater
. The 21-year-old quarterback, who has been mentioned as a possible No. 1 pick, will go to the Vikings at No. 8, Kiper predicts. He has Bridgewater as the third quarterback taken in the draft, behind Texas A&M's
Johnny Manziel
and Central Florida's
Blake Bortles
.

If the Vikings are sitting with a chance to take Bridgewater at No. 8 in May, it'd be hard to see them passing that up. Bridgewater would give the Vikings a mobile, athletic and assertive quarterback whom they could develop if
Matt Cassel
comes back or look to start right away if he's good enough to do so. The question will be whether he slips far enough in the draft for the Vikings to have a shot at him, but as Kiper points out, some of the teams drafting in front of the Vikings who also need a quarterback -- such as Jacksonville and Tampa Bay -- also could opt for defensive players; Kiper has the Jaguars taking South Carolina defensive end
Jadeveon Clowney
at No. 3, and the Buccaneers grabbing Buffalo linebacker
Khalil Mack
at No. 7.
Either of those players could make sense for the Vikings, and in a year with so many bad teams that have interchangeable needs -- the Vikings' five wins were just the eighth-fewest in the league -- the draft could break any number of ways. But if Bridgewater were available for the Vikings at No. 8, they could have an easy choice.
January, 8, 2014
Jan 8
2:00
PM ET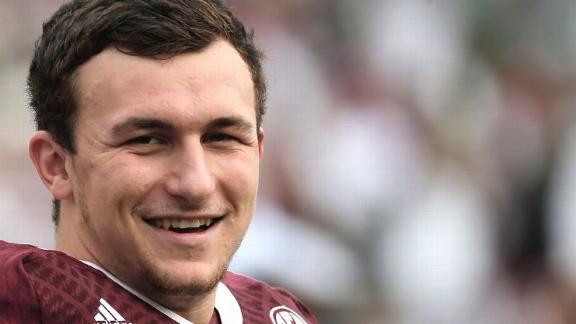 EDEN PRAIRIE, Minn. -- Well, Johnny Football has announced he's going pro. The top of the quarterback class for the 2014 NFL draft is effectively set. And among the many pivotal decisions
Minnesota Vikings
general manager Rick Spielman has to make this offseason, one of them could be this: Should the Vikings trade up from the No. 8 overall pick to give themselves a better chance at one of the top quarterbacks in the draft?
I'm inclined to think the answer there is no, even if that puts the Vikings at great risk of not getting one of the top prospects (
Johnny Manziel
, Louisville's
Teddy Bridgewater
, Central Florida's
Blake Bortles
and Fresno State's
Derek Carr
). The Vikings have an extra third-round pick, courtesy of the trade that sent
Percy Harvin
to Seattle last year, but that pick could effectively be a fourth-rounder, if the Seahawks reach the NFC Championship Game or the Super Bowl. And with as many needs as the Vikings have, the price might be too steep to move up to say, No. 5 or No. 6 and put themselves in line to get one of the top QB prospects.
Now, that's not to say a franchise quarterback isn't the Vikings' biggest need. It is. They know it is. Spielman said as much earlier this month when he said, "it's maybe the most difficult position to fill, but we're going to do everything and use every resource we can to try to get that corrected." As we've discussed in the past,
one of the great benefits to having a franchise quarterback
is how many other holes he can cover up.
But these decisions all come with a price. And with as much star power as there is at the top of this quarterback class, the general opinion from talent evaluators is that there's no
Andrew Luck
here, no sure thing that would almost guarantee a sizable return on a major investment. What if the Vikings forked over three or four picks to move up, missed on chances to fill other holes on their roster and wound up with another first-round bust? As Spielman admitted last week, he hasn't gotten the quarterback decision right yet, and another failed first-round QB would likely cost him his job. He might be better off finding a linebacker or a cornerback in the first round and coming back later to take a look at someone like Alabama's
AJ McCarron
or Georgia's
Aaron Murray
. That route would put less pressure on a rookie QB to succeed right away, and it would put less pressure on Spielman to nail the draft pick. And if
Matt Cassel
decides not to opt out of his contract, the Vikings would be able to cover themselves for at least a couple months while a new QB develops.
Now, there is enough uncertainty with this group of QBs that it's possible one could fall to the Vikings at No. 8, and at that spot, it'd be tough for Spielman not to take one. If it came to trading up, though, and adding even more of a cost to a decision where the stakes are already so high, the Vikings would have to think very carefully before making a move like that.
Finding a great QB is unquestionably their biggest need, and it's entirely possible they could get one in this draft. I'm drawn more to college players who have won on the field more than I am to players who impress scouts in workouts, and Manziel fits that description wonderfully. His confidence and playmaking ability, in the same backfield as
Adrian Peterson
, could be a blast to watch and a chance for big-time success. But there are many other teams that probably have similar visions for Manziel, or Bridgewater or Bortles or Carr, and if the Vikings have to mortgage a big chunk of their draft to secure their own plans, they'd better be sure of what they're going to get out of it.