Minnesota Vikings:

Bobby Felder
October, 18, 2013
10/18/13
2:15
PM ET
EDEN PRAIRIE, Minn. -- During their offseason program, the
Minnesota Vikings
might have had more competition for their slot cornerback spot if
Jacob Lacey
-- whom they'd signed to a one-year deal in the offseason -- had been able to stay healthy. Lacey had thumb surgery in early June, which caused him to miss the team's mandatory mini-camp, and was cut in August after he required minor knee surgery during training camp.

Now, with
Harrison Smith
heading to injured reserve because of turf toe, the Vikings have another opportunity to take a look at Lacey.
They re-signed him on Friday, adding another defensive back to their roster with Smith out for at least eight weeks. Lacey won't help with their safety depth, but he could provide some flexibility if the Vikings did want to move
Josh Robinson
out of the slot corner role in their nickel package.
Lacey played mostly slot corner for the Lions last year, allowing 34 catches in 50 targets and four touchdowns, according to Pro Football Focus. He's far from a sure thing -- he likely wouldn't have been available in Week 7, nearly two months after his surgery, if he was -- but he's another option on a team that might need alternatives to Robinson in the slot.
There is some irony in all this, of course, with cornerback
Bobby Felder
, who looked like he had won a roster spot until he sprained his ankle in the Vikings' final preseason game and got beat out by
Marcus Sherels
. The Vikings put Felder on injured reserve, ostensibly to maintain control of him for another year, but now they're unable to use him when they need another defensive back. In any case, Lacey should already know their scheme after spending the entire summer working in it. The Vikings will have to see if he can help them.
September, 23, 2013
9/23/13
5:40
PM ET
MINNEAPOLIS -- The
Minnesota Vikings
will get fullback
Jerome Felton
back from a three-game suspension this week, which could provide a major jolt to their running game.
Adrian Peterson
averaged 6.9 yards per carry with Felton on the field last season, 4.6 yards per carry without him and only 4.1 in the first three games this season in his absence. Felton sat out while he was disciplined for a drunken-driving charge that came in the spring of 2012 and was later reduced to reckless driving.
"This has definitely been one of the more frustrating periods of my life, just watching these last three weeks," Felton said. "Obviously it's not just me coming back that's going to make the running game do what it needs to do, but I definitely think I can help and contribute."
Felton earned a Pro Bowl berth as he paved the way for Peterson's 2,097-yard season in 2012, and at the start of this season, Peterson admitted he's been trying to turn too many of his runs into big gains, rather than hitting the holes that are there. But the Vikings' offensive line has struggled, too, and with Felton there to clear the way for Peterson, things might get simpler for the reigning NFL MVP.
"I think if you look back, he's probably on course with what he did the first three games last year," Felton said. "There's a lot expected out of him, and that's a tough spot sometimes. ... I think there's some things I bring to the game. It's on me from a physical standpoint to be ready to go. There's no easing-in period now.
Felton said he's 100 percent recovered from the emergency appendectomy he had during training camp, and it stands to reason the Vikings will turn most of the lead blocking responsibilities back to him. But to make room for him, they put fullback
Zach Line
-- an undrafted free agent who made the team in one of the better stories of Vikings camp -- on injured reserve.
Line, who scored a 61-yard touchdown on his first touch of the preseason, had gotten some work as a lead blocker in Felton's absence, but it seemed likely the Vikings would have to take him off their active roster once Felton came back, though coach Leslie Frazier never specifically said Line was injured. Sports Illustrated has been chronicling Line's rookie season, and he told the magazine on Monday that he had a knee injury during Sunday's game, though he didn't miss any time. Still, the timing of the injury is curious, to say the least. It's reminiscent of what happened with cornerback
Bobby Felder
, who was put on IR at the end of the preseason following an ankle sprain in the Vikings' final preseason game.
Obviously, the Vikings can retain the rights of both players if they're on injured reserve, and the team might have more use for both of them next year. It's questionable whether either injury would have kept Felder or Line out for the year, but both did have an injury, according to the Vikings, and they're both done playing for the season.
September, 1, 2013
9/01/13
12:40
AM ET
Now that the
Minnesota Vikings
have made their final cuts, it's time to compare their actual 53-man roster with
the one we projected on Friday evening.
In the end, we did pretty well.
We correctly guessed 50 of the 53 names on the final roster, missing on two offensive line spots and one in the defensive backfield. We had the correct composition of the roster -- three quarterbacks, four running backs, five wide receivers, three tight ends, eight offensive linemen, nine defensive linemen, eight linebackers, 10 defensive backs and three specialists -- but on all of our misses, we gave short shrift to players who were on the Vikings' roster last year.
We left
Joe Berger
and
Troy Kropog
-- who were on last year's active and practice squads, respectively -- in favor of free agent pickups
Seth Olsen
and
Brandon Keith
. But Olsen, who suffered a concussion on Thursday night against the
Tennessee Titans
, must be in worse medical shape than the Vikings initially thought; the team put him on injured reserve on Saturday. We'll hear more from coach Leslie Frazier on Monday about what happened to Olsen, but given the fact he was taken off the field on a stretcher on Thursday night, it's possible he's dealing with some serious ramifications.
Berger looked like he might be vulnerable in light of how well
Jeff Baca
had played at center, but the Vikings kept both players, giving themselves a pair of versatile interior linemen. Kropog, who can play guard or tackle, beat out Keith, whom we believed would make the team. Keith apparently did, too -- he responded to the news with a
handful of indignant tweets
on Saturday.
In the defensive backfield, we expected the Vikings to retain six cornerbacks instead of the five they ultimately kept. Safety
Mistral Raymond
, who was a starter at the beginning of last year but has struggled with injuries, survived the final cuts; we expected the Vikings to hang onto
Bobby Felder
instead. But they retained the same five safeties they had last year --
Harrison Smith
,
Jamarca Sanford
,
Robert Blanton
, Raymond and
Andrew Sendejo
-- and will have to see if they can get Felder back onto their practice squad for another year.
In the end, though, we'll take 50 out of 53 -- and choosing to quit while we're ahead, we'll abstain from a prediction on the eight-man practice squad the Vikings will announce Sunday.
August, 30, 2013
8/30/13
2:00
AM ET
The
Minnesota Vikings
got their first win of the preseason on the night they used their starters the least, in a
24-23 win
over the
Tennessee Titans
on Thursday night.
Christian Ponder
,
Adrian Peterson
,
Jared Allen
and others watched from the sideline, but
Marcus Sherels
returned the second-half kickoff 109 yards for a touchdown and
McLeod Bethel-Thompson
led an eight-play, 71-yard drive to set up
Blair Walsh
's deciding field goal with 1:38 left.

Minnesota finished the preseason 1-3.
Here's a rundown of the rest of the night:
In a short night of work, backup quarterback Matt Cassel looked as sharp as he has all preseason, directing an 11-play, 80-yard scoring drive in his only action of the night. Cassel was 3-for-3 for 48 yards on the drive, connecting with Rodney Smith on a long pass and hitting John Carlson over the middle for 19 yards. Cassel finished his preseason 22-of-40 for 317 yards, a touchdown and an interception.
Matt Asiata and Joe Banyard each helped themselves in their push for one of the Vikings' last roster spots, both scoring a touchdown. Asiata ran with purpose and physicality, carrying eight times for 32 yards and a 1-yard score, while Banyard played most of the second half and surpassed 100 all-purpose yards, posting 62 on the ground and another 54 through the air. If the Vikings are looking for a running back who could give them a change of pace, Banyard might find a spot on the roster. But let's not kid ourselves here: The Vikings aren't exactly in the market to give many carries to anyone other than Peterson, and with the reigning MVP on the roster, third-string running backs have to be able to do other things. That might be why Asiata sticks in the end; he has proven himself on special teams. The Vikings could try to stash Banyard on the practice squad, where he was last season.
Desmond Bishop probably had his best night of the preseason in his third game back from a torn hamstring, making seven tackles and pulling down two Titans players in the backfield on Tennessee's first drive. It's worth noting that Marvin Mitchell, who has started at weak-side linebacker all through training camp, didn't play on Thursday night, as the Vikings treated him more like a starter than a player who has much to prove. But Bishop might have done enough to guarantee himself a roster spot, at the very least.
While Sherels stole the show for the Vikings, Bobby Felder had a night he'd probably rather forget, spraining his ankle shortly after getting beat a 50-yard pass in the third quarter. X-rays on Felder's ankle were negative, but he probably would have liked to finish his preseason with a stronger impression after playing well early.
Fullback Zach Line, who didn't have to do much lead blocking in college, provided a nice example of it on the Vikings' drive for the go-ahead field goal. He and DeMarcus Love combined on a nice kick-out block on Banyard's 19-yard run. Line didn't show the pass-catching skills he'd displayed early, but he's probably done enough that the Vikings would at least consider using a practice-squad spot on him.
Speaking of Love, he had one of the odder moments of the game in the fourth quarter, when he caught a tipped pass, stretched the ball forward as he dove and got up to signal first down after getting the ball to the marker. Considering Love is set to serve a four-game suspension for violating the league's performance-enhancing drug policy, Thursday night could have been his last game with the Vikings.
Playing most of the game, Bethel-Thompson finished 19-of-26 for 187 yards, a touchdown and an interception.
The Vikings will make their final roster cuts before Saturday's deadline, and they open the regular season on Sept. 8 in Detroit.
August, 30, 2013
8/30/13
1:10
AM ET
The day before the Vikings' first preseason game,
Marcus Sherels
' father, Ben, lost his long battle with cancer. Marcus Sherels played for the Vikings the next night.
He played again the following Friday in Buffalo, continuing his seemingly annual battle to claim one of the Vikings' final roster spots. But when it finally came time to say his final goodbyes to his father in Rochester, Minn., Sherels had to step away from the team for its third preseason game against San Francisco. He found a source of support in coach Leslie Frazier.
"You try to put yourself in his shoes, knowing what he might be going through," Frazier said. "We have some other guys on our team who lost a parent. It's hard to focus on your job. Last week, when he talked to me about going to the funeral, I wanted to be very clear to him that there was no hesitation on my part, or our organization's part, about him going to that funeral. He thought he might need to play because of the situation, but there's nothing more important than being there with your mother, your brother and your sisters at that time."
Sherels will find out in the next 36 hours whether he'll continue his time with his home-state team. But what he did Thursday night, in his first game after his father's funeral, might have ensured he will stay around with the Vikings for a fourth season.
[+] Enlarge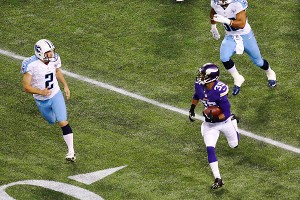 AP Photo/Jim MoneMarcus Sherels, fighting for a roster spot with the Vikings just weeks after his father's death, returned a kickoff 109 yards for a touchdown Thursday.
He ran the opening kickoff of the second half back 109 yards for a touchdown, and cut in front of a crossing route to intercept Titans quarterback
Rusty Smith
just over three minutes later. That all came on a night when
Bobby Felder
, whom Sherels has been battling for one of the Vikings' final cornerback spots, sprained his ankle while defending a 50-yard completion. The plot surrounding Sherels might have changed drastically, and if it did, it happened with a roster full of teammates cheering for him.
"Our whole sideline was just jubilant to see him come out and play the way he did," Frazier said. "I'm really happy for him."
This is far from Sherels' first time on the fringes of the Vikings' roster, but the 25-year-old, who signed with the Vikings as an undrafted free agent out of Minnesota, had an interesting response when he was asked about his tenuous spot. "I always feel like that, and I like it that way," he said. "Competition always makes us better."
For whatever reason, he's developed a knack for sticking on the Vikings' roster. He had an interception in the team's third preseason game in 2010, and ran an interception back 64 yards for a touchdown in the second preseason game of 2011. It took a step of faith on Sherels' part to miss the third preseason game, especially when Felder had played well at cornerback and impressed as a punt returner. But Sherels saved his best for last Thursday night.
"(Coach Frazier) was the one that basically told me I need to be with my family, (and said) he would have done the same thing," Sherels said. "I am glad I made that decision."
He's got enough collateral with the Vikings that he might be able to stick once again. The undersized Sherels has struggled in pass coverage -- witness
Aaron Rodgers
' 73-yard pass to
Jordy Nelson
over him in the final game of the regular season last year -- and aside from a 77-yard punt-return touchdown a year ago, Sherels averaged just 6.77 yards a return, irking some fans with his tendency to fair-catch punts rather than taking a shot to return them.
But special-teams coordinator Mike Priefer said Sherels made the right decision to fair-catch a punt on all but one occasion last season, and aside from his fumble last November against Seattle, he's shown sure hands.
"It's the right idea, because it's either high and short, or it's a plus-50 punt (in Vikings territory) and he had to come up and catch it," Priefer said. "We only had one touchback against us, but that's because of the quality of the punts against us last year. Marcus, I thought, did a great job for us."
Sherels certainly has his fair share of fans in the Vikings organization, and just when he seems in danger of losing his spot, he's found a way to get the job done. This year, he's been able to do it with a heavy heart.
"For him to come out and play the way he played tonight, just tells you a lot about Marcus' heart and his character," Frazier said. "As an organization, we try to be supportive of all of our guys when they're in that situation. ... Those are real human moments. Our players need to know that we're concerned about them beyond what they do between the white lines."
August, 29, 2013
8/29/13
5:05
PM ET
The
Minnesota Vikings
close out the preseason at home on Thursday, playing host to the
Tennessee Titans
. The Vikings are expected to sit most of their starters, but a number of players will still have something to prove in advance of final roster cuts this weekend. Here are some things to watch:

Matt Cassel:
The quarterback hasn't been terribly impressive this preseason, doing his best work in the Vikings' exhibition opener against Houston. Since that game, where Cassel went 12-for-19 for 212 yards, a touchdown and an interception, he has completed just 7 of 18 passes for a total of 57 yards and has been sacked twice. With
Christian Ponder
likely to sit out, Cassel should get plenty of time to end his preseason on a good note and remind the Vikings why they are paying him $3.7 million this season to back up Ponder.
Cornerback battle:
Several position battles still have to be settled on the Vikings' roster, but the competition for the team's final cornerback spot is one of the more prominent ones.
Bobby Felder
, who spent last season on the practice squad, has had some impressive moments this preseason and might have a shot to unseat
Marcus Sherels
for a spot on the roster. Felder is bigger and more physical than Sherels, who served as the Vikings' fifth corner last season, and he's been productive enough as a punt returner that it looks like he could unseat Sherels there, too. If
Josh Robinson
falters in the slot, the Vikings would likely go to whomever wins this spot, so it could be important for them to get it right. Thursday will give them one final look at both players, and unless they wind up keeping six cornerbacks, Thursday's game could play a pivotal role in helping the Vikings decide whether Felder or Sherels stays.
The thin D-line:
With
Kevin Williams
and
Sharrif Floyd
still sitting out because of knee injuries, and
Christian Ballard
still away from the team because of personal issues, the Vikings will have plenty of work for their backup defensive tackles on Thursday night. Players such as
Anthony McCloud
,
Chase Baker
and
Everett Dawkins
should play extensively, and if it looks like Ballard's absence will extend into the season, the Vikings might have a roster spot for one of them. None of the players have distinguished themselves during the preseason, but a longer stretch of playing time could lend some more clarity to the situation.
Desmond Bishop:
He played 33 snaps on Sunday night in San Francisco, and Bishop should have plenty of time again on Thursday night to prove he should start at weak-side linebacker over
Marvin Mitchell
. He still had some lapses in pass coverage against the 49ers, but made nine tackles and looked more assertive against the run than he did in the previous game against the Bills, which was Bishop's first in more than a year after a torn hamstring ended his 2012 season after one game.
Final receiver spot:
Here's another area where Thursday's game could have plenty to say about who sticks on the roster.
Stephen Burton
has had an impressive camp, and caught three passes for 67 yards in the Vikings' first preseason game, but Ponder's interception on Sunday night in San Francisco could be attributed at least partially to Burton, who stopped his route and gave
Nnamdi Asomugha
a clear path to the ball. (Asomugha tipped the ball, and
C.J. Spillman
made the pick.) In that same game,
Joe Webb
caught a 3-yard touchdown pass from Ponder, showing what kind of a red-zone threat he could be. It seems unlikely the Vikings would keep six receivers, unless they only went with two quarterbacks, so they might have to decide between two players who spent all of last season on their roster. Another factor here could be the Vikings' impression of Webb as a run blocker; Burton has fared well there in the past, and in the Vikings' offense, a receiver's ability to block downfield for
Adrian Peterson
will always be important.
August, 24, 2013
8/24/13
6:50
PM ET
With
Antoine Winfield
off to Seattle,
Josh Robinson
's progression as a slot cornerback might be one of the biggest keys to the Vikings' defense this season. Winfield played the slot as well as anyone in the NFL last season, holding quarterbacks to the fourth-lowest passer rating in the league when they tested him in slot coverage, according to Pro Football Focus. Additionally, the website ranked Winfield as the best run-stopping corner in the league, and Winfield had done the job long enough that the Vikings were taking a gamble in deciding to cut him and turn the job over to Robinson.
Robinson
We won't know for sure how that experiment will play out until the regular season, but Sunday night's game in San Francisco could be a decent indicator of where Robinson stands. The 49ers run the ball well enough that Robinson could be tested in run support, and though San Francisco could use all five of its quarterbacks Sunday night, the presence of
Colin Kaepernick
could give Robinson something to handle for at least part of the game.
For his part, defensive coordinator Alan Williams said Robinson has looked "much more comfortable" in the slot than he expected the second-year corner would be at this point.
"To his credit, he's really working at it," Williams said. "He's coming along faster than I think that he even thought he would because he hadn't been inside. I think he's embracing it and liking the position in terms of what we allow him to do and the plays that he can make. I feel good about Josh being inside."
Bobby Felder
is making a strong push for a roster spot, and should get plenty of playing time Sunday. If he makes the team, he'd give the Vikings another option at slot corner. But the job, by all accounts, is Robinson's to lose. And how he handles it is definitely worth watching early in the Vikings' season.
Asked where Robinson has come the furthest, coach Leslie Frazier said, "I think just seeing him calm down a little bit. Sometimes he can get so hyper about what he's trying to get done that he begins to overthink things. He's begun to relax a little bit, and part of that is we put him in a lot of different situations in practice, trying to get him in some situations in games as well, so it is not the first time he sees things when we line up in Detroit.
"I think just the fact that he has slowed down mentally and begun to relax a little bit as a player is probably where the growth has come the most."