Minnesota Vikings:

Brad Childress
March, 6, 2014
Mar 6
8:00
AM ET
MINNEAPOLIS -- Welcome to another edition of "What If" Wednesdays, where we take a peek in the funhouse mirror to show how things might have changed if a key moment in Vikings history had gone differently.
(The keener observers among you will note that today is Thursday, not Wednesday. I'm not trying to deprive you of your progress toward the weekend; I just didn't get a chance to post this while we were wrapping up our ESPN NFL Nation summit in Bristol and traveling back to our respective locales. So call this a special Thursday edition of "What If" Wednesday.)
For today's edition, we've only got to go back to the spring of 2009, when the Vikings held the 22nd overall pick. They liked Kansas State quarterback
Josh Freeman
, as general manager Rick Spielman confirmed when the Vikings signed Freeman to a one-year, $2 million deal last fall. They were in need of a quarterback, but so were the
Tampa Bay Buccaneers
, and Freeman went there with the 17th overall pick, instead of lasting until the Vikings could have taken him.
Instead, the Vikings drafted Florida receiver
Percy Harvin
, coaxed
Brett Favre
out of a second retirement and embarked upon one of the most exciting seasons in franchise history.
Would all that have happened if the Vikings had drafted Freeman? It's hard to say, but tempting to think about. Favre seemed to have an itch to play for the Vikings and stick it to the
Green Bay Packers
ever since the team decided to trade him instead of giving him his old job back in the summer of 2008. As surreal as it would have been to see Favre giving another first-round pick a chance to develop behind him after he famously bristled at the idea of mentoring
Aaron Rodgers
, it might have been tough for the Vikings to draft Freeman and also bring in Favre. If Freeman had lasted until No. 22, it's possible the Vikings don't get Favre, and the wild ride of 2009 that went with him.
It's almost certain, however, they don't get Harvin under this scenario. Would Freeman have been able to develop without a dynamic young wideout? Would
Sidney Rice
have blossomed like he did in 2009 with Favre? If Freeman had eventually fizzled in Minnesota like he did in Tampa Bay, and the Vikings didn't have Harvin to juice their offense, their next few seasons might have looked very different, especially without the 2009 NFC title game run to prolong the tenures of coach Brad Childress and general manager (then VP of player personnel) Rick Spielman. It's possible Freeman would have put together some good years in Minnesota, especially with a team that had gone to the playoffs the year before with
Tarvaris Jackson
, but the experience of 2009 centered around one man, and it wouldn't have been nearly as rich without Favre.
We could follow this one down a number of different threads, and we won't venture too much further down the rabbit hole with it, but knowing what we know about Spielman's three-year plan for quarterback development, the Vikings likely wouldn't have drafted
Christian Ponder
in 2011 if they'd taken Freeman just two years earlier. When would they have come up in a search for another quarterback? Would
Adrian Peterson
have felt good enough about all of it to sign his seven-year, $100 million extension in 2011? Without the energy of Favre's run in 2009, the Vikings could have gone in any number of different directions.
As Freeman prepares to hit free agency after a disjointed 11-week stretch with the Vikings, we'll close with Spielman's logic about why it made sense for the Vikings to sign him at all last October: It gave them a chance to observe a quarterback they had liked in the 2009 draft, at little cost to them. While we can debate the soundness of that reasoning, it's no stretch at all to say that if Freeman was going to fizzle in Minnesota, it was certainly better to have that happen in 2013 than if it had precluded the Vikings for their unforgettable season with Favre.
January, 22, 2014
Jan 22
11:35
PM ET
MINNEAPOLIS -- As the
Minnesota Vikings
continue to fill out their coaching staff, they've started to let more of former coach Leslie Frazier's assistants know where they stand.
Defensive backs coach Joe Woods, who had been with the Vikings since Brad Childress took over as head coach in 2006, said new coach Mike Zimmer told him today he was going in a different direction. The Vikings reportedly will bring in former
Tennessee Titans
defensive coordinator Jerry Gray as their defensive backs coach.
Woods said Zimmer has told a handful of coaches they'll get opportunities to interview for jobs on the Vikings' staff. Woods said he believed special teams coordinator Mike Priefer, offensive line coach Jeff Davidson, wide receivers coach George Stewart and linebackers coach Fred Pagac are among those who will get interviews for jobs on Zimmer's staff.
The Vikings had blocked Davidson from interviewing for a job with the
Atlanta Falcons
, and a league source said on Tuesday that Davidson and Stewart both had solid chances to stay. Stewart, whose time as a receivers coach dates back to his work with
Jerry Rice
and
Terrell Owens
in San Francisco, had developed a relationship with rookie receiver
Cordarrelle Patterson
, and could be brought back to continue his work with the talented wideout, among others.
Former offensive coordinator
Bill Musgrave
had already accepted a job as the
Philadelphia Eagles
' quarterbacks coach, and former quarterbacks coach Craig Johnson was announced on Wednesday as the
New York Giants
' running backs coach. Linebackers coach Mike Singletary had already informed the Vikings he was leaving, and defensive coordinator Alan Williams is believed to be joining Jim Caldwell's staff as a defensive backs coach in Detroit, after doing the same job for Caldwell when both were in Indianapolis.
Priefer, whom former punter
Chris Kluwe
alleged had made homophobic remarks during the 2012 season, could stay if an internal investigation clears him of any wrongdoing. He is well-respected around the league, having interviewed for the
Chicago Bears
' head coaching position last winter, and might retain his job based on the strong performances of return men like Patterson,
Marcus Sherels
and
Percy Harvin
over the years.
As for Woods, who presided over a secondary in transition after general manager Rick Spielman decided to cut
Antoine Winfield
last spring, the defensive backs coach said he didn't expect to be brought back. The Vikings allowed more points than any team in the league last season, and their secondary was a major reason why.
Woods was given the opportunity to go to the Senior Bowl with the Vikings' staff, but declined. He said he's talked to several other teams about jobs, but is still waiting to see where he'll land.
"I kind of anticipated it," he said of being let go by the Vikings. "When we played so poorly on defense, it seemed likely."
Zimmer has said he will announce his entire coaching staff at once, but the Vikings have already hired former
Cleveland Browns
offensive coordinator Norv Turner to run their offense, and former
Miami Dolphins
linebackers coach George Edwards to be their defensive coordinator. Turner's son Scott has reportedly been running the Vikings' quarterback interviews at the Senior Bowl, and Zimmer's son Adam -- who was the Bengals' defensive backs coach under his father last year -- appears to be a likely addition to the staff, as well.
January, 12, 2014
Jan 12
2:20
PM ET
MINNEAPOLIS -- The working theory around the
Minnesota Vikings
' coaching search has been that general manager Rick Spielman would bring two or three finalists back to Minnesota to meet with ownership after an initial round of interviews, which ostensibly concluded when Spielman talked to
San Francisco 49ers
offensive coordinator Greg Roman on Saturday.
As ESPN NFL Insider Adam Schefter reported on Sunday morning,
Cincinnati Bengals
defensive coordinator Mike Zimmer will come to Minnesota early this week for a second interview. The Vikings talked to Zimmer last Wednesday in Cincinnati, and the chatter after that interview had been that Zimmer was one of the Vikings' top candidates. Now, he appears to be their first finalist.
We can glean a couple things from that. First, the Vikings seem to be done with their initial round of interviews, though I suppose it's always possible for them to change their timeline if Denver were to lose in time for Spielman to talk with offensive coordinator Adam Gase or defensive coordinator Jack Del Rio. But Spielman had pegged his timetable to the Senior Bowl, so if the Vikings want to have a coach in place by then, it would seem likely they'd get their list of finalists together this week.
And second, if the Vikings are indeed done with their preliminary interviews, it seems like their search has been a little narrower than we expected. They've talked to six offensive or defensive coordinators, and also were believed to visit with 49ers defensive line coach Jim Tomsula on Saturday.
As we discussed yesterday
, the coordinator pool has been fraught with risks over the years, to the point where Texans owner Bob McNair wanted to stay away from one. There's a big leap from game planning for one side of the ball to running the whole operation, reading the mood of a team, dealing with the media more frequently and so on. Some former coordinators have been able to handle it, like Green Bay's Mike McCarthy or New Orleans' Sean Payton. Others haven't, and the Vikings' last two fired coaches (Brad Childress and Leslie Frazier) are former coordinators.
Time will tell if Zimmer, or one of the other coordinators the Vikings have interviewed, will be able to make the jump successfully, but the Vikings' search does seem to be moving forward.
January, 11, 2014
Jan 11
1:20
PM ET
MINNEAPOLIS -- When the
Minnesota Vikings
hired Brad Childress as their head coach in 2006, infamously keeping him in the Twin Cities before he could get on a plane to interview for the
Green Bay Packers
' head-coaching position, they were taking their chances on an offensive coordinator from a successful team (Philadelphia) who had not been a NFL head coach or a playcaller for the Eagles. That search wrapped up six days after Vikings ownership fired Mike Tice on the final day of the season.
When the Vikings removed the interim tag from Leslie Frazier's title before their final game of the 2010 season, they were taking their chances on a defensive coordinator who'd done good work for them and managed to win three of the final six games in a chaotic year marked by the collapse of the Metrodome. But Frazier, like the man he replaced in the middle of the season, had not been a head coach.
Those two searches were relatively short -- the first likely because of the Wilf family's inexperience as NFL owners, the second because the Vikings were rewarding a candidate who had interviewed for a handful of jobs elsewhere and who had kept the team together during a trying season. The Vikings' current search for a head coach, though, has general manager Rick Spielman criss-crossing the country, talking to coaching candidates. As
ESPN NFL insider Adam Schefter reported on Saturday
and
as we discussed on Friday
, the Vikings will interview
San Francisco 49ers
offensive coordinator Greg Roman on Saturday.
That would make Roman the sixth known candidate the Vikings have talked to. And all of those -- Seattle offensive coordinator Darrell Bevell, Seahawks defensive coordinator Dan Quinn, Arizona defensive coordinator
Todd Bowles
, Cleveland defensive coordinator Ray Horton, Cincinnati defensive coordinator Mike Zimmer and Roman -- are current coordinators who have never been NFL head coaches beyond an interim level.
After the Vikings fired Frazier on Dec. 30, Spielman outlined his process by talking about the research he'd already done on previous head coaches. NFL coaches can come from 13 different backgrounds, he said, and none had proven to be more successful than any other.
"That can be anything from head coaches that are currently offensive coordinators, former head coaches that are currently defensive coordinators, defensive coordinators [and] offensive coordinators without head-coaching experiences, college head coaches with and without NFL coaching experience," Spielman said. "So there is a long list of areas that you can look for in a head coach."
We'll say this with the disclaimer that the Vikings could certainly be talking to candidates whose names haven't been publicized, but the list so far has zeroed in, almost exclusively, on coordinators who haven't been permanent head coaches yet.
As ESPN's John Clayton pointed out this week
, the
Houston Texans
decided to go away from a coordinator because of how many have failed at the NFL level -- 60 percent, in Texans owner Bob McNair's estimation.
If the Vikings have found the coordinator pool to contain the best candidates, great. Spielman has too much riding on this hire -- his reputation as a GM and possibly his future with the team -- not to turn over every stone, and he has gone through this search in his typical diligent manner.
Roman certainly has the wares to be conducting an extensive interview tour this year, too; he's helped the 49ers get to the NFC title game and the Super Bowl with two different quarterbacks, and has designed one of the league's most diverse offenses behind quarterback
Colin Kaepernick
and a power running game. The Vikings could certainly use someone with that kind of offensive know-how, especially if he's able to develop a young quarterback.
But it's worth pointing out the considerable risk in the coordinator pool, and the Vikings should be well-acquainted with that, based on the past two coaches they've hired (and fired). The search, at least so far and at least with the names that have become public, hasn't included as much diversity in coaching backgrounds as we thought it could. We'll have to presume that's because Spielman is finding the right people in a class of coordinators that's historically been fraught with risk.
"There is no specific [type of coach we have to have]: offense, defense, college coach, high school coach, whatever," Spielman said on Dec. 30. "It is a coach that we feel is the best fit for our organization."
January, 6, 2014
Jan 6
8:00
AM ET
MINNEAPOLIS -- The
Minnesota Vikings
enter Week 2 of their coaching search -- officially, at least -- with general manager Rick Spielman set to interview
Arizona Cardinals
defensive coordinator
Todd Bowles
and
Cleveland Browns
defensive coordinator Ray Horton in Phoenix. Spielman will head there after scheduled interviews in Seattle this weekend with Seahawks coordinators Darrell Bevell and Dan Quinn, and when he returns from those interviews, he'll have another round of candidates he's able to approach.
Assistant coaches from teams who played in wild-card games this weekend are now eligible to interview for head coaching jobs. For coaches from teams that won this weekend -- like San Diego offensive coordinator Ken Wisenhunt or
San Francisco 49ers
offensive coordinator Greg Roman -- those interviews would have to take place either this week or not until the end of their teams' seasons. For coaches from teams that lost, of course, interviews can happen at any time. Cincinnati offensive coordinator Jay Gruden and defensive coordinator Mike Zimmer are two coaches expected to meet with Spielman at some point, but now that the Bengals lost, those interviews wouldn't necessarily have to happen this week.
Gruden, in particular, could be in high demand, with several years of success guiding the Bengals' offense and agent Bob LaMonte's considerable influence driving his stock up. LaMonte is also Spielman's agent, and the Vikings' last two coaches -- Brad Childress and Leslie Frazier -- are his clients. The relationship is well-established, and it could play in the Vikings' favor if they decided to make a push for Gruden.
The Vikings are one of five teams still looking for a head coach, now that the
Tennessee Titans
fired Mike Munchak, but at his press conference after the Vikings fired Frazier last Monday, Spielman said he wouldn't be rushed by other teams hiring coaches.
"We don't have 'a guy.' I think there's a lot of potential candidates out there," Spielman said. "I don't think everybody needs to panic [and say], 'This team already hired a guy. This team already hired a guy. What are the Vikings doing?' We are going to go through our process and do our due diligence and I think there is enough to potential candidates out there that we will be able to get the guy that we want."
Given how deliberate Spielman has indicated he wanted to be -- and how meticulous he usually is with big decisions -- it wouldn't be a big shock to me if the Vikings are the last team to hire a coach. It would be surprising if they've got a coach this week, but with another pool of candidates now available for interviews, the coaching search should heat up.
December, 11, 2013
12/11/13
7:00
PM ET
EDEN PRAIRIE, Minn. -- In any situation where a coach's job is presumed to be in jeopardy, there might be no greater death knell than the idea that he has lost his team -- that players care so little about him or what he has to say that they've stopped putting forth maximum effort, pulling back their intensity when a season goes awry.
It might not happen in the NFL as often as in other sports, since football players don't enjoy the job security of a guaranteed contract, but when it does happen, the results are striking. It happened the last time the Vikings fired a coach in November 2010, after a 31-3 loss to the
Green Bay Packers
where it was as apparent as ever that players had turned on Brad Childress.
[+] Enlarge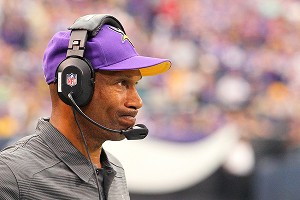 Adam Bettcher/Getty ImagesDespite a 19-31-1 mark as Minnesota's coach, Leslie Frazier hasn't lost the support of his players.
Leslie Frazier succeeded Childress the day after that loss, and more than three years later, he's coaching through his second season where the Vikings have no chance of making the playoffs. He sandwiched a surprising 10-6 season and a NFC wild-card berth around those two losing seasons. But after Vikings ownership declined to give Frazier a contract extension last winter, choosing only to pick up his 2014 option, they effectively asked him to repeat a season where the Vikings had a favorable schedule, as few injuries as any team in football and a 2,097-yard rushing season from
Adrian Peterson
.
There is blame to be cast across the Vikings organization for a 3-9-1 season, and some of it certainly falls on the coaching staff after the Vikings' defense had been handed a last-minute lead seven times and could only protect two of them. Confusion reigned in Chicago the first time it happened, and frustration over defensive play calling cropped up when it happened in Dallas. Frazier has been working with an aging defensive front, an undermanned linebacking group and a young secondary that's often looked adrift. And while personnel decisions are ultimately the responsibility of general manager Rick Spielman, the five blown leads don't wear well on a former defensive coordinator like Frazier, especially when the Vikings are literally five defensive stands away from leading the NFC North.
But what's clear is, players haven't stopped trying hard for Frazier. The Vikings are 2-2-1 in their past five games, rallying for an overtime victory against the Bears two weeks ago and trading punches with the
Baltimore Ravens
in a wild fourth quarter last Sunday. Center
John Sullivan
backed the coach in a radio interview earlier this month, and Peterson has done so at different times this year. And on Wednesday, two 30-year-old players from two very different backgrounds --
Chad Greenway
and
Greg Jennings
-- both said the Vikings' effort has still been there.
"Obviously, we've talked, it's not the effort," Greenway said. "It's not that. We're preparing well, we're practicing well. We're just not making the critical plays at that time to get off the field or to drive on offense or to whatever to win a game, basically. So I think we're all on board."
Greenway has spent his whole career in Minnesota, spanning both Childress and Frazier's entire time with the Vikings. Jennings, on the other hand, had only played for one coach in Green Bay's Mike McCarthy, and had experienced one losing season in seven years with the Packers.
Said Jennings: "[If a coach had lost the team], I think that you would see no fight in the guys within this locker room. The one thing I can say about guys in this locker room is we stick together like glue. No matter what the outcome has been, we fought. Last week after the game, hard loss -- some would say it's a devastating loss -- the vibe in the locker room amongst the guys that fought throughout that game, it wasn't like, 'Oh my gosh.' It was more like, 'Man, that one got away.' No matter what the outcome, we all take ownership in a loss or win."
That kind of support for Frazier has been readily available throughout the season, and though the coach's tenure has coincided with a rebuilding project, he's 19-31-1 as the Vikings' coach, and might not have the results to satiate an ownership group that hasn't shown much patience for long turnarounds in its time in Minnesota. But if Frazier is somehow going to save his job, the fact that his players still seem to believe in him might be his best play.
"He's definitely been holding things together," Jennings said. "As far as the future, I don't know -- just like from a player's standpoint -- we don't know, we don't control that. That all goes from upstairs, down. All we can do is control what we do and that's what he's been doing as a head coach. And making sure that he's been hitting the points of emphasis. It's about us executing."
October, 28, 2013
10/28/13
3:05
AM ET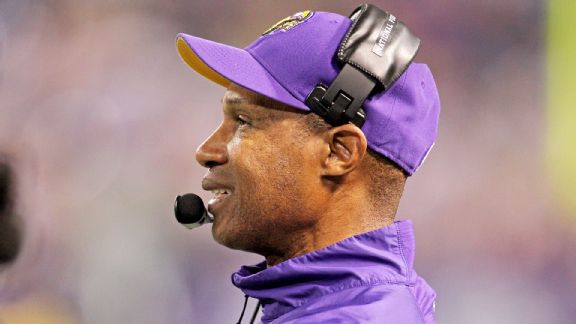 Brace Hemmelgarn/USA TODAY SportsA loss to the Packers three years ago led to Leslie Frazier's ascension. What will Sunday's loss bring?
.
MINNEAPOLIS -- The last time Leslie Frazier was something other than the
Minnesota Vikings
' head coach was a game not unlike this one. It came on Nov. 21, 2010, when the Vikings lost 31-3 at the Metrodome to the
Green Bay Packers
. The loss was the Vikings' fifth in seven games, dropping the team to 3-7 in a season that had begun with high expectations after a trip to the NFC Championship Game the year before. Coach Brad Childress was fired the next day.
The circumstances three years later are somewhat different -- the 2010 Vikings were built for one more run at a title, while the 2013 Vikings are an amalgam of young draft picks and veteran players, and Frazier is eminently more popular with players than Childress was then. But Sunday night's
44-31 loss
to the Packers had a familiar sting -- a lopsided loss at home to the Vikings' biggest rival, the sense of finality that comes with a season that won't include a playoff trip -- to the one that ultimately cost Childress his job three years ago.
And with the Vikings at 1-6, you start to wonder how many more defeats like this Frazier can survive.
In their past three games, the Vikings have sandwiched two blowouts at home (they dressed up Sunday's final score with two touchdowns in the final five minutes) around a road loss to the previously winless
New York Giants
. The past two defeats have been on national TV, and the Vikings have now given up at least 31 points in five of their seven games -- an especially harmful statistic for Frazier since (A) he is a former defensive coordinator and (B) it is outside the purview of the Vikings' three-man weave at quarterback. There are issues on special teams, as well. The 93-yard punt return the Vikings allowed to
Micah Hyde
effectively nullified
Cordarrelle Patterson
's 109-yard return of the opening kickoff. Even though the Vikings have three return touchdowns this season, they've also allowed three returns of at least 75 yards.
It's tough to blame the Vikings' issues just on their cycle of quarterbacks, though that hasn't helped to set a direction for the team, and when wider issues crop up, the head coach often pays the price.
The blame for the Vikings' season certainly should not fall solely on Frazier or his coaching staff. General manager Rick Spielman chose to spend the team's offseason money on the offense, letting cornerback
Antoine Winfield
go when right tackle
Phil Loadholt
's contract got more expensive than the Vikings initially thought it would. In a passing league, the Vikings' roster looks ill-equipped to win, with an inexperienced secondary and no coherent plan at quarterback. But unless the Vikings' owners step in and order a complete overhaul of the front office, Spielman might stay on the grounds that he hasn't gotten to pick his head coach; Frazier was the Vikings' interim coach, and became the head coach, before Spielman's title changed from VP of player personnel to general manager in 2012. Whether or not that's fair, or the correct strategy, it's often how the business works, and it might be how things play out in this case.
Frazier might have more time largely because there's not an obvious interim candidate on his coaching staff -- there's no Leslie Frazier waiting in the wings, so to speak -- and the Vikings' coordinators have struggled in their own right this season. Several veteran defenders voiced frustration Sunday night, but no one has suggested the Vikings have stopped playing for Frazier yet, and owner Zygi Wilf said after the Giants game that he wasn't considering any staff changes, adding, "This is our team. I'm sticking with it."
But now the Vikings are 1-6, with three of their next four games against teams currently in playoff position: Dallas, Seattle and Green Bay. They are scheduled to move into a new stadium in three years, and the further they get from respectability this year, the more work their owners might believe needs to be done to open the stadium on a wave of positivity. Frazier took the Vikings from 3-13 in 2011 to 10-6 last year, but in doing so he raised expectations for this year, and a winning season became even more important for him when the Wilf family decided to pick up Frazier's 2014 option instead of offering him a long-term extension. The Wilfs might have still been gun-shy from firing Childress the year after they gave him a contract extension, and while those circumstances helped Frazier get the job, they may have also made his long-term security susceptible to more risk.
At this point, the conditions appear to be gathering for a change. Games such as Sunday's loss can be a body blow for an unstable coach. Frazier got his current job after one like this in 2010, and on Sunday night, even he seemed to know these types of losses can't continue.
"It just seems like we have strong-enough character and strong-enough leadership on this team that the guys will come back," Frazier said. "We've just got to find a way to give them some hope."
.
October, 27, 2013
10/27/13
11:29
PM ET
MINNEAPOLIS -- A few thoughts on the
Minnesota Vikings
' 44-31
loss
to the
Green Bay Packers
on Sunday night:

What it means:
The Vikings were blown out for the second straight home game. In between those games, they lost on "Monday Night Football" to a winless team. They've looked awful on national TV two weeks in a row. Head coaches don't often survive these kinds of developments, particularly when their team is 1-6, and it's fair to start wondering how much longer Leslie Frazier will be around. His only chance to salvage his job might be if the Vikings come down the stretch with some respectability, but the last time the Vikings lost to the Packers this badly at home, Brad Childress got fired.
Stock watch:
Falling --
Christian Ponder
. The Vikings might not have any reason to go back to Ponder the rest of the season after he turned in a tepid performance with
Josh Freeman
(concussion) out. Ponder threw for just 145 yards. The Vikings barely had the ball, but when they did, Ponder looked like the same quarterback he was before he lost his job, bailing early on the pocket and taking off instead of trying to drive the ball downfield. He threw away a pass in the second quarter with
Greg Jennings
open and waving for the ball in the middle of the Packers' defense, and Jennings looked frustrated with Ponder after that. The Vikings might just spend the rest of the year seeing whether Freeman can learn the playbook and give them something better.
Jennings does little vs. old team:
With Ponder throwing just 21 times, Jennings had few chances to show up his former team. He caught just one pass for nine yards on three targets, while the Packers put
Jordy Nelson
in Jennings' old slot receiver spot and watched him torch
Xavier Rhodes
for 123 yards and a pair of touchdowns. Jennings might have stoked Rodgers' fire with a series of jabs at the quarterback over the summer; Rodgers looked particularly fired up after a couple touchdowns, and certainly got the last laugh in his first game with Jennings on the other sideline.
Got the time?
The Vikings' defense has been among the worst in the league at getting off the field on third down all season, but they might have hit a new low on Sunday night. The Packers converted four third downs on their first drive and their first seven of the game, finishing the night 13-for-18 on third down. That helped Green Bay hold the ball for more than 40 minutes, punishing a team that's already ranked 31st in the league in time of possession. The Packers held the ball for 12:58 in the third quarter alone, as the Vikings ran just three plays.
What's next:
The Vikings (1-6) head to Dallas to take on the NFC East-leading Cowboys (4-4) next Sunday.
October, 22, 2013
10/22/13
3:00
PM ET
An examination of four hot issues following the
Minnesota Vikings
' 23-7 loss to the
New York Giants
:
[+] Enlarge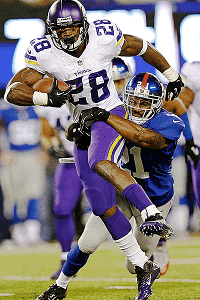 AP Photo/Julio CortezRyan Mundy and the Giants put the clamps on Vikings RB Adrian Peterson on Monday night.
1. An encore for Freeman?
Two weeks after signing with the Vikings, quarterback
Josh Freeman
's debut on Monday night had the feel of a calculus midterm after an all-night cram session. Freeman overthrew 16 of his 33 incompletions, according to ESPN Stats & Information. Only
Tony Romo
-- against the Giants in Week 8 last year -- has overthrown more passes in a game in the past eight seasons. Freeman chalked up many of the issues to a lack of timing with his receivers, saying some of his passes were just "a hair off," but no amount of practice or game plan study will make up for an inability to hit receivers. The Vikings might as well see if Freeman can improve on Sunday night against the
Green Bay Packers
, but three of their next four games are against division leaders (Packers, Cowboys, Seahawks). Two of those are on the road. That's not a recipe for much more success.
2. Peterson MIA:
For just the third time in his career, running back
Adrian Peterson
failed to rush for 30 yards after logging double-digit carries. But Peterson's workload wasn't exactly heavy; he carried just five times in the second half as Freeman uncorked 37 passes, including 31 in the fourth quarter. Like most teams do against Peterson, the Giants stacked the box with eight and nine defenders, daring Freeman to throw and cutting off Peterson's rushing lanes. But teams were doing that to the Vikings last year, and they still managed to open holes for Peterson. The running back said the team needs to be more physical, like it was last year, but it's been startling to watch how ineffective the Vikings have been running the ball, considering Peterson, fullback
Jerome Felton
and their entire offensive line returned this season intact. Offensive coordinator Bill Musgrave's decision to use Peterson so little was perplexing, but how long do you try something that isn't working?
3. Pass protection issues:
At the risk of piling on the offensive line, the Vikings weren't much better at protecting Freeman than they were at clearing holes for Peterson. Left tackle
Matt Kalil
-- playing with lower back tightness -- allowed seven pressures, according to Pro Football Focus. So did left guard
Charlie Johnson
, who was beaten on a number of blitzes up the middle. The Vikings were better at run blocking than pass protection last year, but they were by no means deficient at keeping quarterback
Christian Ponder
upright, either. Ponder was sacked 32 times in 2012, and the Vikings were tied for 11th in the league in sacks allowed per game. It's been startling to watch Kalil struggle after a Pro Bowl rookie season, though, and as a whole, the Vikings have given up 15 sacks in seven games.
4. Hot seats?
Owner Zygi Wilf dismissed the idea of any immediate staff changes after the loss, saying, "I'm sticking with my team." But if the Vikings get throttled at home against the Packers next week, could coach Leslie Frazier meet the same fate his predecessor, Brad Childress, did after a lopsided loss to Green Bay in 2010? One thing that might help Frazier is the lack of an obvious successor; the Vikings had Frazier waiting in the wings in 2010, but of the Vikings' current assistants, only special-teams coordinator Mike Priefer might be an obvious interim candidate. And Priefer's unit marred a punt return touchdown with two turnovers Monday night. Moreover, a midseason coaching change would be the Vikings' second in four years, and would add another dose of uncertainty to a season that's already had plenty of it. The next few weeks could reveal how much more the Vikings' ownership can stomach.
September, 28, 2013
9/28/13
8:30
AM ET
LONDON -- It was just about eight years ago that Daunte Culpepper had his last great game with the Vikings, and one of his last great days in the NFL. Culpepper threw for 300 yards on Sept. 25, 2005, passing for three touchdowns in a 33-16 Vikings win over the New Orleans Saints. But Culpepper tore his ACL just over a month later, and only started 20 NFL games in his next four seasons before turning up in the United Football League on his way to retirement.
[+] Enlarge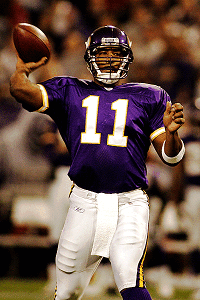 Bruce Kluckhohn/USA TODAY Sports Daunte Culpepper still holds the Vikings record for TD passes in a season with 39.
Culpepper's exit from Minnesota was punctuated by a lengthy dispute with coach Brad Childress over how the quarterback would rehab his knee injury, and his last game with the Vikings came in a season tainted by the Vikings' now-famous "Love Boat" scandal during their bye week. But Culpepper, now 36, said he has fond memories and no regrets about his time in Minnesota.
"All good memories," Culpepper said after the NFL International Series Fan Forum on Saturday. "I would have loved to stay there my whole career. That's just how it happens in the business sometimes. People move on. But my memories of Minnesota were excellent -- every game was sold out. We had some games I wish we could have won, but overall, it was a positive experience for me. The fans were absolutely wonderful."
Culpepper reportedly lost his 10,000-square foot home in South Florida to foreclosure last summer, and opened a restaurant near his alma mater (Central Florida) soon after. The restaurant -- a sports bar named Culpepper's -- was a nine-month project before it opened, the quarterback said, and he's spending the rest of his time with his wife and children in Florida.
He threw 39 touchdowns -- still a Vikings single-season record -- the year before he injured his knee, and finished as MVP runner-up to Peyton Manning, forming one of the league's most dangerous deep-ball combinations with Randy Moss. Even on Saturday, Culpepper said he had chills recalling his favorite moments in the NFL: watching fans stand up in their seats while one of his 60-yard passes to Moss sailed through the air.
But Culpepper said he doesn't think back much to what happened after that 2004 season, when Moss was traded to Oakland and the quarterback injured his knee. Nor does he wonder what might have been had he stayed healthy.
He was even a good sport about the last question of the event, when a British fan in a Steelers jersey asked Culpepper if he'd be bringing any of his "friends" out for a cruise on the Thames River; Culpepper posed for a picture with the fan and his son afterward.
"I played the game the same way the whole time," he said. "I played to win. Whatever I had to do to try and win, I was going to do it. Every game I always wanted to be able to look myself in the mirror and say, 'Hey, I put everything out there.' I don't regret anything about how I played the game."
September, 4, 2013
9/04/13
3:20
PM ET
As soon as the words left Leslie Frazier's mouth on Wednesday afternoon -- that "you don't want to be talking people out of retirement" -- I had the same thought that most of you are probably having now: Boy, things sure have changed in Minnesota.
It wasn't so long ago that the Vikings were -- in fact, Frazier was -- doing exactly what he said they didn't want to do on Wednesday. In 2009, when
Brett Favre
was trying to decide whether to come out of retirement for a second time and join the Vikings, it was Frazier (then the Vikings' defensive coordinator)
who first went to Hattiesburg, Miss
., to talk to Favre about coming back. The Vikings were coming off a 10-6 season and a first-round playoff exit then, as they are now, and while it's tough to say a veteran defensive back could have the same kind of impact in 2013 as Favre had in 2009, there's little question about what
Antoine Winfield
meant to the team last year and how much a young secondary has to prove with Winfield gone.
Winfield

Frazier
But beyond a text message to wish Winfield well and offer his assistance if the 36-year-old wanted to talk about transitioning to life after football, Frazier said he hasn't had any contact with Winfield (though safety Jamarca Sanford did say he would try to talk Winfield out of retirement). And Frazier's quote in the first paragraph of this post was in direct response to a tongue-in-cheek question about whether he'd be dispatching a group of players to lobby Winfield, as the Vikings did with Favre in 2010.
"When a guy's retired, you've got to let him go through what he's going through," Frazier said. "[It's] just encouraging him to be what he wants to be. If retirement is what it is, good luck in retirement. If you want to talk, let's talk, about taking that next step after your career ends. It's a big difference, going from playing 15 years almost to going back and being a regular citizen. It's a transition, and a lot of players struggle with that transition. If he ever needed to talk about that, I'd be glad to have that conversation."
That exchange crystallized many of the differences between where the Vikings were four years ago and where they are now. Back then, they were built on a group of prominent veterans, largely acquired from other teams, and believed they needed a quarterback of Favre's stature to put them over the top. But when the bill came due -- figuratively and literally -- on many of their aging players, including Favre, the Vikings crumbled in 2010. Frazier replaced Brad Childress in the middle of that season, and the Vikings began a draft-and-develop plan in earnest that offseason, drafting quarterback
Christian Ponder
.
None of this is to say that Frazier wouldn't listen if Winfield called him tomorrow and said he wanted to talk about returning to the Vikings. Winfield is coming off one of his best seasons -- though he didn't make Seattle's roster this summer -- and would immediately return as one of the most highly respected players in the locker room. Few defended slot receivers better, or tackled more reliably, than Winfield.
But it's also worth noting how different the Vikings' role is in this situation than it was four years ago. Had they not released Winfield in March, choosing to put him on the open market rather than pay him the $7.25 million he was due to make this season, he likely wouldn't be retired. The Vikings' initial decision left Winfield surprised and hurt, and though Frazier led the charge to get Winfield to re-sign with the team in April, the cornerback ultimately decided to sign with Seattle for less guaranteed money than the Vikings were offering. Essentially, they were first the ones telling an older player that things had changed, not how much they wanted him to do what he'd always done -- at the same salary he was earning before.
Perhaps the lessons of 2009 and 2010 are still in Frazier's mind, or perhaps this situation doesn't compare because it involves a different head coach, a different player and a different team concept than the Vikings had back then.
But while Childress drove his SUV to the airport to pick Favre up four years ago, Frazier -- at least at the moment -- is only extending a text message with an offer to help Winfield adjust to his life after football.
That little exchange provides an interesting vignette of how the Vikings' way of doing business has changed. If Winfield wanted to return, the choice would be his, and Frazier, at least, won't be doing any cajoling.
"I'm trying to encourage him. I'm hoping things go well for him," Frazier said. "I have no idea [if he'd want to return at some point]. We haven't spoken, so I really have no idea."