Minnesota Vikings:

Brandon Marshall
June, 19, 2014
Jun 19
10:00
AM ET
By
ESPN.com staff
| ESPN.com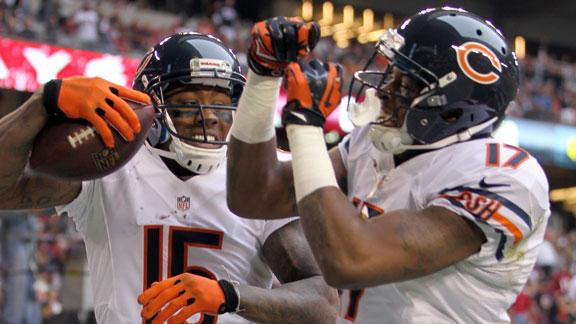 The NFC North features a mix of veteran quarterbacks and a rookie in Minnesota who might be in line for significant playing time this season.
Will
Teddy Bridgewater
put up the most impressive numbers among rookie quarterbacks?
Will
Matthew Stafford
be directing the most explosive offense in the division now that the Detroit Lions have added weapons?
Will rising star
Alshon Jeffery
emerge as the Bears' No. 1 target, supplanting
Brandon Marshall
?
And could the Packers withstand another injury to
Aaron Rodgers
, as they did last season while winning the division?
These are the questions our NFC North reporters tackle in the latest version of 4 Downs.

Of the three QBs taken in the first round of this year's draft, Teddy Bridgewater will put up the most impressive numbers.
Michael Rothstein: Fact, although not because Bridgewater will be the best quarterback of the first-rounders. Simply, he is going to end up playing more than either Johnny Manziel or Blake Bortles this season, so he will have more opportunity. Plus, Minnesota is going to be down in a lot of games this season, so the Vikings are going to have to throw more in the second halves of games. He'll end up having nice numbers, but the number that matters -- the record -- will be ugly.
Michael C. Wright
: Fiction. That is only happening if the other two quarterbacks end up as backups. First off, Bridgewater doesn't have to put up big numbers because he has a beast in the backfield in
Adrian Peterson
. So all he needs to do is hand off to Peterson and make sure not to turn it over on passing downs; be a game-manager. Perhaps Bridgewater is more of a gamer than workout performer, which is what all the scouts I have talked to would say. But I'm just not sold on Bridgewater based on what I saw from his pro day workout. That means he will probably wind up being Rookie of the Year.
Rob Demovsky: Fiction, unless Matt Cassel goes down with an injury. There is more pressure on the Browns to play Johnny Manziel right away than there is on the Vikings to play Bridgewater. The same could be said of the Jaguars and Blake Bortles. All three of the first-round quarterbacks have journeyman veterans starting in front of them, so it all depends on which one flames out or gets hurt first. Cassel seems the least likely to do either.
Ben Goessling: I'm going to say fiction, simply because I think he'll have more work to do to get on the field than Johnny Manziel. The Vikings have Matt Cassel and have been giving him many of the first-team snaps during organized team activities and minicamp. So unless Bridgewater is so good that he takes the job away from Cassel in training camp, I think it will be a while before he is on the field in regular-season games. Now, he might be more efficient once he gets in there -- he has certainly looked sharp during the Vikings' offseason program -- but he might not put up many numbers until late in the season, if at all.
@GoesslingESPN True, and it won't be close. Like asking which will have the more pleasant winter: North Dakota, Manitoba, or Hawaii?

— Steven Macks (@semacks) June 17, 2014
---

The Lions will have the most explosive offense in the NFC North this season.
Michael Rothstein: Fact. There are a bunch of good offenses in the NFC North this season, although none improved on paper as much as the Lions. Detroit still has Calvin Johnson, Reggie Bush and Joique Bell as targets for Matthew Stafford. The Lions added Golden Tate, which is an upgrade from Nate Burleson. They also held on to Joseph Fauria and re-signed Brandon Pettigrew, along with drafting Eric Ebron in the first round. While Ebron's hands are in question, his athleticism and ability to get open down the field are not. As long as Stafford and Johnson stay healthy, there is no reason Detroit should not be a top-10 offense again. They should inch ahead of Green Bay and Chicago, both of which had top-10 offenses as well in 2013.
Michael C. Wright: Fiction. It's fact if "implosive" is the word used. Just kidding. But the Lions in the past relied too much on Matthew Stafford forcing the ball to Calvin Johnson, which often led to turnovers and quick three-and-outs. And although the offense features multiple weapons, it's easy to see why the club has operated this way. Megatron is the best in the game. He is going to make plays other receivers can't make. But, to me, it's expected that a team operating a new scheme will experience its fair share of growing pains. I see that happening with the Lions in 2014. I know Stafford has put up big numbers in the past, but I see his inconsistency holding this offense back this season if he doesn't take a big step in his development.
Rob Demovsky: Fiction, unless Aaron Rodgers and Jay Cutler get hurt again. Do you trust Matthew Stafford more than Rodgers or Cutler for a full 16-game season? At this point, the Bears might have the most explosive offense. They have the best 1-2 receiver punch with Brandon Marshall and Alshon Jeffery, and the Packers have the best quarterback. Not only do the Lions not have the most explosive offense in the division, they might not even be No. 2.
Ben Goessling: Fiction. They have the talent to have it, but how often do the Lions turn talent and potential into actual results? Give me the Bears, with Alshon Jeffery, Brandon Marshall and Matt Forte, or the Packers, now that Aaron Rodgers will be healthy and have a full season with running back Eddie Lacy. I like what Golden Tate gives the Lions opposite Calvin Johnson, and Eric Ebron fits nicely into their scheme, but I think they have the third-best quarterback in the division.
@mikerothstein If Stafford plays the way he can play then fact. Good O-Line, balance runners, best WR and other WR/TE opt

— Tom (@tomarmetta) June 16, 2014
---

Alshon Jeffery, not Brandon Marshall, will be Chicago's go-to receiver in 2014.
Michael Rothstein: Fiction. Jeffery might have had more yards last season, but opponents also are going to be more aware of the former South Carolina receiver this season from the get-go. While his numbers were gaudy a season ago, 467 of his 1,421 yards came in two games. Marshall had a little more consistency last season than Jeffery and was a more consistent target. The real reason Jeffery won't be considered Chicago's go-to receiver next season is that the Bears won't have one on a consistent basis. It will likely change based on matchups, because they are the best receiver duo in the division.
Michael C. Wright: Fiction. As long as Jay Cutler is quarterbacking the Chicago Bears, Marshall always will be the go-to receiver. And why not? Marshall is one of the league's best, even when teams focus on stopping him with double teams. Besides that, Marshall, in my opinion, is poised for a big season because he has spent this entire offseason actually training instead of rehabbing an injury. In 2013, it took Marshall, who was coming off hip surgery, about half the season to finally find his groove; yet he still finished with a team-high 100 grabs for 1,295 yards. Last season, Jeffery was probably the beneficiary of extra coverage devoted to a hobbled Marshall. Because of the damage Jeffery did last season, he will start to see more coverage, which should free up Marshall to continue to do his thing. Besides, Marshall was the fifth-most targeted receiver in the NFL last season. Marshall's 163 targets ranked even more than Calvin Johnson, who had 156 passes thrown his way.
Rob Demovsky: Fact, if we're talking about making big plays. Marshall still might end up having more receptions like he did last season; he's Cutler's security blanket. But even last season, Jeffery began to emerge as the bigger playmaker of the two. His 16.0-yard average per catch was 11th best in the league among all receivers last season. He is a freak athlete with great size, making him a matchup nightmare.
Ben Goessling: Fact. Jeffery is six years younger than Marshall and probably is a better deep threat at this point in his career. I thought he was phenomenal last season, and, to me, he might be the second-best receiver in the division right now behind Calvin Johnson. If he is not there yet, he can ascend to that spot by the end of the season. Marshall is still a great receiver, but Jeffery seems ready to become the main man in Chicago's offense.
@mikecwright no he won't as long as jay cutler is the QB. cutler looks Marshall 1st, 2nd and 3rd and then for others! #NFCN4Downs

— Anthony Strong (@TonyStrong631) June 12, 2014
---

The Packers can win the division again even if Aaron Rodgers misses nearly half the season, like he did last season.
Michael Rothstein: Fiction. Not a chance. Chicago has improved defensively and should have a more potent offense in 2014, as well as a healthy Jay Cutler for the entire season. Detroit should have a more dynamic offense than in 2013, and the leadership within the Lions should keep the team from collapsing like they did in 2013. Minnesota is likely not a factor this season, but either Chicago or Detroit would take advantage of a Rodgers-less Green Bay team better than they did a year ago.
Michael C. Wright: Fiction. In the past, this would definitely be "fact" and it might still be now that the Packers have put together a nice ground game to complement their passing attack. But I just think the rest of the division is starting to catch up to the Packers in terms of overall talent. Every team in the division improved its talent. Detroit's offense should be above average at the very least, and its defense definitely will be better. The Bears will be potent on offense in Year 2 of Marc Trestman's system, and their defense should be improved, especially up front with that revamped line. Let's not forget that Rodgers' return (combined with a mental bust by Bears safety Chris Conte on the quarterback's game-winning bomb) is what won Green Bay the division title. The Packers appear to have put together a better backup plan than they had last season, but we all know how important Rodgers is to his team's success.
Rob Demovsky: Fiction. The Bears and Lions folded last season, which allowed the Packers to stay afloat until Rodgers returned for the regular-season finale in Chicago. Both teams have taken measures to ensure that won't happen again. The Bears beefed up their defense, and the Lions made a coaching change. That said, the Packers might be in better position to handle a Rodgers absence because they should have Matt Flynn as the backup from the get-go.
Ben Goessling: Fiction. The only reason the Packers won the division last season was because the other three teams were flawed enough not to take it from them. The Lions collapsed late in the season, the Bears lost four of their last six (including the season finale against Green Bay) and the Vikings blew five last-minute leads (including one against the Packers) to take themselves out of the race. Green Bay might be better prepared for a Rodgers injury now that they have gone through it with Matt Flynn and Scott Tolzien, but the Packers' offense is predicated on Rodgers making throws few others can make. You can't expect a team to survive the loss of an elite player like that again.
@RobDemovsky True. Defense will be much better this year & flynn/tolzien will have a full training camp to run offense.

— Jules Parmentier (@JulesPthe5th) June 12, 2014
January, 8, 2014
Jan 8
8:00
AM ET
Welcome back to our chronological look at the 10 plays that most shaped the Vikings' 2013 season. Today: Play No. 3.
WHEN:
Sept. 15, 2013
WHERE:
A 31-30 loss to the
Chicago Bears
.
THE PLAY:
Jay Cutler
's 16-yard touchdown pass to
Martellus Bennett
with 10 seconds left.
[+] Enlarge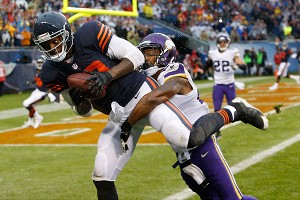 AP Photo/Charles Rex ArbogastBears tight end Martellus Bennett, left, scores the winning TD in the final minute against Minnesota.
WHAT THEY SAID:
Cornerback
Chris Cook
: "A few guys were off. And when guys are off, other guys try to cover it to help them out, and things happen. It's football, man. It's a fast game."
IMPACT OF THE PLAY:
If we were ranking these plays in order of importance to the Vikings' season, there's a strong argument to be made for this one at the top of the list. It was the first of the Vikings' five blown leads in the final minute of a game. It cost them their first win in Chicago since 2007, and in a game that several players labeled as must-win after a season-opening loss to Detroit, the Vikings' defense spent the last minute of the game in confusion and the aftermath of the game seething with anger. Cook didn't talk after the game, saying "I'm in a bad place right now," safety
Harrison Smith
took the blame for leaving Cook to cover both
Earl Bennett
and Martellus Bennett and middle linebacker
Erin Henderson
said the Vikings hadn't practiced the defense they ran on Cutler's touchdown pass in that situation. Several other players were biting their tongues, and coach Leslie Frazier said he needed to be more assertive in the play-calling chain of command at the end of games, though he stopped short of saying he should have usurped defensive coordinator Alan Williams.
So what happened? If you remember, the Bears ran four verticals, running the same route combination they'd used on Smith's interception earlier in the game, except Cutler had Earl and Martellus Bennett switch releases, having Martellus Bennett -- who'd motioned out wide from an H-back position -- cross behind Earl Bennett. The Vikings had safety
Jamarca Sanford
up at the line of scrimmage, showing a blitz to draw attention away from
Everson Griffen
's stunt behind
Jared Allen
. That left Smith as the lone deep safety, with
Josh Robinson
and
Xavier Rhodes
lined up on
Brandon Marshall
and
Alshon Jeffery
.
From there, chaos ensued. Cook was motioning for help on his side before the play, but he never got it. Sanford dropped into a short zone with Henderson, Robinson followed Marshall to the end zone while Rhodes stayed in a zone drop, letting Jeffery run free to the end zone. Smith initially started toward Marshall (saying after the game that if he had to guess, he figured Cutler would throw there), while Cook turned his hips into a zone drop, initially moving toward Earl Bennett before cutting back toward Martellus Bennett. But once Cook turned his hips sideways, giving Martellus Bennett the release he needed for Cutler's back shoulder throw, the play was all over; Cutler drilled Bennett for a touchdown, giving the Bears the win and sending the Vikings' season into a spiral.
November, 29, 2013
11/29/13
3:40
PM ET
EDEN PRAIRIE, Minn. -- The
Minnesota Vikings
got running back
Adrian Peterson
back on the practice field on Friday for a full session to test his strained groin before Sunday's game against the
Chicago Bears
. They got cornerback
Xavier Rhodes
and wide receiver
Joe Webb
back from concussions, and declared both players probable for Sunday. And they saw the return of safety
Harrison Smith
, who was eligible to practice for the first time in six weeks on Friday and is targeting a Dec. 15 return from injured reserve.
Peterson
All that, coach Leslie Frazier said, left the Vikings in as good an injury situation as they've been in for some time.
"We're pretty good health-wise," Frazier said. "We're not back to full strength, but we do have a lot of guys that are going to participate who we need to be on the field against a good football team."
Peterson's status never seemed in much doubt, after he carried 32 times with the groin injury last Sunday against the
Green Bay Packers
, but the return of Rhodes might be just as important against Bears receivers
Brandon Marshall
and
Alshon Jeffery
. Rhodes had the best game of his rookie season on Sunday, being credited with four pass breakups before he left with a concussion. His return might allow the Vikings to get more physical with the Bears' receivers than they otherwise could.
The only players the Vikings ruled out of Sunday's game were cornerback
Josh Robinson
and tight end
Kyle Rudolph
, who are still rehabbing from a fractured sternum and fractured foot, respectively. Everyone else on their roster is probable for the game.
September, 16, 2013
9/16/13
10:45
AM ET
An examination of four hot issues following the Vikings' 31-30 loss to the Bears:
[+] Enlarge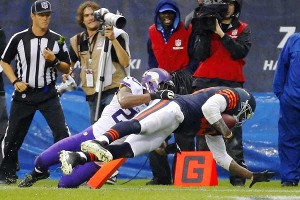 Dennis Wierzbicki/USA TODAY SportsMartellus Bennett's game-winning touchdown with 10 seconds on the clock surprised the Vikings' defense.
1. Final-play frustration:
Most of the attention after the game was on
Jay Cutler
's 16-yard touchdown pass to
Martellus Bennett
with 10 seconds left -- and rightfully so, after it appeared
Chris Cook
was motioning for help to handle the two receivers on his side of the field. Middle linebacker
Erin Henderson
said the Vikings hadn't practiced the called defense in that situation, adding they were surprised to see it there. Safety
Jamarca Sanford
was up near the line of scrimmage showing a blitz, ostensibly to disguise the stunt the Vikings ran with
Everson Griffen
and
Jared Allen
, but his post-snap drop into coverage meant
Harrison Smith
started the play as the lone safety in the middle of the field. Smith came over late, and once Cook turned his hips to cover receiver
Earl Bennett
, he didn't have much chance to account for Bennett, who caught Cutler's back-shoulder throw for the touchdown. "I think I ended up putting him in a bad spot," Smith said. "Put that one on me."
2. Bennett torches Vikings:
The catch Bennett had for a touchdown wasn't his first chance to hurt the Vikings yesterday. He caught seven passes for 76 yards and two touchdowns, beating
Jamarca Sanford
(with the help of a slight pick from
Brandon Marshall
) for the Bears' first touchdown and gaining 23 yards on a first-and-20 on the Bears' last drive. Henderson pushed Bennett as he ran his route off the middle, but appeared to pass him off after that. There was no one with Bennett in the flat, as
Chad Greenway
drifted toward Marshall. "We just had some communication issues," Greenway said. "Sometimes when you're in those looks, things move fast. Miscommunication is going to happen. Reality is, we're down to one drive, and we can't let them down there."
3. Ponder picked off:
Quarterback
Christian Ponder
's second-quarter interception, which
Tim Jennings
returned for a touchdown, might not have been all Ponder's fault; Vikings
play-by-play announcer Paul Allen blogged after the game
that he was hearing
Jerome Simpson
was supposed to come back on the route, instead of stopping. Simpson might have been able to fight Jennings for the ball, but Ponder was staring down Simpson during his dropback, and didn't get a chance to drive the ball to the outside of the field. "Terrible play," Ponder said. "If we take away seven points, it's a different ballgame."
4. Williams returns:
Defensive tackle
Kevin Williams
returned from a knee injury he suffered on a low block during Week 3 of the preseason, and intercepted Cutler's goal-line pass in the second quarter. His return also provided a glimpse of how the Vikings will use their defensive tackles. Williams played 40 snaps, and rookie
Sharrif Floyd
saw 24, with Griffen taking one of the tackle spots in the nickel package. Nose tackles
Letroy Guion
and
Fred Evans
split snaps almost evenly; Evans got 25 and Guion -- who stripped
Matt Forte
of the ball in the fourth quarter -- saw 23.