Minnesota Vikings:

Brian Hoyer
February, 1, 2014
Feb 1
8:00
AM ET
Each week, I will field questions via Twitter with the hashtag #VikingsMail, then will deliver the answers over the weekend.
.
November, 29, 2013
11/29/13
5:20
PM ET
EDEN PRAIRIE, Minn. -- Based on whatever abilities I have to gauge the mood of a team by its atmosphere in a postgame locker room, the loss that jarred the Vikings the most this season was their 31-30 defeat in Week 2 against the
Chicago Bears
.
The Vikings were playing their second straight division game on the road, coming off a loss to the
Detroit Lions
in which they'd contained
Calvin Johnson
and forced a pair of turnovers. They still had a chance to put their season on the right path with a win in Chicago, and after
Letroy Guion
recovered
Matt Forte
's fumble at the Bears' 47 with 6:28 to go, it was easy for an optimist to map out what would happen next: The Vikings would ride to a game-sealing touchdown behind
Adrian Peterson
and a solid second half from
Christian Ponder
, head home with their first win in Chicago since 2007, claim a victory in a winnable home opener against the
Cleveland Browns
and head to London with hopes of a second straight playoff berth very much alive.
What happened instead, of course, is this: The Vikings drove to the Bears' 4, only came away with a field goal, kicked short to avoid
Devin Hester
, gave
Jay Cutler
3:15 to move the Bears 66 yards, let Cutler pick away at their zone defense and gave up a 16-yard touchdown to
Martellus Bennett
with 10 seconds left, on a play where confusion reigned and frustration spilled into the visitor's locker room afterward.
Until that point, the Vikings had every reason to feel their season could be righted with a quick fix. As players tried to maintain a lid on their emotions afterward, it was tough to escape the ominous facts about what happens to 0-2 teams. What the Vikings couldn't have predicted at that point, though, was that they'd be faced with the same situation five times in their next nine games -- and only come away winners twice.
Minnesota has played more defensive snaps with a late lead than any team in the NFL this season, with worse results than any club in the league. When leading by seven or fewer points in the final three minutes of a game, the Vikings have allowed quarterbacks to go 30 of 47 for 365 yards and three touchdowns, according to ESPN Stats & Information. Teams have run for another 36 yards and gained a total of 23 first downs. The Vikings' only sack, and only turnover, came when
Everson Griffen
took
Ben Roethlisberger
down and forced a fumble to end the Vikings' win over the
Pittsburgh Steelers
in London. But since Cutler beat them, Cleveland's
Brian Hoyer
and Dallas'
Tony Romo
have done the same, and Green Bay's
Matt Flynn
drove the Packers to a game-tying field goal last Sunday.
"The results don't say we've learned a lot [from the first Bears game]," coach Leslie Frazier said. "We haven't produced in these situations as often as we need to, obviously. I think we did learn some things from that situation. We've just got to find a way to make some plays. We did in the Washington game and the Pittsburgh game but we haven't done it enough."
There's not much of a silver lining in blowing four last-minute leads this season, but Frazier tried to find one Friday by pointing out the Vikings' defense stiffened and held the Packers to a field goal in Sunday's tie. The Vikings have also taken to calling timeouts on two-minute drills in their last two games, both to give their offense another crack at scoring and to make sure their defense is set. Frazier blamed himself for not getting more involved in the defensive play-calling at the end of the Bears game, and linebacker
Erin Henderson
said defensive coordinator Alan Williams' call on the touchdown was something the Vikings hadn't practiced in last-minute situations leading up to the game.
"It does help to get our guys settled," Frazier said. "Each situation is different. And with all the new people we're playing now. Being in these situations for the first time you want to make sure that we know what we're doing and you can't worry about the other team. We just got to make sure we know what we're doing.''
The youth of the Vikings' secondary has rarely been more apparent this season than it was that Sunday in Chicago, and Frazier wanted to believe they'd be better on Sunday if the Vikings found themselves in the same situation. With so many injuries sapping the Vikings' cohesiveness in the defensive backfield, though, it's hard to know exactly what would happen.
Against
Josh McCown
--
who's 10 years removed from his own memorable last-minute moment against the Vikings
-- now would be as good a time as any to turn it around.
"We'll get another opportunity -- maybe -- against Chicago," Frazier said. "And if we do I think there are some things we learned from that situation that should help us on Sunday."
September, 22, 2013
9/22/13
6:02
PM ET
MINNEAPOLIS -- Observed in the locker room following the
Minnesota Vikings
'
31-27 loss
to the
Cleveland Browns
:
Challenge controversy:
The Vikings -- who felt like they were victimized against Green Bay in the NFL's last incident involving an automatically reviewable play -- might have gotten burned by a misinterpretation of the league's new rule on Sunday. Coach Leslie Frazier challenged
Travis Benjamin
's fumbled punt near the end of the second quarter, mistakenly arguing that the Vikings had returned the loose ball for a touchdown, but was penalized 15 yards for challenging the play, which was set for a booth review since it involved a change of possession. By rule, the Vikings could not advance the fumbled punt, but referee Bill Leavy admitted after the game that he should have charged the Vikings a timeout, not 15 yards. That pushed the Vikings from the Browns' 26-yard line to their 41, and the Vikings wound up with a
Blair Walsh
field goal.
Allen
'Terrible' two-minute drill:
For the second time in two weeks, the Vikings gave up a last-minute touchdown on their way to a loss. On Sunday, that came against third-string Browns quarterback
Brian Hoyer
, who hit tight end
Jordan Cameron
for a touchdown with just under a minute to play. The Vikings put pressure on Hoyer in the second half with some well-timed blitzes, but they weren't able to get to him on the final drive. "Our two-minute drill is actually terrible right now and it cost us, in my opinion, three games," defensive end
Jared Allen
said. The Vikings gave up a touchdown with 10 seconds left in the first half in Week 1 against Detroit, too, and allowed the Lions to head into halftime down by a point instead of trailing by eight.
Frazier backs Ponder, for now:
Frazier said
Christian Ponder
is "still our starting quarterback," but the coach's defenses of Ponder -- who went 10-for-20 for 63 yards and was sacked three times in the second half -- were more lukewarm than usual. "I've got to go back and look at it, see what's creating the inconsistency, why we're not executing as well as we need to in certain situations," Frazier said. "We'll evaluate it, and make the decision that you have to make. But as we speak, I don't see [a quarterback change] happening."
September, 22, 2013
9/22/13
4:24
PM ET
MINNEAPOLIS -- My thoughts on the
Cleveland Browns
'
31-27 win
over the
Minnesota Vikings
at Mall of America Field on Sunday.


What it means:
The Browns pulled out their first victory of the season days after trading running back
Trent Richardson
, with third-string quarterback
Brian Hoyer
shaking off three interceptions to lead a late-game scoring drive. The Vikings, meanwhile, blew a lead and gave up a last-minute touchdown for the second straight week. A team that went 10-6 last season is now 0-3, heading into a quasi-home game in London, and the loss to the Browns exposed serious issues on both sides of the ball.
Vikings stock watch:
Falling -- Vikings' secondary. Minnesota lost
Chris Cook
,
A.J. Jefferson
and
Jamarca Sanford
to injuries, and while it remains to be seen if any of them are long-term problems, the injuries left an already-thin secondary vulnerable to Hoyer, who recovered from a miserable second half to stun the Vikings at home.
Antoine Winfield
is sitting at home, and though the Vikings so far have been reluctant to talk their former Pro Bowl defensive back out of retirement, Sunday's events could change their minds.
Browns stock watch:
Rising -- Browns' run defense. Cleveland had given up an average of just 59.5 yards per game in its first two losses, and even though
Adrian Peterson
ran for 88 on Sunday, the Browns made sure they didn't come easy. Peterson's longest gain of the day was 9 yards, and the Vikings had to rely on
Christian Ponder
and their passing game more than they would have liked to.
Hoyer Watch:
In the first half, Hoyer looked capable of pulling out a surprising victory, making a number of effective throws on rollouts to keep him away from the Vikings' defensive line and burning cornerback A.J. Jefferson on a stop-and-go route to
Josh Gordon
for a 47-yard touchdown. He threw a pair of interceptions in the second half, when the Vikings turned up the heat with blitzing linebackers, but he rebounded to lead an 11-play, 55-yard drive for Cleveland's final touchdown, finding
Jordan Cameron
in the corner of the end zone.
Ponder Watch:
In a game that exposed plenty of issues for the Vikings, Ponder's play was what got fans the most riled up. He crumbled after leading a couple of drives early in the game, throwing for just 7 yards in the third quarter, and was unable to direct a late-game drive to put the game away after the Vikings took a 27-24 lead on a
Blair Walsh
field goal. The Vikings' play calling will come into question after the team handed Peterson the ball just five times in the fourth quarter, and the team's offensive line again left Ponder running for his life. But a quarterback the Vikings drafted 12th overall still has not shown any signs of being a fixture at the position, and on Sunday, a quarterback making his second career start got the last laugh on Ponder.
What's next:
The Vikings (0-3) head to London to take on the
Pittsburgh Steelers
at Wembley Stadium, while the Browns return home for their first division home game of the season, playing host to the
Cincinnati Bengals
next Sunday afternoon.
September, 22, 2013
9/22/13
2:15
PM ET
MINNEAPOLIS -- The Vikings' secondary depth, which already looked like an issue early this season, is being tested against the
Cleveland Browns
today.
Right cornerback
Chris Cook
is questionable to return with a groin injury, and
A.J. Jefferson
-- who got beat on a stop-and-go move for a 47-yard
Josh Gordon
touchdown after he replaced Cook -- has also received treatment on the sideline for an apparent leg injury.
Marcus Sherels
, the team's fifth cornerback, is currently playing the right cornerback spot in the Vikings' base defense while first-round pick
Xavier Rhodes
is only on the field in the team's nickel package, playing left cornerback while
Josh Robinson
moves to the slot.
All that has helped the Browns -- who are starting third-string quarterback
Brian Hoyer
-- tally up 161 yards passing and 17 points in the first 1 1/2 quarters of the game.
The Vikings' cornerback situation seemed like it could become an issue when the team cut
Antoine Winfield
in March, but what's been puzzling so far today is how the Vikings have used Rhodes. Evidently, they aren't comfortable moving him across the field in their base defense and asking him to play a different side of the field than what he's done in the nickel. Cook is usually responsible for facing an opposing team's best receivers, so the Vikings might not trust Rhodes to handle that yet.
In any case, they're struggling with Hoyer in their home opener, and their cornerback depth is a big reason why.
UPDATE:
Cook was officially ruled out for the rest of the game at halftime. The Vikings will have to finish this one without him.
September, 19, 2013
9/19/13
2:37
PM ET
EDEN PRAIRIE, Minn. -- In the hyper-regimented world of the NFL, a team trading its top running back hours after naming its third-string quarterback the starter qualifies as a major disruption: not just for the
Cleveland Browns
, but for the
Minnesota Vikings
, who play them this weekend. In fact, it's such a departure from the normal routine that the Vikings spent more time on Thursday morning talking about the hardship of trying to find film on
Brian Hoyer
and
Willis McGahee
more than the help of not facing the injured
Brandon Weeden
or the departed
Trent Richardson
.
[+] Enlarge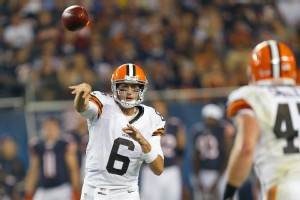 AP Photo/Scott BoehmBrian Hoyer will be making just his second career start on Sunday.
Only defensive end
Jared Allen
would admit a little joy about the news -- "I'm not going to say I didn't smile about it," he said -- but the rest of the talk from the Vikings' defense about the Richardson trade was centered on what an inconvenience it is.
"It's a little bit mixed up right now, but it's the NFL. I think everybody has to adjust at some point in some phase," defensive coordinator Alan Williams said. "It's tough, but preparing for a team, knowing what they have, is tough also. The coaches are good about doing the research, seeing what guys can do. It's a (Rob) Chudzinksi, Norv Turner-type of scheme. They do have some characteristics they've shown in the past."
That might be enough to keep the Vikings from drifting to the school of thought that the Browns, who are also 0-2, will be a pushover this weekend. Hoyer is making just his second NFL start, and McGahee -- who was reportedly set to sign with the Browns pending a physical -- has only started more than 10 games in a season once since 2007.
But the Vikings, who are also 0-2, can ill afford to take anyone lightly at the moment. Williams said they'll focus more on the Browns' scheme than the people running it, while looking at tape of Hoyer in the team's fourth preseason game and whatever they can find of the Browns' running backs.
In the process, the Vikings hope they'll avoid turning the Browns' turmoil into an advantage.
"They know," Williams said. "I know our guys are mature enough and professional enough to not fall into the trap that maybe my boys at home, looking at fantasy football, think that, 'Oh, Dad, you've got 'em.' Our guys are brighter and smarter than that."
September, 19, 2013
9/19/13
12:00
PM ET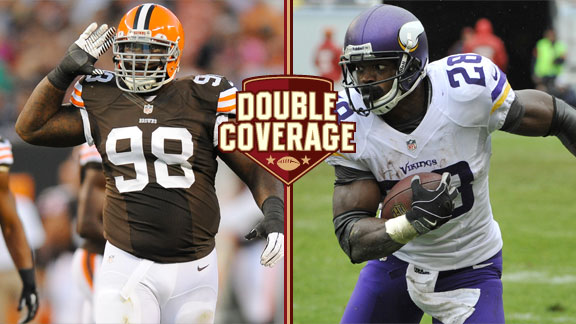 Getty ImagesPhil Taylor and the thus-far stout Browns run defense gets a major test in Adrian Peterson.
A pair of teams desperate for their first victory square off in Minneapolis this weekend when the
Minnesota Vikings
host the
Cleveland Browns
.
The Vikings are coming off a last-second loss in Chicago, after which players were venting about the defensive call that led to the Bears' touchdown with 10 seconds left. Minnesota goes from Minneapolis to London for a date with the
Pittsburgh Steelers
, and the Vikings are in dire need of some positive momentum.
The Browns, meanwhile, have scored just 16 points in a pair of losses, and already have made major changes. They will start
Brian Hoyer
at quarterback this weekend with starter
Brandon Weeden
out because of a thumb injury. Meanwhile, the Browns traded running back
Trent Richardson
on Wednesday, parting with their top playmaker in exchange for the
Indianapolis Colts
' 2014 first-round draft pick.
As the teams meet for the first time since 2009, ESPN.com Vikings reporter Ben Goessling and ESPN NFL Insider Matt Williamson break down the game:
Goessling:
Matt, the last time these two teams faced each other, it was on opening day in 2009,
Brady Quinn
was under center for the Browns and Brett Favre was playing his first regular-season game in a Vikings uniform. How things have changed since then. The Vikings have their own quarterback issues --
Christian Ponder
probably keeps his job for now after a solid second half in Chicago last week, though he's in serious need of some consistency. With Hoyer at quarterback, Richardson gone to Indianapolis and
Josh Gordon
coming back from a suspension, what can we expect from the Browns' offense?
Williamson:
I was feeling optimistic about Cleveland's offense going into Week 3 with Gordon returning and the disaster at the right guard position seemingly resolved. But now Weeden is out and Hoyer is in. That doesn't bother me nearly as much as the loss of Richardson, who should be the foundation of this offense as a runner and underrated receiver. I truly think the Colts got themselves a great young back. But that leaves the Browns in a very precarious situation in the backfield. It is going to be a long year on this side of the ball.
The Vikings had an outstanding rookie class in 2012 and made three picks in the first round of this latest draft. Although there are obvious concerns at the quarterback position, Minnesota has quietly established a fine young nucleus. What roles do you see for its three first-round picks for this game, as well as going forward in 2013?
Goessling:
It's interesting you bring that up, because
Cordarrelle Patterson
's role -- or perhaps his absence -- has been a big topic of conversation this week. He got only five snaps in the Vikings' first game, and had just six as a receiver last Sunday, even after he ran the opening kickoff back 105 yards for a touchdown. He's young, and raw, but he might also be one of the most dangerous players the Vikings can put on the field, aside from
Adrian Peterson
. Coach Leslie Frazier all but called for Patterson to be on the field more during his news conference Monday. The challenge for the Vikings is to either work him into their base offense or go to enough multiple-receiver sets that they can use him, but I don't doubt we'll see him more going forward.
That could be especially important considering how good the Browns have been against the run in their first two games. They've allowed just 59.5 yards per game -- how will they fare against Peterson this weekend?
Williamson:
Well, facing Peterson is obviously the ultimate challenge, and his run blocking, including the tight ends and fullbacks, is quite good as well. But I am very impressed with the Browns' run defense -- and it starts up front. I believe that
Phil Taylor
is on the verge of stardom; his battle with
John Sullivan
, an excellent center in his own right, in the middle of the formation, will be crucial for the success of Cleveland's interior run defense. But the Browns also have very good size at outside linebacker and do a nice job containing the outside run; their second- and third-level defenders get to the ball carrier well.
I mentioned before that the right guard position has been a nightmare, but the Browns' excellent set of offensive tackles,
Joe Thomas
and
Mitchell Schwartz
, also has struggled much more than would be expected against two formidable defenses. As you know,
Jared Allen
is still playing at a very high level. But as some might not know,
Brian Robison
is also excelling this year and
Everson Griffen
is a highly athletic and intriguing end, too. Could Minnesota's defensive ends rule the day?
Goessling:
They certainly could. They struggled in Week 1 in Detroit, as
Matthew Stafford
found
Reggie Bush
on a number of early screen passes before the rush could get home. But the Vikings put consistent pressure on
Jay Cutler
last week, and Allen caused a Cutler fumble that Robison returned 61 yards for a touchdown. The Vikings also have not played at home yet, which means they will have the advantage of the crowd disrupting the opposing offense's snap count for the first time this year. Minnesota has enough issues on the back end of its defense that it needs a strong pass rush to cover up for some of those deficiencies, and if the defensive line can get to Hoyer, the Vikings should be able to slow the Browns down and win the game.
To close this up, what's the biggest thing you think the Browns need to do to win the game? What kind of a shot will they have without Weeden and Richardson?
Williamson:
I really don't like Cleveland's chances at all, but its defense could keep this game close and limit Peterson's production. Of course, Ponder could have a very poor game, or the Browns could score on defense or special teams. But I can't see their offense this week moving the football with any sort of consistency. As Cleveland's front office is doing, it is time to start looking toward next year.