Minnesota Vikings:

Calvin Johnson
August, 29, 2014
Aug 29
8:50
AM ET
MINNEAPOLIS -- ESPN's annual #NFLRank project concluded this morning, with the revealing of the top 10 offensive and defensive players in the league, as voted on by ESPN's team of NFL experts.
Minnesota Vikings
running back
Adrian Peterson
, who finished No. 3 in the rankings last year, slipped one spot in this year's edition.
Peterson was ranked as the fourth-best offensive player in the NFL, behind
Detroit Lions
receiver
Calvin Johnson
(who was No. 1 after finishing No. 2 last year),
Green Bay Packers
quarterback
Aaron Rodgers
(who slipped one spot to No. 2) and
Denver Broncos
quarterback
Peyton Manning
, who jumped from fifth to third. Peterson still finished well ahead of
Philadelphia Eagles
running back
LeSean McCoy
, who came in eighth overall, but at age 29, he'll of course have to beat historical trends to stay in the top four of next year's rankings.
Here's what ESPN Stats & Information had to say about Peterson:
"Peterson has scored at least 10 rushing touchdowns in each of his first seven seasons in the NFL, and his league-high 64 rushing touchdowns during the last five seasons are 19 more than any other player. Peterson has also led the NFL in yards after contact in four of the last five seasons."
That last point is worth keeping in mind, because it reflects just how hard Peterson has had to work to be the league's best running back in recent years. The Vikings' new offense is designed to get Peterson in space more often, reducing the toll on his body and giving him more opportunities to run free. We saw again in the Vikings' preseason finale how much offensive coordinator Norv Turner wants to make use of pulling guards to create alleys on outside runs, and
as we discussed earlier this week,
Peterson stands to benefit if he's patient enough to follow blocks in that system. That the Vikings ran for 598 yards in the preseason without Peterson should show how effective they can be with him, and he'll get to work a week from Sunday in St. Louis.
June, 19, 2014
Jun 19
10:00
AM ET
By
ESPN.com staff
| ESPN.com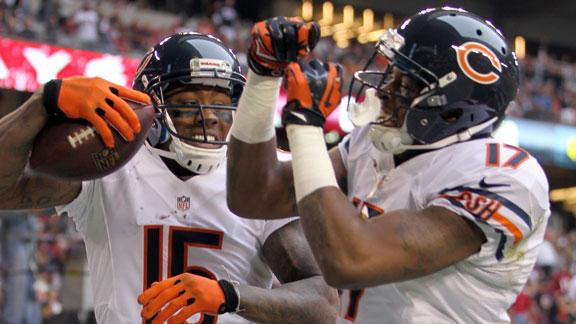 The NFC North features a mix of veteran quarterbacks and a rookie in Minnesota who might be in line for significant playing time this season.
Will
Teddy Bridgewater
put up the most impressive numbers among rookie quarterbacks?
Will
Matthew Stafford
be directing the most explosive offense in the division now that the Detroit Lions have added weapons?
Will rising star
Alshon Jeffery
emerge as the Bears' No. 1 target, supplanting
Brandon Marshall
?
And could the Packers withstand another injury to
Aaron Rodgers
, as they did last season while winning the division?
These are the questions our NFC North reporters tackle in the latest version of 4 Downs.

Of the three QBs taken in the first round of this year's draft, Teddy Bridgewater will put up the most impressive numbers.
Michael Rothstein: Fact, although not because Bridgewater will be the best quarterback of the first-rounders. Simply, he is going to end up playing more than either Johnny Manziel or Blake Bortles this season, so he will have more opportunity. Plus, Minnesota is going to be down in a lot of games this season, so the Vikings are going to have to throw more in the second halves of games. He'll end up having nice numbers, but the number that matters -- the record -- will be ugly.
Michael C. Wright
: Fiction. That is only happening if the other two quarterbacks end up as backups. First off, Bridgewater doesn't have to put up big numbers because he has a beast in the backfield in
Adrian Peterson
. So all he needs to do is hand off to Peterson and make sure not to turn it over on passing downs; be a game-manager. Perhaps Bridgewater is more of a gamer than workout performer, which is what all the scouts I have talked to would say. But I'm just not sold on Bridgewater based on what I saw from his pro day workout. That means he will probably wind up being Rookie of the Year.
Rob Demovsky: Fiction, unless Matt Cassel goes down with an injury. There is more pressure on the Browns to play Johnny Manziel right away than there is on the Vikings to play Bridgewater. The same could be said of the Jaguars and Blake Bortles. All three of the first-round quarterbacks have journeyman veterans starting in front of them, so it all depends on which one flames out or gets hurt first. Cassel seems the least likely to do either.
Ben Goessling: I'm going to say fiction, simply because I think he'll have more work to do to get on the field than Johnny Manziel. The Vikings have Matt Cassel and have been giving him many of the first-team snaps during organized team activities and minicamp. So unless Bridgewater is so good that he takes the job away from Cassel in training camp, I think it will be a while before he is on the field in regular-season games. Now, he might be more efficient once he gets in there -- he has certainly looked sharp during the Vikings' offseason program -- but he might not put up many numbers until late in the season, if at all.
@GoesslingESPN True, and it won't be close. Like asking which will have the more pleasant winter: North Dakota, Manitoba, or Hawaii?

— Steven Macks (@semacks) June 17, 2014
---

The Lions will have the most explosive offense in the NFC North this season.
Michael Rothstein: Fact. There are a bunch of good offenses in the NFC North this season, although none improved on paper as much as the Lions. Detroit still has Calvin Johnson, Reggie Bush and Joique Bell as targets for Matthew Stafford. The Lions added Golden Tate, which is an upgrade from Nate Burleson. They also held on to Joseph Fauria and re-signed Brandon Pettigrew, along with drafting Eric Ebron in the first round. While Ebron's hands are in question, his athleticism and ability to get open down the field are not. As long as Stafford and Johnson stay healthy, there is no reason Detroit should not be a top-10 offense again. They should inch ahead of Green Bay and Chicago, both of which had top-10 offenses as well in 2013.
Michael C. Wright: Fiction. It's fact if "implosive" is the word used. Just kidding. But the Lions in the past relied too much on Matthew Stafford forcing the ball to Calvin Johnson, which often led to turnovers and quick three-and-outs. And although the offense features multiple weapons, it's easy to see why the club has operated this way. Megatron is the best in the game. He is going to make plays other receivers can't make. But, to me, it's expected that a team operating a new scheme will experience its fair share of growing pains. I see that happening with the Lions in 2014. I know Stafford has put up big numbers in the past, but I see his inconsistency holding this offense back this season if he doesn't take a big step in his development.
Rob Demovsky: Fiction, unless Aaron Rodgers and Jay Cutler get hurt again. Do you trust Matthew Stafford more than Rodgers or Cutler for a full 16-game season? At this point, the Bears might have the most explosive offense. They have the best 1-2 receiver punch with Brandon Marshall and Alshon Jeffery, and the Packers have the best quarterback. Not only do the Lions not have the most explosive offense in the division, they might not even be No. 2.
Ben Goessling: Fiction. They have the talent to have it, but how often do the Lions turn talent and potential into actual results? Give me the Bears, with Alshon Jeffery, Brandon Marshall and Matt Forte, or the Packers, now that Aaron Rodgers will be healthy and have a full season with running back Eddie Lacy. I like what Golden Tate gives the Lions opposite Calvin Johnson, and Eric Ebron fits nicely into their scheme, but I think they have the third-best quarterback in the division.
@mikerothstein If Stafford plays the way he can play then fact. Good O-Line, balance runners, best WR and other WR/TE opt

— Tom (@tomarmetta) June 16, 2014
---

Alshon Jeffery, not Brandon Marshall, will be Chicago's go-to receiver in 2014.
Michael Rothstein: Fiction. Jeffery might have had more yards last season, but opponents also are going to be more aware of the former South Carolina receiver this season from the get-go. While his numbers were gaudy a season ago, 467 of his 1,421 yards came in two games. Marshall had a little more consistency last season than Jeffery and was a more consistent target. The real reason Jeffery won't be considered Chicago's go-to receiver next season is that the Bears won't have one on a consistent basis. It will likely change based on matchups, because they are the best receiver duo in the division.
Michael C. Wright: Fiction. As long as Jay Cutler is quarterbacking the Chicago Bears, Marshall always will be the go-to receiver. And why not? Marshall is one of the league's best, even when teams focus on stopping him with double teams. Besides that, Marshall, in my opinion, is poised for a big season because he has spent this entire offseason actually training instead of rehabbing an injury. In 2013, it took Marshall, who was coming off hip surgery, about half the season to finally find his groove; yet he still finished with a team-high 100 grabs for 1,295 yards. Last season, Jeffery was probably the beneficiary of extra coverage devoted to a hobbled Marshall. Because of the damage Jeffery did last season, he will start to see more coverage, which should free up Marshall to continue to do his thing. Besides, Marshall was the fifth-most targeted receiver in the NFL last season. Marshall's 163 targets ranked even more than Calvin Johnson, who had 156 passes thrown his way.
Rob Demovsky: Fact, if we're talking about making big plays. Marshall still might end up having more receptions like he did last season; he's Cutler's security blanket. But even last season, Jeffery began to emerge as the bigger playmaker of the two. His 16.0-yard average per catch was 11th best in the league among all receivers last season. He is a freak athlete with great size, making him a matchup nightmare.
Ben Goessling: Fact. Jeffery is six years younger than Marshall and probably is a better deep threat at this point in his career. I thought he was phenomenal last season, and, to me, he might be the second-best receiver in the division right now behind Calvin Johnson. If he is not there yet, he can ascend to that spot by the end of the season. Marshall is still a great receiver, but Jeffery seems ready to become the main man in Chicago's offense.
@mikecwright no he won't as long as jay cutler is the QB. cutler looks Marshall 1st, 2nd and 3rd and then for others! #NFCN4Downs

— Anthony Strong (@TonyStrong631) June 12, 2014
---

The Packers can win the division again even if Aaron Rodgers misses nearly half the season, like he did last season.
Michael Rothstein: Fiction. Not a chance. Chicago has improved defensively and should have a more potent offense in 2014, as well as a healthy Jay Cutler for the entire season. Detroit should have a more dynamic offense than in 2013, and the leadership within the Lions should keep the team from collapsing like they did in 2013. Minnesota is likely not a factor this season, but either Chicago or Detroit would take advantage of a Rodgers-less Green Bay team better than they did a year ago.
Michael C. Wright: Fiction. In the past, this would definitely be "fact" and it might still be now that the Packers have put together a nice ground game to complement their passing attack. But I just think the rest of the division is starting to catch up to the Packers in terms of overall talent. Every team in the division improved its talent. Detroit's offense should be above average at the very least, and its defense definitely will be better. The Bears will be potent on offense in Year 2 of Marc Trestman's system, and their defense should be improved, especially up front with that revamped line. Let's not forget that Rodgers' return (combined with a mental bust by Bears safety Chris Conte on the quarterback's game-winning bomb) is what won Green Bay the division title. The Packers appear to have put together a better backup plan than they had last season, but we all know how important Rodgers is to his team's success.
Rob Demovsky: Fiction. The Bears and Lions folded last season, which allowed the Packers to stay afloat until Rodgers returned for the regular-season finale in Chicago. Both teams have taken measures to ensure that won't happen again. The Bears beefed up their defense, and the Lions made a coaching change. That said, the Packers might be in better position to handle a Rodgers absence because they should have Matt Flynn as the backup from the get-go.
Ben Goessling: Fiction. The only reason the Packers won the division last season was because the other three teams were flawed enough not to take it from them. The Lions collapsed late in the season, the Bears lost four of their last six (including the season finale against Green Bay) and the Vikings blew five last-minute leads (including one against the Packers) to take themselves out of the race. Green Bay might be better prepared for a Rodgers injury now that they have gone through it with Matt Flynn and Scott Tolzien, but the Packers' offense is predicated on Rodgers making throws few others can make. You can't expect a team to survive the loss of an elite player like that again.
@RobDemovsky True. Defense will be much better this year & flynn/tolzien will have a full training camp to run offense.

— Jules Parmentier (@JulesPthe5th) June 12, 2014
May, 24, 2014
May 24
8:00
AM ET
Thanks to all of you who submitted questions for our weekly
Minnesota Vikings
mailbag. You can send them to me on Twitter any time during the week at
@GoesslingESPN
, using the hashtag #VikingsMail. We've got a lot of great questions again this week, so we'll split this week's mailbag into two parts. Look for the second installment on Tuesday:
January, 16, 2014
Jan 16
10:00
AM ET
It's probably no coincidence that all 10
Minnesota Vikings
players surveyed for ESPN's NFL Nation Confidential survey named a quarterback when asked whom they would take if they had to start a team with one player. New England's
Tom Brady
, Denver's
Peyton Manning
and Green Bay's
Aaron Rodgers
claimed all 10 votes, from a team that's been without a consistent starting quarterback for almost a decade and might not have had a bona fide franchise QB since Fran Tarkenton in the 1970s.

But the Vikings were hardly alone in that opinion. Of the 320 players ESPN surveyed, more than 220 provided the name of a quarterback when they were asked that question. Manning won the ballot, with 62 votes -- six more votes than
Andrew Luck
, his successor in Indianapolis. Brady finished third with 41 votes, Rodgers came in fourth with 40 and
Detroit Lions
wide receiver
Calvin Johnson
finished fifth with 37. Johnson finished higher than any non-quarterback, and then the results dropped all the way down to Vikings running back
Adrian Peterson
, who finished sixth with 20 votes.
It's impossible to know how every player answered the question, and Manning's age (37) might have led some players around the league to vote for Luck, who's the only quarterback in his 20s among the top four. But it's a hypothetical question, and if we're answering regardless of age, it's hard to come up with a name other than Manning, who just finished the most prolific season by a quarterback in NFL history.
Vikings players who voted for Manning certainly admired what he did this season, and given the team's current state at quarterback, the Vikings can't be blamed for wishing they had someone such as Manning, whose father finished his career playing in the Metrodome. As the Vikings prepare to possibly select their next quarterback in this spring's draft, Manning is still the gold standard of what they'd hope to find.
January, 9, 2014
Jan 9
10:00
AM ET
When ESPN's NFL Nation reporters surveyed more than 320 players for our NFL Nation Confidential survey during the 2013 season, the question of
which player is the NFL's most feared
elicited a variety of responses. There were two ways to take the question -- which player am I most worried about having to stop, and which player am I most worried about ending my career? -- and the answers we got reflected both trains of thought.
J.J. Watt
,
Patrick Willis
and
James Harrison
were among the top seven vote-getters. So were
Peyton Manning
and the Vikings' own
Adrian Peterson
, who finished seventh with 16 votes. But the two teammates at the top of the list -- Detroit's
Calvin Johnson
and
Ndamukong Suh
-- best embodied the two sides of the question.
Johnson
Suh
Suh won the title with 61 votes, beating Johnson by three after gaining a reputation as one of the most aggressive players in the league. Of the 10 Vikings I surveyed, three voted for Johnson and two voted for Suh. Depending on which side of the ball you play on, there's an argument to be made for both.
The Vikings certainly have had plenty of experience with both Johnson and Suh. They've faced Johnson 12 times, allowing 62 catches for 873 yards and seven touchdowns. And actually, when you consider what he's done to the other two teams in the division (gaining 1,163 yards in 12 games against the Packers and 928 in 13 games against the Bears), along with Johnson's career average of 88 yards a game, the Vikings haven't done a bad job against him. In fact, Johnson's 72.8 yards-per-game average against them is his fourth-lowest against a NFC opponent, behind only Seattle, Washington and Chicago.
Suh has 3.5 sacks in seven career games against the Vikings and chased
Christian Ponder
out of the pocket in the Vikings' season-opening loss to the Lions, hitting Ponder's arm and forcing an interception. He also threw a low block at Vikings center
John Sullivan
in that game, nullifying a touchdown on a return of Ponder's first interception. Suh plays on the precipice of recklessness at times, and though the Vikings are far from the only team that's had run-ins with him, they get as much of a taste of the defensive lineman's fierceness as anyone.
With both players, as with Peterson, shutting them down once isn't enough to eradicate fear. It's always present in the worry of what they can do the next time, in one particular game or moment, if you're not being careful. Playing in the same division as the Lions, the Vikings have to deal with both of them twice a year, and that challenge is easily one of the most formidable in the NFL.
December, 26, 2013
12/26/13
10:00
AM ET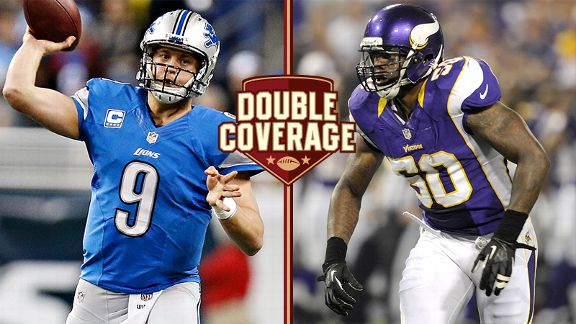 Getty ImagesMatthew Stafford's Lions are playing for pride, Erin Henderson's Vikings to send off the Metrodome.
When the
Minnesota Vikings
and
Detroit Lions
squared off in Week 1, both teams had legitimate designs on playoff spots in what was expected to be one of the toughest divisions in football.
Now, they're the only two teams with no shot of winning one of the most mediocre divisions in football, and headed into their Week 17 rematch, both the Vikings and Lions could be playing their final games with their current coaches. The Vikings have reportedly been doing their homework on potential replacements for Leslie Frazier, while Jim Schwartz could also be on his way out in Detroit after the team followed a 6-3 start with five losses in its next six games. The final game at Mall of America Field (aka the Metrodome) could also be the last before each team embarks on some major changes.
To get you ready for the game and for what might be next for both teams, ESPN.com Vikings reporter Ben Goessling and Lions reporter Michael Rothstein discussed the matchup and the future of these NFC North foes.
Goessling:
Michael, I'd wish you a relaxing offseason, but I think we're probably both a ways from that starting, in light of what's going on with these two teams. Frazier has been unable to get consistent quarterback play or reliable defense, particularly against the pass and at the end of games, but as usual, what's happening with the Lions seems more combustible than that. After another late-season meltdown, do you think there's any chance Schwartz survives as coach?
Rothstein:
I guess there's always a chance, but I have an extremely difficult time seeing it after the Lions lost five of six games entering Sunday and played themselves out of a divisional title. That plus the mistakes Detroit has made, from turnovers to penalties to fourth-quarter collapses, and things don't seem to be getting any better.
But this is the Ford family, and it has shown more patience than almost any other owner in any sport, so there's always that chance it just rides things out with Schwartz. Still, it would send a pretty bad message after four seasons out of the playoffs in five seasons under Schwartz.
Flipping that question back to you -- what do you think Minnesota does with Frazier? The players really seem to like him, so do you think that plays into what we'll see Sunday?
Goessling:
I have a hard time seeing Frazier survive, as much as the players like him.
Adrian Peterson
said on Sunday he planned to go to the Wilf family after the season and let the owners know he wanted Frazier to stay on as coach. He's also said he wants to play the rest of his career for Frazier. Those are pretty strong statements from a guy whom the Vikings probably want to keep happy more than anyone else on their roster. But they also wouldn't give Frazier a contract extension after he went 10-6 last season, and with everything that's looked disjointed at times this year -- five blown leads in the last minute of games, the reluctance to use
Cordarrelle Patterson
early in the season and, of course, the mess at quarterback -- I can't see the Wilfs standing pat. GM Rick Spielman is responsible for a fair share of this, possibly more than Frazier, but heading into a new stadium, the Vikings are looking for a jolt. They're more likely to get that with a new coach than a new GM.
Shifting to Sunday's game, the Lions came back to beat the Vikings in September because of how well they used
Reggie Bush
, but he hasn't looked like the same guy in a number of games since then. Is that mostly attributable to the calf injury he's had, or is there something else going on?
Rothstein:
It's tough to tell with Bush. I think he is, in some ways, hampered by the calf injury and all of the earlier injuries he's suffered this season. There are also the issues of his fumbles, which have been a problem all season, and his dropped passes. Bush is still an electrifying player, but his ineffectiveness at times has been due to how Detroit chooses to use him. He sliced up the Vikings with screen plays and short passes out of the backfield, and Detroit hasn't done as much with him in that area lately. The Lions also have a lot of confidence in
Joique Bell
, a gifted runner who plays hard.
Sticking with the game, and really this might be more of a finality point as well, how does
Jared Allen
view Sunday? Is this it for him in Minnesota, and how much of a problem can he cause for a somewhat-struggling Lions offense?
Goessling:
I do think this is it for Allen in Minnesota. He'll be a free agent after the season, he's carrying a cap figure of more than $17 million this year and he's talked in recent weeks about how he'd rather retire than be a situational pass-rusher. He might be overestimating his value, and he could be singing a different tune when he does get out into the free-agent market in March, but I don't think he'll be back with the Vikings. They gave an extension to
Brian Robison
during the season, and they could also bring back
Everson Griffen
, who's inconsistent (and a bit unpredictable) but immensely talented.
Allen has talked about how he's still creating opportunities but just hasn't been able to finish a few sacks. But when did you ever hear him say that in the past? It seems he's lost a bit of his ability to get around the edge in time, and a handful of his sacks have come because he's so relentless. The Bengals did a fantastic job of getting the ball out quick on Sunday, and Allen was shut out. If the Lions can do what they did in September, it's possible to keep Allen pretty quiet.
Last one from me: What kind of an effort do you expect from the Lions on Sunday? It seems a bit like they've packed it in after all the losses, and with nothing on the line now, I can't imagine they're going to suddenly be able to reignite themselves. Will the shot at an 8-8 record and the chance to save Schwartz a little face be enough, or will the Vikings close down the Metrodome against an uninspired opponent?
Rothstein:
That's one of the biggest questions of this week, and it is a question I really don't know the answer to. I think it depends how much they have left.
Calvin Johnson
is banged-up.
Matthew Stafford
has struggled in the second half of the season.
DeAndre Levy
was hobbling out of the locker room Sunday. There are a lot of guys hurting at this point, a lot of key guys for the Lions going forward.
It might be the most unanswerable question with this team right now. All season, even during the losing stretch, there was the possibility of the playoffs and a division title to cling to. Now there's just pride. It'll be an interesting thing to see.
So I'll finish up with this for you. Since this is the last game in the Metrodome -- and my first -- is there any particular memory that stands out about the place to you?
Goessling:
Boy, it's hard to pick just one. I've been watching all kinds of games -- NFL, MLB, college football, college basketball and high school football -- since I was a kid, and I'll have a piece on my blog on Friday with some of those memories. But I'll share one quick story. It was from one of my first college football games when I was a student at the University of Minnesota. It was the fall of 2001 against Purdue, and there were too many bizarre things that happened in the game to recount here, but it wound up in overtime, and after Purdue scored, the Gophers lost the game on a finish that could've happened only in the Metrodome.
Here's what happened: Travis Cole threw a touchdown pass to Antoine Henderson that would've tied the game. Henderson was clearly inbounds, but the pass was ruled incomplete. Why? Well, the Gophers used to paint their end zones gold but left a strip of green turf between the gold paint and the sideline to make it easier to convert the field for Vikings games. Henderson's foot was inbounds but outside the gold paint, so the official lost track of the sideline and called him out of bounds. That's kind of the Metrodome in a nutshell -- built to be serviceable for any number of different sports, but not really ideal for anything. Still, at a cost of $55 million in 1982, it's certainly paid for itself several times over.
September, 6, 2013
9/06/13
9:25
AM ET
Welcome to Around the Horns, our daily look at what's happening on the Vikings beat:
Jerome Simpson's first year in Minnesota was an unqualified disappointment; the Vikings knew he would miss the first three games of the season because of a drug suspension, but two weeks after he came back, Simpson found himself unable to push off or make sharp cuts because of a mysterious back injury. The ailment stuck with him most of the season, and he wound up with just 26 catches for 274 yards and no touchdowns.
The Vikings re-signed him to a one-year deal in March, gambling on the possibility that he could be better with a healthy season in the Vikings' system, and the receiver is grateful for another shot.
"I feel like I owe (the Vikings) something because I want to prove to them and the naysayers that I can play this game,"
Simpson told the St. Paul Pioneer Press
. "I just want to just prove to the team that I want to be here. Hopefully this is going to be a great year for me."
It might be harder for Simpson to carve out a prominent role in the Vikings' offense this year, with Greg Jennings and Cordarrelle Patterson in the offense and Jarius Wright looking like he could command more attention. But Simpson will begin the year as the team's starting split end, and he could be able to give the Vikings the deep threat they thought they had when they signed him in the spring of 2012.
Here are today's other Vikings stories of note:
September, 5, 2013
9/05/13
1:00
PM ET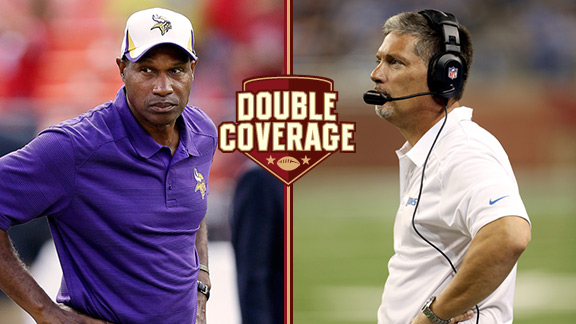 AP Photo Neither Leslie Frazier nor Jim Schwartz enters the season with much long-term job security.
Two teams in win-or-else mode will open the season Sunday at Ford Field.
In 2012, the
Detroit Lions
had their third losing season in four years under coach Jim Schwartz. A fourth in five years could end his tenure.
The
Minnesota Vikings
, meanwhile, decided not to extend the contract of coach Leslie Frazier after his 10-6 breakthrough season last year. His deal is up in 2014, and assuming the Vikings don't want to bring him back in a lame-duck situation, Frazier will either get a contract extension or be fired after this season.
The Vikings swept the Lions in the 2012 regular season after the Lions did the same in 2011. ESPN Vikings reporter Ben Goessling and ESPN NFL Nation writer Kevin Seifert discuss the matchup:
Kevin Seifert:
Ben, the Lions have had all offseason to prepare for
Adrian Peterson
, who gashed them for 273 yards in two games last season. They've got
Ndamukong Suh
and
Nick Fairley
playing next to each other on the inside and overall have a bigger and more physical defensive line than they had last year. I'm not saying the Lions are going to shut down Peterson on Sunday, but I do think the Vikings can't go into the game relying on him to carry their offense. So that brings me to the big question surrounding this team: Do you think the Vikings' passing game has improved enough to do its share?
Ben Goessling:
They'd certainly have to hope so based on what they did for
Christian Ponder
this offseason, adding
Greg Jennings
and
Cordarrelle Patterson
to their group of receivers. But the thing that concerns me with Ponder in this matchup is how he'll respond to the pressure the Lions will bring. He still seemed to struggle with that in the preseason, though he had one of his best games of the year against the Lions in the Metrodome last November. The Lions pressured him on just 11 drop-backs in both games last season, but if they can get to him more often than that, I don't like Ponder's chances of carrying the Vikings, should he need to do so. And if the Lions can exploit the Vikings' new-look secondary, Ponder could find himself playing from behind, where he hasn't been terribly good. The question is, will the Lions be able to burn the Vikings with their passing game enough to put Ponder in a hole?
Seifert:
That's a fair question, Ben. The Lions seemed to do what they needed to this offseason by signing running back
Reggie Bush
, who would presumably keep defenses off balance and give the Lions a big-time outlet for all those times when
Calvin Johnson
was in the middle of some kind of exotic coverages.
But for many reasons, the offense never really looked sharp in the preseason. The most obvious factor was that Johnson didn't play much, of course, but Bush had almost no running room behind a still-evolving offensive line. It also seemed pretty clear that the Lions don't have a No. 2 receiver to play alongside Johnson, a role that was once targeted for
Titus Young
before his well-publicized off-field issues.
With all that said, however, the connection between Stafford and Johnson is real and special. There is every reason to consider them a formidable challenge for the Vikings -- especially considering the state of their secondary. Why don't you fill in our good readers on that situation, Ben?
Goessling:
I'd be happy to. Essentially, it's my opinion that the Vikings' secondary depth might be the biggest issue facing their defense headed into the season. As a whole, it's probably the second-biggest concern behind Ponder.
The Vikings let
Antoine Winfield
go in March, moving ahead with a secondary that features one injury-prone corner (
Chris Cook
), a second-year man trying to replace Winfield's excellent slot coverage skills (
Josh Robinson
) and a rookie (
Xavier Rhodes
). There's enough talent and size to make it work, especially with safeties
Harrison Smith
and
Jamarca Sanford
offering help in coverage, but the Vikings are rolling the dice with the cornerbacks they've got. The Lions might not be deep enough at receiver to fully test the Vikings' depth, but Calvin Johnson is as big of a challenge for Minnesota as Adrian Peterson is for Detroit.
The Vikings bottled Johnson up at Ford Field last year, bracketing him with Smith or Sanford on top of Cook and hitting him throughout the game. But with Cook injured at the Metrodome, Johnson went wild for 207 yards. It will be interesting to see how the Lions use him, and what kinds of matchups they can generate against an inexperienced secondary.
You brought up Bush earlier, too, Kevin. The Vikings' run defense isn't what it used to be, and it looks like they could be dealing with injuries at the defensive tackle position this week. Stafford threw the ball a combined 93 times against the Vikings last year, and lost both games. Will Bush be effective enough to give the Lions the balance they need to win?
Seifert:
Let's put it this way. If the Vikings use the typical kind of defense the Lions usually see for Calvin Johnson, and Bush still can't get any yards against a depleted defense, then the Lions are going to have problems this season. The Lions have to be able to run the ball this year better than they did in 2012. Teams gave them more six-man boxes than any team in the NFL and they still couldn't get it done. It was a primary offseason goal and it has to be better this season.
Any last words, Ben? You're going to be out there in Detroit. I'll be elsewhere. What's the one thing that has to happen to ensure a Vikings victory? From the Lions' perspective, I'll say it will be Bush getting 100 rushing yards.
Goessling:
I think it's Ponder playing like he did in the second game against the Lions last year. The Vikings don't need to get into a shootout -- and if the game turns into that, they probably won't be able to keep up anyway -- but they need confident, reliable quarterback play this season, and this game seems as good as any for him to start it.
August, 30, 2013
8/30/13
2:25
PM ET
He might be the reigning NFL MVP, but according to ESPN's #NFLRank project,
Adrian Peterson
isn't even the best -- or second-best -- player in his own division.
Peterson
The project, which ranked the top 100 offensive and defensive players in the league
, concluded today with
Green Bay Packers
quarterback
Aaron Rodgers
atop the offensive rankings, followed by
Detroit Lions
receiver
Calvin Johnson
. Peterson was No. 3 on the list -- behind two record-breaking players in the NFC North -- but how do you Vikings fans feel about it? In the words of Minnesota's own Coen brothers, vis-à-vis one of the most enduring characters they created, I'm guessing this aggression will not stand, man.
Here's what ESPN Stats & Information had to say about Peterson:
"In 2012, Peterson had 1,019 rush yards after contact, which would have made him the NFL's 16th-leading rusher. In the past four seasons, Peterson has 2,918 rush yards after contact, the most of any NFL player."
My take:
Even though Peterson had a MVP-worthy season in 2012, I didn't expect a panel of experts to rank him as the top player in the league. The game right now is the province of quarterbacks, and it's tough to find one better than Rodgers, who won the MVP a year before Peterson did and led the league in several statistical categories last season. I could quibble a little more with the selection of Johnson over Peterson, considering how much the Lions' offense is tailored to him putting up garish numbers. Peterson is the focal point of the Vikings' offense, yes, but it's not as easy for an entire defense to gear up for Johnson the way opponents try to prepare for Peterson. Still, we're picking nits here between three tremendous players, and there's no question Peterson is among the very top tier of the game's elite. Where he fits in that tier might be a matter of personal preference.