Minnesota Vikings:

Clay Matthews
June, 9, 2014
Jun 9
5:05
PM ET
MINNEAPOLIS -- In an ESPN Insider piece published last Thursday,
Pro Football Focus ranked the starting lineups

of all 32 NFL teams, grading the starters on each roster in the same manner that teams use to stack their draft boards (blue players are elite, green ones are good starters, yellow ones are average and red ones are poor).
PFF ranked the
Minnesota Vikings
' roster 29th in the league, largely because of how few elite players it sees in the current lineup. According to PFF's rankings, only
Adrian Peterson
merited a blue rating. But the site
also pointed out something I think is worth examining
a little more thoroughly here: How many good starters are on the Vikings' roster.
According to PFF's rankings, 53.6 percent of the Vikings' starters are either good, high quality or elite players. Only left guard
Charlie Johnson
is rated as below-average on offense, and receiver
Jerome Simpson
is the only other player rated as average. Things are spottier on defense, as should be expected, but even there, only middle linebacker
Jasper Brinkley
, cornerback
Josh Robinson
and outside linebacker
Chad Greenway
are listed as worse than average.
The Vikings believe they can make a quick turnaround after a 5-1o-1 season, and I don't think it's farfetched for them to believe that, especially given how much better they could get through the development of a few players:
Cordarrelle Patterson
,
Matt Kalil
,
Harrison Smith
,
Sharrif Floyd
and
Xavier Rhodes
. All five players were first-round picks in the last two years, and all five have significant room to improve. PFF ranked the
Green Bay Packers
-- who have won the last three NFC North titles -- as having the eighth-best roster in the NFL, with three elite players (quarterback
Aaron Rodgers
, guard
Josh Sitton
and linebacker
Clay Matthews
) as elite, and two more (running back
Eddie Lacy
and wide receiver
Jordy Nelson
) as very good. It's not a stretch at all to think the Vikings could have Patterson, Smith, Rhodes and Kalil in one of the top two classes by the end of the year, to go with Peterson and three offensive linemen (center
John Sullivan
, right guard
Brandon Fusco
and right tackle
Phil Loadholt
).
This year, as much as any in the Vikings' recent history, will hinge on player development, and that's without even discussing rookies like
Anthony Barr
and
Teddy Bridgewater
yet (PFF lists Bridgewater as the starting quarterback, though I'd put
Matt Cassel
in the spot for now). It's probably wise to prepare for a long line of tepid preseason predictions for the Vikings -- there are simply too many questions to think otherwise -- but those don't have any bearing on how good the team can actually be. There are enough pieces on the roster to think the Vikings could be on solid footing in the near future. How quickly they get there will depend on whether their stockpile of recent first-round picks becomes a stable of high-end players.
May, 24, 2014
May 24
8:00
AM ET
Thanks to all of you who submitted questions for our weekly
Minnesota Vikings
mailbag. You can send them to me on Twitter any time during the week at
@GoesslingESPN
, using the hashtag #VikingsMail. We've got a lot of great questions again this week, so we'll split this week's mailbag into two parts. Look for the second installment on Tuesday:
April, 28, 2014
Apr 28
6:30
PM ET
MINNEAPOLIS -- He might not have matched his MVP season of 2012, but in 2013,
Minnesota Vikings
running back
Adrian Peterson
was still among the most popular -- and profitable -- player in the league.
Peterson ranked 13th in overall sales during the NFL Players Inc. 2013 fiscal year, which concluded on Feb. 28. Sales of the running back's licensed replica jersey, as well as T-shirts, photos, bobbleheads and other licensed merchandise, made Peterson the second-most popular player in the NFC North, behind
Green Bay Packers
quarterback
Aaron Rodgers
, who finished fifth. Seattle's
Russell Wilson
, who topped Denver's
Peyton Manning
in the Super Bowl, once again came out on top, with Manning finishing second and
San Francisco 49ers
quarterback
Colin Kaepernick
placing third.
Peterson came in just ahead of Packers linebacker
Clay Matthews
, and was the only Vikings player in the top 50.
The fiscal year started March 1, 2013, less than a month after Peterson won NFL MVP honors, which probably boosted his popularity on a national level. He had the top-selling jersey of any non-quarterback last spring, and still finished the year fourth among non-quarterbacks, trailing only Seahawks running back
Marshawn Lynch
,
Houston Texans
defensive end
J.J. Watt
and Seattle cornerback
Richard Sherman
.
November, 21, 2013
11/21/13
6:25
PM ET
EDEN PRAIRIE, Minn. --
Greg Jennings
was limited in practice on Thursday, after sitting out on Wednesday and missing the
Minnesota Vikings
' game last Sunday with a strained right Achilles tendon. That has given Jennings enough time, he said, to feel fresh for this Sunday's game -- which might be of a little extra importance to the receiver.
"Oh, I'm going," he said. "Unless the Lord does something different, has a different game plan, I will be at Lambeau, dressed and ready to go."
It seems unlikely he'll be greeted with a terribly warm reception in his first trip to Green Bay to face his former team. Not in light of how Packers fans reacted to Brett Favre when he came back as a member of the Minnesota Vikings in 2009, and not after Jennings' critical comments of the Packers and quarterback
Aaron Rodgers
this summer.
[+] Enlarge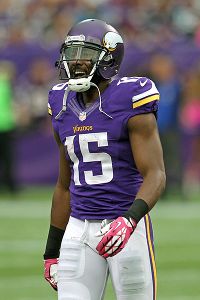 Brace Hemmelgarn/USA TODAY SportsVikings receiver Greg Jennings, who has battled injuries, has 34 catches for 410 yards and two TDs this season.
Getting booed isn't at the top of Jennings' mind -- "I really don't have any expectations for a reception. That's not why I'm going over there, to get a reception," he said -- but after he caught only one pass for nine yards in his first game against Green Bay, Jennings might be within his right to want a few more receptions of a different kind on Sunday.
"I'm sure he'll be pretty fired-up for this ballgame," coach Leslie Frazier said. "He's excited to play, excited to get on the field after last week."
Jennings missed practice time last week after waking up on Thursday with pain in his Achilles, but Frazier said on Friday he had no concerns about Jennings being ready to go, and the Vikings listed him as probable. Even after talking to Jennings on Saturday night, Frazier still believed Jennings could play, but a workout on Sunday morning in Seattle changed that.
"You prepare all week," Jennings said. "I knew I had something going on. It kind of just jumped on me, and I was expecting for it to just jump off. And then (to) go out there and (I) can't really do what I need to do to be successful and help my team, I wasn't going to put myself in a situation that would worsen my situation. And then it was something new -- I'd never dealt with Achilles before. ... I think we took the proper precautions to wait it out, to see how we felt."
His comments on Thursday were free of any incendiary remarks toward his old team -- he talked about how the
Chicago Bears
, not the Vikings, were a bigger rival for the Packers, wished Rodgers well in his recovery from a broken collarbone, and praised coach Mike McCarthy's ability to turn things around.
Those remarks figure to do little to ensure a warm welcome back from Packers fans.
"I can't really remember the Favre welcome-back was too cheerful for him," linebacker
Clay Matthews
said. "Greg did a bunch of great things here, and that will be overshadowed by the fact he's playing for the rival for the time being. But in the long run, much like Favre is still revered in Green Bay, playing for a rival is just an afterthought now. I think everybody here is very thankful for the time and work and all his accomplishments on the field -- including winning a Super Bowl -- but it's kind of on to the next man."
October, 25, 2013
10/25/13
12:00
PM ET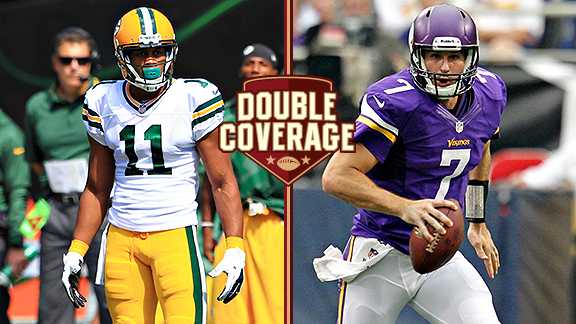 USA TODAY SportsPackers WR Jarrett Boykin came up big as an injury fill-in last Sunday; can Vikings QB Christian Ponder do the same against the Packers?
.
The
Minnesota Vikings
and
Green Bay Packers
will meet for the fourth time in 11 months on Sunday night at Mall of America Field, but things have changed quite a bit for both teams since they faced off in the wild-card round of the NFC playoffs last January.
Christian Ponder
will likely start at quarterback for the Vikings, but it might be a one-week engagement with
Josh Freeman
out because of a concussion.
Greg Jennings
became the latest Packer to switch sides in the rivalry. And
Aaron Rodgers
is relying as much on a nasty offensive line and a productive running game as he is on a receiving corps that's been hit hard by injuries.
As the Packers try to extend their lead in the NFC North and the Vikings try to get their season headed in the right direction following a 1-5 start, ESPN Vikings reporter Ben Goessling and ESPN Packers reporter Rob Demovsky got together to break down the matchup.
Ben Goessling:
Rob, one of these teams has the sixth-ranked rushing game and the third-ranked run defense in the league. And it's not Minnesota. Those two things have been fixtures for the Vikings for years, but they're struggling to open holes for
Adrian Peterson
, who has looked too anxious at times to turn everything into a big gain, and on a few occasions they've been whipped up front by opposing offensive lines. How strange has it been to watch the Packers play so physically, and what kind of an advantage will that create for them on Sunday?
Rob Demovsky:
It's like the Bizarro World around here. The Packers haven't run the ball this well in a decade, not since the days of Ahman Green. And they haven't had this kind of run defense since 2009, when they led the NFL in the category. But it's probably the way they have to win now, considering all the skill-position guys –
Randall Cobb
,
James Jones
,
Jermichael Finley
– they're missing on offense and all the pass-rushers –
Clay Matthews
,
Nick Perry
-- they're missing on defense.
I'm used to seeing the Vikings run the ball like crazy. Are the problems at quarterback the major reason the running game hasn't taken off, or are there other issues at work?
Goessling:
Ah, yes, the old U-71 package with Kevin Barry. And then they got gun-shy in the famous fourth-and-26 game against the Eagles. Sorry, I'm probably hitting some nerves for the Packers fans out there. Moving on …
It's hard to put a finger on exactly what hasn't worked for the Vikings this season, but I'd start with two guys they paid handsomely over the winter -- right tackle
Phil Loadholt
and fullback
Jerome Felton
. Peterson has done his best work running behind those two guys, but Loadholt hasn't been anywhere near the road grader he was last season, and Felton has had trouble as a lead blocker since returning from his three-game suspension at the beginning of the season. It also seems like Pro Bowl left tackle
Matt Kalil
and center
John Sullivan
(who was a Pro Bowl alternate) aren't playing at the same level they were last season. But yes, if the Vikings could throw the ball and make teams pay for putting nine men in the box, they'd have a little more margin for error. That's got to be on the quarterback situation; the Vikings spent plenty of money trying to upgrade their offense over the winter, but without a guy who can make it all go, it's not going to work.
Speaking of the guy who makes it all go for the Packers, am I right in assuming Rodgers is going to be hanging on tightly this week to what Greg Jennings said about him over the summer? Those two can play nice all they want with their comments, but Jennings' earlier remarks would seem like the type that would activate the famous chip on Rodgers' shoulder.
Demovsky:
It was funny, Rodgers talked at length this week about being focused on this game, this team -- and not about what anyone outside the organization (hint: Jennings) had to say. But when someone asked him how he could forget about that, he came back with a classic response. He said that he didn't say anything about forgetting, just focusing. Now, does this rival the intensity behind the 2009 games against the Brett Favre-led Vikings? Not even close. But knowing Rodgers, he'll have a little something extra for this one.
What's the feeling about Jennings' contributions so far? Do the Vikings feel like they're getting their $45 million worth?
Goessling:
Yikes. That does sound like a classic Rodgers response. And with the shape this Vikings secondary is in -- especially without safety
Harrison Smith
-- that might be bad news for defensive coordinator Alan Williams.
Coach Leslie Frazier has raved about what Jennings has meant to their receiving corps, the work he's done to mentor young receivers such as
Cordarrelle Patterson
and the time he's spent with Ponder. He's had moments, such as the short pass he turned into a 70-yard touchdown against the Steelers, when he's looked like the player he was in Green Bay. But it's hard to gauge exactly what he's done, because there's been so much uncertainty at quarterback. He's played with three starters in six games; he had the same number in seven seasons with the Packers. He's also so technical as a route-runner -- and so good in small spaces – that I think he's really at his best when he has a quarterback who understands the details in his game and can use those to exploit a defense.
Maybe Ponder can get closer to that on Sunday. He played one of his best games last December when the Vikings needed to beat the Packers for a playoff berth. Can he recreate that against what looks like a tougher defense, or will he struggle, especially now that it looks like
Casey Hayward
might be back?
Demovsky:
This is a much different defense than Ponder saw last season, even if Hayward doesn't return. The Packers are so much deeper in the secondary now with the emergence of
Davon House
, who had his first career interception Sunday against the Browns, and rookie
Micah Hyde
.
Sam Shields
has become their new shutdown corner, but that's not to say
Tramon Williams
still isn't a factor. He's actually playing some in the slot now, so it's a new role for him. As good as Hayward was last season, I'm not sure he's essential to their pass defense right now. The Packers have only three interceptions on the season, but I wouldn't be surprised if the floodgates open fairly soon.
One of the matchups I'm most interested in is
Jared Allen
against the Packers' new left tackle,
David Bakhtiari
. Bakhtiari has played well, especially for a rookie, but he hasn't yet had to pass-protect with the noise inside of a dome. And you know Allen will have some tricks for the rookie. How much do you think the Vikings will try to key on that matchup?
Goessling:
I'm sure they're hopeful it's a productive one for them. Allen hasn't looked like the same guy this season -- although he still is on pace for double-digit sacks -- and the Vikings have had enough trouble getting to the quarterback that they've had to blitz a little more, which typically isn't a smart strategy against Rodgers. But Allen always seems to do his best work against the Packers, particularly in the Metrodome, and if the Packers leave Bakhtiari alone against Allen, he could have his hands full.
See you on Sunday night, Rob. Soak up those Metrodome memories. With these two teams in this building, something interesting usually happens.
.