Minnesota Vikings:

Colin Kaepernick
May, 9, 2014
5/09/14
5:00
PM ET
EDEN PRAIRIE, Minn. -- Three years ago, the
Minnesota Vikings
took Florida State quarterback
Christian Ponder
with the 12th overall pick in the draft, setting in motion a chain of events that ended -- or at least crossed the start/finish line for a second lap -- on Thursday night, when they spent the 32nd overall pick on Louisville quarterback
Teddy Bridgewater
, hoping to give new coach Mike Zimmer a better solution at quarterback than they gave former coach Leslie Frazier.
[+] Enlarge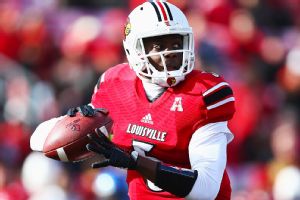 Andy Lyons/Getty ImagesWith QB Christian Ponder mostly ineffective in his three seasons in Minnesota, the team will be looking to quickly develop Teddy Bridgewater.
It was no surprise at all the Vikings would take a quarterback high in the 2014 draft, after emerging from the rubble of what turned out to be a disappointing 2011 quarterback class. What was interesting, though, was how much company they had in making a quick pivot at the position.
According to ESPN Stats & Information, the Vikings,
Jacksonville Jaguars
and
Cleveland Browns
became just the fourth, fifth and sixth teams in the common draft era to take a quarterback in the first round for the second time in three years. Before Thursday night, it had never happened twice in the same draft, and it hadn't happened at all since 2005, when the
Washington Redskins
took
Jason Campbell
three years after drafting Patrick Ramsey.
There are multiple reasons why it's easier to move on from quarterbacks after the 2011 collective bargaining agreement than it used to be, but the structure of the current CBA -- and the profound changes it's enacted on rookie contracts -- might also be driving teams to be less patient. Gone are the days of contracts like the six-year, $78 million deal the
St. Louis Rams
had to give No. 1 overall pick
Sam Bradford
in 2010.
It's much less cost-prohibitive to replace a quarterback, with both salaries and contract guarantees down significantly for young players, and there's also an incentive to get players on the field sooner. Four of the final six teams playing last season -- the
Seattle Seahawks
,
San Francisco 49ers
,
Carolina Panthers
and
Indianapolis Colts
-- all had quarterbacks playing in their rookie deals, and all four got high-level quarterback play at a price that allowed them to spend money on other players. Those teams all have bills coming due for
Russell Wilson
,
Colin Kaepernick
,
Cam Newton
and
Andrew Luck
, respectively, but they've combined to get seven playoff appearances out of those players while ranking in the bottom half of the league in quarterback spending.
With quarterbacks directing more complex offenses in college and high school, it's easier to expect more out of them at a young age, and while the Vikings have talked about wanting Bridgewater to sit this season, it wouldn't be surprising if they want to have him on the field by 2015. They've got a little extra time, thanks to the fifth-year option that will automatically be added to his contract after they took him in the first round, but one of the best tools in roster construction these days is to have good quarterback play at below-market cost.
If the Vikings can capitalize on those years from Bridgewater, they'll be in great shape to put a playoff team around him. If they can't? Well, as Ponder can attest, it isn't expensive to be impatient in today's NFL.
April, 28, 2014
4/28/14
6:30
PM ET
MINNEAPOLIS -- He might not have matched his MVP season of 2012, but in 2013,
Minnesota Vikings
running back
Adrian Peterson
was still among the most popular -- and profitable -- player in the league.
Peterson ranked 13th in overall sales during the NFL Players Inc. 2013 fiscal year, which concluded on Feb. 28. Sales of the running back's licensed replica jersey, as well as T-shirts, photos, bobbleheads and other licensed merchandise, made Peterson the second-most popular player in the NFC North, behind
Green Bay Packers
quarterback
Aaron Rodgers
, who finished fifth. Seattle's
Russell Wilson
, who topped Denver's
Peyton Manning
in the Super Bowl, once again came out on top, with Manning finishing second and
San Francisco 49ers
quarterback
Colin Kaepernick
placing third.
Peterson came in just ahead of Packers linebacker
Clay Matthews
, and was the only Vikings player in the top 50.
The fiscal year started March 1, 2013, less than a month after Peterson won NFL MVP honors, which probably boosted his popularity on a national level. He had the top-selling jersey of any non-quarterback last spring, and still finished the year fourth among non-quarterbacks, trailing only Seahawks running back
Marshawn Lynch
,
Houston Texans
defensive end
J.J. Watt
and Seattle cornerback
Richard Sherman
.
April, 5, 2014
4/05/14
8:00
AM ET
Each week, I will field questions via Twitter with the hashtag #VikingsMail, then will deliver the answers over the weekend.
April, 2, 2014
4/02/14
8:00
AM ET
MINNEAPOLIS -- We're continuing our review of the
Minnesota Vikings
' recent draft history today, with a look at how the team did in 2011:
First-round pick:
No. 12 (
Christian Ponder
, QB, Florida State)
Number of picks:
10
Total Draft AV:
54 (16th; Seattle was the best with a 99 AV)
Highest player AV:
Ponder, 21 (T-26th; Carolina's
Cam Newton
was the best with a 49 AV)
How they did:
This draft was the Vikings' first after they came down from their "all-in" strategy of 2010, when they kept an aging roster together for one more shot at a ring. After that approach led to a chaotic 6-10 season, the Vikings pledged to go young and drafted 10 players to help with that effort. The results from that draft are mixed at best. Second-round pick
Kyle Rudolph
looks like he'll be with the Vikings for years at tight end, and guard
Brandon Fusco
has developed into at least a serviceable starter. But the Vikings had dealt their third-rounder to the
New England Patriots
in the ill-fated
Randy Moss
trade, and only two other players from the draft are still with the team. One of them -- quarterback Christian Ponder -- will forever define how this draft is viewed by Vikings fans.
Pivotal pick:
The Vikings came into the draft knowing they needed to address the quarterback situation, and as former coach Leslie Frazier has said, they identified Ponder as their guy well before the draft. Many believed he would still be on the board in the second round, but the Vikings decided to use their first-round pick on him, passing on help for their defense and choosing Ponder over quarterbacks such as TCU's
Andy Dalton
and Nevada's
Colin Kaepernick
. And after three mediocre seasons from Ponder, the Vikings will likely take another young quarterback in the 2014 draft, with a new coaching staff and a pressing need for general manager Rick Spielman to get the quarterback situation solved.
Best pick:
After selecting Ponder, the Vikings got him a safety blanket in Rudolph, and that pick looks like it could be the most enduring selection from the 2010 draft. Rudolph won Pro Bowl MVP honors in 2013, after catching 53 passes and scoring nine touchdowns in 2012. He looked on the way to posting better numbers last season before breaking his foot, and he could be in line for a bigger role in new offensive coordinator Norv Turner's scheme. Rudolph will be a free agent after this season, but it wouldn't be surprising to see the Vikings explore a contract extension sometime before next spring.
Worst pick:
Ponder was certainly the costliest, and could contend for this title on that basis alone. The Vikings gambled on him turning into a franchise quarterback, despite concerns about his arm and his response to pressure coming out of college, and while he's only 25, the team appears set to move on from him as its starter. Fifth-rounder
Brandon Burton
was cut before last season after starting just one game at cornerback, and fourth-rounder
Christian Ballard
, who looked like he had some promise at defensive tackle, abruptly retired after leaving the team during training camp last summer.
February, 28, 2014
2/28/14
12:00
PM ET
MINNEAPOLIS --
We talked this morning
about the rising NFL salary cap and how veteran players like former
Cleveland Browns
linebacker
D'Qwell Jackson
(in whom the Vikings are reported to have interest) could find a kinder free-agent market this spring than they have in the past. What we didn't discuss was the projections for the salary cap in future years. Those figures, according to ESPN NFL Insider Adam Schefter, are expected to be stratospheric.
Schefter reports the cap will likely increase from $132 million in 2014 to over $140 million in 2015. It will surpass $150 million in 2016, Schefter reports, as new TV money juices the league's revenue even more. Teams aren't required to spend to the cap, but they must spend an average of at least 89 percent of the cap in cash on a four-year basis from 2013-16, and again from 2017-20. In other words, the NFL's rising financial tide will lift all boats, in one form or another.
[+] Enlarge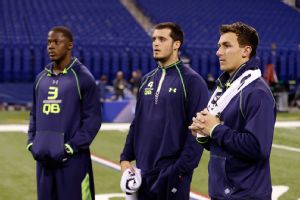 AP Photo/Michael ConroyIf the Vikings select one of the potential franchise quarterbacks -- such as Teddy Bridgewater, Derek Carr or Johnny Manziel -- in this year's draft, they'll have every incentive to play him early.
Where will the money go? It's a good bet we'll see some of it handed out in the form of new deals for young quarterbacks like
Andrew Luck
,
Russell Wilson
and
Colin Kaepernick
in coming years. Those QBs are all playing on their rookie deals, and they have six playoff appearances, four Pro Bowls, two Super Bowl trips and one championship between them. In other words, they've all delivered big results for their teams on the most cap-friendly contracts they'll ever have.
That brings us to the Vikings, and another aspect of their search for a franchise quarterback this spring. They've played with remarkably small expenses at the quarterback position for some time -- they've been in the league's bottom quarter of cap commitments at quarterback for six of the past nine seasons -- and thanks to the 2011 collective bargaining agreement, the Vikings are now in an era where they can get big-time production from a young quarterback before having to pay for it.
The financial reality means that if the Vikings can find the right quarterback in the draft this spring, they'll have every incentive to get him on the field quickly. It would certainly be a prudent move to sign the much-discussed veteran bridge this spring, whether that's by bringing back
Matt Cassel
or finding another quarterback on the open market, but if the Vikings get a franchise-caliber quarterback, the league's salary structure incentivizes them to play him quickly. If he can produce early, he'll also produce cheaply, and the Vikings could fill other holes under the league's rising cap ceiling, much like the 49ers and Seahawks have been able to do while going to Super Bowls with quarterbacks on their rookie deals.
None of this is to say the Vikings
should
rush a young quarterback into action; if he can't play, he can't play, and we've seen with
Christian Ponder
the organizational consequences of trusting a young quarterback who doesn't get the job done. But there's a major financial advantage waiting for teams who can get a young quarterback on the field quickly. It's why the days of
Aaron Rodgers
-like apprenticeships are essentially over, and why the Vikings can get ahead of the game, financially and competitively, if they make the right moves at quarterback in the draft.
January, 10, 2014
1/10/14
5:30
PM ET
EDEN PRAIRIE, Minn. -- The
Minnesota Vikings
could narrow down their list of head coaching candidates after conducting their initial round of interviews next week, but it sounds like they'll try to meet with at least one more candidate before the end of the week.
General manager Rick Spielman and other members of the front office are scheduled to be in Charlotte on Saturday, before the
San Francisco 49ers
' playoff game with the
Carolina Panthers
on Sunday. Saturday is the last day they could talk to 49ers offensive coordinator Greg Roman before the end of San Francisco's season; Roman is believed to be high on the Vikings' list of coaching candidates. ESPN 49ers reporter Bill Williamson also wrote earlier this week that the team is interested in talking with San Francisco defensive line coach Jim Tomsula, as well. But if the Vikings are interested in coming up with a list of finalists next week, it'd behoove them to talk to Roman sooner than later.
Per NFL rules, teams have until Sunday to speak with coaches whose teams were playing in the wild-card round of the playoffs. Any coach whose team reaches the Super Bowl can have a second interview with a team during the week between the conference championship games and the Pro Bowl, but in order to talk to Roman a second time that week, the Vikings would have had to conduct a first interview with him before the 49ers' game on Sunday. They would be in the same boat with Seattle offensive coordinator Darrell Bevell and defensive coordinator Dan Quinn if the Seahawks reached the Super Bowl, but the Vikings conducted first interviews with both of those coaches last weekend, while the Seahawks had a bye week.
Roman, who helped the 49ers get to the Super Bowl last season after they changed quarterbacks in the middle of the season, has won praise for his varied, resourceful offense and his ability to get production with two different quarterbacks (
Alex Smith
and
Colin Kaepernick
). He also coached
Andrew Luck
while he was Jim Harbaugh's offensive coordinator at Stanford.
The Vikings are also believed to have strong interest in
Cincinnati Bengals
defensive coordinator Mike Zimmer, with whom they talked on Wednesday, and
Arizona Cardinals
defensive coordinator Todd Bowles, whom they interviewed on Monday. They also talked to
Cleveland Browns
defensive coordinator Ray Horton on Tuesday, and had requested to talk with
Denver Broncos
offensive coordinator Adam Gase and defensive coordinator Jack Del Rio, though the Vikings couldn't speak with either candidate before the end of the season if they hadn't talked to them before this weekend. The Broncos play their first playoff game on Sunday afternoon.
December, 12, 2013
12/12/13
9:40
AM ET
MINNEAPOLIS -- We know
Toby Gerhart
might not be at top speed on Sunday against the
Philadelphia Eagles
because of a hamstring injury, but based on his plans for Thursday night, we're guessing his thumbs are at full strength.
Gerhart
The
Minnesota Vikings
running back will be appearing at Best Buy in Richfield, Minn., on Thursday night to square off against gamers on the PlayStation 4 version of "Madden NFL 25" as part of the Ultimate Gamers Showdown. In addition to competing against Gerhart and pro gamer Justin Chow, contestants can enter a 64-team tournament for the chance to win a $1,000 Best Buy gift card and a trip to Texas for the final round -- an eight-team tournament on AT&T Stadium's mammoth scoreboard. The first 250 fans will also receive autographed Gerhart cards.
The event begins at 5 p.m. CT on Thursday, and entry to the tournament is on a first-come, first-served basis (in-store registration is available from noon-4:30). Playing Gerhart isn't necessarily part of the tournament, but the Vikings running back will be on hand from 6:30-8, and if "Madden" isn't your thing, Best Buy will have other games set up, like "FIFA 14" and "Need for Speed: Rivals."
The Vikings had a number of players facing off in "Madden" against fans at their Taste of the Vikings event last month --
Joe Webb
,
Everson Griffen
and
Jarius Wright
among them -- and if we had to guess, we'd bet that playing Gerhart will mean a heavy dose of
Colin Kaepernick
and the 49ers' pistol offense; Gerhart played for 49ers coach Jim Harbaugh in college, and read-option schemes are typically a fun (and effective) video game pick. Unless, of course, he opts to control his own team, playing as
Adrian Peterson
-- and himself.
September, 27, 2013
9/27/13
12:00
PM ET
WATFORD, England -- The second-to-last time
Matt Cassel
started a game for the
Kansas City Chiefs
, it was a rainy Monday night in November in Pittsburgh. Cassel dropped back from the Chiefs' 19 in overtime, looking for receiver
Dwayne Bowe
on second-and-6. The Steelers'
Lawrence Timmons
undercut Cassel's floating pass, returning it to the Chiefs' 5 and setting up a game-winning field goal on the next play.
Cassel was benched at halftime in the Chiefs' next game, effectively ending his time as the starting quarterback there and closing a road that first opened when
Bernard Pollard
injured
Tom Brady
's knee in the first game of the 2008 season. Cassel was released by the Chiefs in March, and he signed with the Vikings as a backup quarterback and insurance policy in case anything should happen to
Christian Ponder
.
The Vikings were among the first teams to show interest in Cassel, and he was on the market for about a day before he agreed to a deal with Minnesota. Cassel had to know that Ponder's tenuous status gave him his best chance to play quickly, even as the Vikings maintained Ponder was their starting quarterback.
Officially, it was an injury to Ponder that put Cassel in line to start Sunday against the Steelers, but it could be Ponder's ineffectiveness that will keep Cassel there.
Ponder, who will miss Sunday's game with a fractured rib, said he expects to return for the Vikings' next game against the
Carolina Panthers
on Oct. 13, and he'll have the benefit of a bye week to heal up. Coach Leslie Frazier said Friday that "I don't foresee a quarterback controversy" going forward, but if Cassel plays well enough to get the Vikings their first win, how could there not be one?
Frazier, in all likelihood, is in a make-or-break year as the Vikings' coach after ownership decided to pick up his 2014 option -- and not offer him a contract extension -- following Minnesota's surprising 10-6 season in 2012. He has stood by Ponder through three games in which the quarterback threw five interceptions to two touchdowns, and the injury offered Frazier a chance to give Cassel a look before the bye week.
It was striking to hear several Vikings receivers --
Greg Jennings
among them -- talk about Cassel's commanding presence in the huddle, and if he can stoke a victory Sunday, Frazier would have to give serious thought to sticking with the quarterback who's gotten him a win in a year when he needs a bunch of them.
On the other hand, there's ideology playing in Ponder's favor. The Vikings picked him 12th overall in 2011 -- higher than many people expected him to go, at a point where Frazier and general manager Rick Spielman both had a significant say in personnel decisions. Ponder was the choice of both men, ahead of quarterbacks such as
Andy Dalton
and
Colin Kaepernick
, and his playing well would mean Frazier and Spielman were correct on a pick they badly needed to get right.
The Vikings have had an impressive run of first-round picks in recent years --
Matt Kalil
and
Harrison Smith
in 2012,
Percy Harvin
in 2009,
Adrian Peterson
in 2007,
Chad Greenway
in 2006 -- but misses on quarterbacks have organizational consequences. They can set a franchise back years and can cost decision-makers their jobs.
A team that gambled on Ponder has been patient about waiting for a return on its investment, but Cassel could force the Vikings to think about whether patience is still the right course of action, especially with Frazier needing to win now.
If Cassel plays poorly Sunday and the Vikings fall to 0-4, the decision might be an easy one: Give Ponder the rest of the season to settle the question, one way or another, once and for all. At that point, Spielman could refer to his three-year rule on evaluating quarterbacks and cleanly determine whether Ponder gets more time or whether the Vikings should move on.
But if Cassel jolts a staggering passing game and the Vikings head home from London with a win? Then things get interesting. Against the team that helped seal his fate last year, Cassel might give himself another chance.
August, 26, 2013
8/26/13
12:15
AM ET
If
Christian Ponder
's preseason is done, at least he saved his best work for his closing act.

Ponder went 7-of-9 for 48 yards on his final drive during the
Minnesota Vikings
'
34-14 loss
to the
San Francisco 49ers
on Sunday night, directing a 12-play, 78-yard drive that ended with a 3-yard touchdown pass to
Joe Webb
on a fade route. It was as assertive and accurate as Ponder has looked all preseason, and though most of his completions were underneath the 49ers' coverage, he converted two third downs (one on a 7-yard scramble, the other on his touchdown to Webb), and the scoring pass was Ponder's second of the night. It helped him finish with his best stat line of the preseason -- 17-of-23 for 116 yards, two touchdowns and an interception -- but it also dressed things up after another ragged start for Ponder.
On the Vikings' first play, he threw too far out in front of
Greg Jennings
, who was in single coverage against a safety, on a deep ball off play action. He threw incomplete to
John Carlson
on second down, and fumbled on third down after
Ahmad Brooks
beat
Phil Loadholt
and sacked Ponder. It took the Vikings four series to get a first down, and on their first sustained drive of the night, Ponder floated a couple of high passes -- one caught by Jennings, the other caught by
Stephen Burton
out of bounds -- instead of driving the ball downfield.
He finished the night with an average of 5 yards per pass, not unlike much of the work he did last season, and while the night again came with a significant caveat --
Adrian Peterson
was on the field for just two plays -- Ponder had opportunities to connect on a few big throws that he didn't hit. He'll likely sit out the Vikings' final preseason game Thursday night, which means fans will head into the regular season relying more on faith than concrete evidence that Ponder is progressing.
Here's a rundown of the rest of the night:
It wasn't a good night for the Vikings' secondary. Chris Cook left the game with a groin injury (no small thing, considering all the trouble Cook has had staying on the field) and Josh Robinson spent much of the night dealing with the attention 49ers quarterback Colin Kaepernick paid to him. Kaepernick targeted Robinson four times on a 84-yard touchdown drive, hitting rookie Quinton Patton for a 19-yard gain in the slot against Robinson and connecting with Patton on a 5-yard touchdown after two completions to Marlon Moore against Robinson. If Cook is out for any length of time, the Vikings' big gamble in the secondary could become even riskier with Robinson and rookie Xavier Rhodes starting.
Defensive tackle Kevin Williams left the game with a knee injury after a chop block in the second quarter and will have a MRI on Monday. Early indications are that the injury isn't serious, but defensive end Jared Allen was ticked about the low hit; interviewed on TV he called it a dirty play. Sharrif Floyd also is out for the rest of the preseason after a chop block caused him to have a minor knee operation, and Christian Ballard is still away from the team because of personal issues. The Vikings' lack of depth at defensive tackle, at the moment, looks a bit unnerving.
The Vikings' offensive line had another uncharacteristically bad night. Loadholt offered little resistance to Brooks on Ponder's fumble, and was later flagged for holding. And left tackle Matt Kalil had a pair of unnecessary-roughness penalties, earning one after he joined a shoving match between Brandon Fusco and a 49ers player. Coach Leslie Frazier had to sit Kalil down for a play to cool him off, and after Kalil sustained a knee injury in a poor performance in the Vikings' second preseason game, tonight wasn't a good follow-up.
On Ponder's interception, Burton stopped early on a crossing route and was a step shy of catching the pass. Burton's had a strong preseason, but Ponder's interception might have been a completion had Burton finished his route.
Webb, the former quarterback who is competing with Burton for one of the final receiver spots, provided another reminder of why he might fit in as a pass-catcher. He did a nice job on his touchdown, going up for a jump ball and pulling down Ponder's pass in the corner of the end zone. With his size, strength and leaping ability, Webb could be a nice weapon in the red zone.
As promised, Desmond Bishop got plenty of work, playing with the Vikings' first-team defense in the first half and remaining in the game with the No. 2 defense in the second half. He gave up a catch to Moore when Kaepernick stepped out of the pocket and drew Bishop toward the line of scrimmage, but Bishop stopped Kendall Hunter for a loss and made a nice open-field tackle of D.J. Harper in the fourth quarter. Though he's still struggling somewhat in pass coverage, Bishop can help the Vikings' run defense, and he looked more assertive Sunday than he did against Buffalo.
Before he left with his injury, Cook made an impressive tackle of Chad Hall, coming across the field to drag down the receiver after a four-yard screen pass.
Chad Greenway sold the 49ers on the idea that he was rushing before dropping back into coverage on his second-quarter interception of Colt McCoy. The turnover set up the Vikings' first touchdown, when Ponder hit Zach Line -- who turned a screen pass into a 61-yard touchdown in the Vikings' first preseason game -- for a 1-yard score.
August, 25, 2013
8/25/13
1:45
PM ET
The Vikings' third preseason game is tonight in San Francisco, and it will serve as the final look at almost all of their starters before they begin the season in Detroit on Sept. 8. It's no coincidence the third preseason game is on national TV -- if
Adrian Peterson
was going to play at all this preseason, it was going to be tonight, and the reigning MVP will give fans at least a little taste of what to expect this season. But for the Vikings, there are more pressing matters than what Peterson does in a brief tuneup.
Here are five things to watch from the Vikings' perspective:


1. Christian Ponder's last rehearsal:
The Vikings' starting quarterback hasn't done much to ease fans' anxiety about how he'll perform this season, throwing an interception on his second pass of the Vikings' first preseason game and going 5-for-12 for 53 yards last week against Buffalo. He'll play into the third quarter tonight in his most extensive work with new receivers like
Greg Jennings
and
Cordarrelle Patterson
before the season starts, and it would help Ponder to show tangible signs of progress before starting his third season. Coach Leslie Frazier stopped short of calling tonight's game "crucial" for Ponder but did say it's important for the Vikings coaches to come off the field with some confidence about where the team is at in certain areas. Count Ponder's play high on that list.
2. More work for Patterson:
With
Jarius Wright
staying home because of a concussion, Patterson will get his first work with Ponder in a game, and the Vikings could get some chances to see whether the dynamic rookie can take advantage of how defenses are playing Peterson. He hasn't caught a pass from Ponder in a preseason game yet, but that will likely change tonight, and the Vikings can take a look at how prominently Patterson can factor into their offense early in the season. It will be especially interesting to see if Patterson gets on the field with Jennings and what kind of production the Vikings can get with both receivers in the same packages.
3. A rebound for the O-line:
The Vikings offensive line had some uncharacteristic mistakes last week in Buffalo;
Matt Kalil
missed a block on
Jerry Hughes
on the first play of the game, and
John Sullivan
delivered a shotgun snap before Ponder was expecting it, leading to a fumble that Ponder recovered. The unit was solid all last season, and tonight is a chance for it to clean things up against a strong defense. That's particularly important in pass protection, considering how much Ponder struggled under pressure last season and how much pressure the 49ers can generate.
4. "Good-on-good" action for Bishop:
The Vikings will give linebacker
Desmond Bishop
plenty of work with their first team tonight so they can see how he fares in what defensive coordinator Alan Williams termed as "good-on-good" situations (in football parlance, the Vikings want to see Bishop against the 49ers' best players). As Bishop returns to his hometown, he'll also have an opportunity to make a strong statement that he deserves one of the Vikings' linebacker spots. That seemed to be a foregone conclusion when he signed with the team in June, but Bishop missed time in training camp and sat out the Vikings' first preseason game with a groin injury, and he's been playing behind
Marvin Mitchell
at weakside linebacker. Tonight, he'll be on the field quite a bit with the Vikings' starting defense, and, after playing last week for the first time since he tore his hamstring in the
Green Bay Packers
' 2012 preseason opener, Bishop has an important opportunity to show he's still effective at age 29. The Vikings have a number of young linebackers, like second-year man
Audie Cole
and rookies
Gerald Hodges
and
Michael Mauti
. That means there could be some hard decisions looming at the position, and Bishop needs to make his case after an up-and-down performance last week in Buffalo.
5. "All Day" at night:
Even if it's only for a few carries, Peterson's presence on the field is hard to ignore -- particularly when he hasn't played since last January's playoff loss and when he figures to be prominently featured on TV. He has never carried less than than 10 times when he's played in the Vikings' third preseason game, though it seems likely he could get less work than that tonight. Still, Peterson fundamentally changes the Vikings offense. Defenses have to account for him, and Ponder will get his most realistic action of the preseason simply because of that fact. The Vikings could also see how other fullbacks, like
Rhett Ellison
and
Zach Line
, fare as lead blockers for Peterson with Pro Bowl fullback
Jerome Felton
out for the remainder of the preseason after an emergency appendectomy earlier this month.
August, 25, 2013
8/25/13
12:26
PM ET
Welcome to 'Around the Horns,' our daily roundup of what's happening on the Vikings beat:
As the keener observers of this feature will notice, we've got a different name than the placeholder title (Around the Vikings Beat) that we had yesterday. Well, thanks to commenter Calvin Wessels, whose submission was both the first and cleverest suggestion I received yesterday, we've got our new name for our daily rundown of Vikings news. For those of you who don't like a daily roundup post, there'll be plenty of other stuff to suit your tastes later in the day. This will be a regular morning feature, though.
Moving on...
The Vikings were one of the first teams to get a glimpse of Colin Kaepernick, and the force of change he was about to send whipping through the league, when they faced him in their third preseason game last year.
Dan Wiederer of the Star Tribune recalls that night
, when Kaepernick ran 78 yards for a touchdown on a read-option play and threw for another 40 yards. Robert Griffin III took off for a 76-yard touchdown in the regular season against the Vikings last year, but Kaepernick's jaunt probably set off some concern within the Vikings coaching staff six weeks before that game. And as the Vikings face Kaepernick again tonight, we might get a glimpse of how they've progressed against read-option attacks since last year.
Also on the beat today:
August, 24, 2013
8/24/13
6:50
PM ET
With
Antoine Winfield
off to Seattle,
Josh Robinson
's progression as a slot cornerback might be one of the biggest keys to the Vikings' defense this season. Winfield played the slot as well as anyone in the NFL last season, holding quarterbacks to the fourth-lowest passer rating in the league when they tested him in slot coverage, according to Pro Football Focus. Additionally, the website ranked Winfield as the best run-stopping corner in the league, and Winfield had done the job long enough that the Vikings were taking a gamble in deciding to cut him and turn the job over to Robinson.
Robinson
We won't know for sure how that experiment will play out until the regular season, but Sunday night's game in San Francisco could be a decent indicator of where Robinson stands. The 49ers run the ball well enough that Robinson could be tested in run support, and though San Francisco could use all five of its quarterbacks Sunday night, the presence of
Colin Kaepernick
could give Robinson something to handle for at least part of the game.
For his part, defensive coordinator Alan Williams said Robinson has looked "much more comfortable" in the slot than he expected the second-year corner would be at this point.
"To his credit, he's really working at it," Williams said. "He's coming along faster than I think that he even thought he would because he hadn't been inside. I think he's embracing it and liking the position in terms of what we allow him to do and the plays that he can make. I feel good about Josh being inside."
Bobby Felder
is making a strong push for a roster spot, and should get plenty of playing time Sunday. If he makes the team, he'd give the Vikings another option at slot corner. But the job, by all accounts, is Robinson's to lose. And how he handles it is definitely worth watching early in the Vikings' season.
Asked where Robinson has come the furthest, coach Leslie Frazier said, "I think just seeing him calm down a little bit. Sometimes he can get so hyper about what he's trying to get done that he begins to overthink things. He's begun to relax a little bit, and part of that is we put him in a lot of different situations in practice, trying to get him in some situations in games as well, so it is not the first time he sees things when we line up in Detroit.
"I think just the fact that he has slowed down mentally and begun to relax a little bit as a player is probably where the growth has come the most."