Minnesota Vikings:

Daunte Culpepper
June, 24, 2014
Jun 24
10:00
AM ET
MINNEAPOLIS -- Since he was introduced as the head coach of the
Minnesota Vikings
on Jan. 17, Mike Zimmer has preached open competition as one of his core beliefs, and he should. It's a way for the new coach to keep his players honing their games to a fine edge, at least in theory.
If the Vikings hadn't gone into their coaching search with an open mind, Zimmer might not have landed his first head-coaching job at age 57, to the delight of people around the league who believed the longtime defensive coordinator had to wait too long for his shot. So when Zimmer -- who turned 58 earlier this month -- talks about an open battle at the quarterback position, adding that the Vikings won't be afraid to play rookie
Teddy Bridgewater
if he's good enough to win the job, there's every reason to believe the coach. There's also every reason for Zimmer to make sure Bridgewater has to clear a high threshold if he wants to line up as the Vikings' starter in St. Louis on Sept. 7.

Bridgewater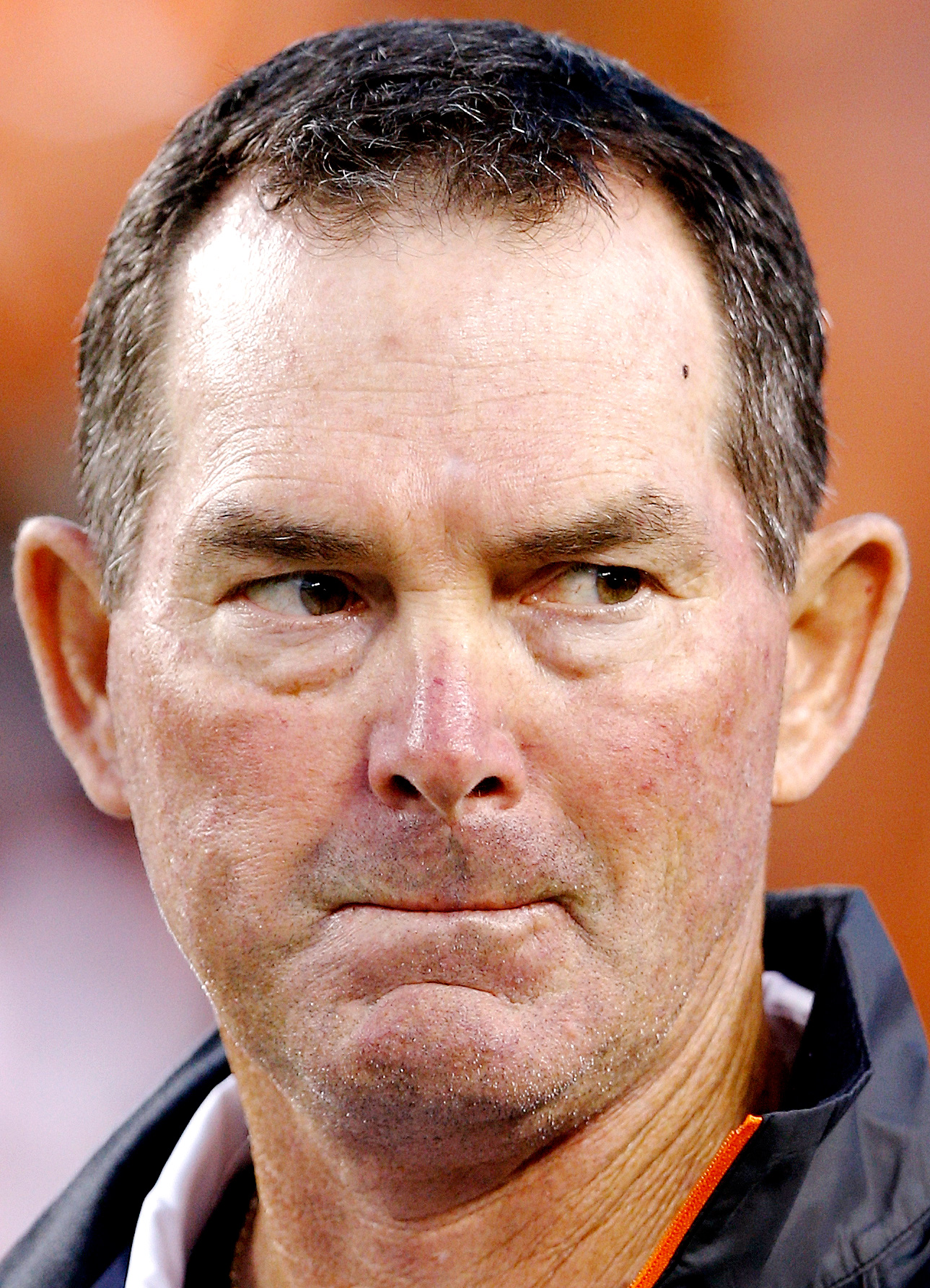 Zimmer
Zimmer needs only to look at the situation that played a large part in his job becoming available last winter. In April 2011, four months after the Vikings removed the interim tag from coach Leslie Frazier's title, the team took
Christian Ponder
with the 12th overall pick. Ponder had no offseason to learn the Vikings' playbook and no time to work with his new coaches because of a lockout that stretched until August. But after six mediocre performances from a 34-year-old Donovan McNabb (in what turned out to be the final six games of his career), the Vikings handed the job to Ponder and never looked back, putting two young quarterbacks behind him in 2012 and using several solid games during a playoff push at the end of that season -- a year in which
Adrian Peterson
ran for 2,097 yards -- as justification to declare Ponder the uncontested starter before 2013, despite the presence of
Matt Cassel
on the roster.
Would things have turned out differently if Ponder had been given more time to develop? Possibly not. But by putting him in the lineup as soon as they did, the Vikings were, in effect, making a statement that Ponder was ready to take the job for good and locking themselves into a long stretch with him. They didn't have to make that pronouncement as soon as they did, but if they'd waffled on it shortly thereafter, they would have invited scrutiny for their lack of direction at quarterback (as they did with their Ponder/Cassel/
Josh Freeman
carousel in 2013). Quarterback instability ultimately doomed Frazier, and in effect, it doomed his predecessor, Brad Childress. After feuding with Daunte Culpepper shortly after taking the job, Childress pushed for the Vikings to select
Tarvaris Jackson
in the second round of the 2006 draft and vacillated on Jackson until the team signed Brett Favre, whose stormy relationship with Childress ended with the coach's ouster 10 months after the Vikings nearly reached the Super Bowl.
The bet here is that Zimmer won't make a rash decision with Bridgewater, not when the Vikings are set up so well to avoid one. In Cassel, who's signed for the next two seasons, they've got the perfect custodian for Bridgewater: a veteran who's solid enough to handle the job in the short term, but not entrenched enough to step aside without a fuss. And even Ponder, who will be a free agent after the season, has some usefulness in 2014, as an emergency option in case Cassel gets hurt (or struggles early) and Bridgewater isn't ready. The Vikings have done everything they can to construct a healthy atmosphere for Bridgewater's growth. The key to the whole thing, though, is a coach who's patient enough to let it work. Zimmer might get only one shot as a head coach, and he's got something of a cushion this season, with the Vikings moving into a temporary home while trying to remodel their defense. One poor season won't cost the coach his job, but mismanagement of the quarterback situation ultimately could. Especially with offensive coordinator Norv Turner at his side, Zimmer should have the good sense to avoid the potholes his predecessors hit.
So how does this all play out? The 2012
Seattle Seahawks
might provide a good blueprint. They signed
Matt Flynn
to a three-year deal worth just $9 million guaranteed, giving themselves a quarterback they could play if
Russell Wilson
wasn't ready to start. When Wilson ultimately won the competition, the Seahawks were free to trade Flynn a year later. Only time will tell if Bridgewater turns out to be as good as Wilson has been -- the Vikings QB has looked sharp to this point, albeit only against defenses prohibited from hitting him -- but if he can take advantage of the situation, Minnesota has the mechanisms in place to make it work, just as the Seahawks did.
For Bridgewater to get on the field in September, he should have to prove he's unequivocally the best man for the job. Otherwise, with the Vikings facing a nasty early schedule, a tie should go to the veteran. It's a good, sensible construct for the rookie coach and quarterback, and with so many recent cautionary tales about the costs of quarterback foul-ups, the Vikings would be wise to take advantage of it.
January, 3, 2014
Jan 3
8:00
AM ET
MINNEAPOLIS -- The
Minnesota Vikings
have seen for far too long, and know far too well, what it's like not to have a franchise quarterback. They've had a quarterback start all 16 games just three times in the past 10 seasons -- or as many times as they've used three starting quarterbacks in a season -- and they're looking at starting over once again after shuttling through two first-round picks (
Daunte Culpepper
and
Christian Ponder
), a second-round pick (
Tarvaris Jackson
) and an expensive free-agent acquisition (
Brett Favre
), among others, during that time.
But as the Vikings prepare for the possibility of looking for another franchise quarterback in the 2014 draft, they're undoubtedly aware of how expensive it can be to get caught in the middle with one who only looks the part some of the time.
The
Chicago Bears
proved that again on Thursday when they announced a
seven-year, $126 million extension
for
Jay Cutler
. According to ESPN NFL insider Adam Schefter, the deal has more than $50 million in guaranteed money. The total amount of the deal is interesting, though, because while the salary structure is obviously different, it's known as the Contract of Death in baseball.
Why? That deal has typically gone to players (Vernon Wells, Barry Zito, Jayson Werth) who are good, but not good enough to get the megadeals averaging more than $20 million a year. Those players have tended to fall short of expectations on their contracts, either through injuries or ineffectiveness, and though they're not getting absolutely top-shelf money, they're getting enough that they're expected to perform like franchise players, rather than just very good ones.
Baseball, of course, guarantees every dollar, but as the average annual value of NFL contracts continues to climb, the deals are starting to look more like baseball contracts, and Cutler's AAV of $18 million matches what the
Dallas Cowboys
gave
Tony Romo
. His guaranteed money puts him in an elite group, as well -- only seven quarterbacks are currently playing on deals that include at least $50 million in guarantees. Four of those (
Aaron Rodgers
,
Tom Brady
,
Drew Brees
and
Joe Flacco
) have Super Bowl rings, while two of the other three (
Matt Ryan
and
Sam Bradford
) were top draft picks before the NFL curtailed rookie spending.
Cutler, like Romo, has a history of wilting in big games, but his regular-season numbers have been even less impressive. He's only thrown for 4,000 yards once, has thrown at least 14 interceptions in a season five times and has never thrown more than 27 touchdown passes in a season. Flacco's put up plenty of pedestrian numbers, too, but he earned his deal after leading the Ravens to a championship last year. Cutler has only quarterbacked two postseason games, and before he got hurt in the 2011 NFC Championship Game at home against Green Bay, he had hit just 6 of 14 passes for 80 yards and an interception.
The deal the Bears gave him is an awful lot of money for a quarterback who remains an enigma at age 30, but after all the Bears gave up to get him, and all the time they'd invested in developing him, they might not have been able to risk starting over at the position. They're now essentially committed to Cutler for the rest of his prime, even if he has yet to reach an elite level, and he'll eat up a large chunk of their cap space during the deal. He'll have plenty of work to do to prove he's worth it.
On some level, the Vikings saw with Ponder what it's like to commit to a quarterback that's not providing commensurate returns, but their commitment to Ponder was a pittance compared to what the Bears have invested, and will continue to invest, in Cutler. They're spending premium dollars for a player who's yet to provide premium production, and they'll have spent a dozen years with Cutler by the time the deal runs out. If he only remains a quarterback who's just above average, the Bears will have wasted plenty of time.
The Cutler deal is an example of how high the stakes are at the quarterback position. The Vikings might not find a great QB in their next attempt, but if they make a Ponder-like mistake, their commitment is at least relatively short. It would be far worse for them to be where the Bears could find themselves at the end of Cutler's deal: having spent an astronomical amount of time and resources on a quarterback who never got past pretty good.
September, 28, 2013
9/28/13
8:30
AM ET
LONDON -- It was just about eight years ago that Daunte Culpepper had his last great game with the Vikings, and one of his last great days in the NFL. Culpepper threw for 300 yards on Sept. 25, 2005, passing for three touchdowns in a 33-16 Vikings win over the New Orleans Saints. But Culpepper tore his ACL just over a month later, and only started 20 NFL games in his next four seasons before turning up in the United Football League on his way to retirement.
[+] Enlarge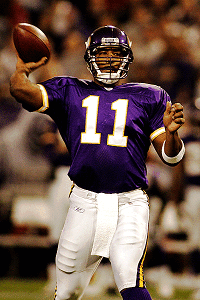 Bruce Kluckhohn/USA TODAY Sports Daunte Culpepper still holds the Vikings record for TD passes in a season with 39.
Culpepper's exit from Minnesota was punctuated by a lengthy dispute with coach Brad Childress over how the quarterback would rehab his knee injury, and his last game with the Vikings came in a season tainted by the Vikings' now-famous "Love Boat" scandal during their bye week. But Culpepper, now 36, said he has fond memories and no regrets about his time in Minnesota.
"All good memories," Culpepper said after the NFL International Series Fan Forum on Saturday. "I would have loved to stay there my whole career. That's just how it happens in the business sometimes. People move on. But my memories of Minnesota were excellent -- every game was sold out. We had some games I wish we could have won, but overall, it was a positive experience for me. The fans were absolutely wonderful."
Culpepper reportedly lost his 10,000-square foot home in South Florida to foreclosure last summer, and opened a restaurant near his alma mater (Central Florida) soon after. The restaurant -- a sports bar named Culpepper's -- was a nine-month project before it opened, the quarterback said, and he's spending the rest of his time with his wife and children in Florida.
He threw 39 touchdowns -- still a Vikings single-season record -- the year before he injured his knee, and finished as MVP runner-up to Peyton Manning, forming one of the league's most dangerous deep-ball combinations with Randy Moss. Even on Saturday, Culpepper said he had chills recalling his favorite moments in the NFL: watching fans stand up in their seats while one of his 60-yard passes to Moss sailed through the air.
But Culpepper said he doesn't think back much to what happened after that 2004 season, when Moss was traded to Oakland and the quarterback injured his knee. Nor does he wonder what might have been had he stayed healthy.
He was even a good sport about the last question of the event, when a British fan in a Steelers jersey asked Culpepper if he'd be bringing any of his "friends" out for a cruise on the Thames River; Culpepper posed for a picture with the fan and his son afterward.
"I played the game the same way the whole time," he said. "I played to win. Whatever I had to do to try and win, I was going to do it. Every game I always wanted to be able to look myself in the mirror and say, 'Hey, I put everything out there.' I don't regret anything about how I played the game."