Minnesota Vikings:

David Bakhtiari
November, 21, 2013
11/21/13
3:35
PM ET
EDEN PRAIRIE, Minn. -- Though the headlines in the past five years of Vikings-Packers matchups have been dominated by quarterbacks from both teams (Brett Favre vs.
Aaron Rodgers
in 2009 and 2010,
Christian Ponder
's debut as a starter in 2011, and the biggest win of his career against Rodgers in 2012), defensive end
Jared Allen
has been a constant presence for the Vikings. And in the games Minnesota has won, Allen has often been the equalizer.
His first game with the Vikings was the same as Rodgers' debut with the Packers, when Allen talked during the week about how he wanted to "put my helmet square in the back of (Rodgers) spine" and left Lambeau Field without a sack or a tackle. But in a 28-27 win that November, Allen's sack of Rodgers for a safety was the difference.
[+] Enlarge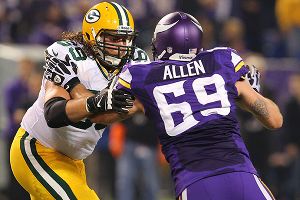 Adam Bettcher/Getty ImagesJared Allen has had some memorable games against the Packers, but was shut down by Green Bay's David Bakhtiari in October.
And though Favre's revenge against the Packers as a Viking was the main storyline the next year, Allen made it possible, blowing through backup tackles
Daryn Colledge
and T. J. Lang to sack Rodgers 7 1/2 times in two games, forcing another safety in the Metrodome when Rodgers was called for intentional grounding. Even last December, when the Vikings beat the Packers 37-34 to reach the playoffs on the final day of the season, Allen recovered Rodgers' fumble to set up a third-quarter touchdown.
Allen has recorded 15 1/2 sacks in 11 regular-season games against the Packers, and before last month's game at the Metrodome, he'd only been held without a sack in two games against Green Bay. But Packers rookie
David Bakhtiari
shut him out in Green Bay's 44-31 win last month, and as Allen goes to Lambeau Field for possibly the final time as a member of the Vikings, he won't be chasing Rodgers, with whom he's developed a friendship and mutual respect over the years.
Instead, it will be
Scott Tolzien
at quarterback for the Packers, filling in for Rodgers against a 2-8 Vikings team with seemingly little to play for. Allen has just five sacks this season, and will hit free agency in a few months. It doesn't seem like the way his time in the Vikings-Packers rivalry should end, which is perhaps why Allen was trying to rekindle some of the old fire when talking about the matchup on Thursday.
"Obviously at 2-8, you're trying to ruin everybody else's season as well as yours, right?" Allen said. "So, they say, misery loves company. I hope this year no one makes the playoffs. So, it's a division rival, going to win in Green Bay. I think it's one of those places where it don't matter what our record tends to be, but if we went up there and beat them in Green Bay, we got a little bit of bragging rights, especially after the whooping they gave us here. I try to tell our guys, 'Heck, every week is like our Super Bowl.' You go up to Green Bay, you might as well treat it as such, as a playoff game, and spoil their dreams along with whatever they're trying to get accomplished."
Allen called Lambeau Field one of his favorite road venues, along with his former home stadium in Kansas City, and Oakland ("That stadium's terrible, but I'm from the Bay Area," he said). He'll likely play in Lambeau again, but possibly not as a central figure in a major rivalry.
"There's a lot of history there. I'm just a fan of the game, so a fan of just playing on the same field, the same stadium a lot of those greats played," Allen said. "Their crowd is cool. It's just a fun atmosphere to play in. I've never played there as the home team, obviously. But playing there over the years, it's great. It's always fun and competitive games, the weather, outdoor football, it's kind of throwback football in this age of, even though they're an up-tempo, throw-it-first, but that atmosphere of Lambeau just kind of reminds you of this is some old school football. If it snows, we're still going to play."
And is he happy not to see Rodgers? "Yeah, I guess, after what he did to us last time. I like playing against Aaron though. It's fun to play against top-quality guys.
"People always say they want people at their best, I'm going, 'Fine, I'll take them at their weakest.'"
October, 25, 2013
10/25/13
12:00
PM ET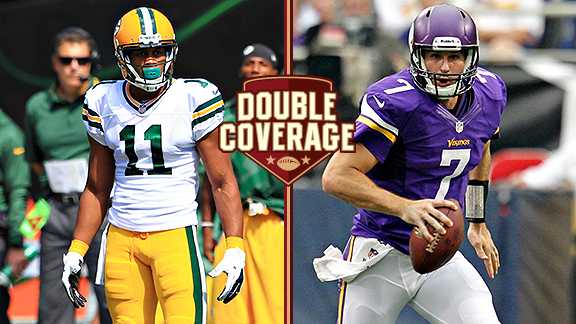 USA TODAY SportsPackers WR Jarrett Boykin came up big as an injury fill-in last Sunday; can Vikings QB Christian Ponder do the same against the Packers?
.
The
Minnesota Vikings
and
Green Bay Packers
will meet for the fourth time in 11 months on Sunday night at Mall of America Field, but things have changed quite a bit for both teams since they faced off in the wild-card round of the NFC playoffs last January.
Christian Ponder
will likely start at quarterback for the Vikings, but it might be a one-week engagement with
Josh Freeman
out because of a concussion.
Greg Jennings
became the latest Packer to switch sides in the rivalry. And
Aaron Rodgers
is relying as much on a nasty offensive line and a productive running game as he is on a receiving corps that's been hit hard by injuries.
As the Packers try to extend their lead in the NFC North and the Vikings try to get their season headed in the right direction following a 1-5 start, ESPN Vikings reporter Ben Goessling and ESPN Packers reporter Rob Demovsky got together to break down the matchup.
Ben Goessling:
Rob, one of these teams has the sixth-ranked rushing game and the third-ranked run defense in the league. And it's not Minnesota. Those two things have been fixtures for the Vikings for years, but they're struggling to open holes for
Adrian Peterson
, who has looked too anxious at times to turn everything into a big gain, and on a few occasions they've been whipped up front by opposing offensive lines. How strange has it been to watch the Packers play so physically, and what kind of an advantage will that create for them on Sunday?
Rob Demovsky:
It's like the Bizarro World around here. The Packers haven't run the ball this well in a decade, not since the days of Ahman Green. And they haven't had this kind of run defense since 2009, when they led the NFL in the category. But it's probably the way they have to win now, considering all the skill-position guys –
Randall Cobb
,
James Jones
,
Jermichael Finley
– they're missing on offense and all the pass-rushers –
Clay Matthews
,
Nick Perry
-- they're missing on defense.
I'm used to seeing the Vikings run the ball like crazy. Are the problems at quarterback the major reason the running game hasn't taken off, or are there other issues at work?
Goessling:
Ah, yes, the old U-71 package with Kevin Barry. And then they got gun-shy in the famous fourth-and-26 game against the Eagles. Sorry, I'm probably hitting some nerves for the Packers fans out there. Moving on …
It's hard to put a finger on exactly what hasn't worked for the Vikings this season, but I'd start with two guys they paid handsomely over the winter -- right tackle
Phil Loadholt
and fullback
Jerome Felton
. Peterson has done his best work running behind those two guys, but Loadholt hasn't been anywhere near the road grader he was last season, and Felton has had trouble as a lead blocker since returning from his three-game suspension at the beginning of the season. It also seems like Pro Bowl left tackle
Matt Kalil
and center
John Sullivan
(who was a Pro Bowl alternate) aren't playing at the same level they were last season. But yes, if the Vikings could throw the ball and make teams pay for putting nine men in the box, they'd have a little more margin for error. That's got to be on the quarterback situation; the Vikings spent plenty of money trying to upgrade their offense over the winter, but without a guy who can make it all go, it's not going to work.
Speaking of the guy who makes it all go for the Packers, am I right in assuming Rodgers is going to be hanging on tightly this week to what Greg Jennings said about him over the summer? Those two can play nice all they want with their comments, but Jennings' earlier remarks would seem like the type that would activate the famous chip on Rodgers' shoulder.
Demovsky:
It was funny, Rodgers talked at length this week about being focused on this game, this team -- and not about what anyone outside the organization (hint: Jennings) had to say. But when someone asked him how he could forget about that, he came back with a classic response. He said that he didn't say anything about forgetting, just focusing. Now, does this rival the intensity behind the 2009 games against the Brett Favre-led Vikings? Not even close. But knowing Rodgers, he'll have a little something extra for this one.
What's the feeling about Jennings' contributions so far? Do the Vikings feel like they're getting their $45 million worth?
Goessling:
Yikes. That does sound like a classic Rodgers response. And with the shape this Vikings secondary is in -- especially without safety
Harrison Smith
-- that might be bad news for defensive coordinator Alan Williams.
Coach Leslie Frazier has raved about what Jennings has meant to their receiving corps, the work he's done to mentor young receivers such as
Cordarrelle Patterson
and the time he's spent with Ponder. He's had moments, such as the short pass he turned into a 70-yard touchdown against the Steelers, when he's looked like the player he was in Green Bay. But it's hard to gauge exactly what he's done, because there's been so much uncertainty at quarterback. He's played with three starters in six games; he had the same number in seven seasons with the Packers. He's also so technical as a route-runner -- and so good in small spaces – that I think he's really at his best when he has a quarterback who understands the details in his game and can use those to exploit a defense.
Maybe Ponder can get closer to that on Sunday. He played one of his best games last December when the Vikings needed to beat the Packers for a playoff berth. Can he recreate that against what looks like a tougher defense, or will he struggle, especially now that it looks like
Casey Hayward
might be back?
Demovsky:
This is a much different defense than Ponder saw last season, even if Hayward doesn't return. The Packers are so much deeper in the secondary now with the emergence of
Davon House
, who had his first career interception Sunday against the Browns, and rookie
Micah Hyde
.
Sam Shields
has become their new shutdown corner, but that's not to say
Tramon Williams
still isn't a factor. He's actually playing some in the slot now, so it's a new role for him. As good as Hayward was last season, I'm not sure he's essential to their pass defense right now. The Packers have only three interceptions on the season, but I wouldn't be surprised if the floodgates open fairly soon.
One of the matchups I'm most interested in is
Jared Allen
against the Packers' new left tackle,
David Bakhtiari
. Bakhtiari has played well, especially for a rookie, but he hasn't yet had to pass-protect with the noise inside of a dome. And you know Allen will have some tricks for the rookie. How much do you think the Vikings will try to key on that matchup?
Goessling:
I'm sure they're hopeful it's a productive one for them. Allen hasn't looked like the same guy this season -- although he still is on pace for double-digit sacks -- and the Vikings have had enough trouble getting to the quarterback that they've had to blitz a little more, which typically isn't a smart strategy against Rodgers. But Allen always seems to do his best work against the Packers, particularly in the Metrodome, and if the Packers leave Bakhtiari alone against Allen, he could have his hands full.
See you on Sunday night, Rob. Soak up those Metrodome memories. With these two teams in this building, something interesting usually happens.
.