Minnesota Vikings:

Derek Carr
April, 11, 2014
Apr 11
12:00
PM ET
MINNEAPOLIS -- The
Minnesota Vikings
are continuing their search for a young quarterback at the end of the week, holding a private workout with Eastern Illinois quarterback
Jimmy Garoppolo
today, as ESPN NFL Insider Adam Schefter reported. The workout comes after the Vikings met with LSU quarterback
Zach Mettenberger
following his pro day, and before the team plans to fly Louisville quarterback
Teddy Bridgewater
to the Twin Cities for a meeting next week.
General manager Rick Spielman said at the NFL scouting combine the Vikings would conduct private workouts with "eight or nine" quarterbacks, so it's no surprise to see them making the rounds with a month to go before the NFL draft. They'd already met with Texas A&M's
Johnny Manziel
, Central Florida's
Blake Bortles
, Fresno State's
Derek Carr
, Alabama quarterback
AJ McCarron
, and reportedly had a private workout with San Jose State's
David Fales
. The Vikings also met with South Carolina's
Connor Shaw
at the NFL scouting combine, and had a scout at his pro day, though Shaw isn't projected to go as high in the draft as the other quarterbacks the Vikings have scouted.
The Vikings are believed to be high on Mettenberger, who threw more than 100 passes at his pro day in an attempt to show the progress he's made since tearing his ACL last fall. The quarterback had dinner with four Vikings officials on Wednesday night, according to a league source, and seemed to click well with offensive coordinator Norv Turner; by the end of Mettenberger's workout, the source said, Turner was calling out the routes he wanted to see Mettenberger throw. The quarterback could be raw in some areas of his game, but he might have one of the stronger arms in the draft, and could be a good fit for Turner's deep passing game.
As we get closer to the draft, though, the Vikings will have to consider plenty of different permutations for the quarterback position. They'll have to decide if they want to take one in the first round, or wait until later in the draft, and they'll have to sift through a deep quarterback class where sure things are thought to be in short supply. And if Spielman has been known for one thing in his career, it's his thoroughness. We're certainly seeing that play out here.
April, 11, 2014
Apr 11
8:00
AM ET
MINNEAPOLIS -- The list of prospects the
Minnesota Vikings
are bringing to the Twin Cities for their top-30 prospects event next week is starting to take shape.
Louisville linebacker
Preston Brown
will join his teammate, quarterback
Teddy Bridgewater
, in Minnesota next week. ESPN's Josina Anderson reported earlier this week that Bridgewater will visit the Vikings next week, and a league source said Brown will also meet with the team. UCLA linebacker
Anthony Barr
had
also told Fox Sports
he will visit the Vikings, and Towson running back
Terrance West
will be part of the event,
as the Baltimore Sun first reported
this week.
The Vikings typically allocate many of their 30 pre-draft visits to the two-day event, which allows coaches and team executives to meet with players 3 1/2 weeks before the draft. The event isn't necessarily a perfect indicator of how interested the Vikings are in certain players; for example, they brought USC tackle
Matt Kalil
to the event in 2012, but didn't extend an invitation to Notre Dame safety
Harrison Smith
. Twenty-three days later, the Vikings took both players in the first round.
Quarterbacks such as Central Florida's
Blake Bortles
, LSU's
Zach Mettenberger
and Fresno State's
Derek Carr
aren't expected to be at the event; the Vikings met with all of them, as well as Alabama's
AJ McCarron
and Texas A&M's
Johnny Manziel
after their on-campus pro days. Those meetings, or private workouts like the ones the Vikings had with San Jose State quarterback
David Fales
, can often be as helpful as the Vikings' event next week. But as the draft gets closer, the Vikings will use many of their visits to spend time with a wide range of prospects who could be taken anywhere from the first round to the middle of the draft.
April, 9, 2014
Apr 9
8:00
AM ET
MINNEAPOLIS -- The
Minnesota Vikings
will bring Louisville quarterback
Teddy Bridgewater
to the Twin Cities for a visit on Monday and Tuesday,
according to ESPN's Josina Anderson
. We've heard the Vikings top-30 prospects event is scheduled for the middle of April, and it appears Bridgewater's visit could be part of it.

Bridgewater
Since the NFL draft went to a three-day format in 2010, the Vikings have conducted their top-30 prospects event 3 1/2 weeks before the draft each year. With the draft being bumped back to May 8-10 this year, the Vikings also pushed back their event from the first week of April. Each team in the NFL is allowed to bring 30 draft hopefuls to its facilities for meetings with coaches, and the Vikings have typically used most of their allotment to bring many prospects in at once.
The event doesn't necessarily identify the Vikings' top 30 prospects, however. It has allowed the team to spend more time with players it wants to learn more about, but the Vikings have also used high picks on players who weren't at the event, like safety
Harrison Smith
in 2012. From what we've heard, the Vikings don't plan to bring Central Florida quarterback
Blake Bortles
, LSU quarterback
Zach Mettenberger
or Fresno State quarterback
Derek Carr
to the event; they held individual meetings with all three, as well as Alabama quarterback
AJ McCarron
, after their respective pro days, and while they also met with Bridgewater after his pro day, their decision to opt for a second visit with him doesn't crystallize where he stands in their pecking order. They might have more they want to learn about him, and the closer we get to the draft, of course, the more teams use subterfuge to cloud their true intentions.
It is worth noting, though, that Vikings offensive coordinator Norv Turner didn't seem as distraught by Bridgewater's subpar pro day as some others; he told NFL.com last Month he thought Bridgewater was "pretty good" during his March 17 workout. Now, it appears, the Vikings will take one more chance to sit down with Bridgewater before the draft.
April, 8, 2014
Apr 8
3:20
PM ET
MINNEAPOLIS -- Since
Minnesota Vikings
coach Mike Zimmer made his much-discussed comments about the "sideshow" at
Johnny Manziel
's pro day and the "flags" that come up with the ballyhooed Texas A&M quarterback, there have been plenty of attempts (
on this blog
and others) to discern what it could mean for the chances of the Vikings taking Manziel with the eighth pick in the May draft.
Manziel
But Manziel's compatibility with offensive coordinator Norv Turner's scheme might be worth just as much of a look as whether he would click with Zimmer.
For our purposes, the nice thing about Turner is, he's got 23 seasons of experience as a head coach or offensive coordinator that can be used to evaluate his team's tendencies. And in Turner's time with the
Dallas Cowboys
,
Washington Redskins
,
San Diego Chargers
,
Miami Dolphins
,
Oakland Raiders
,
San Francisco 49ers
and
Cleveland Browns
, there simply isn't a template for a quarterback like Manziel.
In Turner's 23 seasons as a head coach or coordinator, he's never had a quarterback run for more than 192 yards in a season, and that came with the diminutive
Doug Flutie
in 2001. In the nine times Turner's had one of the top 10 scoring offenses in the league, his quarterbacks have run 41, 49, 28, 28, 40, 31, 35, 35 and 31 times, counting kneel-downs at the end of games. In two 13-game seasons at Texas A&M, Manziel ran 201 and 144 times, for 1,410 and 759 yards. There will be plenty of NFL teams who will ask him to curtail his scrambling somewhat, partially to reduce the number of unnecessary hits he'll absorb. But if you draft Manziel, you're doing so in part because of his ability to improvise and make plays with his feet, and you're doing so knowing he's probably going to take some extra sacks in the process. It's hard to see a coordinator as established as Turner playing his type that much, especially when quarterbacks like
Blake Bortles
,
Derek Carr
and
Zach Mettenberger
(with whom the Vikings will meet tomorrow) would seem like more logical fits.
This isn't to say the Vikings won't take Manziel a month from tonight if he's still available with the eighth overall pick. But like we discussed in regard to Zimmer's comments last week, Manziel might have to clear some pretty high thresholds for the Vikings to be convinced he's their guy. If he is wearing purple come May 8, it'll be because he answered whatever concerns Zimmer might have and proved he can fit in Turner's offense when there really isn't a precedent for a quarterback like him doing so.
April, 7, 2014
Apr 7
10:10
AM ET
MINNEAPOLIS -- As we get closer to next month's NFL draft, there is probably no
Minnesota Vikings
question we've discussed more than this one: If the Vikings find themselves with an opportunity to take a quarterback with the eighth overall pick on May 8, should they do it? Or should they address another need, return to the quarterback position later in the draft and take their chances on the players they find there?
That question has been complicated further by the fact that none of the top quarterbacks in this year's draft seems to have asserted himself as a sure thing. ESPN NFL draft expert Mel Kiper said there is a "super seven" group of players at the top of the draft board -- in what many football people have called one of the best drafts in years -- and none of the quarterbacks are in it.
The group, Kiper said, consists of South Carolina defensive end
Jadeveon Clowney
, Buffalo linebacker
Khalil Mack
, Clemson wide receiver
Sammy Watkins
, Texas A&M offensive tackle
Jake Matthews
, Auburn offensive tackle
Greg Robinson
, Michigan offensive tackle
Taylor Lewan
and Texas A&M receiver
Mike Evans
.
"That's your super seven," Kiper said. "After that, I don't see anybody that belongs in that group right now. I don't think any of the quarterbacks do, and I don't see any other players jumped up that far. So that's your sensational seven, if you want to say that. Then you're getting into the range where the eighth guy could be the 18th guy on some boards. To me, the seven are the consensus seven."
The problem for the Vikings with that group is that three members are offensive tackles. Minnesota is set at that position with
Matt Kalil
and
Phil Loadholt
. Watkins or Evans could be an option, but with
Greg Jennings
and
Cordarrelle Patterson
already on the roster, the Vikings would probably take another receiver only if they thought stockpiling the position was worth passing on a chance to fill another need. Clowney and Mack seem likely to be gone by the time the Vikings pick.
But if one team above the Vikings takes a quarterback, or drafts another player, one of those seven players would be on the board at No. 8. Even if that group is gone, the Vikings could choose from a number of other players to help their defense. Is it worth passing on a quarterback to go that direction?
"It's incredible. There are about a dozen quarterbacks that could be starters, and out of those dozen, there are some that argue that all 12 of them will never be a successful starter," Kiper said. "This is a crazy year for quarterbacks. There is a lot of quantity, but how much quality is debatable. But if [Central Florida's Blake] Bortles is there at 8, unless they just don't like Bortles, it would be tough to pass him up.
"The bottom line with the Vikings -- and I've said this for three months -- is, I don't care who they like or don't like, they've got to get a quarterback. And however they do it, they've got to get a lot better at quarterback. You can't be the fourth team in the division at quarterback by a wide margin and have any chance of being any more than a borderline playoff team at best, and probably in the cellar, more than likely, if things at other positions don't go your way."
Of the top three quarterbacks in the draft, Kiper said Bortles was "more of a consensus" in the top eight picks than Texas A&M's
Johnny Manziel
or Louisville's
Teddy Bridgewater
.
If the Vikings did pass on one in the first round, they could come back for someone like Fresno State's
Derek Carr
, Alabama's AJ McCarron, LSU's
Zach Mettenberger
, Eastern Illinois'
Jimmy Garoppolo
or Georgia's
Aaron Murray
later in the draft. Kiper said some teams feel Carr is better than the top three quarterbacks and assuaged some concerns about Murray's arm strength, saying it's "more than good enough."
"Which quarterback do [the Vikings] like? We don't know right now. Everybody's trying to figure that out," Kiper said. "Everybody's not going to like Bortles, everybody's not going to like Manziel, Bridgewater, Carr, this whole group. There's some that really like these guys. There's some that really don't like these guys."
February, 23, 2014
Feb 23
2:00
PM ET
MINNEAPOLIS -- The group of quarterbacks the
Minnesota Vikings
will assess during the lead-up to this year's NFL draft include Central Florida's
Blake Bortles
(6-foot-5), LSU's
Zach Mettenberger
(6-foot-4) and Virginia Tech's
Logan Thomas
(6-foot-6). It will also include Louisville's
Teddy Bridgewater
(6-foot-2), Fresno State's
Derek Carr
(6-foot-2), San Jose State's
David Fales
(6-foot-1), South Carolina's
Connor Shaw
(6-foot-0) and Texas A&M's
Johnny Manziel
(5-foot-11).
That there are so many shorter quarterbacks near the top of this year's draft class owes plenty to Seattle's
Russell Wilson
, who stands 5-foot-11 and led the Seahawks to a win over
Peyton Manning
and the
Denver Broncos
in Super Bowl XLVIII. It also owes something to New Orleans'
Drew Brees
, the record-setting quarterback and MVP of Super Bowl XLIV who stands just six feet tall. But it also is because of a changing game that's asking quarterbacks to move more and is setting them up to throw in places where being 6-foot-5 isn't as important as it used to be.
More teams are rolling their quarterbacks out and using moving pockets to neutralize pass rushes and keep defenses uncomfortable. Shotgun and pistol schemes have made it easier for short QBs to find throwing lanes. And players like Wilson have done enough to make general managers realize they might have discredited good QB prospects because of one trait.
"It was height, period," Colts general manager
Ryan Grigson
said. "But Ill tell you what: He's going to open the floodgates for people breaking through that stigma of, you need a really tall quarterback. You've got to pinpoint, are people batting down passes? He didn't have a lot of batted balls (in college) at Wisconsin. He's able to find those passing lanes that usually you'd think were solely based on height. But he's been effective."
Manziel's height was as big a topic at the NFL scouting combine as his off-field issues, but the 2012 Heisman Trophy winner said, "I feel like I play like I'm 10 feet tall," and turned heads with an unofficial time in the 40-yard dash of 4.56 seconds (his official time was 4.68). Manziel's hands are nearly 10 inches long, when measured from thumb to pinky, which should eliminate some of the concerns that would naturally come up with his size. The success of quarterbacks like Wilson and
Colin Kaepernick
should take care of others.
"For those guys, being able to evade a first wave of pass rush, really extend the play just a little bit, be able to move the pocket and do some things like that, it really opens the playbook up a little bit more," Manziel said. " The young guys who are doing that, the guys that I enjoy watching, I think they're really doing a good job for some of the mobile quarterbacks in college right now."
Shaw, who officially ran a 4.66 40 on Sunday, said he met with the Vikings twice at the combine, and added the team told him "there would be good opportunities if I were to land at that place because they had a little quarterback battle going on." His arm strength has been a concern, and his scouting report on NFL.com says he "can be too jittery vs. pressure and quick to tuck and run" (remind you of anybody?)
But Shaw will be another quarterback who gets a look because of his speed. Thanks to QBs like Wilson, he won't immediately be discredited because of his size.
"There is not a specific mold you have to fit anymore to be an NFL quarterback," he said. "You see Russell Wilson and he's kind of proved that. He's got a shiny rock on his finger now and he's 6-foot. I don't think there is a prototypical quarterback size anymore."
February, 19, 2014
Feb 19
4:15
PM ET
INDIANAPOLIS -- The
Minnesota Vikings
' contingent of front office people and coaches is arriving in Indianapolis this week, with plenty of prospects to meet and a glaring hole at quarterback at or near the top of their to-do list. The Vikings have the No. 8 pick in the draft, however, which means they'll likely need to move up or hope for some help if they want to get one of the top quarterbacks.

That's part of the reason we've spent so much time looking at the Vikings' other options for the No. 8 pick, and it's entirely possible the Vikings will still be looking for a young quarterback when their second-round pick (No. 40 overall) comes up on May 9.
Would the Vikings be better off dealing that second-round pick to the
Washington Redskins
for
Kirk Cousins
or to the
New England Patriots
for
Ryan Mallett
? It's a question they'll certainly have to explore.
According to the Washington Post, the Redskins want a second-round pick for Cousins, and the Patriots reportedly have a similar asking price for Mallett. Both quarterbacks are 25, and would come with some NFL seasoning -- Cousins has started four games the last two seasons for the Redskins, while Mallett has backed up
Tom Brady
for three seasons -- but they'd carry some risks, too.
Cousins threw seven interceptions while playing in five games (starting three) for the Redskins in 2013, while Mallett hasn't started a NFL game. The Vikings would have evaluated both quarterbacks as they were coming out of the draft -- and in Mallett's case, they would have passed on him when they selected
Christian Ponder
in 2011. There can be a tendency to over-value the hot backup of the moment (see:
Matt Flynn
or
Matt Schaub
), but in the case of
Matt Hasselbeck
with the Seahawks, trading for a backup can be a viable path to finding a franchise QB.
And if the price were a second-round pick, the Vikings would have to seriously weigh a trade as an option in the event they don't get a quarterback in the first round. They'd have to stack up Cousins or Mallett against QBs like LSU's
Zach Mettenberger
, Fresno State's
Derek Carr
or or Eastern Illinois'
Jimmy Garoppolo
, and determine if a quarterback with some NFL experience is a better option. They'd have to navigate the financial landscape with two quarterbacks on the back ends of their rookie contracts, and realize they wouldn't get the benefit of starting those quarterbacks in the most affordable years of their careers.
It's certainly an option, though, and as they size up their quarterback prospects, the Vikings will no doubt consider it.
January, 8, 2014
Jan 8
2:00
PM ET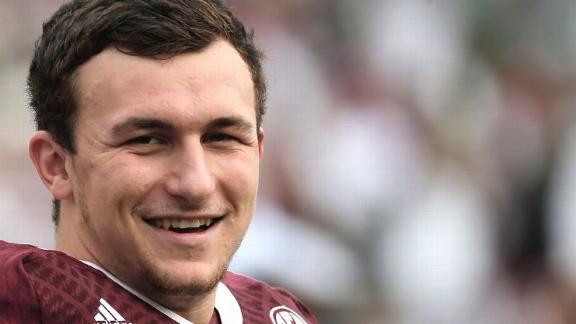 EDEN PRAIRIE, Minn. -- Well, Johnny Football has announced he's going pro. The top of the quarterback class for the 2014 NFL draft is effectively set. And among the many pivotal decisions
Minnesota Vikings
general manager Rick Spielman has to make this offseason, one of them could be this: Should the Vikings trade up from the No. 8 overall pick to give themselves a better chance at one of the top quarterbacks in the draft?
I'm inclined to think the answer there is no, even if that puts the Vikings at great risk of not getting one of the top prospects (
Johnny Manziel
, Louisville's
Teddy Bridgewater
, Central Florida's
Blake Bortles
and Fresno State's
Derek Carr
). The Vikings have an extra third-round pick, courtesy of the trade that sent
Percy Harvin
to Seattle last year, but that pick could effectively be a fourth-rounder, if the Seahawks reach the NFC Championship Game or the Super Bowl. And with as many needs as the Vikings have, the price might be too steep to move up to say, No. 5 or No. 6 and put themselves in line to get one of the top QB prospects.
Now, that's not to say a franchise quarterback isn't the Vikings' biggest need. It is. They know it is. Spielman said as much earlier this month when he said, "it's maybe the most difficult position to fill, but we're going to do everything and use every resource we can to try to get that corrected." As we've discussed in the past,
one of the great benefits to having a franchise quarterback
is how many other holes he can cover up.
But these decisions all come with a price. And with as much star power as there is at the top of this quarterback class, the general opinion from talent evaluators is that there's no
Andrew Luck
here, no sure thing that would almost guarantee a sizable return on a major investment. What if the Vikings forked over three or four picks to move up, missed on chances to fill other holes on their roster and wound up with another first-round bust? As Spielman admitted last week, he hasn't gotten the quarterback decision right yet, and another failed first-round QB would likely cost him his job. He might be better off finding a linebacker or a cornerback in the first round and coming back later to take a look at someone like Alabama's
AJ McCarron
or Georgia's
Aaron Murray
. That route would put less pressure on a rookie QB to succeed right away, and it would put less pressure on Spielman to nail the draft pick. And if
Matt Cassel
decides not to opt out of his contract, the Vikings would be able to cover themselves for at least a couple months while a new QB develops.
Now, there is enough uncertainty with this group of QBs that it's possible one could fall to the Vikings at No. 8, and at that spot, it'd be tough for Spielman not to take one. If it came to trading up, though, and adding even more of a cost to a decision where the stakes are already so high, the Vikings would have to think very carefully before making a move like that.
Finding a great QB is unquestionably their biggest need, and it's entirely possible they could get one in this draft. I'm drawn more to college players who have won on the field more than I am to players who impress scouts in workouts, and Manziel fits that description wonderfully. His confidence and playmaking ability, in the same backfield as
Adrian Peterson
, could be a blast to watch and a chance for big-time success. But there are many other teams that probably have similar visions for Manziel, or Bridgewater or Bortles or Carr, and if the Vikings have to mortgage a big chunk of their draft to secure their own plans, they'd better be sure of what they're going to get out of it.