Minnesota Vikings:

Donovan McNabb
June, 24, 2014
Jun 24
10:00
AM ET
MINNEAPOLIS -- Since he was introduced as the head coach of the
Minnesota Vikings
on Jan. 17, Mike Zimmer has preached open competition as one of his core beliefs, and he should. It's a way for the new coach to keep his players honing their games to a fine edge, at least in theory.
If the Vikings hadn't gone into their coaching search with an open mind, Zimmer might not have landed his first head-coaching job at age 57, to the delight of people around the league who believed the longtime defensive coordinator had to wait too long for his shot. So when Zimmer -- who turned 58 earlier this month -- talks about an open battle at the quarterback position, adding that the Vikings won't be afraid to play rookie
Teddy Bridgewater
if he's good enough to win the job, there's every reason to believe the coach. There's also every reason for Zimmer to make sure Bridgewater has to clear a high threshold if he wants to line up as the Vikings' starter in St. Louis on Sept. 7.

Bridgewater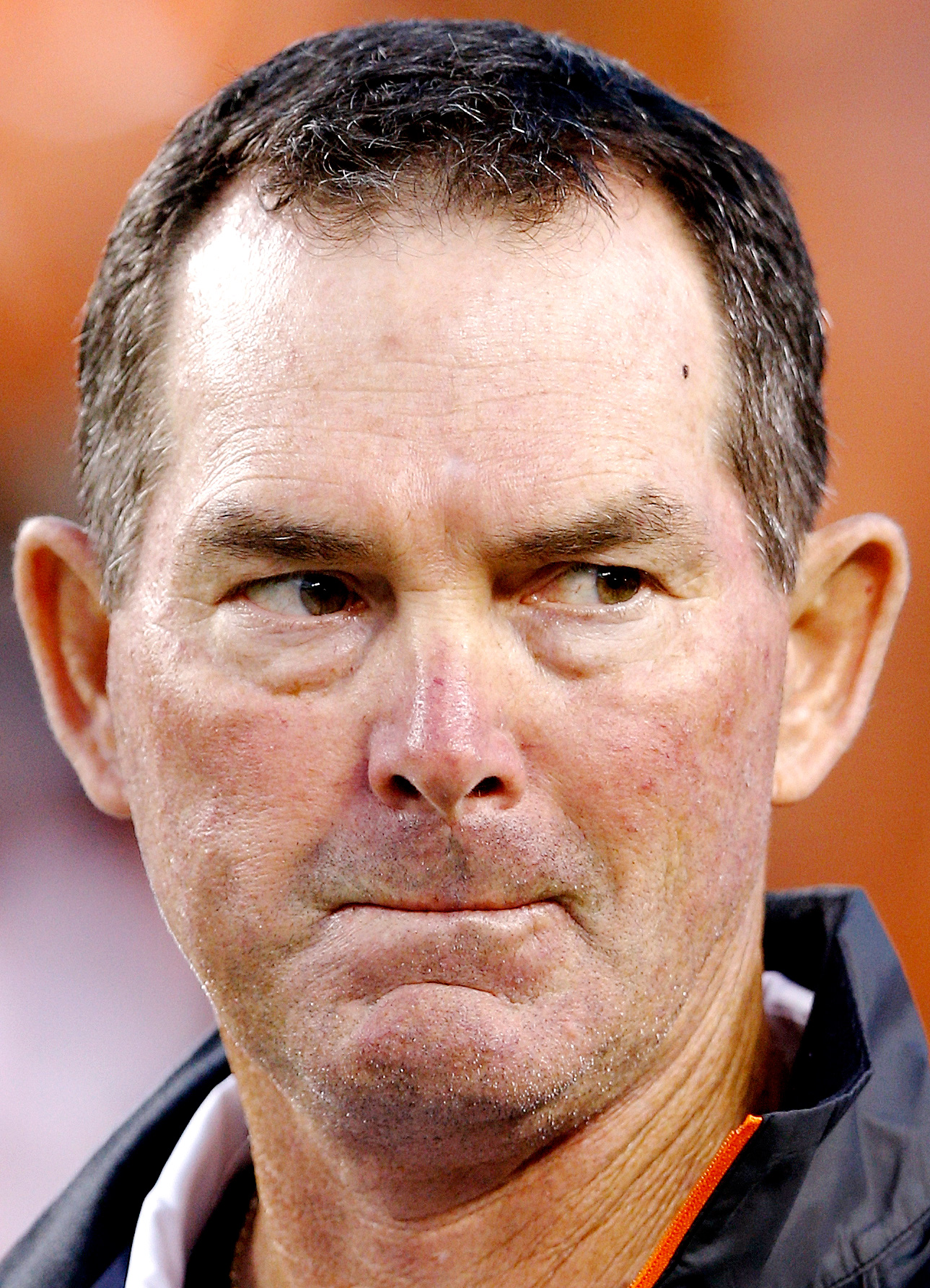 Zimmer
Zimmer needs only to look at the situation that played a large part in his job becoming available last winter. In April 2011, four months after the Vikings removed the interim tag from coach Leslie Frazier's title, the team took
Christian Ponder
with the 12th overall pick. Ponder had no offseason to learn the Vikings' playbook and no time to work with his new coaches because of a lockout that stretched until August. But after six mediocre performances from a 34-year-old Donovan McNabb (in what turned out to be the final six games of his career), the Vikings handed the job to Ponder and never looked back, putting two young quarterbacks behind him in 2012 and using several solid games during a playoff push at the end of that season -- a year in which
Adrian Peterson
ran for 2,097 yards -- as justification to declare Ponder the uncontested starter before 2013, despite the presence of
Matt Cassel
on the roster.
Would things have turned out differently if Ponder had been given more time to develop? Possibly not. But by putting him in the lineup as soon as they did, the Vikings were, in effect, making a statement that Ponder was ready to take the job for good and locking themselves into a long stretch with him. They didn't have to make that pronouncement as soon as they did, but if they'd waffled on it shortly thereafter, they would have invited scrutiny for their lack of direction at quarterback (as they did with their Ponder/Cassel/
Josh Freeman
carousel in 2013). Quarterback instability ultimately doomed Frazier, and in effect, it doomed his predecessor, Brad Childress. After feuding with Daunte Culpepper shortly after taking the job, Childress pushed for the Vikings to select
Tarvaris Jackson
in the second round of the 2006 draft and vacillated on Jackson until the team signed Brett Favre, whose stormy relationship with Childress ended with the coach's ouster 10 months after the Vikings nearly reached the Super Bowl.
The bet here is that Zimmer won't make a rash decision with Bridgewater, not when the Vikings are set up so well to avoid one. In Cassel, who's signed for the next two seasons, they've got the perfect custodian for Bridgewater: a veteran who's solid enough to handle the job in the short term, but not entrenched enough to step aside without a fuss. And even Ponder, who will be a free agent after the season, has some usefulness in 2014, as an emergency option in case Cassel gets hurt (or struggles early) and Bridgewater isn't ready. The Vikings have done everything they can to construct a healthy atmosphere for Bridgewater's growth. The key to the whole thing, though, is a coach who's patient enough to let it work. Zimmer might get only one shot as a head coach, and he's got something of a cushion this season, with the Vikings moving into a temporary home while trying to remodel their defense. One poor season won't cost the coach his job, but mismanagement of the quarterback situation ultimately could. Especially with offensive coordinator Norv Turner at his side, Zimmer should have the good sense to avoid the potholes his predecessors hit.
So how does this all play out? The 2012
Seattle Seahawks
might provide a good blueprint. They signed
Matt Flynn
to a three-year deal worth just $9 million guaranteed, giving themselves a quarterback they could play if
Russell Wilson
wasn't ready to start. When Wilson ultimately won the competition, the Seahawks were free to trade Flynn a year later. Only time will tell if Bridgewater turns out to be as good as Wilson has been -- the Vikings QB has looked sharp to this point, albeit only against defenses prohibited from hitting him -- but if he can take advantage of the situation, Minnesota has the mechanisms in place to make it work, just as the Seahawks did.
For Bridgewater to get on the field in September, he should have to prove he's unequivocally the best man for the job. Otherwise, with the Vikings facing a nasty early schedule, a tie should go to the veteran. It's a good, sensible construct for the rookie coach and quarterback, and with so many recent cautionary tales about the costs of quarterback foul-ups, the Vikings would be wise to take advantage of it.
October, 22, 2013
10/22/13
3:45
AM ET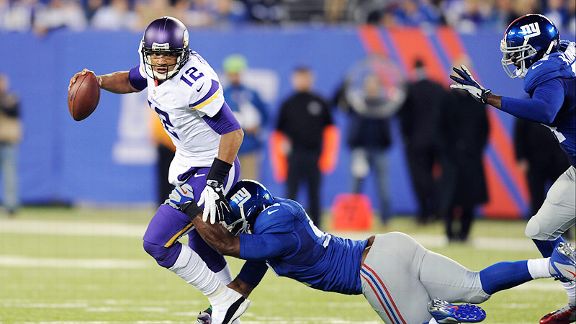 AP Photo/Bill KostrounJosh Freeman completed fewer than half his passes and had a 6.1 QBR in his Minnesota debut.
EAST RUTHERFORD, N.J. -- From the moment the
Minnesota Vikings
signed
Josh Freeman
to a one-year contract Oct. 7 -- effectively signaling the end of whatever commitment they had to
Christian Ponder
as their starting quarterback -- it seemed inevitable that the team was going to get the former
Tampa Bay Buccaneers
quarterback on the field soon. But this fast? In time for a
Monday night game
against the
New York Giants
after Freeman had just two weeks to learn the offense?
When coach Leslie Frazier announced last Wednesday that was the Vikings' course of action, the immediate line of questioning from Twin Cities reporters was whether he'd made that decision in a vacuum, or whether he'd had involvement from his bosses -- either the approval of ownership and general manager Rick Spielman, or an outright demand that Freeman be put on the field as soon as possible.
Frazier said the decision was up to his coaching staff and him, adding that he would have been able to go another route than naming Freeman the starter for Monday's game. But then he admitted he went to Spielman and the Wilf family, telling them what he planned to do and asking for their input. And then Frazier said something that might synthesize the underlying truth behind the Vikings' quarterback mess.
"When you're talking about the quarterback position, which affects your entire franchise, this is not a decision that you make alone," Frazier said. "I informed them what I was thinking and why I thinking this and why I wanted to do it, and they signed off on it. But no, you don't make these kind of decisions on an island."
The Vikings are certainly on some kind of island after a 1-5 start to their 2013 season. Their ferry off of it and back to relevance officially disappeared over the horizon Monday night, as Freeman went 20-of-53 for 190 yards and the Vikings lost 23-7 to the previously winless Giants. Their best chance to get through the rest of the season without turning on each other is to get behind Freeman, hoping he can deliver something closer to efficient quarterback play as he learns the offense and provides some shred of hope heading into 2014. Otherwise, some of the Vikings' decision-makers could be paying with their jobs for a quarterback situation that has gone very, very badly.
It started in 2011, when Spielman -- then running the draft, though not with the same complete authority over personnel he now enjoys as general manager -- picked Ponder 12th overall. The Vikings seemed unsure of how to develop Ponder from the beginning, first bringing in
Donovan McNabb
to start the 2011 season, then handing the job over to the rookie once the McNabb experiment turned sour six games into the season. From then until this season, Ponder had complete control of the starting job, free from any challengers even as his play fluctuated between respectable and reprehensible.
But what the Vikings did at quarterback heading into this season might have been even less coherent. They signed
Matt Cassel
to a two-year deal in March, giving themselves a veteran quarterback they unequivocally said was not there to challenge Ponder for the starting job. Ponder went through training camp as the unquestioned starter, staying in that spot through three sloppy performances in the first three games (all losses) until a rib injury gave the Vikings political cover to look at Cassel. They said Ponder still would be the starter if he were healthy, then watched Cassel lead them to a win over the
Pittsburgh Steelers
in London. They came back from their bye week saying that Ponder had been cleared to play but Cassel was the starter and added Freeman in a week where they already had uncertainty bubbling up at quarterback. Then they made Freeman the starter and Ponder the backup, putting Cassel, who'd started their past two games, on the inactive list.
Clear, concise answers are hard to find from the Vikings about their quarterback situation these days, but what has been clear for years is how uneasy the team appears to be about fully committing to a rebuilding process. They threw their support behind
Tarvaris Jackson
as the starting quarterback in 2007 only to take the job away from him several times and eventually sign
Brett Favre
for what amounted to a one-time title shot with a roster in its prime. The Vikings paid for having an aging roster in 2010 and began to build through the draft in 2011, but here they are, barely two full seasons later, ready to start over at quarterback again.
They've had three, maybe four, Hall of Fame-caliber players (
Adrian Peterson
,
Kevin Williams
,
Jared Allen
and
Antoine Winfield
) in their primes over the past few years, which makes it hard to think solely about the future, but then why attempt to go young at the quarterback position at all? The Vikings, it seems, have been caught between what they know they will eventually have to do and what they'd like to do for immediate success. Freeman is the least familiar quarterback with the Vikings' scheme, but he might also be the most talented and the most capable of delivering a quick fix. He could allow Spielman to reclaim some credit as a quarterback evaluator after the Ponder pick, and he might deliver Frazier enough wins to keep his job. But the Vikings also are trying to get Freeman to that point in short order, and the NFL has a funny way of thwarting teams who try to piece things together on the fly.
At 1-5, the Vikings can no longer be caught between the future and the present. They've started their Freeman experiment, and they've made it clear in the past two weeks -- by sitting Cassel and refusing to put Ponder in two games where the offense has struggled -- that they don't see either of those two quarterbacks as their ultimate solution. The best way for the Vikings to attach some significance to this season is to ride with Freeman, as awful as he looked Monday night, see if he can play and decide either to move forward with him (to the tune of a long-term contract) or dip back into what's expected to be a talented quarterback draft next spring. It's entirely possible Frazier could lose his job if the experiment leads to an 11-, 12- or 13-loss season, and it's even feasible that Spielman could suffer consequences for missing on the Ponder pick.
But the Vikings have pursued a disjointed strategy at quarterback for too long, and as painful as it might be, they need to spend the rest of this year seeing what Freeman can offer them. Their only way off the island is to set a course for the future, with a plan to solve their quarterback quandary and a commitment from all parties involved to press forward through the squalls that could come.