Minnesota Vikings:

Drew Brees
June, 27, 2014
Jun 27
11:45
AM ET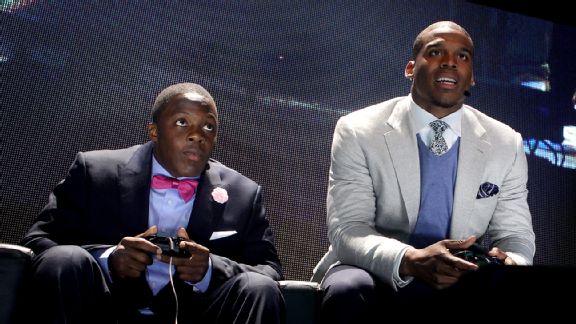 Donald Traill/Invision for EA SPORTS/AP ImagesTeddy Bridgewater matched skills against Cam Newton at the EA Sports Madden Bowl XX in January.
MINNEAPOLIS -- Once the
Minnesota Vikings
' minicamp concluded last week, it meant rookie quarterback
Teddy Bridgewater
wouldn't have a team to practice with until the start of training camp on July 25. But Bridgewater still has a method for studying the Vikings' offense.
Bridgewater said last week he's imported the Vikings' playbook into his Madden NFL football game, which allows him to take "virtual reps" by practicing with the Vikings' offense against defenses he'd see in an actual game. He did the same thing in college,
adding the Louisville Cardinals' playbook to a NCAA football video game for his Xbox
, and he'll continue the practice in the NFL.
"It helps because you get one more rep than you had in practice, actual practice," he said. "Any chance you get to take an extra rep or go the extra step, extra mile, it's going to be very beneficial transferring it to the field."
EA Sports added a feature to its Madden video games several years ago that allows users to create their own playbooks, and the games have become realistic enough that it's not difficult to imagine players using them as a preparation tool.
New Orleans Saints
quarterback
Drew Brees
said as much last fall, and Bridgewater wouldn't even be the first Minnesota athlete to make regular use of the practice; when he was pitching for the Minnesota Twins, Johan Santana used to study hitters' tendencies by playing as himself and facing them in a PlayStation game.
It's another case of life-imitates-art-imitates-life (or maybe life-imitates-leisure-imitates-life), but Bridgewater says it works for him.
"I try to take as many reps as I can, whether it's on a video game, playing EA Madden Football or in the playbook, just drawing it or just visualizing it in my head," Bridgewater said. "I try to just maximize every rep I can get and every opportunity that I can take."
April, 24, 2014
Apr 24
11:55
AM ET
MINNEAPOLIS -- Perhaps the sternest test of Mike Zimmer's ability to remake the
Minnesota Vikings
' defense will come in an 18-day stretch from Sept. 14 to Oct. 2, when the Vikings will play four consecutive games against
Tom Brady
,
Drew Brees
,
Matt Ryan
and
Aaron Rodgers
, effectively staking their playoff hopes on their ability to stand up to some of the best quarterbacks in the NFL.
In many ways, the Vikings will have to fix two of their biggest problems from last season in the first month of the season if they're going to have any shot at relevance. They didn't win a road game last season (their victory in London was technically a "home" game), and they'll start the year against a
St. Louis Rams
team that went 5-3 at home last season before playing games at the Superdome and Lambeau Field in the next five weeks.
[+] Enlarge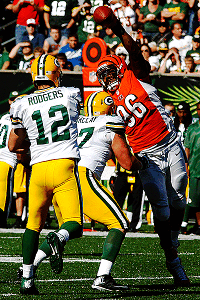 AP Photo/David KohlMike Zimmer's defense made things challenging for Aaron Rodgers last season.
But the Vikings' struggles against top quarterbacks, if left unchecked, will be an even more pervasive problem in the first part of the season. The Saints, Packers, Falcons and Patriots were the league's second-, sixth-, seventh- and 10th-best passing teams last season, and the Vikings come out of that stretch with an Oct. 12 game against the
Detroit Lions
, who threw for the third-most yards in the league. Essentially, the message of the Vikings' 2014 schedule is this: Fix your defense and fix it quickly.
Fortunately for the Vikings, Zimmer's had some success slowing down the quarterbacks the Vikings will face -- particularly Rodgers. The Packers quarterback faced the
Cincinnati Bengals
twice while Zimmer was their defensive coordinator, and lost both games. Last year, he hit 26 of 43 passes for 244 yards, a touchdown and two interceptions against the Bengals, and was sacked four times. And while he threw for 311 yards against the Bengals in 2009, he was sacked six times and fumbled twice (losing one) in a 31-24 loss.
Brady also faced the Bengals twice in that time, with unimpressive results. He went 1-1 in a pair of games against Cincinnati, completing 43 of his 73 passes for 455 yards, three touchdowns and an interception. After picking them apart in a 2010 win, he had arguably his worst game of the season against them last year, completing just 18 of his 38 passes for 197 yards and an interception in a 13-6 loss.
Brees and Ryan both fared well in their lone efforts against Zimmer's defense, each beating a 4-12 Bengals team in 2010. They were two of just four quarterbacks to surpass 290 yards against Cincinnati that season, posting 313 and 299, respectively.
Zimmer's defense employs plenty of man coverage, mixed with some zone principles, and counts more heavily on cornerbacks winning one-on-one matchups than the Vikings' old scheme did. That seems like a good fit for second-year cornerback
Xavier Rhodes
, and
Captain Munnerlyn
should help the Vikings' defense, as well, but secondary depth is paramount to surviving matchups with teams that will put as many receivers on the field as the Vikings' early-season opponents will.
The other thing to watch is how effectively the Vikings can pressure the top quarterbacks they'll face, particularly with some of Zimmer's creative blitzes. The Bengals didn't bring extra pressure after Brady and Rodgers all that often last year -- on just 12 and 11 dropbacks, according to ESPN Stats & Information -- but what's worth noting is just how much they rattled those two quarterbacks. Brady had just a 2.2 QBR against the Bengals' blitzes last year, and Rodgers' QBR was only 8.0, as he was forced into checkdowns and didn't complete a pass of longer than 8 yards against the blitz. Considering how lethal those two quarterbacks have been against the blitz in their careers -- to the point where many teams don't try to send extra pressure -- Zimmer's ability to throw them off is impressive. He did it well against
Matthew Stafford
last season, too, holding the Lions quarterback to just 33 yards and a 5.0 QBR on 13 blitzes.
The key variable to all this, of course, is talent, and it remains to be seen if the Vikings' personnel is as effective in Zimmer's scheme as what the Bengals had last season. But the additions of Munnerlyn and defensive tackle
Linval Joseph
, the development of Rhodes and defensive tackle
Sharrif Floyd
and the health of safety
Harrison Smith
should help. If Zimmer and defensive coordinator George Edwards can coax more out of players like defensive end
Everson Griffen
and figure out the Vikings' linebacker situation, they'll likely receive credit for it early, because the Vikings' progress will be graded against some of the toughest opponents they'll see all season.
March, 19, 2014
Mar 19
3:00
PM ET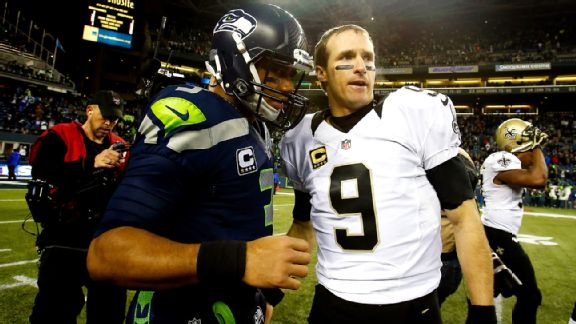 Jonathan Ferrey/Getty ImagesDespite a lack of height, Russell Wilson and Drew Brees haven't struggled with passes being batted at the line of scrimmage.
MINNEAPOLIS -- Over the course of the past few weeks, I've been chipping away at the
Hot Read piece that was published today on why evaluating quarterbacks is so difficult
-- and hasn't gotten any more precise in an era where teams have more information at their disposal than ever. In the process of talking to more than a dozen GMs and coaches for the story, I came across a number of interesting tidbits that didn't make the final edition.
I thought I'd pass them along here, in case they're of interest to you:
First, for Vikings fans, I had a good conversation with offensive coordinator Norv Turner about what he looks for in a quarterback. Turner was Troy Aikman's offensive coordinator in Dallas, worked with Philip Rivers as the San Diego Chargers' head coach and was the Chargers' offensive coordinator when they drafted Drew Brees (which is a prominent part of the story). He places a high emphasis on a quarterback's ability to learn quickly, understand complex systems and boil those systems down into manageable terms for the rest of the offense. Aikman and Brees both excelled at that, Turner said, and he also mentioned former Vikings quarterback Brad Johnson, whom Turner coached with the Redskins. One thing teams are doing now, as they try to put young QBs on the field sooner, Turner said, is simplifying the terminology of their offenses. "They're cutting down some of the verbiage, code-naming more things and helping them, where it's not just so much rote memorization and you don't get into the concepts," Turner said.
We talked in the story about the issue of short quarterbacks, and after talking to Turner and Colts GM Ryan Grigson in particular, the sense I got is that smart teams aren't dismissing short QBs simply because they're short -- they're looking to see how many batted balls come about because of a quarterback's stature. In some ways, shorter quarterbacks actually fare better here, because they've already learned how to compensate for their lack of height. In fact, Brees and Russell Wilson were tied for just 21st in the league in batted passes last season, with six each, according to Pro Football Focus. The leaders? The 6-foot-2 Chad Henne (with 20), the 6-2 Matthew Stafford (with 17) and the 6-5 Matt Ryan (with 14). Said Turner of Brees: "He'd been playing like that his whole life. It's not like he was 6-4 or you're going to make him 6-4. He understood how to play that way. He created lanes, he moved and he was very competitive against the rush. That's what it comes down to: that ability to visualize. You don't have to actually see the guy running free -- you 'see' him, you see where the defense is and you know where you're going to throw it."
A couple more good stories from Bill Polian and Ron Wolf about drafting Peyton Manning and trading for Brett Favre, respectively. Polian, who now works as a NFL analyst for ESPN, dispelled the since-developed myth that the Colts were split between Manning and Ryan Leaf until just before the draft. In reality, Polian said, the decision was made by mid-March.
"A lot of people now have amnesia, and said Ryan Leaf was by far the better product," Polian said. "The consensus of so-called experts on Peyton was, he had a weak arm, couldn't make all the throws and was 'a product of the system.' We worked him out, and found out he had a better arm than Ryan Leaf. He was much better than people gave him credit for. The athleticism thing, that one I can understand, because he looked a little bit gawky. But he had an incredible work ethic, incredible desire to be the best, incredible accuracy when he threw the ball, a unique understanding of defenses. None of that was present with Ryan." And Wolf, when he told the Packers' board of directors when he explained he was about to trade a first-round pick for a player the Atlanta Falcons had taken in the second round and no longer wanted, said this: "I compared him to a player like Lou Gehrig -- a face of the franchise. I told them everybody would one day around Green Bay wear No. 4. I'm sure they were a little shaken. I'm sure they thought they hired some idiot."Wolf said he hadn't thought about the obvious ironman parallels between Favre and Gehrig until we discussed it in our conversation; rather, he saw an aura about Favre that put him in that class. Wolf rightly gets credit now because few others saw what he did, but as he admitted, those evaluations are almost the more obvious ones to make."I thought the field tilted in his team's favor when he ran on the field," Wolf said. "He played teams [at Southern Miss] that did not have the same type of talent that he was playing against. By and large, he kept them in the game. I think [former Auburn coach] Pat Dye put it the best; was reading somewhere where he was asked 'Who's the best player you've seen as a head coach?' He said right away, 'Brett Favre.' I think a lot of people would have said that. He won games he had no business being able to win. He's just a rare, rare player."

Wolf, then, would agree with the point ESPN NFL scout Matt Williamson made -- that teams and executives who are often branded "quarterback experts" get that reputation unjustly, because all they had to do was be correct once. "If you do hit one, then you don't have to do it any more," Williamson said. "It's hard to say, 'Boy, these guys are great at developing QBs," because they did it once. They don't have to worry about it for 12 years."

Lastly, I'd commend to you a Sports Illustrated story published just after the 2001 NFL draft. The magazine followed Brees around during his entire pre-draft process and chronicled what the experience was like, and there are lots of cameos from talent evaluators who are still in the NFL limelight, from Turner to Vikings GM Rick Spielman and Seahawks GM John Schneider. And for the Minnesotans in the crowd, the story ran in an issue adorned with a cover photo of former Twins outfielder Matt Lawton, discussing the upstart Twins' hot start to the 2001 MLB season.
Just wanted to pass those things along, before we return to the rhythms of the Vikings beat. Hope you enjoyed them.
February, 23, 2014
Feb 23
2:00
PM ET
MINNEAPOLIS -- The group of quarterbacks the
Minnesota Vikings
will assess during the lead-up to this year's NFL draft include Central Florida's
Blake Bortles
(6-foot-5), LSU's
Zach Mettenberger
(6-foot-4) and Virginia Tech's
Logan Thomas
(6-foot-6). It will also include Louisville's
Teddy Bridgewater
(6-foot-2), Fresno State's
Derek Carr
(6-foot-2), San Jose State's
David Fales
(6-foot-1), South Carolina's
Connor Shaw
(6-foot-0) and Texas A&M's
Johnny Manziel
(5-foot-11).
That there are so many shorter quarterbacks near the top of this year's draft class owes plenty to Seattle's
Russell Wilson
, who stands 5-foot-11 and led the Seahawks to a win over
Peyton Manning
and the
Denver Broncos
in Super Bowl XLVIII. It also owes something to New Orleans'
Drew Brees
, the record-setting quarterback and MVP of Super Bowl XLIV who stands just six feet tall. But it also is because of a changing game that's asking quarterbacks to move more and is setting them up to throw in places where being 6-foot-5 isn't as important as it used to be.
More teams are rolling their quarterbacks out and using moving pockets to neutralize pass rushes and keep defenses uncomfortable. Shotgun and pistol schemes have made it easier for short QBs to find throwing lanes. And players like Wilson have done enough to make general managers realize they might have discredited good QB prospects because of one trait.
"It was height, period," Colts general manager
Ryan Grigson
said. "But Ill tell you what: He's going to open the floodgates for people breaking through that stigma of, you need a really tall quarterback. You've got to pinpoint, are people batting down passes? He didn't have a lot of batted balls (in college) at Wisconsin. He's able to find those passing lanes that usually you'd think were solely based on height. But he's been effective."
Manziel's height was as big a topic at the NFL scouting combine as his off-field issues, but the 2012 Heisman Trophy winner said, "I feel like I play like I'm 10 feet tall," and turned heads with an unofficial time in the 40-yard dash of 4.56 seconds (his official time was 4.68). Manziel's hands are nearly 10 inches long, when measured from thumb to pinky, which should eliminate some of the concerns that would naturally come up with his size. The success of quarterbacks like Wilson and
Colin Kaepernick
should take care of others.
"For those guys, being able to evade a first wave of pass rush, really extend the play just a little bit, be able to move the pocket and do some things like that, it really opens the playbook up a little bit more," Manziel said. " The young guys who are doing that, the guys that I enjoy watching, I think they're really doing a good job for some of the mobile quarterbacks in college right now."
Shaw, who officially ran a 4.66 40 on Sunday, said he met with the Vikings twice at the combine, and added the team told him "there would be good opportunities if I were to land at that place because they had a little quarterback battle going on." His arm strength has been a concern, and his scouting report on NFL.com says he "can be too jittery vs. pressure and quick to tuck and run" (remind you of anybody?)
But Shaw will be another quarterback who gets a look because of his speed. Thanks to QBs like Wilson, he won't immediately be discredited because of his size.
"There is not a specific mold you have to fit anymore to be an NFL quarterback," he said. "You see Russell Wilson and he's kind of proved that. He's got a shiny rock on his finger now and he's 6-foot. I don't think there is a prototypical quarterback size anymore."
January, 3, 2014
Jan 3
8:00
AM ET
MINNEAPOLIS -- The
Minnesota Vikings
have seen for far too long, and know far too well, what it's like not to have a franchise quarterback. They've had a quarterback start all 16 games just three times in the past 10 seasons -- or as many times as they've used three starting quarterbacks in a season -- and they're looking at starting over once again after shuttling through two first-round picks (
Daunte Culpepper
and
Christian Ponder
), a second-round pick (
Tarvaris Jackson
) and an expensive free-agent acquisition (
Brett Favre
), among others, during that time.
But as the Vikings prepare for the possibility of looking for another franchise quarterback in the 2014 draft, they're undoubtedly aware of how expensive it can be to get caught in the middle with one who only looks the part some of the time.
The
Chicago Bears
proved that again on Thursday when they announced a
seven-year, $126 million extension
for
Jay Cutler
. According to ESPN NFL insider Adam Schefter, the deal has more than $50 million in guaranteed money. The total amount of the deal is interesting, though, because while the salary structure is obviously different, it's known as the Contract of Death in baseball.
Why? That deal has typically gone to players (Vernon Wells, Barry Zito, Jayson Werth) who are good, but not good enough to get the megadeals averaging more than $20 million a year. Those players have tended to fall short of expectations on their contracts, either through injuries or ineffectiveness, and though they're not getting absolutely top-shelf money, they're getting enough that they're expected to perform like franchise players, rather than just very good ones.
Baseball, of course, guarantees every dollar, but as the average annual value of NFL contracts continues to climb, the deals are starting to look more like baseball contracts, and Cutler's AAV of $18 million matches what the
Dallas Cowboys
gave
Tony Romo
. His guaranteed money puts him in an elite group, as well -- only seven quarterbacks are currently playing on deals that include at least $50 million in guarantees. Four of those (
Aaron Rodgers
,
Tom Brady
,
Drew Brees
and
Joe Flacco
) have Super Bowl rings, while two of the other three (
Matt Ryan
and
Sam Bradford
) were top draft picks before the NFL curtailed rookie spending.
Cutler, like Romo, has a history of wilting in big games, but his regular-season numbers have been even less impressive. He's only thrown for 4,000 yards once, has thrown at least 14 interceptions in a season five times and has never thrown more than 27 touchdown passes in a season. Flacco's put up plenty of pedestrian numbers, too, but he earned his deal after leading the Ravens to a championship last year. Cutler has only quarterbacked two postseason games, and before he got hurt in the 2011 NFC Championship Game at home against Green Bay, he had hit just 6 of 14 passes for 80 yards and an interception.
The deal the Bears gave him is an awful lot of money for a quarterback who remains an enigma at age 30, but after all the Bears gave up to get him, and all the time they'd invested in developing him, they might not have been able to risk starting over at the position. They're now essentially committed to Cutler for the rest of his prime, even if he has yet to reach an elite level, and he'll eat up a large chunk of their cap space during the deal. He'll have plenty of work to do to prove he's worth it.
On some level, the Vikings saw with Ponder what it's like to commit to a quarterback that's not providing commensurate returns, but their commitment to Ponder was a pittance compared to what the Bears have invested, and will continue to invest, in Cutler. They're spending premium dollars for a player who's yet to provide premium production, and they'll have spent a dozen years with Cutler by the time the deal runs out. If he only remains a quarterback who's just above average, the Bears will have wasted plenty of time.
The Cutler deal is an example of how high the stakes are at the quarterback position. The Vikings might not find a great QB in their next attempt, but if they make a Ponder-like mistake, their commitment is at least relatively short. It would be far worse for them to be where the Bears could find themselves at the end of Cutler's deal: having spent an astronomical amount of time and resources on a quarterback who never got past pretty good.
November, 26, 2013
11/26/13
5:30
PM ET
MINNEAPOLIS -- On Sunday, the
Minnesota Vikings
played to a tie with a
Green Bay Packers
team that didn't look much different than theirs. The Packers were missing several key starters on defense, had a group of talented receivers who weren't able to do much without a quarterback to get them the ball, and relied primarily on a bruising running game that gained 196 yards despite running 19 times into a box that contained seven or more defenders.
It was just the second time in their previous nine trips to Lambeau Field that the Vikings had done anything other than lose to the Packers. The only other time was in 2009 -- not coincidentally, the only other time when the Vikings could make a convincing argument they entered the game with a quarterback playing as well as or better than his Green Bay counterpart. But Sunday's advantage was caused mostly by
Aaron Rodgers
' absence, which is a temporary problem for the Packers. And the stark difference in their rivals -- NFC North standard-bearer with Rodgers, middling team without him -- should crystallize why the Vikings will likely continue searching for a quarterback this offseason.
[+] Enlarge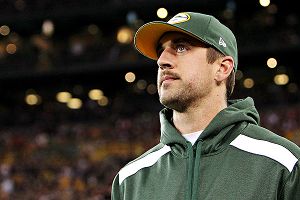 Mike McGinnis/Getty ImagesWhat the Green Bay Packers are with -- and without -- Aaron Rodgers should make it clear why the Vikings need to upgrade at quarterback.
I've heard from a number of readers throughout the season who've pointed out that quarterback is far from the Vikings' biggest problem. And for the record, I agree with you. They've been done in more by declining or inexperienced players on defense than they have by anything else this season. But that argument doesn't really explain why the Vikings need to go hard after an elite quarterback. More than anything else, it's about how quickly that kind of a playe
r can cover up the rest of their problems.
Look at the Packers. With Rodgers, they were 5-2, despite missing receiver
Randall Cobb
, linebacker
Clay Matthews
, tight end
Jermichael Finley
, running back
Eddie Lacy
, cornerback
Sam Shields
, cornerback
Casey Hayward
and safety
Morgan Burnett
for parts of the season. Without him, the Packers are 0-3-1, having lost to a team that started 0-6 (the Giants) and tied the team they'd dominated at home (the Vikings). They went 26-6 in the previous two regular seasons despite having a pass defense ranked 32nd and 22nd in yards allowed, and they won a Super Bowl with him despite putting 15 players on injured reserve and barely running for an average of 100 yards a game in 2010.
And it's not just the Packers who have used great quarterbacks to cover up flaws. The 2011
New England Patriots
rebuilt their group of skill position players around
Tom Brady
, allowed the second-most yards in the league and still went to the Super Bowl. The team they lost to, the
New York Giants
, had the league's worst rushing offense, its eighth-worst scoring defense and
Eli Manning
. His older brother Peyton is currently quarterbacking a 9-2
Denver Broncos
team that has allowed the seventh-most points and yards in the league, and made his two Super Bowl appearances in Indianapolis with teams that finished 18th and 31st in the league in rushing offense. His loss in the 2010 Super Bowl came to a
New Orleans Saints
team that had the league's seventh-worst rushing attack, its 13th-worst defense and rode
Drew Brees
past
Brett Favre
and Manning to a championship.
So while we can talk about incremental improvements from
Christian Ponder
and discuss the Vikings' myriad defensive problems -- both of which we've done here -- the scale of quarterbacking championship teams need is drastically different from what the Vikings have. Unless Ponder or
Josh Freeman
somehow turns into that kind of quarterback, the Vikings in all likelihood will head out on another search for one. I'm convinced their decision-makers know the hunt for a quarterback isn't over until they've unearthed one who can be elite.
The power of that kind of a player should have been obvious in all the years Vikings fans have watched Rodgers and Favre burn them in Green Bay. And it should have been even more clear by the absence of a great quarterback on Sunday.