Minnesota Vikings:

Dwight Freeney
March, 5, 2014
Mar 5
4:15
PM ET
Minnesota Vikings
defensive end
Jared Allen
, who will set out onto the free agent market for the first time in his career next week, said on a Sirius XM Radio interview on Wednesday that he wants to go to a team that will give him "a chance to win, a good organization and a fair contract." Whether or not Allen gets the first and the second item on his list could depend on his definition of the third one.
Allen
Allen said last December he'd retire before accepting a job as a situational pass-rusher, adding "that's for the birds." The subtext to a job as a situational pass-rusher is that it likely won't pay the kind of money that Allen, who made more than $14 million last season, has been accustomed to earning. But if he is willing to play under that kind of a deal, he could find everything else he's looking for.
He could be a good fit for a team like Denver as a pass-rusher, but it seems unlikely the Broncos would lean on him for 1,083 snaps like the Vikings did last year. Allen struggled at times against the run, when it seemed like he was too far upfield to maintain his gap against the run, and collected many of his 11 1/2 sacks against patchwork offensive lines. If he wasn't asked to take a pounding against the run on a regular basis, he might have enough energy to be a more consistent presence against the pass; it should be noted that Allen collected 6 1/2 sacks in the Vikings' final five games last season, after scuffling through the first part of the season.
New Vikings coach Mike Zimmer said in a Pro Football Talk interview on Tuesday that he sees a way that Allen could still return to the Vikings, but it would likely be in the situational role that Allen could find with other teams. If that's the case, one would have to wonder what would keep Allen from signing with a team that's closer to a championship than the Vikings are. But what's next for Allen could depend on whether or not, like veteran pass-rushers
Dwight Freeney
and
John Abraham
before him, he's willing to accept less money to catch on with a new team.
December, 12, 2013
12/12/13
3:15
PM ET
EDEN PRAIRIE, Minn. -- As the
Minnesota Vikings
' season draws closer to an end,
Jared Allen
's weekly news conferences feel more and more like a valedictory address. Allen is 31, will hit free agency this spring after carrying a $17 million salary cap figure this season and is playing on a team that already gave fellow defensive end
Brian Robison
a contract extension.
[+] Enlarge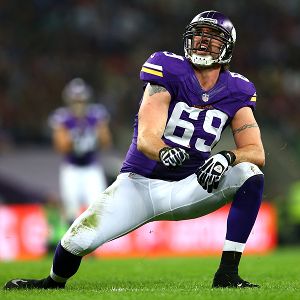 Michael Steele/Getty ImagesDE Jared Allen, 31, says he hasn't regressed despite recording only seven sacks through 14 weeks.
Essentially, Allen's days in Minnesota appear to be almost up, and he seems to know it. What remains to be seen is what kind of a reception he'll get on an open market that hasn't been terribly friendly to veteran pass-rushers in recent years.
We've talked about the modest deals
Dwight Freeney
and
John Abraham
found in free agency in recent years, and while Allen is younger than both players were when they hit the market, he's also fighting a perception that he's lost a step. Allen has seven sacks this season, and is in danger of not reaching double digits for the first time since 2006, though as Allen pointed out, he's among the league leaders in quarterback hits and hurries. But those things are often byproducts of a sack, when a pass-rusher isn't able to get there quite soon enough.
"Me and 'B-Rob' were laughing about it today," Allen said. "The (league) lead is 15 (1/2 sacks, by Indianapolis'
Robert Mathis
). I said, 'If we would take the ones that we had in our hands that we either missed or (we) knocked the guy and the ball falls forward, which is an incomplete pass versus a sack/fumble, I think we both would be sitting right around 12 or 13.' But again, that's kind of what football is. I look back at the year I had 22 (in 2011). You just didn't miss an opportunity. Boom, you got them on the ground."
Allen said he's still grading out well, taking into account how he plays against the run, how many passes he's able to knock down, etc. But he's always been defined by his sack totals, and Allen knows it. He said getting to double digits "means the world to me," and he needs three to pass
Derrick Thomas
for 13th place on the NFL's career sack list.
Where he'll be climbing that list next year is anyone's guess, especially after Allen said on Thursday he wouldn't accept a role as a rotational pass-rusher. "(I'll keep playing) as long as I feel good and compete at a strong level and I feel like I can still help a team win and be an active (participant). I'll retire vs. taking a step-down role and being a rotate guy. That's for the birds."
Teams might have a different perception of Allen next spring, and it remains to be seen what he'd accept if he can't find a suitor to treat him (and pay him) like a three-down lineman. But Allen still feels he'd be worth the investment.
"I'm playing good ball. I watch film. I'm probably more critical on myself than anybody can be," Allen said. "I'm there. It'd be one thing if you weren't there. ... I'd be telling myself if wasn't playing good ball. Technique's still good. I still know how to process things."
October, 10, 2013
10/10/13
2:15
PM ET
EDEN PRAIRIE, Minn. -- The events of Wednesday afternoon -- when
Brian Robison
signed his four-year contract extension with the Vikings and
Everson Griffen
said the team has talked with his agent about a new deal -- shed some light on the team's plan to lock up the youngest of its free agents-to-be on the defensive line. What
Jared Allen
said on Thursday afternoon fell in line with that plan.
Allen
The four-time Pro Bowler, who turns 32 in April, said the Vikings aren't currently talking with his agent about a new contract. Allen said he's happy for Robison, but added he's not worried about his own future with the team.
"I'm in a situation where I've been blessed, I've been taken care of. The Lord's been good to me," Allen said. "And that's where I leave it. Where I'm going to be at is totally up to Him. That's not a stressor on my mind."
Allen won't hit free agency for another five months, but short of a change in the Vikings' approach, it seems the defensive end is likely playing his final games in purple and gold. He'll be headed into a market that's been uncertain for older pass-rushers --
Dwight Freeney
and
John Abraham
got modest two-year deals last offseason -- but Allen will be younger than both players were when they hit free agency, and he's still putting up better numbers than they did in their final seasons with their old teams.
"Let's be honest: This is a business and we are expendable," Allen said. "You just look at our team right now, guys are in and out. You look at the NFL, it's a revolving door. So any time anybody can get paid and provide for their family for a long time, I'm happy for them. And Brian's a good player and a friend of mine, a good teammate. So yeah, absolutely, I'm ecstatic for him. I wish he would have gotten more."