Minnesota Vikings:

Eddie Lacy
November, 24, 2014
11/24/14
8:00
AM ET
Welcome to Around the Horns, our daily look at what's happening on the Vikings beat:
In a tumultuous third season in the NFL, Vikings left tackle Matt Kalil has encountered problems in a number of different forms. In Sunday's 24-21 loss to the Green Bay Packers, those problems came largely through penalties.
Kalil was flagged three times for 35 yards -- twice for holding and once for a face mask personal foul. His face mask penalty came on a first down from the Packers' 23, on a drive that wound up leading to a Blair Walsh field goal. His first holding penalty was on the first play of the second half, after the Vikings had started their drive with good field position and Jerick McKinnon ran for seven yards to the Packers' 46. Instead of a second-and-3, the Vikings had a first-and-18, and they wound up punting the ball away.
"Honestly, it was hard for me to see [how he did]," coach Mike Zimmer said. "The times when I was watching, though, he seemed to be doing OK, but my eyes are looking at their coverage and the blitzes they're doing and Teddy [Bridgewater]. It's real hard for me to say without focusing in and having a real honest opinion."
The left tackle got beat by linebacker Jayrone Elliott on the play after his facemask, when Bridgewater threw to McKinnon for a 2-yard loss on a screen, and was part of a Vikings line that allowed Bridgewater to be pressured on 34.1 percent of his dropbacks on Sunday. He blew past four reporters in the locker room on Sunday, and by Sunday evening, his Twitter account, which Kalil said last week he hadn't checked in months, had disappeared.
Considering Kalil's coaches have expressed concern in the past about the left tackle beating himself up too much, it's tough to imagine his confidence level is terribly high right now. The Vikings haven't tried alternatives to the fourth overall pick in the 2012 draft, and considering the health of their offensive line -- Mike Harris had to take over at right tackle after Phil Loadholt injured his shoulder on Sunday -- they don't have many options other than to keep putting Kalil out there and hoping he'll turn a corner. He got a day off on Friday with what Zimmer termed a "minor aggravation" to his surgically-repaired knee, and perhaps we'll find out in time the injury is bothering Kalil more than he's let on.
He's been penalized eight times this season now, though, and that total is tied for the seventh highest in the NFL. On Sunday, Kalil's penalties were his biggest black mark, and a couple of them came at costly moments for the Vikings' chances to win the game.
In case you missed it on ESPN.com:
Best of the rest:
November, 23, 2014
11/23/14
8:35
PM ET
MINNEAPOLIS --
Aaron Rodgers
has faced Mike Zimmer's defenses three times in the last two years now, and the
Green Bay Packers
quarterback seems to be taking note of the
Minnesota Vikings
coach as one of the few defensive strategists he's yet to fully solve.
Rodgers
Rodgers had thrown for 656 yards, nine touchdowns and one interception in the Packers' last two games, which each had him wearing a baseball cap by the fourth quarter as Green Bay piled up 108 combined points. But facing a coach who's been able to stifle him on more than one occasion, Rodgers was never able to get the Packers' offense into top gear.
He completed 19 of his 29 passes for 209 yards and two touchdowns Sunday, but the Packers finished their season sweep of the Vikings thanks largely to running back
Eddie Lacy
's 125 rushing yards (and Rodgers' own ability to gain another 34 yards scrambling). Rodgers has now faced Zimmer four times in his career -- twice this season, as well as in 2013 and 2009 when Zimmer was the Bengals' defensive coordinator -- and three of those games rank among the quarterback's 27 worst days, in terms of average yards per attempt.
"It was different playing against a Mike Zimmer team," Rodgers said. "Mike is a great football mind, and he had a great plan for us again. He had a great plan for us the first time [On Oct. 2], but we were able to turn turnovers into points. They put a lot on Xavier [Rhodes] and Captain [Munnerlyn] and Josh [Robinson]. Those guys tackled well, they covered pretty well and you've got to give them credit."
The Packers have thrived on the deep shots they've been able to take, particularly to
Jordy Nelson
, but the Vikings took those away Sunday, with a game plan that put safeties
Harrison Smith
and
Robert Blanton
in coverage over the top of Rhodes, Munnerlyn and Robinson (who played most of the game with the Vikings in nickel). Zimmer asked his corners to reroute receivers, and Rodgers wasn't able to find much downfield; he completed just four of the 11 throws he attempted longer than 10 yards, according to ESPN Stats & Information, and the 29-yarder he hit to
Randall Cobb
-- just behind tight coverage from Munnerlyn -- was his only completion that traveled more than 20 yards in the air.
"We just tried to show them different looks, confuse them a little and play tighter coverage," Munnerlyn said. "[Secondary] Coach [Jerry] Gray, and Coach Zim, they've been preaching it all week; 'They don't like guys to get up in their face and knock off their timing,' and that's what we did today. We just got up in their face and challenged them. We know they're great receivers. They've got a great quarterback, but at the same time, we feel like we're a pretty good secondary."
The danger with the Packers, of course, is that Lacy can punish defenses that opt to stay back in coverage, and he did that well enough for Green Bay to win Sunday. But teams that slow Rodgers down typically have done it by making him settle for shorter throws, and if the Vikings can pair their coverage approach with a better run defense and a more consistent pass rush -- they pressured Rodgers just 15.2 percent of the time, despite blitzing on 36.4 percent of his dropbacks -- they could have a solid plan for Zimmer's future duels with the quarterback.
November, 18, 2014
11/18/14
11:00
AM ET
A weekly look at what the
Minnesota Vikings
must fix:
The Vikings have typically been a sound tackling team during their first season in Mike Zimmer's defense, but they had what might have been their worst tackling day of the year in a loss to the Bears on Sunday. Considering the running back the Vikings will have to bring down this week against the
Green Bay Packers
, they'll have to be better to avoid a reprise of some bad memories.
According to Pro Football Focus, the Vikings missed a season-high 13 tackles on Sunday. Rookie linebacker
Anthony Barr
was credited with five in what was one of the toughest days of his rookie season. Running back
Matt Forte
shook off Barr's arm-tackle attempt on a 30-yard screen in the first quarter, and Barr was the first of four Vikings to miss on Forte's 32-yard run at the end of the third quarter.
There's no magic formula for the Vikings to improve their tackling; it's a matter of players being in the right spots, taking good angles and wrapping up ball carriers. Barr appeared to overrun several plays against the Bears and paid for it against the elusive Forte. Sunday, however, brings a date with Packers battering ram
Eddie Lacy
, who is sixth in the league with 2.23 yards after contact per carry, according to ESPN Stats and Information. Lacy rumbled for 105 yards on 13 carries in the Packers' 42-10 win over the Vikings on Oct. 2, and keeping him from gaining extra yards will be an important task for the Vikings.
October, 30, 2014
10/30/14
4:00
PM ET
EDEN PRAIRIE, Minn. -- As much as the
Minnesota Vikings
' defense will have to focus on preparing for
Robert Griffin III
and the wrinkles the
Washington Redskins
can add to their offense if their quarterback is indeed back on the field this week, defensive coordinator George Edwards is staying mindful of another staple of the Redskins' scheme that could give the Vikings problems on Sunday.
Morris
The Redskins' zone-stretch play, a key element of the team's running game since Mike Shanahan was the head coach, will stress the Vikings' defense in much the same manner the
Green Bay Packers
did a month earlier in a 42-10 win.
Eddie Lacy
ran for 105 yards on 13 carries that night, doing plenty of his work off the play, which forces defenses to pursue wide and creates cutback opportunities if the defensive front gets too spread out. The Vikings will see that play plenty on Sunday against
Alfred Morris
and the Redskins, and they will have to be ready.
"It's sort of like what we saw against Green Bay. They are really going to stretch it to the front side, and then if you've got the edge set on the defense there, he'll stick the foot in the ground," Edwards said. "This guy is more of a one-cut guy where he's going to get downhill off the stretch play. It's very similar to teams we've faced, and if you remember when Houston used to run the same type of scheme. We saw it against Green Bay. Certain teams do it a little bit different in how they block the back side, but from that aspect of it that's what we're looking at this week."
The Vikings have spent part of their week looking back at other examples of teams running the play against them, though the Redskins do bring a different challenge with Griffin's bootlegs off play action. When Morris or
Roy Helu
has the ball, the key for the Vikings is for their backside defenders to stay disciplined and alert.
"You can't relax," Edwards said. "And the tough thing with this team, they run so many bootlegs and so many things coming off that action that sometimes you see guys wanting to get up the field. That's what we can't allow to happen. You've got to be able to work and leverage the ball on the back side, just flat down the line, but don't turn your shoulders where you're too flat and can't get back out to play, the boot, and those kinds of things. It'll be some stress on the backside to make sure that we can handle the cutback off of it."
June, 9, 2014
6/09/14
5:05
PM ET
MINNEAPOLIS -- In an ESPN Insider piece published last Thursday,
Pro Football Focus ranked the starting lineups

of all 32 NFL teams, grading the starters on each roster in the same manner that teams use to stack their draft boards (blue players are elite, green ones are good starters, yellow ones are average and red ones are poor).
PFF ranked the
Minnesota Vikings
' roster 29th in the league, largely because of how few elite players it sees in the current lineup. According to PFF's rankings, only
Adrian Peterson
merited a blue rating. But the site
also pointed out something I think is worth examining
a little more thoroughly here: How many good starters are on the Vikings' roster.
According to PFF's rankings, 53.6 percent of the Vikings' starters are either good, high quality or elite players. Only left guard
Charlie Johnson
is rated as below-average on offense, and receiver
Jerome Simpson
is the only other player rated as average. Things are spottier on defense, as should be expected, but even there, only middle linebacker
Jasper Brinkley
, cornerback
Josh Robinson
and outside linebacker
Chad Greenway
are listed as worse than average.
The Vikings believe they can make a quick turnaround after a 5-1o-1 season, and I don't think it's farfetched for them to believe that, especially given how much better they could get through the development of a few players:
Cordarrelle Patterson
,
Matt Kalil
,
Harrison Smith
,
Sharrif Floyd
and
Xavier Rhodes
. All five players were first-round picks in the last two years, and all five have significant room to improve. PFF ranked the
Green Bay Packers
-- who have won the last three NFC North titles -- as having the eighth-best roster in the NFL, with three elite players (quarterback
Aaron Rodgers
, guard
Josh Sitton
and linebacker
Clay Matthews
) as elite, and two more (running back
Eddie Lacy
and wide receiver
Jordy Nelson
) as very good. It's not a stretch at all to think the Vikings could have Patterson, Smith, Rhodes and Kalil in one of the top two classes by the end of the year, to go with Peterson and three offensive linemen (center
John Sullivan
, right guard
Brandon Fusco
and right tackle
Phil Loadholt
).
This year, as much as any in the Vikings' recent history, will hinge on player development, and that's without even discussing rookies like
Anthony Barr
and
Teddy Bridgewater
yet (PFF lists Bridgewater as the starting quarterback, though I'd put
Matt Cassel
in the spot for now). It's probably wise to prepare for a long line of tepid preseason predictions for the Vikings -- there are simply too many questions to think otherwise -- but those don't have any bearing on how good the team can actually be. There are enough pieces on the roster to think the Vikings could be on solid footing in the near future. How quickly they get there will depend on whether their stockpile of recent first-round picks becomes a stable of high-end players.
January, 15, 2014
1/15/14
4:25
PM ET
EDEN PRAIRIE, Minn. -- Before the
Minnesota Vikings
fired Leslie Frazier on Dec. 30, there might not have been any player more outspoken in his desire for Frazier to stay than running back
Adrian Peterson
. The 2012 NFL MVP said after both of the Vikings' last two games that he wanted Frazier back as the coach, adding he planned to talk to ownership about his desire for Frazier to remain in charge.
Peterson got a chance to do that in a brief conversation before Frazier was fired, he told ESPN.com on Wednesday, but he quickly knew his input wasn't going to steer the Vikings' decision-makers in a different direction. Now that Peterson's had a chance to process the Vikings' decision to fire Frazier -- whom he called "a guy I trusted, a guy I believed in," -- the running back said he's moving forward with cautious optimism after the Vikings' decision to hire former
Cincinnati Bengals
defensive coordinator Mike Zimmer.
[+] Enlarge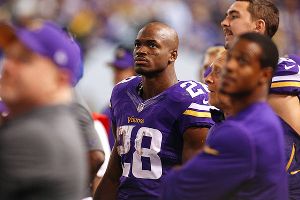 Adam Bettcher/Getty ImagesAdrian Peterson is anxious to see how Mike Zimmer will handle the Vikings offense.
"Trust me, I'm watching. I'm watching to see exactly what we're doing, just to see exactly what direction we're headed in," Peterson said. "I've been keeping my eyes open with the head coach; I knew he was probably the guy they were going to go with. It wasn't too much of a surprise. I've been watching for the coordinators -- are they going to keep Bill Musgrave around or what direction they're going to go with. With a new coach, that's when things start happening, too, that's all part of the process."
The running back hadn't talked to Zimmer as of Wednesday afternoon, but expected he would be in touch with the new coach shortly. He met one-on-one with general manager Rick Spielman after Frazier was fired, as many players did, to give him an idea of what he wanted to see from a new coach. But Peterson -- who'd been stunned the offseason before by the Vikings' decision to trade receiver
Percy Harvin
-- maintained a sober understanding of the business side of things.
"I've seen players come in with the Vikings -- guys I figured I'd probably play with until I finished playing with the Vikings -- and they're gone," Peterson said. "At first, it was, 'How could they let that person go?' It didn't really take me too long to kind of get over it and accept it for what it was. He (Frazier) is out, so we start a new chapter. My personal feelings, I didn't let it get in the way with business."
Now that Zimmer is in place, Peterson said he'll anxiously await news about what the Vikings will do on offense. ESPN NFL Insider Adam Schefter reported the team has received permission to talk with
Cleveland Browns
offensive coordinator Norv Turner, and Zimmer has been linked to offensive coordinator candidates like former
Jacksonville Jaguars
head coach Mike Mularkey, former
Detroit Lions
offensive coordinator Scott Linehan and Bengals quarterbacks coach Ken Zampese.
Whatever the Vikings do, Peterson said, he wants to see a game plan that will keep defenses honest. The Vikings have seen eight men or more in the box on 383 snaps during the last two seasons -- the second-most in the league, according to ESPN Stats and Information -- as teams have lined up to stop Peterson, effectively daring the Vikings' woeful passing game to beat them.
"When I play offense, I want to be able to have you on your toes, where you're not really expecting what's coming," Peterson said. "Being versatile offensively [is the biggest thing I'm looking for]."
Peterson called Musgrave a "good guy, a great mind," but said he hadn't given much thought to whether Zimmer would keep Musgrave on the staff.
The running back, who carried just 18 times in the Vikings' last four games, was replaced on the Pro Bowl roster by
Eddie Lacy
on Wednesday. He made the decision to let his body heal up after spraining his right foot and straining his groin during the 2013 season, but one thing in particular made it hard to skip the Pro Bowl -- the possibility that
Deion Sanders
might play.
"That's the only thing I was going to regret," he said. "Not the cash, not winning the Pro Bowl, not winning MVP. That's the only thing I was going to regret -- not getting the chance to line up against Deion."
January, 3, 2014
1/03/14
1:00
PM ET
MINNEAPOLIS -- Not only is
Cordarrelle Patterson
going to the Pro Bowl as a rookie, he's also a first-team All-Pro.
Patterson
The kick returner claimed the spot on the Associated Press' All-Pro team after posting the second-highest kickoff return average since the NFL-AFL merger and becoming the only return man to run back two kickoffs for touchdowns. He was the only rookie named to the top All-Pro team.
Patterson probably would have gone to the Pro Bowl when rosters were announced if the game hadn't curtailed kickoffs, but he'll play in it anyway as an injury replacement for Steelers punt returner
Antonio Brown
, the Vikings announced Friday morning.
That Patterson is getting so much attention in the early returns of postseason awards might reflect his strong chances to win Offensive Rookie of the Year honors, though the fact that he did his best work on special teams might make it difficult for him to win the award over someone like San Diego's
Keenan Allen
, Green Bay's
Eddie Lacy
or Cincinnati's Gio Bernard. But Patterson's versatility certainly has brought him plenty of recognition.
Running back
Adrian Peterson
was the Vikings' only other All-Pro selection, landing on the second team with Lacy. The Packers and
Detroit Lions
also had two All-Pros apiece, while the
Chicago Bears
had none.
November, 21, 2013
11/21/13
5:15
PM ET
EDEN PRAIRIE, Minn. -- The Vikings have played a Cover-2 defense ever since
Aaron Rodgers
became the
Green Bay Packers
' starting quarterback, directing an offense that's leaned as heavily on the pass as any in the NFL. So it's made sense that the Vikings' only two times stacking the box against the Packers came in Rodgers' first career start -- when Packers coach Mike McCarthy was being more conservative with the offense -- and his most recent matchup against the Vikings in October, when the Packers ran for 182 yards, held the ball for more than 40 minutes and pounded the Vikings with a bruising running game.
In both of those matchups, the Vikings put eight or more defenders in the box 11 times, according to ESPN Stats and Information. In the other nine matchups? They only did it a total of 47 times. In the four times they've beaten Rodgers, the Vikings showed the Packers an eight-man front on six, four, one and one snaps. They've usually opted to sit back in coverage and let their defensive line come after Rodgers.
But the 2011 NFL MVP won't be the quarterback for the Packers on Sunday at Lambeau Field.
Scott Tolzien
will be, and in the three games the Packers have played since Rodgers has been out, they've seen teams defend them in a similar manner to what the Vikings often see with
Adrian Peterson
. The
Philadelphia Eagles
and
New York Giants
put eight or more defenders in the box 48.4 percent of the time,
according to ESPN Stats and Information (via our Rob Demovsky)
. The Packers had seen that defense 25.5 percent of the time against Rodgers.
Sunday could see the Vikings take a similar approach to stop running back
Eddie Lacy
; they've used eight or more defenders in the box on 72 snaps this year, which is the ninth-most in the league, according to ESPN Stats and Information. But defensive coordinator Alan Williams was quick to point out how willing the Packers have still been to throw deep with Tolzien, and with a depleted secondary, the Vikings could decide against loading up on Lacy, too.
"That's what type of team they are," Williams said of the deep shots. "I think every team in the NFL has the next-man-up mentality, and they're no different. He's a NFL quarterback, and he's quite capable of making those plays. If he's making them, I fully expect them to keep doing them. The receivers are making big plays for him."
November, 21, 2013
11/21/13
10:00
AM ET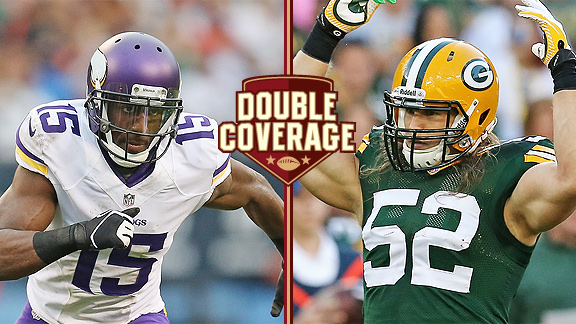 Jonathan Daniel/Getty ImagesIt's been a rough season for Greg Jennings and the Vikings, who hope to split their season series with Clay Matthews' Packers.
A month ago, when the
Green Bay Packers
left Minnesota with a 44-31 victory over the Vikings, all seemed right in their world.
They were 5-2 and in first place in the NFC North.
A week later, their season took an unexpected turn when quarterback
Aaron Rodgers
broke his collarbone. He hasn't played since, and the Packers have lost three in a row.
Meanwhile, the Vikings' slide has continued. They have lost five of their last six and still haven't answered their questions at quarterback.
Packers reporter Rob Demovsky and Vikings reporter Ben Goessling discuss Sunday's rematch at Lambeau Field.
Demovsky:
Ben, when these two teams met last month in Minneapolis, the Vikings had just gone back to quarterback
Christian Ponder
after
Josh Freeman
's disastrous start against the
New York Giants
. Has their quarterback situation -- both short term and long term -- cleared up at all since then? From here, it sure doesn't seem like it has.
Goessling:
It looked like it might have, until last week. Ponder had started every game since then and was having one of his best games of the season Nov. 7 against the
Washington Redskins
when he left with a dislocated shoulder. We've got to grade that one on a curve because of the Redskins' porous defense, but Ponder looked more decisive, a little less skittish in the pocket and more confident while throwing on the run. That lasted through the first half Sunday in Seattle, but the two interceptions Ponder threw in the second half were unconscionable and the Vikings might make another switch at quarterback this week. If I'm them, I would take a look at Freeman and see if he's improved at all with a month to study the offense. The Vikings know what Ponder is at this point, and he's not going to be a franchise-level quarterback. The Vikings continue to say they don't need Freeman to play to evaluate him, but with so little on the line, why not put that $2 million to good use, see if he can give the team a spark and roll the dice on something different?
Speaking of quarterbacks, it seems like
Scott Tolzien
has played well for the most part, but he's been unable to avoid the turnovers that Rodgers simply doesn't commit. Can the Vikings -- a team that has been terrible at generating takeaways -- count on a couple this weekend, or do you see Tolzien excelling against a weak defense?
Demovsky:
After throwing five interceptions the past two weeks, including three Sunday against the Giants, Tolzien knows he absolutely must take care of the ball. The strange thing is, he's been fantastic throwing the deep ball. Some backups get into trouble with interceptions when they're trying to force the ball down the field. That wasn't the case with Tolzien last week. All three interceptions were on short or underneath throws, including the one
Jason Pierre-Paul
returned for a touchdown. Assuming Tolzien does a better job taking care of the ball this week, where he really needs to improve is in the red zone. The Packers have scored just two touchdowns on their past nine trips inside the 20, so along with taking care of the ball, that's where I expect a lot of Tolzien's focus to be this week.
I know I asked you this about
Greg Jennings
before the first meeting, but given the somewhat strange circumstances surrounding him being inactive last week, how do the Vikings feel now about the investment they made in the former Packers receiver this offseason?
Goessling:
You know, when Leslie Frazier talked about Jennings on Monday and said how he couldn't predict for sure whether Jennings would be back against the Packers, it was the first time I wondered about that. It seemed to me Frazier was miffed about the whole situation, whether Jennings decided he couldn't play or whether a valid injury cropped up at the last moment and kept him out of the game. Durability was absolutely a concern with Jennings before the Vikings signed him, and it was a day they were counting on him, with
Jerome Simpson
probably due to sit because of his drunken driving arrest. Whatever caused it, there's no question the Vikings were hoping Jennings could lend some stability to their passing game and help their quarterback, be that Ponder, Freeman,
Matt Cassel
or whomever. They're paying him enough that they have to count on him to make that contract worthwhile.
We've talked before about Jennings' digs at the Packers. What kind of a reception do you expect he'll get on Sunday, and could he be in for a better game with injuries surfacing again for the Packers in the secondary?
Demovsky:
I can't imagine the reception for Jennings will be friendly at Lambeau Field. People here don't take too kindly to those who bash their team or their quarterback. Jennings said some pretty hurtful things this offseason, and regardless of whether he was "just messing around," those words have not been forgotten. I would be willing to bet that every time Jennings touches the ball -- which lately hasn't been much -- he'll get booed. Regarding the Packers' secondary, the fact that it's still having communication breakdowns this late in the season isn't a good sign.
Jennings didn't do much of anything in the first meeting against the Packers, and neither did
Adrian Peterson
. I'm not sure which one was more surprising. But since Peterson carried only 13 times (for 60 yards) against the Packers, he has gotten 25, 20 and 21 carries in the past three games. Is he the Vikings' only hope for success on offense?
Goessling:
Depends on what the Vikings get at quarterback -- which is pretty hard to predict these days. They had planned this year to have more balance on offense, and without it, they've suffered from Peterson having merely a good, not historic, season. He said after Sunday's game that his groin injury was bothering him a lot, and it's the first time in the past two years I've heard Peterson admit an injury was affecting him like that. There were certainly runs where it looked like he just didn't have that top gear like he normally does, and it kept him from breaking a couple. I'm not so sure the best thing wouldn't be to sit him down for a game or two and let him get healthy, rather than having him try to play when he's clearly not 100 percent. The fact the Vikings could be missing center
John Sullivan
because of a concussion doesn't help either. Their best chance to get going on offense would be to feed Peterson, get a lead and try to pressure Tolzien. If Peterson is not at his best, it might not be feasible to lean on him so much.
What about the Packers' running game? It was striking to see
Eddie Lacy
& Co. pound the ball at will against the Vikings in October. Was that legit, or are teams taking that away now because Rodgers is gone?
Demovsky:
That was legit. He leads the NFL in rushing over the past seven games. Less than three weeks ago, the Packers ran for a season-high 199 yards against the Bears. The past two weeks, however, both the Eagles and the Giants have loaded the box to stop the run, and it has worked. There weren't many yards for Lacy to get last week against the Giants, and he averaged only 1.9 yards per carry on 14 attempts. It's like defenses have completely changed the way they're playing the Packers. With Rodgers, they used to dare the Packers to run the ball. Now, they're daring them to throw it by bringing extra defenders up to the line of scrimmage.
October, 25, 2013
10/25/13
12:00
PM ET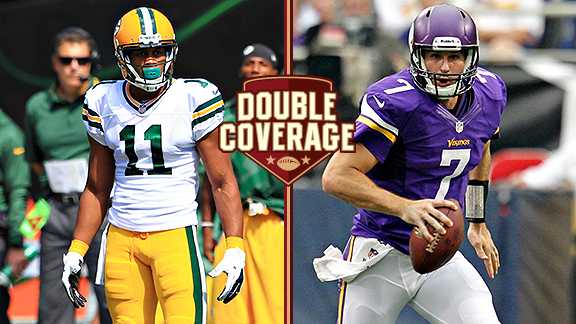 USA TODAY SportsPackers WR Jarrett Boykin came up big as an injury fill-in last Sunday; can Vikings QB Christian Ponder do the same against the Packers?
.
The
Minnesota Vikings
and
Green Bay Packers
will meet for the fourth time in 11 months on Sunday night at Mall of America Field, but things have changed quite a bit for both teams since they faced off in the wild-card round of the NFC playoffs last January.
Christian Ponder
will likely start at quarterback for the Vikings, but it might be a one-week engagement with
Josh Freeman
out because of a concussion.
Greg Jennings
became the latest Packer to switch sides in the rivalry. And
Aaron Rodgers
is relying as much on a nasty offensive line and a productive running game as he is on a receiving corps that's been hit hard by injuries.
As the Packers try to extend their lead in the NFC North and the Vikings try to get their season headed in the right direction following a 1-5 start, ESPN Vikings reporter Ben Goessling and ESPN Packers reporter Rob Demovsky got together to break down the matchup.
Ben Goessling:
Rob, one of these teams has the sixth-ranked rushing game and the third-ranked run defense in the league. And it's not Minnesota. Those two things have been fixtures for the Vikings for years, but they're struggling to open holes for
Adrian Peterson
, who has looked too anxious at times to turn everything into a big gain, and on a few occasions they've been whipped up front by opposing offensive lines. How strange has it been to watch the Packers play so physically, and what kind of an advantage will that create for them on Sunday?
Rob Demovsky:
It's like the Bizarro World around here. The Packers haven't run the ball this well in a decade, not since the days of Ahman Green. And they haven't had this kind of run defense since 2009, when they led the NFL in the category. But it's probably the way they have to win now, considering all the skill-position guys –
Randall Cobb
,
James Jones
,
Jermichael Finley
– they're missing on offense and all the pass-rushers –
Clay Matthews
,
Nick Perry
-- they're missing on defense.
I'm used to seeing the Vikings run the ball like crazy. Are the problems at quarterback the major reason the running game hasn't taken off, or are there other issues at work?
Goessling:
Ah, yes, the old U-71 package with Kevin Barry. And then they got gun-shy in the famous fourth-and-26 game against the Eagles. Sorry, I'm probably hitting some nerves for the Packers fans out there. Moving on …
It's hard to put a finger on exactly what hasn't worked for the Vikings this season, but I'd start with two guys they paid handsomely over the winter -- right tackle
Phil Loadholt
and fullback
Jerome Felton
. Peterson has done his best work running behind those two guys, but Loadholt hasn't been anywhere near the road grader he was last season, and Felton has had trouble as a lead blocker since returning from his three-game suspension at the beginning of the season. It also seems like Pro Bowl left tackle
Matt Kalil
and center
John Sullivan
(who was a Pro Bowl alternate) aren't playing at the same level they were last season. But yes, if the Vikings could throw the ball and make teams pay for putting nine men in the box, they'd have a little more margin for error. That's got to be on the quarterback situation; the Vikings spent plenty of money trying to upgrade their offense over the winter, but without a guy who can make it all go, it's not going to work.
Speaking of the guy who makes it all go for the Packers, am I right in assuming Rodgers is going to be hanging on tightly this week to what Greg Jennings said about him over the summer? Those two can play nice all they want with their comments, but Jennings' earlier remarks would seem like the type that would activate the famous chip on Rodgers' shoulder.
Demovsky:
It was funny, Rodgers talked at length this week about being focused on this game, this team -- and not about what anyone outside the organization (hint: Jennings) had to say. But when someone asked him how he could forget about that, he came back with a classic response. He said that he didn't say anything about forgetting, just focusing. Now, does this rival the intensity behind the 2009 games against the Brett Favre-led Vikings? Not even close. But knowing Rodgers, he'll have a little something extra for this one.
What's the feeling about Jennings' contributions so far? Do the Vikings feel like they're getting their $45 million worth?
Goessling:
Yikes. That does sound like a classic Rodgers response. And with the shape this Vikings secondary is in -- especially without safety
Harrison Smith
-- that might be bad news for defensive coordinator Alan Williams.
Coach Leslie Frazier has raved about what Jennings has meant to their receiving corps, the work he's done to mentor young receivers such as
Cordarrelle Patterson
and the time he's spent with Ponder. He's had moments, such as the short pass he turned into a 70-yard touchdown against the Steelers, when he's looked like the player he was in Green Bay. But it's hard to gauge exactly what he's done, because there's been so much uncertainty at quarterback. He's played with three starters in six games; he had the same number in seven seasons with the Packers. He's also so technical as a route-runner -- and so good in small spaces – that I think he's really at his best when he has a quarterback who understands the details in his game and can use those to exploit a defense.
Maybe Ponder can get closer to that on Sunday. He played one of his best games last December when the Vikings needed to beat the Packers for a playoff berth. Can he recreate that against what looks like a tougher defense, or will he struggle, especially now that it looks like
Casey Hayward
might be back?
Demovsky:
This is a much different defense than Ponder saw last season, even if Hayward doesn't return. The Packers are so much deeper in the secondary now with the emergence of
Davon House
, who had his first career interception Sunday against the Browns, and rookie
Micah Hyde
.
Sam Shields
has become their new shutdown corner, but that's not to say
Tramon Williams
still isn't a factor. He's actually playing some in the slot now, so it's a new role for him. As good as Hayward was last season, I'm not sure he's essential to their pass defense right now. The Packers have only three interceptions on the season, but I wouldn't be surprised if the floodgates open fairly soon.
One of the matchups I'm most interested in is
Jared Allen
against the Packers' new left tackle,
David Bakhtiari
. Bakhtiari has played well, especially for a rookie, but he hasn't yet had to pass-protect with the noise inside of a dome. And you know Allen will have some tricks for the rookie. How much do you think the Vikings will try to key on that matchup?
Goessling:
I'm sure they're hopeful it's a productive one for them. Allen hasn't looked like the same guy this season -- although he still is on pace for double-digit sacks -- and the Vikings have had enough trouble getting to the quarterback that they've had to blitz a little more, which typically isn't a smart strategy against Rodgers. But Allen always seems to do his best work against the Packers, particularly in the Metrodome, and if the Packers leave Bakhtiari alone against Allen, he could have his hands full.
See you on Sunday night, Rob. Soak up those Metrodome memories. With these two teams in this building, something interesting usually happens.
.