Minnesota Vikings:

Eli Manning
January, 29, 2014
1/29/14
10:00
AM ET
As he did in many NFL locker rooms,
New England Patriots
quarterback
Tom Brady
won the vote in the
Minnesota Vikings
' locker room for which quarterback players would want running their team with two minutes left in the Super Bowl. Brady led last-minute drives to set up game-winning field goals in his first two Super Bowls, and had
Randy Moss
been able to haul in a 65-yard pass from Brady in the final minute of Super Bowl XLII, the Patriots quarterback might have three last-minute comebacks and four titles.
Brady got six of the 10 votes in the Vikings' locker room, ahead of three for
Green Bay Packers
quarterback
Aaron Rodgers
and one for
New York Giants
QB
Eli Manning
(who's beaten Brady twice with clutch late-game throws in Super Bowls). Overall, Brady won the survey with 128 votes, ahead of
Peyton Manning
(86) and Rodgers (32).
As the Vikings continue to address their quarterback question going forward, they'll hope to find someone with the same cool under pressure that Brady has. They could've had
Seattle Seahawks
quarterback
Russell Wilson
, who will play in his first Super Bowl on Sunday, in the 2012 draft. But the Vikings had drafted
Christian Ponder
the year before, and even though their coaching staff was impressed with Wilson the year before, they passed on Wilson (and
Philadelphia Eagles
quarterback
Nick Foles
) to take cornerback
Josh Robinson
in the third round of the draft. This season, Wilson led the NFL with five game-winning drives.
November, 26, 2013
11/26/13
5:30
PM ET
MINNEAPOLIS -- On Sunday, the
Minnesota Vikings
played to a tie with a
Green Bay Packers
team that didn't look much different than theirs. The Packers were missing several key starters on defense, had a group of talented receivers who weren't able to do much without a quarterback to get them the ball, and relied primarily on a bruising running game that gained 196 yards despite running 19 times into a box that contained seven or more defenders.
It was just the second time in their previous nine trips to Lambeau Field that the Vikings had done anything other than lose to the Packers. The only other time was in 2009 -- not coincidentally, the only other time when the Vikings could make a convincing argument they entered the game with a quarterback playing as well as or better than his Green Bay counterpart. But Sunday's advantage was caused mostly by
Aaron Rodgers
' absence, which is a temporary problem for the Packers. And the stark difference in their rivals -- NFC North standard-bearer with Rodgers, middling team without him -- should crystallize why the Vikings will likely continue searching for a quarterback this offseason.
[+] Enlarge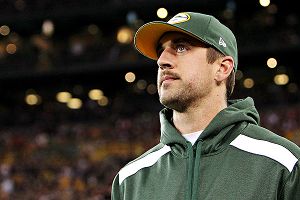 Mike McGinnis/Getty ImagesWhat the Green Bay Packers are with -- and without -- Aaron Rodgers should make it clear why the Vikings need to upgrade at quarterback.
I've heard from a number of readers throughout the season who've pointed out that quarterback is far from the Vikings' biggest problem. And for the record, I agree with you. They've been done in more by declining or inexperienced players on defense than they have by anything else this season. But that argument doesn't really explain why the Vikings need to go hard after an elite quarterback. More than anything else, it's about how quickly that kind of a playe
r can cover up the rest of their problems.
Look at the Packers. With Rodgers, they were 5-2, despite missing receiver
Randall Cobb
, linebacker
Clay Matthews
, tight end
Jermichael Finley
, running back
Eddie Lacy
, cornerback
Sam Shields
, cornerback
Casey Hayward
and safety
Morgan Burnett
for parts of the season. Without him, the Packers are 0-3-1, having lost to a team that started 0-6 (the Giants) and tied the team they'd dominated at home (the Vikings). They went 26-6 in the previous two regular seasons despite having a pass defense ranked 32nd and 22nd in yards allowed, and they won a Super Bowl with him despite putting 15 players on injured reserve and barely running for an average of 100 yards a game in 2010.
And it's not just the Packers who have used great quarterbacks to cover up flaws. The 2011
New England Patriots
rebuilt their group of skill position players around
Tom Brady
, allowed the second-most yards in the league and still went to the Super Bowl. The team they lost to, the
New York Giants
, had the league's worst rushing offense, its eighth-worst scoring defense and
Eli Manning
. His older brother Peyton is currently quarterbacking a 9-2
Denver Broncos
team that has allowed the seventh-most points and yards in the league, and made his two Super Bowl appearances in Indianapolis with teams that finished 18th and 31st in the league in rushing offense. His loss in the 2010 Super Bowl came to a
New Orleans Saints
team that had the league's seventh-worst rushing attack, its 13th-worst defense and rode
Drew Brees
past
Brett Favre
and Manning to a championship.
So while we can talk about incremental improvements from
Christian Ponder
and discuss the Vikings' myriad defensive problems -- both of which we've done here -- the scale of quarterbacking championship teams need is drastically different from what the Vikings have. Unless Ponder or
Josh Freeman
somehow turns into that kind of quarterback, the Vikings in all likelihood will head out on another search for one. I'm convinced their decision-makers know the hunt for a quarterback isn't over until they've unearthed one who can be elite.
The power of that kind of a player should have been obvious in all the years Vikings fans have watched Rodgers and Favre burn them in Green Bay. And it should have been even more clear by the absence of a great quarterback on Sunday.
October, 21, 2013
10/21/13
2:45
PM ET
NEW YORK -- We're about six hours away from kickoff between the
Minnesota Vikings
and
New York Giants
at MetLife Stadium tonight, as both teams try to begin the process of turning around seasons that have gone well off-course. I'll be heading to the Meadowlands in a couple hours to write about this one, as will ESPN New York's Dan Graziano, but in the meantime, here are a few things to keep in mind from the Vikings' perspective:
Hillis
Reprieve for run defense?
The Vikings have been uncharacteristically bad against the run this season, ranking 20th in the league in yards allowed and 29th in touchdowns after years of being in the top 10. Minnesota will be without safety
Harrison Smith
-- one of the team's top run defenders -- but could catch a break with the absence of bruising Giants running back
Brandon Jacobs
, who will likely miss the game with a hamstring injury. That means
Peyton Hillis
gets the start for the Giants, and while Hillis can be a sledgehammer between the tackles, it's tough to say how he'll fit with the Giants' offense and what he'll bring to the team after signing with them five days ago. If the Vikings can stop the run, they might have more luck making the Giants one-dimensional and capitalizing on
Eli Manning
's penchant for turnovers. Speaking of that ...
Manning
Picking off Eli:
The Vikings have said all week that Manning looks like the same quarterback who has won two Super Bowls, but even that quarterback was prone to interceptions at times. And behind a shaky offensive line, Manning has thrown a league-worst 15 interceptions, becoming the first quarterback to hit that total in six games since Dan Fouts in 1986, according to ESPN Stats and Information. Smith is the only Vikings defensive back with an interception this season, and Minnesota's depleted secondary could have its hands full with
Victor Cruz
,
Hakeem Nicks
,
Rueben Randle
and others, but the Vikings haven't won a game where they lost the turnover battle since 2010, and that required Brett Favre to throw for a career-high 446 yards. For the Vikings, winning the turnover battle has been the most direct route to success in the past few years, as it is for many teams. They need to take advantage of the opportunities Manning gives them tonight.
Freeman
Freeman's debut:
With quarterback
Josh Freeman
making his first start, the Vikings will likely run with a slightly leaner game plan than usual, though Freeman and coach Leslie Frazier both downplayed how much the team will have to change things to get Freeman up to speed. The biggest challenge for the 25-year-old quarterback, who signed with Minnesota on Oct. 7, will be verbalizing changes to plays and protection schemes, especially if the Vikings end up in a two-minute offense. "Some of these plays get somewhat lengthy, and there's stuff within the play," Freeman said. "You understand exactly where everyone is going whether it's a motion, whether it's a route tagged in there, whether it's a concept, you understand what everybody is doing, but being able to spit that out when you're on the clock, when it's loud, when stuff is going on, when you're out of breath, whatever is going on, being able to spit that out and knowing exactly what you're saying." Freeman has emphasized this week how he's got some familiarity with the Vikings' scheme after working with Ron Prince -- who previously coached with Vikings offensive coordinator Bill Musgrave -- at Kansas State. His ability to recall it on the fly could be a key for the Vikings tonight.
Improvement on third downs:
Both the Vikings and Giants have had atrocious third-down defense this season -- they have the two worst opponents' conversion rates in the league -- and whichever team can break that trend might have a chance to turn the game tonight. Third downs could be especially important on offense for the Vikings, who are at their best when they can get a lead, extend drives and run
Adrian Peterson
. Considering how thin the Vikings are defensively, and how much they've struggled with time of possession this season, they'll need to give their defense a break by draining the clock on offense.
October, 18, 2013
10/18/13
12:00
PM ET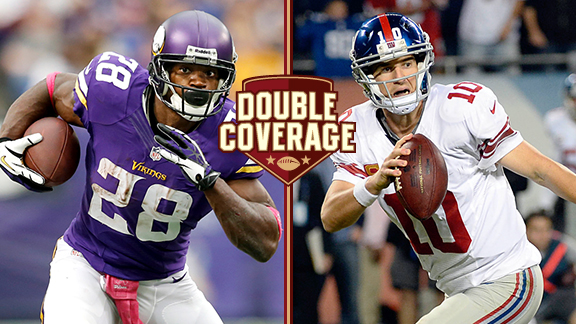 USA TODAY SportsAdrian Peterson and Eli Manning will likely have to carry the offenses on Monday night.
This time last year, the
New York Giants
and the
Minnesota Vikings
were both 4-2 and headed for winning seasons. But as they get set to square off on "Monday Night Football" at MetLife Stadium, the Vikings are 1-4 and the Giants an even more miserable 0-6.
ESPN.com Giants reporter Dan Graziano and ESPN.com Vikings reporter Ben Goessling break down the matchup of NFC disappointments.
Dan Graziano
: Ben, the Giants only have four interceptions and five sacks, so I imagine there were a lot of people in the Vikings locker room interested in playing quarterback in this game. Why did the Vikings pick newcomer
Josh Freeman
, and what do you expect their offense to look like with him running it for the first time?
Ben Goessling:
A lot of this, I think, is an attempt to make a quick-course correction after things with
Christian Ponder
didn't pan out. If it works, GM Rick Spielman can make people forget about the Ponder pick, the Vikings might win a few games to keep coach Leslie Frazier's job and they could have a solution to their quarterback problem for next season. If it doesn't work? They're only out $3 million.
As for Monday night, I'd expect the Vikings to try to limit how much they put on Freeman, so I expect we'll see plenty of
Adrian Peterson
(not that we wouldn't anyway). Considering how bad the Giants have been at stopping the run, that could be a good approach for the Vikings. They're always better when they can get a lead and let Peterson go to work, and they haven't done a good job of controlling the clock so far this season. This matchup might give them a shot to do that.
Now back to the quarterbacks: We know
Eli Manning
has a tendency to turn the ball over, but this has been strange even by his standards. What has been his biggest problem?
Graziano
: Yeah, 15 interceptions in six games is stone-cold ridiculous, and I think it speaks to a general lack of comfort for Manning, who for years has thrived on comfort and routine and familiarity. The Giants started the season with major problems on the offensive line, and they have continued (and in some cases worsened) as the year has gone along.
The inability to establish any kind of run game, combined with the early-season failures in pass protection, rattled Manning, and even though the protection has improved overall and
Brandon Jacobs
managed to rush for 106 yards against Chicago, Manning still just doesn't seem right. He's not making those great, deep sideline throws he used to make, he's missing too many easy throws, and even when he's throwing well, he's staring down receivers and isn't setting his feet. He's just been erratic, and the result the past couple of weeks has been interceptions in the worst possible spots. The Bears didn't really pressure him that much, but he coughed it up anyway in the clutch. Just not himself.
Will he have a chance to get comfortable at all Monday night? How's that Minnesota pass rush these days?
Goessling
: It hasn't been up to the Vikings' normal standards, which has been one of their biggest issues on defense. In the past, the Vikings have been able to survive because their pass rush generated enough pressure to mask issues in the linebacking group and the secondary. But the Vikings have just 10 sacks this season, and what's worse, they've had to bring pressure to get some of them -- three of the 10 are from linebackers
Chad Greenway
and
Erin Henderson
. They shouldn't have to bring extra pressure with
Jared Allen
,
Brian Robison
,
Everson Griffen
& Co. on the defensive line, and having to do so exposes a porous secondary, which might be even worse this week with
Harrison Smith
battling turf toe. So, yeah, I think this might be a good week for Manning to get on track.
The Vikings also haven't been as good as they're accustomed to being against the run. Is Jacobs in line to hurt them, or do you see his game against the Bears being a fluke?
Graziano
: Got to be a fluke, Ben. The Bears are down to third-stringers in the middle of that defensive line, and the Giants' game plan wisely took advantage of it for Jacobs' throwback-to-2008 game. His 106 rushing yards against Chicago represent 26 percent of the Giants' team total for the season. And, perhaps, most importantly, both he and
Da'Rel Scott
injured their hamstrings in that game. Scott has been released, and Jacobs didn't practice Monday. Even if he does play, they may not want to work him as hard as they did in Chicago.
The backups are rookie
Michael Cox
, who doesn't have an NFL carry yet, and
Peyton Hillis
(yeah, same guy), who signed Wednesday and is no sure thing to even get a uniform for this game. New fullback
John Conner
looked to be an asset as Jacobs' lead blocker in Chicago, so it's possible things are getting better for the Giants in the run game. But based on their options for carries, this has to come down to Manning and the passing game getting on track.
But I'd like to get back to something you said in your last answer. Ten sacks! That's twice as many as the Giants have. Oddly, in spite of the overall yardage totals, one thing they have done well on defense is stop the run up the middle. They're allowing just 3.9 yards per carry and have held
Matt Forte
,
LeSean McCoy
and
Jamaal Charles
to 67, 46, 65 yards, respectively, in the past three weeks. Peterson is obviously his own special case, but he didn't have a big game Sunday. Do you think the off-field tragedy was or could be a factor in his performance?
Goessling
: I didn't see that as a huge issue on Sunday, though I'm sure it was on his mind. It had more to do with the Panthers' stout run defense and the inability of an offensive line that was pretty good last season to open holes for Peterson. As a result of that, he has gotten anxious at times, trying to turn every run into a big play, and he just hasn't looked as fluid this year as he did last season. Missing
Jerome Felton
, his Pro Bowl fullback, for the first three games didn't help, but now that Felton is back, Peterson has everything he had last year.
If the Giants have been able to hold the point of attack up the middle, Peterson might not have as much success as I would have initially thought. He's obviously capable of breaking a big run at any time (he has touchdown runs of 78 and 60 yards this season), but we're still waiting for him to control a game like he did so often last season.
To wrap this up, complete this sentence for me: The Giants will win on Monday if they ...
Graziano
: Get some pressure on Freeman and don't turn the ball over more than once. I'm not holding my breath. Thanks, Ben. This has been fun. See you Monday night.
.