Minnesota Vikings:

Jacoby Jones
September, 4, 2014
Sep 4
3:45
PM ET
EDEN PRAIRIE, Minn. --
Minnesota Vikings
wide receiver
Cordarrelle Patterson
was at the ESPY Awards in June when he bumped into
St. Louis Rams
coach Jeff Fisher for the first time. Shortly after meeting the coach whose team he would face in Week 1 of the 2014 season, Patterson presented a request to Fisher.
Patterson
"I told him, 'Just make sure you kick me the ball,'" Patterson said on Thursday. "He told me, 'Just be ready.' The kicker (
Greg Zuerlein
), he's got a big leg, so I feel like he's going to try to kick it out of the end zone. If he doesn't, I'm going to bring it out."
Few return men in the league were more aggressive about bringing kicks out of the end zone than Patterson last season. Among the 23 returners who brought back at least 20 kicks last season, only five had a higher average distance from the goal line than Patterson, who started an average of 102.2 yards from the end zone, according to ESPN Stats and Information.
The Vikings have given Patterson a green light to return kicks deep in the end zone, believing he will reward them more often than not, and that gamble paid off last season; Patterson brought 79.1 percent of his returns past the 20-yard line, according to ESPN Stats and Information. Only the Ravens'
Jacoby Jones
and the Jaguars'
Jordan Todman
were better at delivering a better starting field position than a touchback would provide, and Patterson's big returns provided extra value, too. On average, the Vikings started 69.8 yards from the goal line after a Patterson return, which was the best mark in the NFL.
Patterson will take on a bigger role in the Vikings' offense this season, and the Vikings have tried out a number of different return men in the event they need to reduce the second-year receiver's workload on kickoffs. But after making the Pro Bowl as a kick returner last season, Patterson sounded as eager as ever to keep his special teams role.
"That's my job, man," Patterson said. "I don't feel like I need to get off (kick returns) unless Coach tells me to."
December, 12, 2013
12/12/13
3:35
PM ET
EDEN PRAIRIE, Minn. -- Since Sunday's 29-26 loss to the
Baltimore Ravens
,
Minnesota Vikings
special-teams coordinator Mike Priefer has thought about
Jacoby Jones
' 77-yard fourth-quarter kick return touchdown "a thousand times."
What he's come to, he said Thursday, is that the Vikings won't use their coverage scheme from the "mortar kick" to Jones again.
[+] Enlarge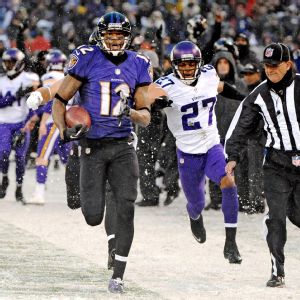 Kenneth K. Lam/Baltimore Sun/MCT via Getty ImagesThe Ravens' Jacoby Jones burned the Vikings with a 77-yard kickoff return for a TD late in the fourth quarter last Sunday.
The Vikings had contained Jones all day when
Blair Walsh
lined up to kick off after
Toby Gerhart
's touchdown run with 1:27 left. But they had done the same thing with
Devin Hester
the week before, and Hester returned a kickoff 57 yards in the fourth quarter, setting up the
Chicago Bears
' 66-yard field goal try as time expired in regulation. The kick missed, and Priefer ordered a mortar kick in overtime, which
Michael Ford
-- not Hester -- fielded at the Bears 22.
"The one thing I was concerned about is that we had kicked one out of bounds the play before, the kickoff before," Priefer said. "We could've put it on the ground again, but I wasn't sure. I got a little nervous. I didn't want to give them the ball at the 40-yard line. So that was going through my head, and I figured that we had been covering them well, but I flashed back to the week before -- we had covered Hester well the entire game until the one kick. I thought the best course of action would be to kick the mortar kick. That's what I recommended to our head coach, and that's what he went with. Obviously, it didn't work out for us."
The problem, Priefer said, was that the Ravens diagnosed the mortar kick when they saw Walsh's short approach, and told Jones to start inching up to field a short kickoff. Walsh needed to see that and go to a different plan, Priefer said, and on the return, the Ravens sealed off an alley for Jones to race down the left sideline.
"They read it perfectly. They did a good job. I got outcoached on that play, unfortunately," Priefer said. "We didn't execute it well enough. We had guys over there. We had, I think, two of them got pinned inside. He hit that seam full-speed. It was not a very good call on my part, and it was not schemed up well on my part. I've got to give credit to them. They did a nice job, and got the ball in their best playmaker's hands."
If there was an encouraging development on Sunday for Priefer, it was how well Walsh and punter
Jeff Locke
performed in the snowy weather. Walsh hit two field goals, and Locke averaged 44.1 yards on nine punts. That kind of a performance could come in handy with the Vikings moving outdoors to the University of Minnesota's TCF Bank Stadium the next two seasons.
"I knew pregame we had a chance to be real successful on punts and kickoffs because the way our young guys, those two young kids, approached the game," Priefer said. "They were, like, 'This is going to be fun.' I mean, I have a kid from Arizona that went to UCLA and a kid from Florida that went to Georgia. They went out there and did a fantastic job for us, and I was real proud of them. There were a lot of positives for us in that game, but it came down to one play. Again, that's the one that hurt us."
December, 8, 2013
12/08/13
7:00
PM ET
BALTIMORE -- As the
Minnesota Vikings
stewed over their
29-26 loss
to the
Baltimore Ravens
on Sunday afternoon, with nowhere to go after a catering truck hit the plane that was scheduled to take them back to the Twin Cities, many players struggled to find the right emotions for the most dramatic loss in a season that's been full of eventful endings.
[+] Enlarge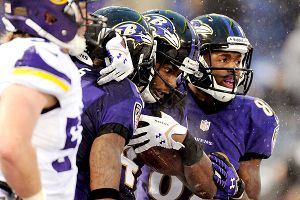 Evan Habeeb/USA TODAY SportsMarlon Brown's late touchdown won the game for the Ravens.
Were they to be upset with themselves about allowing a last-minute touchdown for the fourth time this year, or angry with officials for what they felt like were a series of short-sighted calls? Were they supposed to be grateful for the chance to participate in one of the wildest finishes in NFL history, or bitter that they had come out on the losing end of it?
The overriding emotion, after a game that featured a NFL-record six lead changes in the fourth quarter, seemed to be numbness.
"That was the first time I had ever been part of something like that," said wide receiver
Cordarrelle Patterson
, whose 79-yard touchdown in the final minute put the Vikings ahead by four. "I had always wanted to play in the snow, and I got my opportunity today. It was a tough game. The way we fought on offense, defense and special teams, the way we stepped up in this game, we expected to win. And, at the end, it wasn't what we expected it to be."
So many things happened on a snowy Sunday at M&T Bank Stadium that it was hard for the Vikings to process all of it. They had reason to be encouraged by how their offense responded after losing running back
Adrian Peterson
to a sprained foot, by Patterson's continued emergence as a game-breaking receiver and by their secondary's resoluteness through most of the second half. But for the seventh time this year, their fate hung in their inability to stop a team in the last minute. They are now 2-4-1 in those games, and on Sunday, they allowed not one, but two Ravens touchdown drives at the end of the game, with a
Jacoby Jones
kickoff return sandwiched between them.
Several players -- Peterson and fullback
Jerome Felton
among them -- aired their displeasure with referee Pete Morelli's officiating crew, while others bit their tongues. "I'm not going to say anything to get on Roger Goodell's list," defensive end
Brian Robison
said. Coach Leslie Frazier said he was "bewildered," in particular, by two late pass interference calls -- one on safety
Robert Blanton
, the other on linebacker
Chad Greenway
-- that gave the Ravens 55 yards on their final two offensive series and wiped out an
Andrew Sendejo
interception that would have ended the game.
But in the end, all the Vikings' two quick-strike touchdowns served to do was set up their defense for another collapse.
"It was really emotional," defensive end
Jared Allen
said. "You try not to get too high or too low. We thought the game was over four times. But, we have to play all four quarters. Three times in the last two minutes, we had to stop them, and we didn't."
December, 6, 2013
12/06/13
4:17
PM ET
EDEN PRAIRIE, Minn. -- As we close out the week and get you ready for the
Minnesota Vikings
-
Baltimore Ravens
game on Sunday, I've got a few items left in the notebook to pass along. This post will serve as a place to discuss a handful of odds and ends. Here we go:


Cole looking set at MLB:
If the fact the Vikings moved
Erin Henderson
back to weak-side linebacker didn't clear it up, the fact the Vikings plan to make
Audie Cole
, and not Henderson, their middle linebacker in the nickel package should suggest the plan to make Cole the middle linebacker isn't a passing fancy. Coach Leslie Frazier said Henderson took to his old outside linebacker spot "like riding a bike," and as well as Cole has played in pass coverage the past two weeks, there's probably no reason to switch anything up there. Henderson admitted the move hurt his pride, but he seems to be accepting it for now. Given what Frazier said this week about Henderson not being the Vikings' preferred plan at middle linebacker, it's safe to assume he could stay outside if Cole keeps showing he can handle the middle.
Special teams could be pivotal:
The Ravens and Vikings both have dynamic return men who could affect Sunday's game; Baltimore kick returner
Jacoby Jones
has a 26.5-yard return average this season, and punt returner
Tandon Doss
is averaging 15.6 yards per return, with an 82-yard touchdown to his credit. The Vikings, of course, have three TDs between kick returner
Cordarrelle Patterson
(two) and punt returner
Marcus Sherels
(one). "Their kickoff return guy, Jones, he's impressive," Frazier said. "Of course, our guy is special as well. Whether it be a turnover or kick return or punt return, it could turn this game for sure."
Preparing for Pitta:
Ravens tight end
Dennis Pitta
is hopeful he'll make his season debut on Sunday after dislocating his hip in July, and if he does, the Vikings will have another element of the Ravens' offense to think about. They've been burned by several tight ends this year, giving up at least 60 yards to an opposing tight end in six games, but Cole's presence could help there. If Pitta plays -- which coach John Harbaugh wouldn't divulge on Friday -- the Vikings will be in for a test. "He's a pretty tough matchup for linebackers and sometimes even safeties," Frazier said. "He's almost a wide receiver in a lot of ways and it seems like he's one of those guys that their quarterback looks for often. So he presents some challenges for your defense for sure."
Wet weather possible:
Aside from rain in Week 2 in Chicago, the Vikings haven't had to deal with much inclement weather the past few seasons. That could change on Sunday, with the game-time forecast calling for a mix of rain and snow. And as we mentioned earlier this week, the Vikings are just 1-6-1 since 2006 when game-time temperatures are 40 or below, according to ESPN Stats & Information. "The guys will figure it out. We'll go play, regardless of the elements," Frazier said. "Depending on how bad the conditions are, it'll determine how much you're throwing the ball and how much you're running the ball. We'll see when we get out there in pregame."
Cassel vs. Ravens:
Even though he'd spent his entire career in the AFC before this season,
Matt Cassel
had only started one game against the Ravens -- and he probably doesn't have many good memories about it. He completed nine of his 15 passes for 92 yards and two interceptions last year, being knocked out with a head injury and missing the
Kansas City Chiefs
' next game after they lost 9-6 to the Ravens at Arrowhead Stadium. The Ravens' defense looks quite a bit different than the one Cassel faced last year, but he'll look to solve Baltimore's scheme on Sunday.