Minnesota Vikings:

Jim Harbaugh
January, 28, 2014
1/28/14
10:00
AM ET
Seattle Seahawks
coach Pete Carroll, who was voted the coach players most want to play for in ESPN's NFL Nation confidential survey, got the same kind of affirmation in the
Minnesota Vikings
' locker room. Five of the 10 players surveyed said they'd like to play for Carroll, with San Francisco's Jim Harbaugh the only other coach getting more than one vote.

Part of that is probably because of Carroll's player-friendly style; his attempts to break down the stereotypical football practice atmosphere in Seattle have been well-documented.
As we discussed earlier this month
, NFL coaches have to use a different approach to relate to modern players than they might have in the past. But it's also worth noting that the coaches who got the most respect from players are also getting results; Carroll is coaching in his first Super Bowl on Sunday, and the runner-up (Pittsburgh's Mike Tomlin) has been to two Super Bowls in the past six seasons. Next was Denver's John Fox, followed by New England's Bill Belichick and the
New York Jets
' Rex Ryan, and then by Kansas City's Andy Reid and New Orleans' Sean Payton. All of those coaches have either been to a Super Bowl or made multiple trips to a conference championship game. There are numerous coaching styles represented here, but all of the coaches mentioned are proving they can win.
The survey provides an interesting backdrop for the arrival of new Vikings coach Mike Zimmer, who will undoubtedly take a different approach than his predecessor, Leslie Frazier. Zimmer will likely be more animated in practice and on the sidelines than Frazier was, but he's won widespread praise from his players over the years, largely for his passion and his directness. If he can find the same kind of success as a head coach that he has as a defensive coordinator, he might receive votes in this survey in future years. The underlying theme for these coaches has been success, and if there's any kind of trend evident from our survey, it's that success begets respect among players.
January, 7, 2014
1/07/14
4:30
PM ET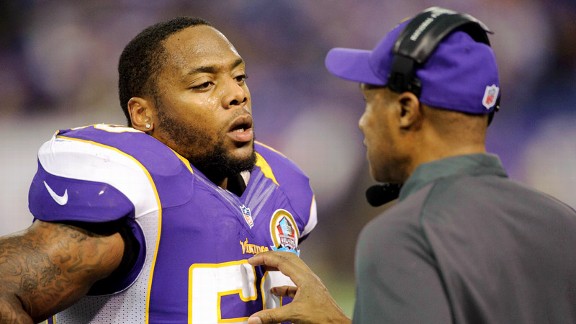 Hannah Foslien/Getty ImagesThe coach hired by Minnesota to replace Leslie Frazier, right, must be able to relate to a younger generation of players, according to former Viking Chris Doleman.
MINNEAPOLIS -- The
Minnesota Vikings
are continuing on with their coaching search this week, talking to
Cleveland Browns
defensive coordinator Ray Horton today after interviewing
Arizona Cardinals
defensive coordinator Todd Bowles on Monday. They will talk with
Cincinnati Bengals
offensive coordinator Jay Gruden on Thursday, according to a league source, and likely still have interviews coming with Bengals defensive coordinator Mike Zimmer,
San Diego Chargers
offensive coordinator Ken Wisenhunt, and
San Francisco 49ers
offensive coordinator Greg Roman. They have already talked with the
Seattle Seahawks
' offensive and defensive coordinators (Darrell Bevell and Dan Quinn). If their coaching search goes until the
Denver Broncos
' season is over, they could wind up talking to Denver offensive coordinator Adam Gase or defensive coordinator Jack Del Rio, too.
It's a long list with a range of different options. But one consideration I've been wondering about lately relates to something former Vikings defensive end Chris Doleman said in an interview last month: How much weight should the Vikings give to a coach's ability to manage millennials?
Ah, yes, 'millennials' -- the buzzword for my generation that's colloquially come to describe a group of people in their teens, 20s and early 30s who are narcissistic, overstimulated by technology and in constant need of affirmation. Or, at least, that's been the scouting report on us in countless magazine articles about millennials in the workplace -- which, curiously enough, always seem to quote analysts the age of our parents, the same people who helped condition us to so much privilege and praise.
At any rate, Doleman related the concept to football in an
Inside the NFL
interview last month in which he described many millennials as "soft, soft players" who might not want to work as hard as previous generations of players did.
"This is a class of players that feel like they deserve so much more. I don't know if the work ethic is still there," Doleman said. "I think these guys want to win. I think they want to be good players, but are you willing to do the hard stuff? This, 'I'll ease into the game' type of attitude is just not good enough. You have to be able to step up there and make it happen."
Doleman pointed out Vikings linebackers coach Mike Singletary's time as the 49ers' head coach as an example of a disconnect with today's players, because Singletary couldn't understand why every player didn't have his drive. Both Doleman and Singletary were Hall of Famers as players, so they're naturally on the far end of the bell curve, but Doleman does raise an interesting point.
While I'd say the stock criticism of millennials is overly simple and often refers to affluent suburban kids who grew up as hyper-achievers in school (present company admittedly included), there's little doubt young professionals come to the workforce from a different background than previous generations. Football players do, too. Millennials grew up in organizational environments that place a strong emphasis on teamwork and collaboration, and as a result, they draw greater meaning from experiences where they feel like their ideas matter. Generally, they're less used to being screamed at, more used to being asked what they think and more likely to buy into an idea when they've been told the rationale behind it. Former Vikings coach Leslie Frazier seemed to get that -- he met each week with a players' leadership council consisting of players as young as 23 or 24 -- and in an era where salary-cap restrictions have pushed more and more teams toward younger players, the Vikings' next coach will have to find the right style to connect with millennials.
That doesn't necessarily mean every coach has to be like Pete Carroll; Jim Harbaugh has certainly been able to get the most out of young players, first at Stanford and then in San Francisco. But even as gruff as Harbaugh can seem in public, his leadership style is different than that of the coaches he played for (Bo Schembechler or Mike Ditka). A Sports Illustrated profile of Harbaugh in October quoted players who said Harbaugh "thinks of himself as part of the team." Receiver
Anquan Boldin
said of Harbaugh, "He's definitely not a screamer. He's usually calm when he talks to guys. He's more of a teacher."
Is that a softer way of relating to players? Is it more refined? I'll let someone else be the judge of that, but today's player probably requires a different kind of leader than players did in the 1980s or 1990s. It's a tough thing to quantify, but as Vikings general manager Rick Spielman continues his tour of coaching candidates, he'll have to find the coach that can connect with a generation of players who respond to something different than their predecessors did.