Minnesota Vikings:

Joe Berger
February, 12, 2014
Feb 12
8:00
AM ET
Every day we'll take a look at one of the Minnesota Vikings heading for free agency, what he has meant to the team before and a prognosis on whether or not he'll be back with the club in 2014.
Free agent to be:
Joe Berger
Berger
Position:
Offensive guard
Age:
31
Years in the league:
9
What he made last season:
$620,000 (cap number); $905,000 (cash value)
What he did last season:
Berger saw at least 20 snaps in four games across three positions, and started two (at left guard against Washington and at right guard against Philadelphia) when
Charlie Johnson
and
Brandon Fusco
got hurt. He also logged 22 snaps at center on Nov. 17 against Seattle after
John Sullivan
got hurt. He was a swing lineman, but he did the job effectively after the Vikings weren't quite as lucky with the health of their offensive line as they were in 2012.
His potential market value:
Berger is the kind of player who won't have much trouble finding a job, thanks to his versatility and his size (6-foot-5, 315 pounds). He won't break the bank, by any means, but he's the kind of player teams like to have in case of an emergency.
Will he still fit the Vikings?
Yes. The team could look to move
Jeff Baca
into the swing role Berger has occupied, but as affordable as Berger has been, it would make sense for the Vikings to re-sign him and give themselves a reliable backup at their interior line spots.
What happens
: The Vikings bring Berger back at a reasonable price, possibly on a two-year deal.
January, 24, 2014
Jan 24
8:00
AM ET
MINNEAPOLIS -- We're continuing on with our position-by-position outlook at the
Minnesota Vikings
' roster. Today: the guards/centers.
OFFENSIVE GUARDS/CENTERS

2014 free agents
:
Charlie Johnson
,
Joe Berger
.
The good
: The Vikings have a stable offensive line, even if the group as a whole regressed from the way it played in 2012. Center
John Sullivan
had a rough start to the season, but recovered to perform well in the second half, and guard
Brandon Fusco
seemed to show signs of development at times, particularly as a run blocker. Fusco is the kind of road grader the Vikings need at guard, to open holes for
Adrian Peterson
, and the running back gained 796 of his 1,266 yards going up the middle or running behind Fusco's right guard spot, according to ESPN Stats & Information.
The bad
: Left guard Charlie Johnson struggled in his second year as a starter, getting beat on a number of blitzes and failing to open holes for Peterson. Pro Football Focus ranked him the worst guard in the NFC North, and Johnson gave up four sacks after allowing just one in 2012. He is scheduled to hit free agency just before he turns 30 in May, and depending on how they feel about their depth, the Vikings might look for a new starter at left guard.
The money
(2014 salary-cap numbers): Sullivan ($4.75 million), Fusco ($668,556),
Jeff Baca
($519,150). The Vikings will have to decide whether or not to bring back Berger, who carried just a $620,000 cap figure last season and proved to be a reliable backup at both guard and center. They wanted to see Baca grab hold of the swing spot on the interior line, but the rookie never seemed to grasp it.
Draft priority
: Moderate. Though they probably won't take one in the first couple rounds, it wouldn't be surprising at all to see the Vikings use a mid-round pick on a guard. They could be in need of depth at the position, and if they decide to move on from Johnson, they might look for a rookie they can plug in. With two picks in the third round, the Vikings could close Day 2 of the draft by adding a guard.
January, 17, 2014
Jan 17
8:00
AM ET
Welcome back to our chronological look at the 10 plays that most shaped the Minnesota Vikings' 2013 season. Today: Play No. 10.
WHEN:
Dec. 8, 2013
WHERE:
A 29-26 loss to the
Baltimore Ravens
.
THE PLAY:
Cordarrelle Patterson
's 79-yard touchdown off a screen pass from
Matt Cassel
.
WHAT THEY SAID:
Patterson: "The way my offensive line blocked and (fullback) Jerome (Felton) kicked his man out ... it was perfect. There was no way that I should have scored. I made a cut and (Matt) Elam slipped and it was a touchdown."
IMPACT OF THE PLAY:
The play gave the Vikings a 26-22 lead with just under a minute to play, which they wound up blowing on
Joe Flacco
's touchdown pass in the closing seconds. But this play, and the handoffs Patterson would turn into big gains, underscored two points: Just how dynamic a talent the Vikings had on their hands, and what a disservice they had done themselves by not finding simple ways to get the ball into Patterson's hands sooner. Say what you want about Patterson's learning curve, about the speed with which he grasps the complexities of a NFL offense, but what he did on this play was pure instinct; he motioned into the right slot on third-and-10, faked a downfield route before stepping back for a screen from Matt Cassel, stepped through a lane created by running back
Matt Asiata
(not Felton) and
Joe Berger
, followed a block from
John Sullivan
, corkscrewed safety
Matt Elam
into the ground and raced the remaining 25 yards for a touchdown. The play wasn't unlike what Patterson does on kickoffs, showcasing his exemplary vision and top-end speed. It was a brilliantly simple design from offensive coordinator
Bill Musgrave
, and it's a shame the Vikings didn't find occasions to employ Patterson in similar ways earlier in the year.
December, 13, 2013
12/13/13
5:00
PM ET
EDEN PRAIRIE, Minn. -- While the Vikings are waiting to see whether running backs
Adrian Peterson
and
Toby Gerhart
are able to play Sunday, they'll have to figure out how to handle one of the league's hottest offenses with a secondary that is looking increasingly thin.
Cook
Cornerback
Xavier Rhodes
is doubtful for Sunday's game against the
Philadelphia Eagles
with a sprained ankle, coach Leslie Frazier said Friday, and cornerback
Chris Cook
showed up on the Vikings' injury report for the first time Friday with a knee injury that limited him in practice. The oft-injured cornerback is listed as questionable, and if both he and Rhodes were to miss the game, it would leave the Vikings without their top three cornerbacks Sunday.
Frazier said he would likely start
Marcus Sherels
in place of Rhodes, but he would have to figure out another plan if Cook were unable to go. The Vikings have been using safety
Robert Blanton
at cornerback, and he would likely play there Sunday.
Shaun Prater
is also healthy, and the Vikings have cornerbacks Kip Edwards and Robert Steeples on their practice squad. They also worked out several cornerbacks this week, Frazier said.
"When we're getting as thin as we are, everybody is a candidate to be moved around," Frazier said. "So you don't rule out any possibilities at this point."
The Vikings have the league's second-worst defense this season as it is, and with so many players missing in the secondary, they could be easy prey for Eagles quarterback
Nick Foles
on Sunday.
In other Vikings injury news:
Gerhart did some work in practice Friday, though Frazier said the Vikings didn't test his quickness as much as his overall stride. They will continue to evaluate him Saturday and possibly Sunday. "To get out there and move around, I felt pretty good," Gerhart said. "We'll take it day-to-day, keep getting treatment, keep evaluating and see what happens."
Tight end John Carlson will miss Sunday's game with a concussion, leaving the Vikings with only Rhett Ellison and Chase Ford at the position.
Cornerback Josh Robinson (fractured sternum) is still out.
Guard Brandon Fusco (knee) did not practice Friday and is doubtful for Sunday's game, though Frazier said Fusco "has a chance" to play. The Vikings had guard Jeff Baca -- who has been inactive for all but one game this season -- working in Joe Berger's special-teams spot Friday, indicating they would likely put Berger at Fusco's right guard spot.
Linebackers Larry Dean (knee) and Chad Greenway (wrist) are probable for Sunday's game. Greenway, who has been playing with a broken wrist all season, said he has been able to function better now that he's playing with a pad on both sides of his wrist, rather than a full cast, and sounded optimistic Friday that he wouldn't need surgery to set the bone after the season.
November, 21, 2013
11/21/13
6:45
PM ET
EDEN PRAIRIE, Minn. --
Minnesota Vikings
safety
Harrison Smith
, who in October was placed on injured reserve with a designation to return after he suffered turf toe on his left foot, said he still plans to be back for the Vikings' final three games of the season.
Smith
Smith is eligible to start practicing next Wednesday, at which point he'll be able to see whether he's able to return on Dec. 15 against Philadelphia. He has been running on an underwater treadmill -- "It's amazing how out of shape you can get in a few weeks," he said -- and will get a MRI on his foot in the near future. But at this point, Smith sees no reason to think he won't be back to help the Vikings finish the season.
"Even when we come in for training camp, you can be in the best shape you think you can be in and it's still not football shape," Smith said. "So I think you've just got to play into [it] through practice.''
In other Vikings injury news:
Coach Leslie Frazier said middle linebacker Erin Henderson, who has missed the last two days of practice due to a personal matter, might not make it back in time for Sunday's game. If that happens, Frazier said, second-year linebacker Audie Cole would start in Henderson's spot. Rookie Michael Mauti got eight defensive snaps last Sunday against Seattle, but Frazier said Mauti is dealing with some soreness in his left knee; he tore his left ACL in each of his last two seasons at Penn State, and jarred his knee on the turf last Sunday, Frazier said. "It scared him a little bit," Frazier said.

Defensive end Brian Robison was limited in practice on Thursday with a neck injury, and defensive end Jared Allen stopped practicing early because of a back injury. Both players, though, seem likely to play Sunday.
Center John Sullivan has still not been cleared to return from a concussion. If he's unable to practice on Friday, Frazier said the Vikings would likely rule him out for Sunday's game, putting Joe Berger in at center.
November, 20, 2013
11/20/13
6:10
PM ET
EDEN PRAIRIE, Minn. -- Both wide receiver
Greg Jennings
and running back
Adrian Peterson
sat out of the
Minnesota Vikings
' practice on Wednesday, but coach Leslie Frazier was hopeful that both would be ready for Sunday's game against the
Green Bay Packers
.
The Vikings will try to get Jennings, who was a surprise scratch on Sunday against the
Seattle Seahawks
with a strained right Achilles tendon, a full day of practice on Thursday, Frazier said. Though he added Jennings "had some soreness" on Wednesday morning. The coach, meanwhile, is "cautiously optimistic" Peterson will be able to play after being limited by a strained groin against the Seahawks.
"We'll see what we need to do this week. Is he able to practice today or tomorrow, or do we hold him back until Friday?," Frazier said. "We'll make that determination this afternoon when we sit down and talk with our trainers."
In other Vikings injury news:
November, 7, 2013
11/07/13
7:30
PM ET
MINNEAPOLIS -- The
Minnesota Vikings
deactivated guard
Charlie Johnson
for Thursday's game against the
Washington Redskins
, adding him to the list of six players they had already ruled out. That means both
Matt Cassel
and
Josh Freeman
are active for the game, and the Vikings can essentially avoid divulging who their backup quarterback is, unless
Christian Ponder
gets injured or is benched.
Freeman
Cassel
Here's how banged up the Vikings are: They had listed defensive tackle
Letroy Guion
as doubtful for Thursday's game, but put him on their active roster simply because they had already used their seven inactive spots on other players who were injured. Essentially, the Vikings have more injured players than they have inactive designations. Guion likely won't play, and
Sharrif Floyd
is listed as the starting nose tackle alongside
Kevin Williams
.
That point is worth mentioning, because the Vikings have resisted the idea of putting Floyd and Williams on the field at the same time, preferring to play Floyd at three-technique. He has rushed from the nose-tackle spot on some occasions in the nickel package, but hasn't had to play there much against the run. It'll be interesting to see how he fares against a team that likes to run up the middle, and how he'll do against the Redskins' option offense.
Joe Berger
will start in place of Johnson at left guard, and
Xavier Rhodes
will start at right cornerback in place of
Chris Cook
. That's another spot where injuries are forcing the Vikings to use their first-round picks differently than they had planned.
Here is the full list of Vikings inactives:
November, 5, 2013
11/05/13
6:45
PM ET
EDEN PRAIRIE, Minn. -- The Vikings were missing eight players in their only full practice before Thursday's game with the
Washington Redskins
, and another three -- cornerbacks
Chris Cook
,
Xavier Rhodes
and
Josh Robinson
-- were limited by injuries. It seems likely that all three corners will play on Thursday, but the Vikings could be missing a number of other starters against the Redskins.
Safety
Jamarca Sanford
, whose groin injury is only the latest ailment he's had this season, seems like he will be hard-pressed to return for the game; defensive coordinator Alan Williams said
Robert Blanton
will get playing time again with
Mistral Raymond
alongside
Andrew Sendejo
, which would seem to indicate the Vikings will be without Sanford for the second straight game.
Left tackle
Phil Loadholt
will definitely miss Thursday's game with a concussion, coach Leslie Frazier said, which means the Vikings will start
J'Marcus Webb
at right tackle and break up a group (
Matt Kalil
,
Charlie Johnson
,
John Sullivan
,
Brandon Fusco
and Loadholt) that has started every game since the beginning of the 2012 season. Johnson also sat out of practice on Tuesday with an elbow injury, while
Joe Berger
worked at left guard.
And the Vikings could also be thin at defensive tackle; both
Letroy Guion
(chest/knee) and
Fred Evans
(knee) sat out on Tuesday. That could leave the Vikings with just three healthy defensive tackles for Thursday, in
Sharrif Floyd
,
Kevin Williams
and
Chase Baker
.
"There are definitely challenges (to a short week), especially if you have injuries like we do," coach Leslie Frazier said in a conference call with Washington reporters. "Trying to get everybody on the field in a short week, in our case -- if we had a couple extra days, there are some guys who probably would be able to play on Sunday, but because we're playing on Thursday, they're not going to be able to make the game."
September, 1, 2013
9/01/13
1:45
PM ET
Now that the Vikings' roster is finalized, we can spend a little more time analyzing it and looking at how the 2013 team was built.
I'm going to borrow from a couple of our former divisional bloggers who are graduating to national status -- Mike Sando and Kevin Seifert -- and with good reason, because both of them offered their usual sharp analysis this morning.
[+] Enlarge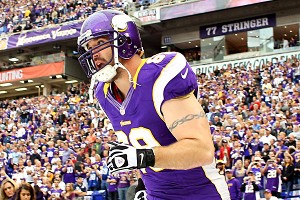 Adam Bettcher/Getty ImagesJared Allen is one of four projected Vikings defensive starters this season who are 30 or older.
In ranking the ages of all 32 teams, Sando
had the Vikings as the 15th youngest
, which puts them as the second-youngest team in a NFC North division skewing toward the elderly. The
Detroit Lions
and
Chicago Bears
are the oldest and second-oldest teams in the league, respectively, and at a point where both of those clubs seem to be in flux -- the Lions are trying to rebound from a disappointing 2012 season, while the Bears have a new coach (Marc Trestman) and a quarterback in a contract year (
Jay Cutler
) -- the Vikings would seem to be in good standing. Only the
Green Bay Packers
, who have made a habit of remaining among the league's most youthful teams, are younger than the Vikings in the NFC. They rank fifth youngest overall.
But there's an interesting point to be made deeper in the numbers: The Vikings are actually older on both offense and defense than they are overall. They are 15th oldest on both offense and defense, with the league's seventh-youngest special-teams group pulling down their overall age. For a team that went wholeheartedly into draft-and-develop mode a couple years ago, though, the Vikings are hitting a crossroads.
They have four starters on defense this year --
Jared Allen
,
Kevin Williams
,
Brian Robison
and
Chad Greenway
-- who are 30 or older. Three of those players are in contract years. General manager Rick Spielman ran counter to his recent strategy this offseason by giving a five-year contract to receiver
Greg Jennings
, who turns 30 next month. And the biggest thing to consider, as it relates to the Vikings' age, is this:
Adrian Peterson
is 28, right near the tipping point of where running backs start to decline. Time will tell if Peterson can avoid the kind of slowdown that has hit many running backs around age 29 or 30, but it's safe to say the Vikings won't have a better opportunity with him than they have right now.
The second point we'll make is one
Seifert shared on Twitter this morning
, while he was researching the Lions roster. He said only two of the Packers' 53 players --
Ryan Pickett
and
John Kuhn
-- have played a snap for another team. The rest of the Packers roster is draft picks and undrafted free agents. Being as the Vikings are trying to follow a similar philosophy, I thought it'd be worth looking at where they stand. I counted 13 players -- Jared Allen,
Joe Berger
,
Desmond Bishop
,
John Carlson
,
Matt Cassel
,
A.J. Jefferson
, Jennings,
Charlie Johnson
,
George Johnson
,
Troy Kropog
,
Marvin Mitchell
,
Andrew Sendejo
and
Jerome Simpson
-- who have played for other teams.
Now, many of those players are backups, and the Vikings have been quite successful with their high draft picks under Spielman recently. But they're also not as far into a draft-and-develop phase as the Packers have been, and Spielman has showed he's been a little more willing to use free agency than Ted Thompson has (though certainly not as willing as he used to be). It will be interesting to see what the Vikings do after this season, when at least half of the players who came from other teams could be gone. Will they fill those jobs in-house, or will they look elsewhere? With a team constructed the way the Vikings currently are, that will be only one of a few things to sort out.
September, 1, 2013
9/01/13
12:40
AM ET
Now that the
Minnesota Vikings
have made their final cuts, it's time to compare their actual 53-man roster with
the one we projected on Friday evening.
In the end, we did pretty well.
We correctly guessed 50 of the 53 names on the final roster, missing on two offensive line spots and one in the defensive backfield. We had the correct composition of the roster -- three quarterbacks, four running backs, five wide receivers, three tight ends, eight offensive linemen, nine defensive linemen, eight linebackers, 10 defensive backs and three specialists -- but on all of our misses, we gave short shrift to players who were on the Vikings' roster last year.
We left
Joe Berger
and
Troy Kropog
-- who were on last year's active and practice squads, respectively -- in favor of free agent pickups
Seth Olsen
and
Brandon Keith
. But Olsen, who suffered a concussion on Thursday night against the
Tennessee Titans
, must be in worse medical shape than the Vikings initially thought; the team put him on injured reserve on Saturday. We'll hear more from coach Leslie Frazier on Monday about what happened to Olsen, but given the fact he was taken off the field on a stretcher on Thursday night, it's possible he's dealing with some serious ramifications.
Berger looked like he might be vulnerable in light of how well
Jeff Baca
had played at center, but the Vikings kept both players, giving themselves a pair of versatile interior linemen. Kropog, who can play guard or tackle, beat out Keith, whom we believed would make the team. Keith apparently did, too -- he responded to the news with a
handful of indignant tweets
on Saturday.
In the defensive backfield, we expected the Vikings to retain six cornerbacks instead of the five they ultimately kept. Safety
Mistral Raymond
, who was a starter at the beginning of last year but has struggled with injuries, survived the final cuts; we expected the Vikings to hang onto
Bobby Felder
instead. But they retained the same five safeties they had last year --
Harrison Smith
,
Jamarca Sanford
,
Robert Blanton
, Raymond and
Andrew Sendejo
-- and will have to see if they can get Felder back onto their practice squad for another year.
In the end, though, we'll take 50 out of 53 -- and choosing to quit while we're ahead, we'll abstain from a prediction on the eight-man practice squad the Vikings will announce Sunday.