Minnesota Vikings:

LaDainian Tomlinson
June, 16, 2014
Jun 16
7:05
PM ET
MINNEAPOLIS -- Among the more important -- and yet possibly more overlooked -- factors contributing to the success of Norv Turner's downfield passing game is its ability to open up space for receivers after the catch. Turner's attack relies on spacing much in the manner that a basketball team does, opening up room horizontally by spreading the field vertically. That creates opportunities for receivers on underneath routes, and it also allows those receivers to gain big chunks of yardage by catching the ball in space and getting past a defender or two.
Jennings
While Turner was the
San Diego Chargers
' coach from 2007-12, his teams gained 10,848 yards after the catch. The Chargers' average of 5.44 yards after the catch was the third-best in the league during that time, according to ESPN Stats and Information. Running backs like LaDainian Tomlinson and
Darren Sproles
drove that part of the Chargers' offense, of course, and the Vikings want to use
Adrian Peterson
and rookie running back
Jerick McKinnon
for a similar purpose. If it works, it'll restore an element of the Vikings' passing attack that went missing when
Percy Harvin
departed for Seattle.
No receiver averaged more yards after the catch than Harvin did during his time in Minnesota. The receiver gained 6.59 yards after the catch from 2009-12, turning bubble screens into game-breaking plays and adding a dangerous element to a Vikings passing game that got rather conservative after Brett Favre retired. Without Harvin last year, the Vikings finished 25th in the league in yards after the catch with a 4.88-yard average, according to ESPN Stats and Information. With Harvin on the roster, the Vikings were 12th in the NFL from 2009-12.
We'll get into this more during a deeper look at him next week, but one player who could boost the Vikings' after-the-catch production is receiver
Greg Jennings
. He averaged 5.42 yards per catch from 2006-12 with the
Green Bay Packers
, better than all but three receivers in the league -- Harvin,
Miles Austin
and
Wes Welker
-- during that time. That total dropped to 5.01 last year, as
Christian Ponder
especially struggled to get Jennings the ball in places where he could put his exceptional quickness to work, but Turner's offense could help rejuvenate Jennings' game.
Wherever they can get it, the Vikings will likely be looking for receivers to produce after the catch this season. Turner's best offenses have had them, and between Peterson, McKinnon, Jennings and
Cordarrelle Patterson
, there'll be plenty of candidates to do it in 2014.
February, 6, 2014
Feb 6
6:07
PM ET
EDEN PRAIRIE, Minn. -- Sometime in his first several days as the
Minnesota Vikings
' offensive coordinator, Norv Turner walked past a picture in the team offices of
Adrian Peterson
from his record-breaking 296-yard game during his rookie season. Peterson could be seen racing down the
San Diego Chargers
' sideline, on the way to a game-clinching 46-yard touchdown.
The coach of that Chargers team was Turner. And when he looked at the picture, he saw himself watching Peterson run by.
"I've seen him at his best first-hand," Turner said. "I don't know how you can compare guys at that level because they all have their own way of doing things."
Turner started his NFL career with the Los Angeles Rams when
Eric Dickerson
was still there. He was
Emmitt Smith
's offensive coordinator in Dallas, and had
LaDainian Tomlinson
on those Chargers teams. His legacy in the NFL has been made primarily through his contributions to the downfield passing game, but when Turner's teams have been at their best, he's had a dominant running back, too.
[+] Enlarge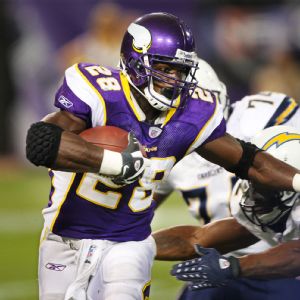 Tom Dahlin/Getty ImagesAdrian Peterson rushed for 296 yards against Norv Turner's Chargers in 2007.
He knows what an asset Peterson can be to him in Minnesota, and Turner has made ingratiating himself to Peterson one of his early goals with the Vikings. Peterson was a staunch supporter of former coach Leslie Frazier, and reserved judgment on the Vikings' hiring of head coach Mike Zimmer until he saw whom the team would bring in as its offensive coordinator. When Turner was hired, Peterson praised the move. The two also talked recently on the phone, Turner said.
"He was excited. It was a very casual conversation," Turner said. "At this time of year, you don't talk football, but I think players and coaches know about players and coaches in the league. He's talked to people I've coached and been with. I think he understands that the biggest thing to me is we're trying to win. He's at a point in his career where he'd like to go, No. 1, be in the playoffs, and No. 2 have success in the playoffs and ultimately win a championship. I think he's at a point in his career where he's done a lot of things in individual goals and accomplishments. And he expressed that whatever it takes for us he wants to do."
Under Turner, the Vikings' plan for Peterson could look slightly different than how the 2012 NFL MVP has been used in the past. He talked about wanting to get Peterson the ball in space more often, which could sound like sweet poetry to Vikings fans who have wondered why Peterson hasn't been used as a receiving threat more over the years. The best season of Peterson's career as a receiver, not surprisingly, came in 2009, when he caught 43 passes for 436 yards from
Brett Favre
, who used running backs as receivers with great success during his career.
"He's run the ball in closed-in quarters with a lot of defenders there and he makes a lot of long runs, making people miss or running over people," Turner said. "It's hard to do, but we would like to get him in space and getting the field spread a little bit better for for him."
If Turner is able to get Peterson in the open field more often, either by throwing him the ball or by reducing the number of defenders in the box, it could help take some of the wear off a running back who just had his third surgery in as many years and will be 29 in March. Peterson has logged more carries against eight-man fronts than any running back in the NFL the past two years, according to ESPN Stats & Information. Under previous offensive coordinator Bill Musgrave, Peterson played in a system that often employed two tight ends or bunched receivers close to the line of scrimmage, inviting defenders to crowd the box. Rather than creating more traffic -- some of it there to help Peterson -- Turner wants to see if he can make the running back's yards easier by isolating him against defenders.
And when it's time for Peterson to do his heavy work, Turner wants much of it to come at the end of games. It was no accident that during his MVP season, Peterson logged a NFL-best 361 yards in the final 10 minutes of games his team was leading, according to ESPN Stats & Information. In 2013, Peterson had just 56 yards in those situations; third-string running back
Matt Asiata
, who filled in for Peterson in two games he missed because of injury, had 99.
Turner reminisced about Smith's days of being one of the game's great closers, churning through tired defenses and running the clock out with first downs for the Cowboys, and wanted to get the Vikings back to a point where Peterson could do the same thing. That makes sense for any running back, and the Vikings have been built to play with a lead.
The difference is, when they've fallen behind in recent years, they haven't had the passing game to make the game close and make Peterson effective again.
"You have to be good in enough things so that when a team overplays the run, you can throw it," Turner said. "Having a runner like Adrian can and should able to help a young quarterback. It can be a hindrance sometimes because if you aren't giving him the ball, it's like you aren't trying to win. Those are things that I've tried to manage."
January, 22, 2014
Jan 22
9:50
PM ET
MINNEAPOLIS -- For the third consecutive offseason,
Minnesota Vikings
running back
Adrian Peterson
has plans to go under the knife. ESPN's Josina Anderson reported Wednesday night that Peterson soon will have groin surgery in Philadelphia. Dr. William Meyers, who operated on Peterson's sports hernia last season, will perform the surgery.
Although this operation is arguably minor compared to the knee surgery Peterson had at the end of 2011, or the sports hernia operation he had after 2012, it's still a sign of the wear and tear he can expect to face as he gets into the final years of his prime.
[+] Enlarge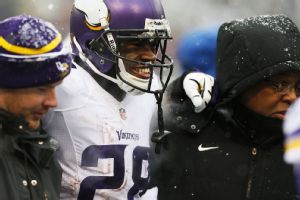 Mitch Stringer/USA TODAY SportsThe Vikings could consider reducing Adrian Peterson's workload to limit the potential for injuries.
The decision is probably the right one for Peterson. Having surgery now should give him plenty of time to get ready for the 2014 season, and as he's proven the past two years, he's not someone who needs much preseason work to get ready. As he gets older (he'll be 29 in March), these kinds of offseason cleanups could become more routine than he'd like.
It's a good time to ask whether the Vikings should think about giving another running back a few of Peterson's carries during the season, though it's questionable whether
Toby Gerhart
would want to come back for a supporting role when he could have bigger opportunities coming as a free agent this spring.
Peterson, for that matter, isn't one to ask for less work, but he might be getting to an age where both he and the Vikings are better served by an attempt to reduce his mileage somewhat.
Peterson's ticket to a lesser workload could actually come through new offensive coordinator Norv Turner, who became San Diego's coach at a similar point in
LaDainian Tomlinson
's career. Tomlinson was 28 when Turner took over the Chargers in 2007, and as Turner leaned more on San Diego's passing game, the Chargers dialed back Tomlinson's workload. He carried 315 times in 2007 -- down 33 carries from his 31-touchdown season of 2006 and the second-fewest of his career to that point.
In 2008, Tomlinson got 292 carries at age 29, but still ran for 1,110 yards before injuries slowed him in 2009.
Peterson is still healthy and effective enough to take on a bigger workload than that, but the Vikings would be better-served on offense, and Peterson's longevity would be helped, if they can get more balance. Remember how effective their pick-your-poison backfield was with Peterson and
Brett Favre
in 2009? Peterson carried 314 times that season -- to date the fewest carries he has logged in a season where he's played all 16 games.
Groin surgery shouldn't prove to be a major impediment to Peterson this fall. It'll help him get his top speed back, which he seemed to be missing at the end of the season, and he'll be ready in plenty of time for training camp. But at this juncture in his career, it is a reminder that the Vikings should think about how to best manage Peterson.