Minnesota Vikings:

Lovie Smith
October, 22, 2014
Oct 22
3:22
PM ET
EDEN PRAIRIE, Minn. -- As the
Minnesota Vikings
travel to Tampa Bay this weekend in search of their second road win of the year and their first victory over the Buccaneers since 2001, they'll have plenty of familiarity with the defensive scheme they'll be facing.
[+] Enlarge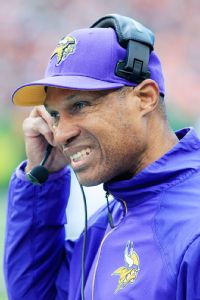 AP Photo/Tom UhlmanFormer Vikings head coach Leslie Frazier is Tampa Bay's defensive coordinator.
The team practiced against Buccaneers defensive coordinator Leslie Frazier's scheme since 2007, when Frazier became the Vikings' defensive coordinator and replaced Brad Childress as the head coach in 2010. And Tampa Bay head coach Lovie Smith ran a similar version of the Tampa 2 defense (originally popularized by Tony Dungy) when he faced the Vikings twice a year as the
Chicago Bears
' head coach from 2004-12.
That defense has been maligned in recent years by critics who say it's out of date and too easy to solve, and the Vikings certainly heard those sentiments under Frazier in Minnesota;
defensive end
Brian Robison
said in training camp
the scheme had gotten so stale that
Green Bay Packers
quarterback
Aaron Rodgers
could call out the Vikings' plays as they lined up.
The Vikings gave up the most points in the league last season, and though the Buccaneers seemed to have plenty of talent on defense, they've allowed an average of 34 points a game this year (also the highest in the league). But Smith said in a conference call on Wednesday that those who criticize the defense "don't know what they're talking about."
"When people say the 'Tampa 2,' it's more than the Tampa 2," Smith said. "You play Cover 2, but it's just a small part of what we do. Every team in the league plays some form of Cover 2. When it's described that way and how it can't work, Cover 2 has been around since the beginning of time, and it's not going anywhere."
Frazier and Smith had coached against one another for years, and both come from Dungy's coaching tree. After the Vikings fired Frazier on Dec. 30, he quickly joined Smith in Tampa.
"The year that I was off, I didn't plan on having the opportunity to hire Leslie," Smith said. "But when he was available, I've known him a long time, I've competed against his teams for a long time. It was a natural fit."
Said defensive end
Michael Johnson
, who played for new Vikings coach Mike Zimmer in Cincinnati before joining Frazier: "He's very positive. Always positive and believes in guys. You can feel that. So in the same sense (as Zimmer), with him the way he believes in us, it makes us want to go out there and not let him down also. It's been kind of frustrating because I want to be better and I want us to be better because Leslie is a good dude, man. We owe him more than we've been able to give him so far."
March, 11, 2014
Mar 11
12:20
PM ET
MINNEAPOLIS -- Now that
Michael Johnson
appears to have a new team, agreeing with the
Tampa Bay Buccaneers
on what
ESPN's Josina Anderson reports is a five-year, $43.75 million deal
, there are a few interesting wrinkles to examine as the news relates to the Vikings.
Griffen
Johnson
First, Johnson's deal is just a hair above the five-year, $42.5 million contract the Vikings gave
Everson Griffen
over the weekend.
A league source said on Monday night
the Vikings didn't turn Johnson down. It's possible Johnson already had his sights set elsewhere, and all the particulars of his deal -- including $24 million in guaranteed money -- are just a tick above Griffen's. If Griffen's deal was a benchmark for Johnson, the Vikings might have helped set the defensive end's market.
It's also interesting that Johnson will be playing in Tampa Bay for former Vikings coach Leslie Frazier, who is the Buccaneers' new defensive coordinator, instead of Mike Zimmer, his old defensive coordinator in Cincinnati. Zimmer's system preaches gap discipline and engaging blockers before getting up the field, and after he posted 11.5 sacks in 2012, Johnson showed that was a bit of an anomaly in Zimmer's system in 2013, when he had just 3.5 sacks. He'll likely see those numbers go up as he takes the right end spot in Tampa Bay, where
Jared Allen
played for the Vikings and
Julius Peppers
played for Buccaneers head coach Lovie Smith in Chicago. Johnson should see his sack numbers go up, while the Vikings will have to meld their new system with Griffen's strengths. He's versatile enough that the Vikings should be able to use him in a number of ways, but he'll have to learn a scheme that figures to be markedly different from the one the Vikings had in the past.
In some senses, it might have made more sense for Griffen to go to Tampa Bay and Johnson to come to Minnesota, based on what each player had been doing in the past. Now we'll see how each does with a big deal and a new set of responsibilities.
January, 9, 2014
Jan 9
9:00
PM ET
MINNEAPOLIS -- As the
Minnesota Vikings
sift through candidates for their open head coaching position, they still have an entire staff of assistant coaches under contract, waiting to see if they'll work for the Vikings' new head coach or be forced to be look for jobs elsewhere.

In the meantime, as three of the league's seven head coaching jobs have been filled, the
Houston Texans
,
Tampa Bay Buccaneers
and
Washington Redskins
are filling out their coaching staffs. The Buccaneers' situation, in particular, could be of interest to the defensive assistants on the Vikings' staff; former Vikings coach Leslie Frazier will be introduced there on Friday as the team's new defensive coordinator, and while head coach Lovie Smith has filled up much of his defensive staff with assistants from his days in Chicago, ESPN Buccaneers reporter Pat Yasinskas says the team still needs a cornerbacks coach and a quality control assistant.
If Frazier wanted to bring defensive backs coach Joe Woods or defensive assistant Jeff Imamura with him to Tampa, though, the Buccaneers would have to ask the Vikings for permission to talk to either coach. The
Atlanta Falcons
were already rebuffed in their request to talk to offensive line coach
Jeff Davidson
, and until they get a chance to talk with a new head coach, the Vikings' assistants are effectively in limbo.
It should be mentioned that all of Frazier's assistants have contracts through the 2014 season, when the head coach's deal was scheduled to expire, so it's not as though the entire coaching staff is uncertain about its source of income for 2014. Their deals are all up after next season, though, and those assistants who are able to find new jobs would also likely get contracts that run longer than their current deals with the Vikings.
The situation has several odd dynamics, since a new coach could either fire the entire staff or general manager Rick Spielman could mandate the new coach keeps several assistants from Frazier's staff (Davidson and wide receivers coach George Stewart, who has been a mentor to
Cordarrelle Patterson
, immediately come to mind). And then there's the case of special teams coordinator Mike Priefer, who might have been a slam-dunk to return before former punter
Chris Kluwe
alleged that Priefer made homophobic remarks during the 2012 season. The Vikings are certainly within their right to keep the staff and give a new coach the first right of refusal on Frazier's assistants, but as the team's coaching search approaches the end of its second week, there are 22 men whose futures are directly tied to it.
January, 3, 2014
Jan 3
8:00
PM ET
MINNEAPOLIS -- Passing along a few coaching search tidbits as the Vikings get started with interviews this weekend:
After talking with Seattle Seahawks coordinators Dan Quinn and Darrell Bevell this weekend, as ESPN NFL Insider Adam Schefter reported, Vikings general manager Rick Spielman will move onto Phoenix. He'll talk to Arizona Cardinals defensive coordinator Todd Bowles on Monday and Cleveland Browns defensive coordinator Ray Horton on Tuesday, according to Fritz Pollard Alliance chairman John Wooten. Both men have built impressive defenses in their current jobs and would invigorate the Vikings on that side of the ball. And if it's a coincidence Spielman is heading out west this weekend, it's also a lucky one; he'll be in Phoenix just as wind chills are supposed to drop to -40 in the Twin Cities.
If you're seeing a common theme among the coaches the Vikings are talking to so far, it's that the three defensive coaches all have experience with a 3-4 scheme. As we discussed earlier Friday, the Vikings would have some flexibility to make the move to a 3-4, given their current personnel, and while Spielman's process is partially about gaining insight and evaluations on his own team from people around the league, it seems hard to believe the Vikings wouldn't at least consider the possibility of switching. It's safe to assume, at the very least, they won't be going back to the Tampa 2 scheme they played under Leslie Frazier; the Vikings allowed the most touchdown passes in the league in two of the last three seasons.
The Vikings are able to start talking Monday with coaches whose teams are playing in the first round of the playoffs this weekend. That would mean San Francisco offensive coordinator Greg Roman, Cincinnati offensive coordinator Jay Gruden and Cincinnati defensive coordinator Mike Zimmer could enter the process next week. If Spielman hasn't talked in any detail with Denver offensive coordinator Adam Gase or defensive coordinator Jack Del Rio by Sunday, though, he'd have to wait until the Broncos' season is over. Same goes for Bevell, Quinn, Carolina Panthers defensive coordinator Sean McDermott or any other possible candidate from a team with a bye this weekend.
Lastly, Leslie Frazier's chances of winding up as the defensive coordinator in Tampa Bay seem to hinge on whether the Dallas Cowboys will allow Lovie Smith to talk to Rod Marinelli. But even if Marinelli ends up as Smith's defensive coordinator in Tampa, Wooten said Frazier would still join Smith's staff as an assistant head coach.
January, 1, 2014
Jan 1
10:58
PM ET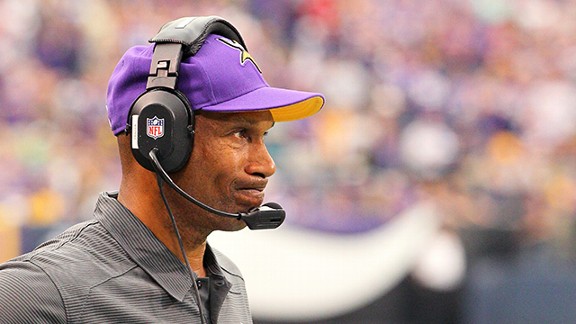 Adam Bettcher/Getty ImagesLeslie Frazier would have been a good fit with Lovie Smith, but he may not get the chance.
MINNEAPOLIS -- If Lovie Smith was going to get a second chance as a head coach this offseason, it also represented a good opportunity for Leslie Frazier to land on his feet after the
Minnesota Vikings
fired him.
Smith and Frazier come from the same tree and same mold of Tony Dungy-inspired coaches: both are men of faith, both are devotees of the Tampa-2 defense Dungy popularized with the Buccaneers, and both have had to fight the perception that they're just too darn polite to be successful in the NFL.
ESPN Buccaneers reporter Pat Yasinkas said Dallas Cowboys defensive line coach Rod Marinelli, who was Smith's defensive coordinator in Chicago, may become Smith's defensive coordinator. A league source said Frazier was in discussions to become Smith's defensive coordinator in Tampa Bay.
If Frazier does get a defensive coordinator job, he would have to address the perception that the Cover-2 is becoming an outdated scheme. The Tampa-2 scheme has been predicated on great personnel --
Warren Sapp
,
Derrick Brooks
and
John Lynch
in Tampa;
Dwight Freeney
and
Bob Sanders
in Indianapolis;
Brian Urlacher
in Chicago -- and it showed cracks in Minnesota once three-technique tackle
Kevin Williams
slowed down, the Vikings' play slipped at middle linebacker and safety
Harrison Smith
got hurt this year. The Buccaneers have some pieces in place to run the scheme, between tackle
Gerald McCoy
, linebacker
Lavonte David
, safety
Dashon Goldson
and cornerback
Darrelle Revis
, but whether he works with Tampa in some capacity or heads elsewhere, Frazier would have to deal with concerns that his scheme has been solved.
If Frazier does land as a coordinator, he could also provide a rebound spot for some Vikings players and coaches likely to be looking for work. If defensive coordinator Alan Williams is fired in Minnesota, he would be a logical choice to rejoin Frazier as a defensive backs coach. Linebackers coach Mike Singletary could find the same job with Frazier somewhere else, and Vikings free agents-to-be, like Williams and Jared Allen, would become fits for Frazier's new defense.
For Frazier, though, a quick turnaround would have to feel good after the Vikings let him go. He seemed to have a sense of his fate on Sunday, when he offered a defense of his work in Minnesota and left hints that some of the Vikings' problems -- namely, their quarterback situation -- weren't his fault. General manager Rick Spielman refuted a few of Frazier's points in his own press conference on Monday, which fueled the idea that the two men might not have seen eye-to-eye or parted on the most amicable terms.
Frazier will be 55 next year and might not get another shot to be a head coach, but if he does land a coordinator job, Frazier would at least keep himself in the hunt for another shot. If he did land in Tampa, he'd also get a chance to work with a friend, move back to the warmer Gulf Coast climate he grew up with and work with a defense that, for its flaws, created the third-most turnovers in the league this season.
The Vikings are also scheduled to travel to Tampa Bay next season. If he does land on Smith's staff, Frazier could be waiting for them, with a chance to exact a little revenge on his old team.