Minnesota Vikings:

Marc Trestman
November, 13, 2014
Nov 13
8:00
AM ET
Welcome to Around the Horns, our daily look at what's happening on the Vikings beat:
Jared Allen and Matt Kalil spent two years lining up across from each other, at the intersection of two careers going in opposite directions. Kalil, the fourth pick in the 2012 draft, made the Pro Bowl as a rookie the same season that Allen registered his final Pro Bowl appearance for the Vikings, before the left tackle's knee injury and the defensive end's age made 2013 a trying season for both of them.
Now, as the two prepare to line up against each other in a game for the first time, both have something to prove. Kalil's third season began in disappointing fashion, which he attributed on Wednesday to a lack of trust in his knee that led to him not getting deep enough in his pass sets. Allen, meanwhile, has just 1 1/2 sacks in eight games with the Bears after signing a four-year, $32 million deal this offseason, and is just now getting back to normal playing shape after pneumonia caused his weight to drop to 239 pounds -- the least he's weighed since high school, Allen said.
But both men professed respect for each other on Wednesday, with one offering a defense of sorts for the other in the face of their individual critics.
"From what I've seen so far, I think he's firing off well in the run game. He's been beat a few times in the pass game, but who doesn't get beat a few times?" Allen said. "He's a good player. He still has good feet. He still has good technique. We're going to have to take advantages of situations, because he knows me, I know him and we're going to have to see who's better that day."
Kalil showed some improvement in the Vikings' final two games before the bye, though he allowed the Redskins' Trent Murphy to collect his first career sack on Nov. 2. He said he's feeling more confident in his knee now, and added he hasn't been checking his Twitter account since August, which likely helped inoculate him from some of the vitriol tossed his way.
As he faces Allen -- whom Kalil credited for helping to break him into the league -- the tackle doesn't expect an easy matchup.
"I've gone against him in camp, which is probably the hardest I've gone against him," Kalil said. "People say he only has 1.5 sacks, but there were probably 8 or 9 plays where he was just a hand away. So, I don't think he's really lost a step at all. I've heard people saying that. But he still has a knack for the ball, a knack for making plays."
In case you missed it on ESPN.com:
Best of the rest:
September, 16, 2013
9/16/13
5:15
PM ET
EDEN PRAIRIE, Minn. -- We've spent the better part of the past 24 hours talking about the
Minnesota Vikings
' defense of the
Chicago Bears
' touchdown with 10 seconds left in Sunday's game, and we'll move on from there after we hear from the defender who was the closest to the play: cornerback
Chris Cook
.
Cook
Cook declined to talk to reporters after the game on Sunday, saying "I'm in a bad place right now" after
Martellus Bennett
's 16-yard touchdown. Cook apologized for that on Monday, saying he was emotional after the game. Though linebacker
Erin Henderson
said the called defense was a surprise to the Vikings and coach Leslie Frazier suggested he should have altered the call, Cook said he should still have been able to keep Bennett from catching the touchdown pass.
"It was a play that I could have made, should have made," Cook said. "I've made it before. It hurt more being as it was in the end of the game and we were in position to win it on defense."
Cook was motioning for a defender to slide over to his side of the field before the play, when both Bennett and wide receiver
Earl Bennett
were on his side of the field. He initially went with Earl Bennett, opening his hips and allowing Martellus Bennett to get behind him and catch
Jay Cutler
's back-shoulder throw for a touchdown.
Safety
Harrison Smith
, who didn't talk to reporters on Monday, said after the game that he thought he put Cook "in a bad spot" on the play, and took the blame himself. The Vikings also had safety
Jamarca Sanford
showing a blitz before the play, and he wasn't able to get deep enough after the snap to cover part of the end zone. But even after Cook initially went with Earl Bennett, it still took a precise throw from Cutler to connect for the touchdown.
Both Bears coach Marc Trestman and Frazier said they had run the respective offense and defense they used on that play earlier in the game. The only change was the "twist release" the Bears ran, sliding Martellus Bennett behind Earl Bennett and connecting once Cook turned his hips.
"A few guys were off," Cook said. "And when guys are off, other guys try to cover it to help them out, and things happen. It's football, man. It's a fast game."
September, 13, 2013
9/13/13
9:54
AM ET
Welcome to Around the Horns, our daily look at what's happening on the Vikings beat:
It's rare, at least in our experience, to hear
Jerome Simpson
compared to Michael Jordan (though they did both grow up in North Carolina, so maybe the similarities run deeper than we think). But Vikings wide receivers coach George Stewart -- who has worked with
Jerry Rice
,
Terrell Owens
,
Randy Moss
and
Percy Harvin
in his career -- went there in an interview with the Minneapolis Star Tribune, at least when describing how much Simpson meant to the Vikings' offense during a seven-catch, 140-yard performance last Sunday.
"It's hard taking Jerome out of the offense,"
Stewart said in an interview with Mark Craig of the Minneapolis Star Tribune.
"It's kind of like Michael Jordan shooting threes and then deciding to bring in the backup guard."
The larger point in Craig's story is that Simpson -- who caught 23 passes for 274 yards without a touchdown last year -- means as much as he does to the Vikings right now because of how little experience
Christian Ponder
has with his other receivers. That's why it seemed a bit odd that the Vikings didn't carve out more time for Ponder to work with
Greg Jennings
and
Cordarrelle Patterson
in the preseason, but Stewart feels like things will be fine in time.
"Greg is new, Cordarrelle is new, Jerome has been here less than a year, Jarius (Wright) played less than half a year last year, and Joe was a quarterback," Stewart said. "They're still establishing a rhythm with Christian. As we go through this season, you'll see our passing game take off."
Here are today's other Vikings stories of note:
September, 9, 2013
9/09/13
7:55
PM ET
EDEN PRAIRIE, Minn. -- As first impressions go, the Lions' opportunity to introduce
Reggie Bush
to the NFC North by way of the
Minnesota Vikings
couldn't have worked out much better. The Lions added Bush this offseason to help their running game, yes, but also to add an underneath component to their passing game when defenses focused on stopping
Calvin Johnson
.
And in the Vikings, they had a Week 1 opponent with a new middle linebacker, a secondary trying to adjust to the departure of its best open-field tackler and a formidable pass rush that could cover for some of the uncertainty if it could get to
Matthew Stafford
.
[+] Enlarge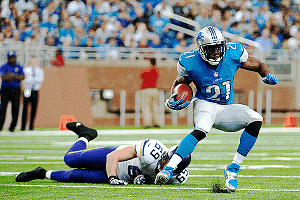 Tim Fuller/USA TODAY SportsThe Vikings continued their trend of falling flat on the road against NFC North foes with a Week 1 loss at Detroit.
The game was a perfect crucible for the Lions. Bush posted 191 combined yards, slashing the Vikings for 101 receiving yards mostly on screens. And for Minnesota, it quickly opened up a wound in the defense that the
Chicago Bears
and
Matt Forte
might be able to exploit this weekend.
Bush gained a career-high 104 yards after the catch, according to ESPN Stats & Information (for those of you trying to do the math there, he caught a few of those screens behind the line of scrimmage). He did most of his damage when he floated through the middle of the Vikings defense on a screen for a 77-yard touchdown that coach Leslie Frazier said should not have happened.
"We were kind of blocked out on a couple where we needed certain guys to fit in certain positions," Frazier said. "They didn't, and it resulted in the one big play, the 77-yarder. The others [were] maybe a 6-yarder or 8-yarder, but the 77-yarder was the back breaker. We have to do a better job of fitting it. That play should not end up being a touchdown, a 77-yard touchdown. We have to do a better job of fitting up screens."
If I'm the Vikings, I'd be just as concerned about the effect quick passes can have against a deep defensive line. Opponents used the tactic with some success last year, posting the fifth-highest quarterback rating in the league against them on passes that took 2.5 seconds or less to deliver. That was the magic number defensive end
Brian Robison
used on Monday, and he estimated Stafford threw only three or four times after holding the ball that long. The Vikings' only sack came from
Jared Allen
in the fourth quarter, and Stafford was pressured on just four drop-backs, according to ESPN Stats & Information.
"It's frustrating, but you've got to keep working," Robison said. "Sometimes, things will come free, and you get there. But you've got to give your 'hat's off' to Stafford and that offense. They were getting the ball out of there so fast."
I'll be interested to see how much the Bears employ a similar tactic next week. Coach Marc Trestman has said he wants to use Forte more often in the passing game, and Forte caught four passes for 41 yards in Chicago's win Sunday. The Bears' offensive line has had enough trouble over the years, both specifically with the Vikings and in general, that Trestman could see a similar opportunity to exploit the Vikings defense after watching tape of the Lions game.
Until the Vikings prove they can stop it, they'll probably see a heavy dose of what Detroit executed.
"We've encountered that before. It's not the first team to use that strategy," Frazier said. "There are some things that we've got to do better when teams do that. I would not be surprised if we saw some of that this coming weekend as well. We'll have to devise a better plans for teams that do that, that don't let us rush the quarterback."