Minnesota Vikings:

Marcus Mariota
April, 22, 2014
Apr 22
8:00
AM ET
MINNEAPOLIS -- There are just 16 days to go until the 2014 NFL draft, meaning we're firmly in the time of year when general managers are more likely to top off their draft preparations with a dollop of misdirection than a scintilla of truth.
And yet, when
Minnesota Vikings
general manager Rick Spielman described the process of evaluating this year's quarterback class as "torturous" in an interview published Monday, his comments were structured around a consistent theme he's been hitting since the Vikings began draft preparations in earnest three months ago.
"Every one of these quarterbacks ... nothing is a sure thing," Spielman said
in a discussion with MMQB.com on Monday
. "There's no
Andrew Luck
, no
Peyton Manning
. It is such a mixed bag with each player -- every one of them has positives, every one of them has negatives. And if that's the way you end up feeling, why don't you just wait 'til later in the draft and take someone with the first pick you're sure will help you right now?"
[+] Enlarge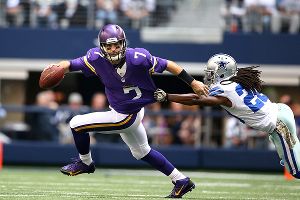 Matthew Emmons/USA TODAY SportsWould the Vikings have stayed with Christian Ponder as long as they did if he had been drafted in the second or third round?
Since January, Spielman has been talking about how far and wide the Vikings would search for a quarterback, how careful they would be not to get boxed into drafting one in the first round. He has described this class as being without a sure thing since February and has talked since March about how re-signing
Matt Cassel
gave the Vikings the freedom to wait on a quarterback.
There are a couple of viable explanations for the consistency. One possibility is that Spielman has been crafting the narrative that the Vikings won't force a quarterback pick at No. 8 for months, possibly to ward off teams that might be interested in leapfrogging the Vikings for a QB or to create a market for trading down. The other scenario is that Spielman is staring at the situation, knowing how damaging the fallout could be for him if he misses on another highly drafted passer, and is mulling the possibility that a first-round quarterback might just be too big of a gamble in this draft.
Plenty of people around the league believe the Vikings won't take a quarterback at No. 8, choosing instead to draft a defensive player or trade back a few spots to accumulate more picks before picking a defender. With the caveat that what you hear from people around the league has to be triple-filtered this time of year, I'm inclined to think it's likely the Vikings wait, for a couple reasons. First, the Vikings still have enough defensive needs that they would be helped sooner by a linebacker or defensive back than they would by drafting a quarterback who needs time to develop. There's some legitimacy to Spielman's statements that the Vikings aren't that far away from being back in the playoffs. That's based on how many close games they might have won with only slightly more efficient quarterbacking and a less porous defense last season. If you believe a full season of Cassel and the prospect of defensive improvement is enough for a quick pivot while
Adrian Peterson
is still in his 20s, wouldn't it be tempting to consider that route?
The second, and probably more important reason for the Vikings to wait on a quarterback, is this: They've seen just how much time and how many resources can be squandered on a quarterback who doesn't pan out. Peterson was 26 when
Christian Ponder
made his first start for the Vikings.
Percy Harvin
was a 23-year-old turning into a breakout star, and
Jared Allen
was in the midst of a 22-sack season at age 29. The Vikings were in the middle of a rebuilding project under Spielman and Leslie Frazier, but those don't have to take that long in the modern NFL when there are cornerstone players in place.
Heading into 2014, though, Harvin, Allen and Frazier are gone, Ponder has lost the benefit of the doubt, and the Vikings are still trying to figure out their long-term answer at quarterback. Spielman outlived Frazier in Minnesota and got a chance to hire his own coach in Mike Zimmer, but he probably can't survive another big swing and miss at quarterback. If the Vikings were to hitch their fortunes to the wrong guy at No. 8, Zimmer could eventually be dragged down with the GM.
It's interesting to think about what might have happened in 2011 if the Vikings had taken Ponder in the second or third round and if they would have felt less compelled to stand by him. Would they have made a play for
Robert Griffin III
the next year or taken
Russell Wilson
instead of
Josh Robinson
in the third round after Frazier and his staff coached Wilson at the Senior Bowl?
The Vikings might have decided to give Ponder time anyway, but it's difficult to argue any team faces the same pressure to stick by a second-day draft pick as it does with the 12th overall selection. It has to be in the back of Spielman's mind that taking a quarterback later in the draft wouldn't carry the same kind of inherent commitment as drafting one in the top 10, in addition to the fact that passing on QB at No. 8 would give him the opportunity to pick from a dynamic group of defensive players. Considering the quarterbacks that could be in next year's class -- such as Florida State's Jameis Winston, UCLA's Brett Hundley and Oregon's Marcus Mariota -- the Vikings had better know how tethered they want to be to a quarterback they would take this year.
The Vikings are in eight days of pre-draft meetings that conclude next Tuesday, when players return to the team facility for a three-day voluntary minicamp. That event will give Zimmer his first real chance to work with players and make some determinations about what he has in Cassel and Ponder. From there, the Vikings can have their final discussions about how they want to approach the quarterback position. But it seems possible, as it has for months, that they are seriously weighing the benefits of waiting if they're not completely enamored with a QB in the first round.
"How many franchise quarterbacks actually come out?" Spielman said earlier this offseason. "Last couple years, there have been a couple guys that have been taken in the second and third rounds that have been successful. I think there's some depth in this quarterback class. You're definitely not going to be forced to take a quarterback at 8 unless you're totally sold on that quarterback. I can guarantee you that it's not going to be a forced issue."
December, 4, 2013
12/04/13
9:55
AM ET
Welcome to Around the Horns, our daily look at what's happening on the Vikings beat:
Vikings fullback Jerome Felton is one of the best in the league at what appears to be a dying position; over the last 50 years, fullbacks have gone from carrying the ball to blocking for halfbacks, and in the modern NFL, many teams have switched them out for a third receiver. But Felton might have the best job a fullback could want, blocking for Adrian Peterson, and even though he didn't grow up wanting to be a fullback, he's happy with what he's doing.
"You know, you hear a lot about how the fullback is a dying breed,"
Felton told Mark Craig of the Minneapolis Star Tribune
. "But look at teams that are successful this year. The 49ers, they use the fullback a lot. Seattle uses the fullback a lot. Even Indy is using the fullback a lot. The Saints use one. A good fullback is a favorable position to have."
The job has certainly paid off for Felton. He came to the Vikings last year having played for two teams in the previous two seasons, but he cleared the way for Peterson's 2,097-yard season, made the Pro Bowl and got a three-year, $7.5 million contract from the Vikings in the offseason. On Sunday, as Peterson had his best day of the season, Felton probably also had his. If he's playing a dying position, he's making a living by being the best at it.
Here are today's other Vikings stories of note:
December, 3, 2013
12/03/13
6:55
PM ET
MINNEAPOLIS -- In no way does Oregon's Marcus Mariota's decision to stay in school mean the Vikings can't -- or won't -- get their quarterback of the future next May in the draft. We're also not going to entertain any notions of them tanking the rest of the season to ensure they get as high of a draft pick as possible; there are too many people with jobs on the line for any NFL team not to try and win. The fact that the Vikings are playing some of their best football with so little at stake, going 2-1-1 in their last four games, proves that.
But Tuesday's news that Mariota won't be available in the 2014 draft does remove a prominent quarterback from next year's pool. Currently, the Vikings would have the sixth pick in the draft, behind as many as three teams that could be looking for a quarterback, so they'd presumably have some interest in the QB class being as deep as possible. Mariota's decision hurts that depth, and if UCLA's Brett Hundley follows suit and returns to school, it would take even more pop out of a quarterback group whose strength is in its underclassmen.
Mariota was ranked fifth on
Mel Kiper's most recent Big Board

, and was the second-highest draft-eligible quarterback behind Louisville's Teddy Bridgewater. The draft could have other options, like Texas A&M's Johnny Manziel, Alabama's A.J. McCarron, Georgia's Aaron Murray and Clemson's Tajh Boyd, but the early review on this group from NFL personnel people is that it lacks a can't-miss prospect like
Andrew Luck
at the top of the list.
That could inject some uncertainty into the proceedings, since it puts more emphasis on how quarterbacks look in the eye of an individual team, and could potentially create a scenario where several teams get their man. But it also stresses the ability of a personnel department to make the right call on a quarterback. The Vikings took
Christian Ponder
in a 2011 draft also filled with QB depth and lacking sure things, and in 2006, they took
Tarvaris Jackson
in the second round. They could potentially be headed back into the draft, using a high pick on a QB for the third time in less than a decade, because they haven't been able to hit on their previous picks. The importance of finding the right man this time, then, would be huge.
There could be enough other intriguing options at the top of the draft that the Vikings won't take a quarterback, but I'm of the firm belief that the organization's decision-makers know they need to keep looking for a franchise-level quarterback, and that they're well aware of the opportunity they'd have to get one with a high pick in the upcoming draft. It's good to have options, particularly when so many other teams have the same need, and Mariota would have given the Vikings an intriguing one.
He won't be there, though, and he might not be the only underclassman to stay in school. That's bad news for teams who could be as keenly interested in finding a quarterback next spring as the Vikings could be.