Minnesota Vikings:

Mark Wilf
November, 7, 2014
Nov 7
10:00
AM ET
EDEN PRAIRIE, Minn. -- Concluding our Q&A with
Minnesota Vikings
coach Mike Zimmer (here's
part 1
and
part 2
):
What has your working relationship been like with [general manager] Rick [Spielman] and the Wilfs?
Zimmer:
Really good. Really good. I don't talk to Mark and Zygi all that much -- every Monday after the game we talk, after the game, I see them and stuff like that, and sometimes before the game, but that's really about it. But they've been, with everything, anything I've asked for, they've been accommodating. Rick has been really good. We'll sit down and talk; we'll watch film together, we'll watch the game tape after the game together. It's actually been pretty easy. That part has been easy.
[+] Enlarge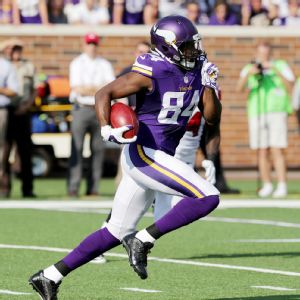 AP Photo/Jim MoneCordarrelle Patterson has had problems playing at a consistently high level.
Was that a big adjustment for you -- being more involved in the higher-level stuff with management?
Zimmer:
Not too much, because in Dallas, Jerry Jones was pretty involved. And then in Cincinnati, I met with Mike Brown every Monday. He was involved in all the draft meetings and everything. He was at practice every single day. It really wasn't that much different.
At least watching from the outside, it seems like your working relationship with Rick is pretty good -- it seemed like you were kind of able to say, 'Here's what I need to be successful,' and he was able to go get it. Is that how it's worked?
Zimmer:
Yeah, and he's said, when he goes on the road now and looks at these college guys and stuff, even now, in watching how we play and the things we do, I think he's getting a better idea of what we need. Everything happened so fast before the draft -- getting here in January and all that, and trying to evaluate. Now, [Scott] Studwell and George Paton and Rick, when they're watching the tape and seeing how we play, the things we do and the techniques we're teaching, I think they have a good idea of that. It's never going to be 100 percent agreement on everything, but from watching the defensive players for so long, I have a good idea -- now, I'm wrong a lot, too, and we all are -- but I think the core characteristics that we're looking for in guys are easier to spot when you've been watching the tape.
In terms of getting all the pieces you need and guys that are perfect fits in your system, is it hard to expect that to happen in a year? Do you think it takes a couple cycles of player acquisition to get everything you need?
Zimmer:
I don't ever look at it like that, because I think I'm a pretty good coach, and I can coach guys into doing it. Like,
Josh Robinson
, I think he's had a pretty good half so far. I think when guys learn the techniques we're trying to teach, they can improve. That's all I've ever tried to do, is improve players -- whoever they are, whoever we have at the time -- and then worry about the next year and figure out how we can get other guys in here. My job is to take each player and make them better every day.
You mentioned Cordarrelle [Patterson] a little bit [in your Tuesday news conference]. Is he still figuring out what you guys want from him, or is it a matter of being consistent in practice every day? What's the summary of where he's at right now?
Zimmer:
It's not so much the consistency in practice, because I think he's doing a lot of good things in practice. It's maybe the consistency in the game a little bit more. That's really it -- it's being consistent, running the same route all the time, being at the same depth, running the same release, so that everybody is on the same page. That's really what it's about.
When he got here, of course, he hadn't played a lot of football. Is it something that just takes time for him to learn all the nuances of the game?
Zimmer:
Yeah, and it's different for every player.
Anthony Barr
is coming here as a young guy that's learned a lot of things in a short amount of time, and some guys take a little bit longer. That's always how it's been. I've had some really great players that, in their third year, they start really coming on and figuring it out -- guys that have probably played more football than [Patterson] did. As long as they work, and they want to do the things the right way, and continue to do it good -- and I think he does. That's why it was good last week [against Tampa Bay] that he had some success. We've just got to keep trying to get him maintaining the consistency level.
You've mentioned you haven't been paying a whole lot of attention to Adrian Peterson's legal status. If he comes back, is it hard to put him back in the system when it's been this long?
Zimmer:
I think it all depends on the guy a little bit. Each person is different. I've had a player tear his Achilles, and the first day back, he remembers everything and how to do it. And then you have other guys that will come back, and you have to re-teach their steps and technique -- everything. I think everything's different with every player.
May, 21, 2014
May 21
8:30
AM ET
MINNEAPOLIS -- The
televised celebration in the Minneapolis bid committee's conference room
on Tuesday afternoon -- in response to NFL commissioner Roger Goodell's announcement that Super Bowl LII was headed to the Twin Cities -- was spontaneously raucous, in the way that only a celebration of the end of a long wait can be. As
Minnesota Vikings
officials, corporate CEOs and civic leaders exchanged jubilant (and occasionally awkward) high-fives and embraces, the room quieted down only at the mention that Vikings owner Zygi Wilf was about to speak on TV.
It was then I realized: This must have been the first time in a while where it was purely, unequivocally good for the Wilf family to be the owners of the Vikings.
[+] Enlarge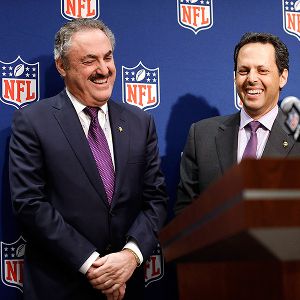 AP Photo/David GoldmanVikings owners Zygi and Mark Wilf were all smiles after Minneapolis was selected as the host for the 2018 Super Bowl.
Zygi, Mark and Leonard Wilf, who prefer to stay out of the spotlight as much as possible, have presumably spent too much time in it for their liking in the past nine months, and rarely for positive reasons. First, there was the news that a New Jersey judge had ordered the family to pay $100 million in damages to its business partners in a 21-year-old lawsuit, which the Wilfs are still fighting in appellate court. That lawsuit triggered an emergency (if slightly theatrical) review of the Wilfs' finances that threatened to delay groundbreaking on the Vikings' new stadium, and four days after Zygi and Mark Wilf appeared at a news conference to announce the firing of coach Leslie Frazier following a 5-10-1 season, the owners ordered an independent review of the organization in the wake of former punter
Chris Kluwe
's allegations he was cut because of his support for same-sex marriage.
Even low-level controversies,
like the news the Wilfs were receiving tax breaks
in exchange for storing stadium dirt on parking lots they owned in downtown Minneapolis, played on the narrative that the Vikings' owners were suspicious out-of-towners, intent on driving hard bargains with a community that counts three Midwesterners as the owners of its other pro teams and tends to be leery of slick East Coast mavens.
But on Tuesday, the Wilfs weren't seen as carpetbaggers. They were the patient, steady hands who bought the Vikings in 2005, never threatened to move the team during a long legislative battle over a new stadium and ultimately helped forge the partnership on a $1 billion complex that will bring the Super Bowl back to Minnesota for the first time in 26 years. They got to talk about the "
beginning ... of a long, great relationship and a great venue that everyone in Minnesota can be proud of
," and as a kicker, they helped Minnesota exact a small measure of revenge for one of its most bitter NFC Championship Game defeats, beating out New Orleans for the right to host the game four years after the Vikings' overtime loss to the Saints. After a long, tenuous stretch, they seemed as much a part of the community in Minnesota as they had in some time.
However unscrupulous the Wilfs' business dealings might make them seem in the eyes of Minnesotans, it's tough to argue they haven't been good owners since they bought the team from Red McCombs. They've funded one of the
NFL's highest payrolls
, routinely spending money in free agency and giving general manager Rick Spielman the freedom to acquire seven first-round picks in the past three years. They were patient with state legislators through the fits and starts of the stadium process, even as the Vikings' local revenues in the outdated Metrodome ranked among the league's lowest. And they've now got the distinction of being the owners who helped bring America's biggest sporting event back to a state that might never have been more energized than when it had the game last time, in the middle of a remarkable 10-month run that saw the U.S. Open, Stanley Cup finals, World Series, Super Bowl and Final Four land in the Twin Cities in 1991 and 1992, making Minnesota the center of the nation's sporting conscience.
On top of all that, the Wilfs have a new head coach they like, a new quarterback in
Teddy Bridgewater
and an iconic player in
Adrian Peterson
. The narrative around the team right now is very much about what's exciting and new, and very little about the unsightliness of the past nine months. Tuesday was a good day for them to be the owners of the Vikings, and as they landed a Super Bowl that's sure to induce plenty of fretting about Minnesota's frosty climate, it probably wasn't hard for the Wilfs to feel the warmth from their adopted fan base.
January, 1, 2014
Jan 1
8:00
AM ET
MINNEAPOLIS -- After each of the Vikings' last two games,
Adrian Peterson
said he thought Leslie Frazier should be back as the Vikings' head coach. He added he planned to talk to ownership about it after the season (though Peterson has been around the NFL long enough to know how quickly coaches get fired after their seasons conclude). And after Sunday's game, he added he wanted to be more in tune with what offseason moves the Vikings are making, to keep an eye on the direction of the franchise before he enters his eighth season with the team.
On Monday, when reporters approached him for his thoughts on the Vikings' decision to fire Frazier before sunrise, Peterson said nothing.
He still had nothing to say when approached for comment via text message on Tuesday, though general manager Rick Spielman said he talked to Peterson and a number of other players about the decision on Monday.
"I tried to talk to every unrestricted free agent we had, every one of the players that were on the leadership council that was in place and I'll eventually get through all the players, especially the veterans," Spielman said. "I wanted to hear their opinions. (Team president) Mark (Wilf) and (owner) Zygi (Wilf) sat in there with me as we talked to the players as well. I understand how difficult change is for people and how difficult change is because it's the unknown. But I also know sometimes when you make that change it also can bring a spark as well."
That could be true, but for a player who's rarely one to rock the boat, Peterson's progression from pointed opinions to sullen silence spoke volumes. He will be 29 in March, and seems acutely aware that his window to win a championship with the Vikings is shrinking. Peterson is under contract through 2017, said he plans to play for years to come added "I plan on being the best" as long as he's on the field.
But as
we discussed last week
, history suggests Peterson won't be elite forever. He's also mused about the possibility of playing in his home state of Texas one day, and his opinion of the Vikings' upcoming moves certainly bears watching. Peterson's closest brush with a Super Bowl came in 2009, the one year he had an elite quarterback (
Brett Favre
) in the same backfield, and if he's asked to weather another learning curve for a new quarterback while playing in a new system, his patience could run short.
Giving players too much of a voice in organizational decisions can lead to some ugly side effects (see Favre's rift with general manager Ted Thompson on his way out of Green Bay), and if the Vikings hire an impressive coach, Peterson isn't the type to hold a grudge. But the fact that he's becoming more vocal about his opinions -- and his choice to sit frostily silent this week -- is something the Vikings will have to be mindful of as they make their offseason decisions.
December, 15, 2013
12/15/13
9:35
PM ET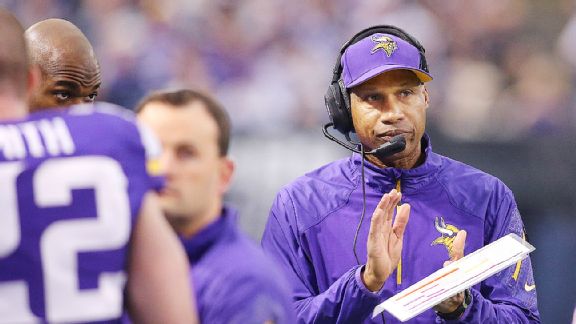 Adam Bettcher/Getty ImagesLeslie Frazier led the Vikings to an impressive thumping of the Eagles but his future in Minnesota is still in doubt.
MINNEAPOLIS -- If Leslie Frazier is in his final days as the
Minnesota Vikings
' coach, if he's soon to pay for the Vikings' fall to last place after their surprising 2012 playoff run, he's at least doing what he has done best.
Frazier took over the 2010 Vikings after ownership fired Brad Childress with the team at 3-7. He coaxed a 3-3 finish out of the team, even after the Metrodome roof collapsed, which forced the Vikings to move two home games. A snowstorm also forced them to play another game in Philadelphia on a Tuesday night. Frazier got the interim tag removed from his title after that season, and when
Adrian Peterson
tore his ACL on Christmas Eve, Frazier watched his young team grind out a road win in Washington. The Vikings fell from 4-1 to 6-6 last year, only to rally for four consecutive wins in December, clinching a playoff spot on their last play of the season.
Those rallies have earned Frazier praise from players for what he does best: preach unity and coax effort out of his team in the midst of adversity, and he looks like he might be in the middle of another impressive late-season run.
The Vikings are 3-2-1 in their past six games, and without Peterson,
Toby Gerhart
or their top three cornerbacks on Sunday, they scored their
biggest win of the season
in a 48-30 thumping of the
Philadelphia Eagles
. That might not be enough to save Frazier's job this time, especially in light of how much adversity the Vikings have created for themselves this season.
They have shuttled through three different quarterbacks, blown five last-minute leads and played some of the most statistically porous defense in the league. Since the Vikings were 1-7, rumors have been circulating about
Frazier's future
, about which candidates might line up to take his place, and Sunday was no different.
NFL Network cited team sources and sources familiar with the ownership's thinking who said Frazier's future was "grim," adding the Vikings likely would target a young NFL assistant with "star power." CBS Sports said the Vikings already have approached Penn State coach Bill O'Brien. Those two reports posit two different paths for the Vikings' next coach, and there are sure to be more theories about where the Vikings could go next between now and when -- or if -- the team parts with Frazier.
The coach effectively was put on notice when the Vikings decided to pick up his 2014 option -- not offer him a long-term contract extension -- after the team's 10-6 season in 2012. Though the Vikings have little stability at what might be the two most important spots in the modern NFL (quarterback and cornerback), they'd be atop the NFC North right now if they had been able to hang onto their late leads. And Sunday, again, called into question what might have been if the Vikings had stuck with
Matt Cassel
all season, rather than handing starts to
Josh Freeman
and
Christian Ponder
after Cassel's first -- and to date, only -- bad game.
"We made those decisions at the time for different reasons. We always felt good about Matt but there were some things we needed to see [from Freeman and Ponder]," Frazier said. "Unfortunately, we weren't able to get wins when we were going through the process. That would have been a lot better. We knew why were doing it back then, so hindsight is always 20/20."
If one can make the case the Vikings could be in playoff contention with their current roster -- and it certainly appears that theory is valid -- then poor decision-making by coaches often leads to them taking the fall before front office people. It has always seemed possible that could happen in Minnesota, though team president Mark Wilf and general manager Rick Spielman would not comment on a report that Spielman has been told his job is safe for 2014.
While Frazier can't reverse those last-minute collapses or the quarterback decisions now, he can make one more statement about how good he has been at getting his teams to play their hardest. He made that statement again on Sunday, and if he can do it twice more, maybe he'll scrape together enough goodwill to save his job when the chances of him keeping it appear slim.
"I think a report is a report. When your team has four wins, it's going to happen," linebacker
Chad Greenway
said. "I have been with Leslie for seven years out of my eight in the NFL, so there are guys here that you create good bonds with that have done a great job coaching. It's not my decision to make one way or the other, but I appreciate the things they continue to do for us to put us in the best position to get wins."
December, 15, 2013
12/15/13
6:00
PM ET
MINNEAPOLIS --
Minnesota Vikings
team president Mark Wilf would not comment on the futures of general manager Rick Spielman or coach Leslie Frazier after the team's 48-30 win over the
Philadelphia Eagles
on Sunday, saying the team's owners were "just going to enjoy the win and try to win out the season."
Frazier, who was not offered a contract extension after the Vikings went 10-6 and made the playoffs last season, is only signed through the 2014 season and was thought to be on the hot seat when the Vikings started the season 1-7. Team owner Zygi Wilf said after a loss to the
New York Giants
on Oct. 21 that "I'm sticking with our team" when asked about the prospect of in-season staff changes, and Wilf also declined to talk about the futures of Spielman and Frazier after the Vikings' stadium groundbreaking earlier this month.
A NFL Network report on Sunday morning said Frazier's future looked "grim," adding that Spielman had already been told he would return for the 2014 season. When asked about his future after the game on Sunday, Spielman said, "I'm not going to talk about anything."
When discussing Frazier's future during his mid-season news conference on Nov. 1, Spielman said, "We back coach Frazier 100 percent and we'll do everything we can to to help him get this thing turned around." When he was asked if Frazier might be let go during the season, Spielman said, "Leslie Frazier is not going anywhere. I am telling you that we are very committed to Leslie Frazier and this coaching staff."
The Vikings are now 3-2-1 in the second half of the season, but have blown last-minute leads in five games this year. Frazier said, though, that he's not looking at late-season wins as a way to make a statement about saving his job.
"We are approaching these ballgames like we did in September and October," Frazier said. "Nothing has changed for our team or myself. Those of you who know me in the press know that is not my mindset. We were focusing today on the Eagles and what we had to get done in this ballgame. We'll do the same thing next week."
December, 4, 2013
12/04/13
9:55
AM ET
Welcome to Around the Horns, our daily look at what's happening on the Vikings beat:
Vikings fullback Jerome Felton is one of the best in the league at what appears to be a dying position; over the last 50 years, fullbacks have gone from carrying the ball to blocking for halfbacks, and in the modern NFL, many teams have switched them out for a third receiver. But Felton might have the best job a fullback could want, blocking for Adrian Peterson, and even though he didn't grow up wanting to be a fullback, he's happy with what he's doing.
"You know, you hear a lot about how the fullback is a dying breed,"
Felton told Mark Craig of the Minneapolis Star Tribune
. "But look at teams that are successful this year. The 49ers, they use the fullback a lot. Seattle uses the fullback a lot. Even Indy is using the fullback a lot. The Saints use one. A good fullback is a favorable position to have."
The job has certainly paid off for Felton. He came to the Vikings last year having played for two teams in the previous two seasons, but he cleared the way for Peterson's 2,097-yard season, made the Pro Bowl and got a three-year, $7.5 million contract from the Vikings in the offseason. On Sunday, as Peterson had his best day of the season, Felton probably also had his. If he's playing a dying position, he's making a living by being the best at it.
Here are today's other Vikings stories of note:
November, 1, 2013
11/01/13
6:35
PM ET
EDEN PRAIRIE, Minn. -- Vikings general manager Rick Spielman said on Friday that coach Leslie Frazier has the final call on who starts at quarterback for the 1-6 Vikings, and though he wouldn't guarantee that Frazier will remain in his job for the rest of the season, he said Frazier "isn't going anywhere."
Spielman, speaking to reporters during a 45-minute state-of-the-team discussion at midseason, said the Vikings want to solidify their direction at quarterback by the end of the season, but reiterated the decision to sign
Josh Freeman
on Oct. 7 does not mean
Christian Ponder
is out of the team's plans.
"If you're not out there always looking and trying to find [a quarterback] until you actually find a
Peyton Manning
, then I feel you're not doing your job," Spielman said. "Our job is to be aggressive, to try and get that position solidified. Does that mean that Christian Ponder is not that [franchise quarterback]? I'm not saying that whatsoever.
"If he ends up being our starting quarterback, and you see him come on and see that he is playing consistently, then maybe he is the guy we're going to go into the future with. But everybody tried to speculate that by bringing in Josh, this means Christian is done. That has nothing to do with anything. It was just an opportunity at a pretty critical position on your roster to take a look at some quality guys that are very young still for the position."
The GM backed Frazier's decision to start Freeman on Oct. 21 against the
New York Giants
, when Freeman went 20-of-53 for 195 yards after spending just two weeks in the system. He said he has "100 percent faith" in Frazier, and added he believes the Vikings have the pieces to get their season turned around.
Frazier, who led the Vikings from 3-13 in 2011 to 10-6 in 2012, is under contract through the 2014 season, but ownership decided to pick up the 2014 option in his deal rather than offer him a long-term extension after last season. That's led to widespread speculation his job might be in jeopardy if the Vikings had a poor season.
Asked on Friday what would define a successful season, Spielman said, "Wins."
"We're not in this business not to win. It's just expected. You expect to go out and win and you expect to go out and win every week and that's what this business is about, is getting wins."
Spielman said, though, that he has no problems with the team's effort on Sundays, and added that the team's owners, Zygi and Mark Wilf, have expressed support for the organization's direction in their conversations with him.
"They're just like everyone. It's been a rough start," Spielman said. "But they're in the same boat. We're all in this together. We're all supporting each other. And whatever roles we have in the organization, we're going to work to try and get this thing turned around as quickly as we can. They've been very, very supportive."