Minnesota Vikings:

Marshawn Lynch
December, 24, 2014
Dec 24
3:40
PM ET
EDEN PRAIRIE, Minn. -- Each year, the Minnesota chapter of the Pro Football Writers Association honors one player with the Korey Stringer Media Good Guy Award, presented to the Vikings player who displays the most professionalism and cooperation with the media. Now that our weeks-long embargo on the results is over (seriously, there was an embargo), we can reveal this year's winner: Defensive end
Brian Robison
.
Robison
The veteran left end, who finished second in last year's voting to linemate
Kevin Williams
, edged several deserving candidates, such as fullback
Jerome Felton
, cornerback
Captain Munnerlyn
, safety
Harrison Smith
, cornerback
Josh Robinson
, linebacker
Chad Greenway
and wide receiver
Jarius Wright
. The Vikings' locker room includes a healthy number of players who are engaging and courteous with the media -- a dozen players received votes for this year's award -- and for a writer, it's generally a good group to cover.
Robison, though, probably set himself apart for his willingness to perform one of a player's more unpleasant media functions: stand in front of his locker and answer questions after a tough loss, both on Sundays and Mondays.
"No matter if it's a loss or a win, you want to convey the message -- not only to the media, but to the fans," Robison said. "You all have a job to do, and the fans want to know what you're thinking after a loss. They want to know what type of guy you are, all of those things. The media really has an intricate role in how we relate ourselves to the fans. ... A lot of times, they need to hear that we did not play our best ball, that we didn't get beat on the field, we just didn't tackle well, or we didn't do this or do that. There is a way to convey your message to the fans to let them know that, 'Hey, we're not satisfied with the way this game went. We're going to try to get it fixed.'"
Robison credited former teammates such as Williams and
Jared Allen
-- as well as current teammates such as Greenway, who won the Stringer Award two years ago -- for showing him how to be a team spokesman in public. We've all spent plenty of time talking about the value of media access in the wake of
Marshawn Lynch
's refusals to talk (or say anything meaningful) to reporters, and I'm not one to castigate a player for declining to cooperate with reporters. While the NFL requires players to be available to reporters, it's a player's choice how insightful or revealing he wants to be. Some don't see a benefit to doing so, which is their prerogative.
But it's worth noting that Robison and Greenway -- two of the most experienced players in the locker room -- have seen accessibility with the media as a way to portray a message to fans beyond what might be available in a 140-character tweet. Remember
Robison's comments after the first Green Bay game
, where he said some players had "checked out" of playing the proper scheme? That was his way of letting fans know he understood their frustration, and it probably helped further coach Mike Zimmer's message about players' need to be more committed on defense.
"I never met Brian before I got here or anything like that," Zimmer said. "But I think he helped to kind of preach the message, especially to defensive players, about what we're trying to get done. I asked him to change his game, a lot of things he did, for the betterment of the defense. He is a guy I can go and talk to, and ask him different questions about what his opinion is, what he thinks about. I think those kinds of guys are important when you first get to a place."
It also doesn't hurt, of course, that Robison is able to portray his sense of humor to fans through his comments to the media -- and whether it's been his
new hairdo
or his
maladies somewhere further south
, Robison hasn't been shy about letting his personality show this season.
He continued that on Wednesday when he accepted the Stringer Award.
"This award will definitely go in the room with the rest of my NFL accolades," he said. "So, it'll be in a room by itself."
July, 23, 2014
Jul 23
1:00
PM ET
MINNEAPOLIS -- For at least one more year,
Adrian Peterson
has one-upped
LeSean McCoy
. Or at least the virtual version of him has.
Peterson is the top-rated running back in 'Madden NFL 15,' with an overall rating of 98. EA Sports released its running back ratings for this year's version of the game on Wednesday, and Peterson edged McCoy and Kansas City's
Jamaal Charles
by a point, a year after carrying a 99 rating and gracing the cover of the next-generation console version of 'Madden NFL 25.' Chicago's
Matt Forte
and Seattle's
Marshawn Lynch
are the next-best running backs in the game, with overall ratings of 95 each.
Peterson
We got a chance to talk with Donny Moore, who carries the title of "Madden NFL Live Content Producer and Ratings Czar" -- and who might have one of the only jobs in the world we'd think is cooler than ours -- about the process of rating players for the game. Essentially, Moore and his team spend countless hours dissecting proprietary NFL film, reading updates on players and digesting advanced stats in a meticulous (and in the days of week-to-week online updates, continual) effort to make the game as realistic as possible. Their job is to distill all of that information into a player profile, rating each player in the NFL across more than three dozen categories to make his digital doppelganger behave like the real thing.
"The ratings pipe right back into the gameplay," Moore said. "We get so many requests and expectations for game play; it's got to be fun, but it's got to be authentic."
Peterson, Moore said, slipped a point for several reasons: His yards per carry dropped from an otherworldly 6.0 in 2012 to 4.5 last season, he fumbled five times (his most since 2009) and he was hampered by injuries for much of last season. Still, there's no one in the game with the combination of speed and power that Peterson has.
"Everybody says, 'What? How is he the top guy? He certainly didn't have the 2,000-yard season (in 2013), but the overall rating is still a calculation of their attributes," Moore said. "He's a 97 across the board in the three physical categories that matter the most. I don't think there's anyone that has that collection of ratings. He's a 93 (in) trucking, 95 (in) elusiveness. When he's out in the open, he's not going to be caught. In contact situations, he'll still succeed better than any running back."
Moore said the most time-consuming part of his job is creating rookies for 'Madden,' since the game developers don't rely much on the corresponding characters in EA's college football games (which were discontinued after last season). The college game was more favorable to players, Moore said, than 'Madden' aims to be, so rookie creation means starting almost from scratch.
Vikings rookie running back
Jerick McKinnon
, Moore said, was "pretty fun to create," in large part because of McKinnon's eye-popping numbers at the NFL scouting combine. The Georgia Southern product bench pressed 225 pounds 32 times, ran a 4.41-second 40-yard dash, flashed a 40 1/2-inch vertical and an 11-foot broad jump. "It's easy to rate his physical attributes very well because of how he timed (at the combine)," Moore said. "How he rates on his trucking or his elusiveness remains to be seen, but between his speed, his agility, his acceleration and his jumping, that's pretty nice for a guy from Georgia Southern."
One more Vikings-related note on this year's game, which will be released on August 26:
Teddy Bridgewater
-- an avid 'Madden' player who
reacted with mock indignation
to his rating in this year's game -- is the second-best quarterback on the Vikings' roster, a point behind
Matt Cassel
. Moore said Cassel, Bridgewater and
Christian Ponder
are "all bunched up in the high 70s," and while Bridgewater was slated to be the top rookie QB in the game when Moore started putting his ratings together, his stock slipped because of his now-famous pro day, just like it did in real life.
"I had to knock his throw power down a point or two," Moore said. "I had him at an 89, and now it's an 87. I think he has the top short accuracy of all the rookie quarterbacks, and his overall accuracy is pretty stellar. His deep accuracy needs to improve. His speed rating is in the low 80s, which puts him in the
Aaron Rodgers
category (for quarterbacks).
November, 15, 2013
11/15/13
10:00
AM ET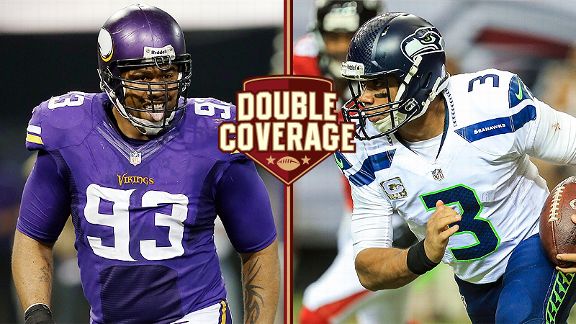 AP Photo, USA Today Sports ImagesKevin Williams' Vikings will face a challenge with Russell Wilson and the Seahawks playing at home.
.
SEATTLE -- The
Seattle Seahawks
have amassed a 9-1 record despite playing with a patchwork offensive line and a receiving corps that lost one starter in
Sidney Rice
and never had its key offseason acquisition in
Percy Harvin
.
That's about to change. The offensive line could have all its starters on the field Sunday for the first time since Week 2, and Harvin could finally make his debut as a Seahawks receiver.
If Harvin plays, it would be against his former team, the
Minnesota Vikings
, adding more drama and intrigue to the moment. ESPN.com Seahawks reporter Terry Blount and Vikings reporter Ben Goessling discuss that, as well as the other storylines for Sunday's game.
Terry Blount:
Ben, obviously, Seahawks fans are going crazy about the possible debut of Harvin and what he can add to the Seattle offense. But let's look at this from the Minnesota side. The Vikings must feel like they got a pretty good deal out of this, don't they?
Ben Goessling:
I think they were pleasantly surprised to get as much for Harvin as they did. Everyone knew they were going to trade him, so for general manager Rick Spielman to get three picks, including a first-rounder, was quite the coup. He's done a good job over the years of creating a market for his players or picks, and the Harvin trade was no different. It will be a while, though, before we know if what they did with the picks worked.
Xavier Rhodes
, whom the Vikings took with Seattle's first-rounder, is being asked to play more zone coverage than he did in college, and he has struggled with that after coming out of Florida State as a press corner. He has the skills to be a good corner, but the learning curve is steep.
While we're on the subject of Harvin, how much of a factor do you think he'll be on Sunday? He probably wants to show up his old team, but will he get the opportunities to do so?
Blount:
If he plays, I think it will be limited -- maybe 10 or 12 snaps, tops. We're talking about a guy who hasn't played in an NFL game in more than a year. Pete Carroll has said over and over they will be very cautious with Harvin. They invested $67 million in the guy. They aren't going to risk everything in his first game back, especially in a game the Seahawks should win whether he plays or not. I know Harvin is fired up about playing against his old teammates, but the coaches want to hold him back a little. They probably want him to get his feet wet and save the real show for the
New Orleans Saints
on the Monday night after Seattle's bye week.
Ben, there seem to be a lot of unknowns about the Minnesota quarterback situation, where the team is headed and with whom it's headed there --
Christian Ponder
,
Josh Freeman
,
Matt Cassel
or maybe someone who isn't there yet. What's the likely answer for the future?
Goessling:
I think in the long run it's probably someone who isn't here yet. Spielman liked Freeman in the 2009 draft -- the Vikings might have drafted him if he were still on the board when their pick came -- and the Vikings are now getting a chance to work with him on a daily basis, though they don't seem to think they need to put him on the field to evaluate him. Cassel is probably a backup at this point, and though Ponder has been better lately, he just isn't consistent enough to count on long term. The Vikings will have a high pick in what looks to be a pretty good quarterback draft, and it would be a surprise if they didn't use the pick to take another crack at getting a franchise QB.
Terry, it's been hard to get a read on the Seahawks' run defense this season. One week, they'll completely shut down an opponent's ground game. The next, they're giving up 200 yards to the Rams or the Buccaneers. Why has it been so inconsistent, and can
Adrian Peterson
exploit it this weekend?
Blount:
That's a great question. I think the Seahawks are better against the run than they were in those two games. But there are times when the front seven get so focused on rushing the passer that they discount the run, get out of position and end up missing tackles. The other problem in those two games was middle linebacker
Bobby Wagner
coming back too soon from a bad ankle sprain and not being able to play up to his usual standard. But last week against Atlanta he had nine solo tackles. The Seahawks know they are facing the best of the best Sunday, so they'll be at their best for Peterson.
Ben, the Vikings haven't won a road game this season. What would it take for them to win this one?
Goessling:
Boy, this one seems tough for the Vikings. As we've discussed, they might be able to run the ball effectively against Seattle -- Peterson had one of his biggest games there last year -- but I don't think Ponder will have much success against that defense. I could see
Marshawn Lynch
giving the Vikings trouble, and if Harvin is in the lineup, there's part of me that thinks he'll have a big game.
Terry, as I said, this matchup looks like a bad one for the Vikings. But time and again we've seen the Seahawks let inferior opponents hang around and nearly beat them. Do the Vikings have any reason for hope this weekend, or do you see this as an easy Seahawks win?
Blount:
I think the Vikings are catching the Seahawks at the wrong time. The offensive line probably will have all five starters back for the first time in eight weeks. If Harvin makes his debut, it will add enormous energy and excitement for the team and the fans. And the Seahawks are coming off their best game of the season, a game in which they looked like the Super Bowl contenders everyone expected to see. This is their last game before the bye, so they will go all out to make sure they get there with their 13th consecutive home victory.
.
November, 14, 2013
11/14/13
9:35
AM ET
MINNEAPOLIS -- The
Minnesota Vikings
continue to insist Sunday's game against the
Seattle Seahawks
isn't solely about them facing
Percy Harvin
, their former teammate who looks like he could come back from a hip injury just in time to settle old scores with the Vikings. And in a technical sense, they're right.
For the Vikings, the Seahawks present matchup problems that extend far beyond Harvin; they'll play their second straight game against a quarterback (
Russell Wilson
) who can make plays with his feet, run the read-option and confuse defenses. A run defense that has been shredded for 409 yards in its past three games will have to contain Seahawks running back
Marshawn Lynch
, and assuming
Christian Ponder
starts at quarterback, he'll face one of the league's best defenses at the site of one of his worst games in the NFL.
[+] Enlarge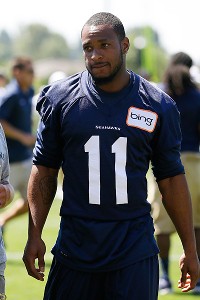 AP Photo/Ted S. WarrenThe Vikings aren't sure what to expect from their former receiver, Percy Harvin, who is expected to be in Seattle's lineup on Sunday.
But the potential return of Harvin adds another element to the matchup, especially given the likelihood the receiver isn't regarding this as just another game. Vikings coach Leslie Frazier said he and Harvin left on good terms, adding he texted the receiver to wish him well after the Vikings traded Harvin to Seattle in March, but it was tough to disguise the tension that existed between the mercurial receiver and the team after several confrontations, including one in Seattle last year where Harvin screamed at Frazier on the sidelines.
"If that's what he wants to do, that's what he wants to do," defensive end
Brian Robison
said of Harvin putting extra emphasis on the game. "I know Percy is the type of guy that's going to play hard no matter who he's playing, and it will mean a little more to him, but the bottom line is in our minds, our defense has to get after their offense."
The Vikings also have no idea how the Seahawks will use Harvin, since he hasn't played a game with the team yet. Wilson said in a conference call on Wednesday that he's not going to change his reads to force the ball to Harvin, but the Vikings know as well as anyone how versatile the receiver can be, whether he's getting the ball on kickoff returns, out of the backfield or lined up wide.
And if he's in the slot, he could find a favorable matchup against
Josh Robinson
, whom Pro Football Focus rates as the worst slot cornerback in the league this season. Robinson has improved there lately, and
Marcus Sherels
could also help him out, but a healthy Harvin represents as tough a potential matchup as the Vikings could see in a slot receiver.
"He's a tough guy. He's strong and also very fast, elusive," Robinson said. "He's a guy that has a lot of talent, one of the best I ever faced. I look forward to the challenge."
Seahawks coach Pete Carroll still isn't confirming Harvin will play, but a three-word tweet from Harvin --
"It's go time"
-- might have betrayed the Seahawks' intentions on Tuesday afternoon. If he's back, he's certainly going to give the Vikings plenty to think about.
"You really don't (know what he'll do) because he's coming off an injury," Frazier siad. "You don't know how far along he is, so it's hard to say. We did so many diffent things with him -- will they try to do some of those things? It's really hard to say."
November, 13, 2013
11/13/13
8:15
PM ET
EDEN PRAIRIE, Minn. -- The
Minnesota Vikings
got some good news in their first full practice since last Thursday's game: defensive backs
Chris Cook
and
Jamarca Sanford
, who missed the team's previous two games with a strained hip muscle and groin, respectively, both were full participants on Wednesday.

Coach Leslie Frazier said he expects both players will be ready for Sunday against the
Seattle Seahawks
, which means the Vikings should once again have three of their four starters back in their secondary.
That extra depth could be especially important. The Seahawks could get
Percy Harvin
back from a hip injury, just in time to put some stress on his old team, and the Vikings will need Sanford's help in run support against
Marshawn Lynch
. Safety
Mistral Raymond
, who figures to get fewer snaps if Sanford is back, has missed a handful of tackles in the Vikings' previous two games.
In other Vikings injury news: