Minnesota Vikings:

Matt Flynn
June, 20, 2014
Jun 20
9:00
AM ET
MINNEAPOLIS -- The day
Matt Cassel
signed his first contract with the
Minnesota Vikings
,
Greg Jennings
had just arrived in town on a free-agent visit. The two had never played together before, and didn't know each other much, but Cassel introduced himself to the former
Green Bay Packers
receiver, telling him he hoped they'd get a chance to team up in Minnesota.
Jennings
Cassel
It hardly seemed at the time like Cassel would be the next quarterback to connect with Jennings after Brett Favre and
Aaron Rodgers
, but a year after the two signed with the Vikings, Cassel and Jennings have clicked. The two married fathers, on one of the league's youngest teams, have bonded off the field over shared experiences, and they've developed a trust on it that was born out of a mutual respect for the other's work habits. Jennings tallied 489 receiving yards and caught all four of his touchdown passes from Cassel, who started six games; had Cassel been starting the entire season, Jennings might have had a Pro Bowl year instead of an underwhelming start to his time in Minnesota.
Now, in the former backup quarterback, Jennings has found an unlikely partner.
"When he first got here, he always took the approach as though he was the starter," Jennings said this week in a wide-ranging interview. "
Matt Flynn
was the same way (in Green Bay); Aaron was the same way. They prepared, they prepped, as though they were going to start, as though, 'Anything can happen; I'm ready.' And that was Matt (Cassel). Even the day of the game, he prepared as though he was going out and taking the first snap. In practice, we kind of saw things the same. Our communication was instant."
That connection seems even more unique in light of the fact both came to Minnesota planning on a different set of circumstances; Cassel had been told when he arrived that the starting job belonged to
Christian Ponder
, and Jennings signed his five-year, $45 million deal with the Vikings knowing that his time with the team would at least start with Ponder at quarterback.
Jennings spent much of his time before last season working with Ponder, but the two never found a rhythm on the field; the receiver caught just 24 of his 68 passes from Ponder, despite playing eight games that Ponder started, and only had 274 yards. "Both quarterbacks had different ways they saw the game, which is why you saw Matt and I have success," Jennings said. "Christian and I, not that we didn't have success, but his safety net was more of the checkdown. Matt, being in an offense where he's been able to move the ball and have success in New England and Kansas City, he understands that in order to win games, you've got to move the ball down the field."
It's possible Jennings will be working with
Teddy Bridgewater
instead of Cassel in the not-too-distant future; the receiver has spoken highly of Bridgewater's work so far, and Bridgewater will get a chance to win a competition for the starting job in training camp. But Cassel took many of the first-team snaps during the Vikings' mandatory minicamp, and once again, he and Jennings looked to be in sync.
"I told Matt today, 'Hey, look, (in) no-huddle, when in doubt, I got you,'" Jennings said. "He knew what he was thinking was very similar and in tune with what I was thinking."
June, 20, 2014
Jun 20
8:00
AM ET
MINNEAPOLIS -- By the middle of last October, it had become obvious that
Greg Jennings
' first year with his new team was going to offer little of what the receiver had enjoyed with his old one: consistency.
In seven seasons with the
Green Bay Packers
, Jennings had one head coach and two franchise quarterbacks. He played one game with a quarterback not named Brett Favre or
Aaron Rodgers
, and that was in the 73rd game of Jennings' career. By his sixth game with the
Minnesota Vikings
-- an ugly 23-7 loss to the winless
New York Giants
on "Monday Night Football" -- Jennings had caught a pass from his third different quarterback.
[+] Enlarge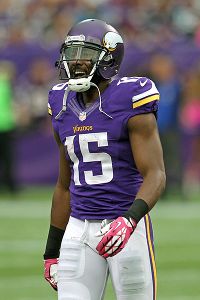 Brace Hemmelgarn/USA TODAY SportsGreg Jennings had 68 catches for 804 yards and 4 touchdowns during his first season in Minnesota.
The turnover stunted Jennings' productivity and grated on his patience; he would leave the Vikings' practice facility exasperated, heading home to his wife Nicole. "She got the bit of me venting. That's my wife. That's my sounding board," Jennings said in a wide-ranging interview this week. "But I didn't want to expose that part to any of the guys and filter it down to where everybody's complaining. We understood there was a situation that wasn't conducive to our success at that position. No one needed to say anything about it, specifically me."
Instead, Jennings decided he would do his best to bring the Vikings some of the consistency he craved. He bit his tongue in the Vikings' wide receiver meeting room about the changes at quarterback, trying to connect with whoever was starting that week and bring the same habits to the practice field regardless of the uncertainty. He stayed in the ear of rookie receiver
Cordarrelle Patterson
, preaching to him about the importance of a steady work ethic. And Jennings clicked with
Matt Cassel
, whose preparation as a backup reminded Jennings of what he'd seen from
Matt Flynn
and a young Rodgers in Green Bay.
"I wanted consistency, but even when there wasn't consistency, I wanted to be consistent," Jennings said. "Whoever got the head nod, I was supporting them, as though they had been starting the week before, or whatever the case may have been."
Heading into Year 2 in Minnesota, it appears Jennings might have some of the stability he was missing last year. Cassel has a new two-year deal, after Jennings openly campaigned for the Vikings to re-sign the veteran, and rookie
Teddy Bridgewater
had an impressive spring in the Vikings' offseason workouts. The 30-year-old receiver has raved about the Vikings' new structure, with head coach Mike Zimmer and veteran offensive coordinator Norv Turner effectively giving the team, as Jennings puts it, a head coach on each side of the ball. And he's a year removed from questions about his decision to switch sides in one of the game's most bitter rivalries, which has been running hot ever since Favre signed with the Vikings in 2009 and got a kick from last year's are-they-kidding-or-are-they-serious flap between Jennings and Rodgers.
Jennings and his wife are soon to be homeowners in the Twin Cities, where they can envision living with their four kids after the receiver's career is over. Consistency, at long last, appears to be within reach.
"Once you understand (Zimmer's) mindset behind why we do what we do, it's easy to buy in, man. It really is," Jennings said. "The practices, why he's laid them out the way he's laid them out, it just makes sense. I told my wife today, 'I have no complaints. I really love it. I love the layout, the format (of practices)' She's like, 'What? I don't think I've ever heard you say you love it.' ... As long as I do my job, I'm good."
April, 16, 2014
Apr 16
1:39
PM ET
MINNEAPOLIS -- Some quick thoughts on a few
Minnesota Vikings
quarterback items:
Freeman

Josh Freeman has signed a one-year deal with the New York Giants -- the beneficiaries of his now-infamous "Monday Night Football" misadventure last October -- and one of the most bizarre quarterbacking episodes in Vikings history has an appropriately perplexing conclusion. But for a team like New York, who has a proven quarterback in Eli Manning, there might be some logic behind the move. The Giants obviously evaluated Freeman on more than his 20-for-53 performance against them at MetLife Stadium, and after Freeman's 2013 season -- which included an unsightly divorce with Tampa Bay Buccaneers coach Greg Schiano -- the Giants probably didn't spend much to acquire the quarterback. If they felt they could rehabilitate his game away from the pressure of a starting spot, they might have made a sensible move in signing Freeman. It's essentially the same reason the Green Bay Packers would have had interest in signing Freeman had they not brought back Matt Flynn, according to ESPN NFL Insider Adam Caplan, and it's a derivation of what the Vikings were trying to do with Freeman, with one important difference. The Vikings didn't have a stable enough quarterback situation to treat Freeman purely as a speculative signing, which is probably what they should have done. Instead, they tried to rush him into the lineup, and paid for it with an embarrassing loss to an 0-6 team on national TV.
Ponder

By May 3, NFL teams have to decide whether they will exercise fifth-year contract options for 2011 first-round picks, keeping those players under contract through the 2015 season. Those options are guaranteed only against injury; otherwise, teams face no penalty for cutting a player before the start of the 2015 season. If the Vikings picked up quarterback Christian Ponder's option for the 2015 season, and Ponder played under that contract, it'd cost the team the average of the third through 25th-highest paid quarterbacks in the NFL, or $9.686 million. As expensive as that number sounds, the Vikings could always buy insurance against injury and pick up the option if they saw any chance of offensive coordinator Norv Turner coaxing more out of Ponder. Essentially, it's another year of control that likely doesn't include any guaranteed money, since insurance would get the Vikings a cap credit in the event of injury -- and the only way Ponder would play at that number in 2015 is if he surprised the Vikings so much in 2014 that they felt compelled to keep him. The decision will indicate what the Vikings still think they have in Ponder: whether they see any potential left, or whether they're just hanging onto him as a backup in case they only take a developmental QB in the draft. If the Vikings do harbor any belief Ponder can still improve, though, they'll be going against the current of history, as ESPN NFL Insider Mike Sando points out. There's a strong historical precedent to suggest quarterbacks are who they're going to be after just 16 starts.
Georgia quarterback Aaron Murray threw at his pro day on Wednesday morning, five months after tearing his ACL, but as CBS Atlanta reporter Robbie Rosenhaus told Vikings play-by-play guy Paul Allen on his show this morning, the Vikings only had a scout there. General manager Rick Spielman and coach Mike Zimmer were both at the team facility during the Vikings' offseason workout on Tuesday, and the Vikings have draft hopefuls in town on Wednesday and Thursday for their top-30 prospects event. They've typically been sending Spielman, Zimmer and Turner to meet with quarterbacks after their pro days, and though the Vikings could still schedule a private workout with Murray between now and the draft, their approach to his pro day might indicate he's not as high on their list as other quarterbacks. Then again, we're in that time of year where teams are doing their best to conceal their intentions, and it's always possible the Vikings are trying to do that with Murray.
March, 1, 2014
Mar 1
8:00
AM ET
Each week, I will field questions via Twitter with the hashtag #VikingsMail, then will deliver the answers over the weekend.
February, 19, 2014
Feb 19
4:15
PM ET
INDIANAPOLIS -- The
Minnesota Vikings
' contingent of front office people and coaches is arriving in Indianapolis this week, with plenty of prospects to meet and a glaring hole at quarterback at or near the top of their to-do list. The Vikings have the No. 8 pick in the draft, however, which means they'll likely need to move up or hope for some help if they want to get one of the top quarterbacks.

That's part of the reason we've spent so much time looking at the Vikings' other options for the No. 8 pick, and it's entirely possible the Vikings will still be looking for a young quarterback when their second-round pick (No. 40 overall) comes up on May 9.
Would the Vikings be better off dealing that second-round pick to the
Washington Redskins
for
Kirk Cousins
or to the
New England Patriots
for
Ryan Mallett
? It's a question they'll certainly have to explore.
According to the Washington Post, the Redskins want a second-round pick for Cousins, and the Patriots reportedly have a similar asking price for Mallett. Both quarterbacks are 25, and would come with some NFL seasoning -- Cousins has started four games the last two seasons for the Redskins, while Mallett has backed up
Tom Brady
for three seasons -- but they'd carry some risks, too.
Cousins threw seven interceptions while playing in five games (starting three) for the Redskins in 2013, while Mallett hasn't started a NFL game. The Vikings would have evaluated both quarterbacks as they were coming out of the draft -- and in Mallett's case, they would have passed on him when they selected
Christian Ponder
in 2011. There can be a tendency to over-value the hot backup of the moment (see:
Matt Flynn
or
Matt Schaub
), but in the case of
Matt Hasselbeck
with the Seahawks, trading for a backup can be a viable path to finding a franchise QB.
And if the price were a second-round pick, the Vikings would have to seriously weigh a trade as an option in the event they don't get a quarterback in the first round. They'd have to stack up Cousins or Mallett against QBs like LSU's
Zach Mettenberger
, Fresno State's
Derek Carr
or or Eastern Illinois'
Jimmy Garoppolo
, and determine if a quarterback with some NFL experience is a better option. They'd have to navigate the financial landscape with two quarterbacks on the back ends of their rookie contracts, and realize they wouldn't get the benefit of starting those quarterbacks in the most affordable years of their careers.
It's certainly an option, though, and as they size up their quarterback prospects, the Vikings will no doubt consider it.
January, 14, 2014
Jan 14
8:00
AM ET
Welcome back to our chronological look at the 10 plays that most shaped the Minnesota Vikings' 2013 season. Today: Play No. 8.
WHEN:
Nov. 24, 2013
WHERE:
A 26-26 tie with the
Green Bay Packers
.
THE PLAY:
Matt Flynn
's 28-yard completion to
James Jones
after
Everson Griffen
jumped offside.
WHAT THEY SAID:
Linebacker
Chad Greenway
: "It's that same shoot-yourself-in-the-foot kind of feeling we've had before. We get in a position where we need some stops and we can't get them. Or we get them and then there's a penalty."
IMPACT OF THE PLAY:
The Packers had turned a 23-7 deficit into a three-point game once Flynn replaced
Scott Tolzien
in the second half, but they were still facing fourth-and-6 from the Vikings' 40 with just over a minute left when Flynn barked a hard count and got Griffen to jump. The backup quarterback bought himself a free play, just ahead of
Audie Cole
's blitz, and lofted a jump ball to receiver James Jones, who separated from
Marcus Sherels
and came back for the pass. It put the Packers in field goal range, allowed
Mason Crosby
to tie the game and set up the Vikings' fifth last-minute blown lead of the season. The Vikings would give the Packers another reprieve in overtime when
Robert Blanton
was called for defensive holding on third-and-9 (on a call coach Leslie Frazier and many Vikings fans disagreed with), and Flynn drove the Packers to a field goal. While the defensive breakdowns were a constant theme of the Vikings' season, this one was particularly galling because it was directly enabled by penalties, which typically aren't among the Vikings' biggest problems.
November, 29, 2013
11/29/13
5:20
PM ET
EDEN PRAIRIE, Minn. -- Based on whatever abilities I have to gauge the mood of a team by its atmosphere in a postgame locker room, the loss that jarred the Vikings the most this season was their 31-30 defeat in Week 2 against the
Chicago Bears
.
The Vikings were playing their second straight division game on the road, coming off a loss to the
Detroit Lions
in which they'd contained
Calvin Johnson
and forced a pair of turnovers. They still had a chance to put their season on the right path with a win in Chicago, and after
Letroy Guion
recovered
Matt Forte
's fumble at the Bears' 47 with 6:28 to go, it was easy for an optimist to map out what would happen next: The Vikings would ride to a game-sealing touchdown behind
Adrian Peterson
and a solid second half from
Christian Ponder
, head home with their first win in Chicago since 2007, claim a victory in a winnable home opener against the
Cleveland Browns
and head to London with hopes of a second straight playoff berth very much alive.
What happened instead, of course, is this: The Vikings drove to the Bears' 4, only came away with a field goal, kicked short to avoid
Devin Hester
, gave
Jay Cutler
3:15 to move the Bears 66 yards, let Cutler pick away at their zone defense and gave up a 16-yard touchdown to
Martellus Bennett
with 10 seconds left, on a play where confusion reigned and frustration spilled into the visitor's locker room afterward.
Until that point, the Vikings had every reason to feel their season could be righted with a quick fix. As players tried to maintain a lid on their emotions afterward, it was tough to escape the ominous facts about what happens to 0-2 teams. What the Vikings couldn't have predicted at that point, though, was that they'd be faced with the same situation five times in their next nine games -- and only come away winners twice.
Minnesota has played more defensive snaps with a late lead than any team in the NFL this season, with worse results than any club in the league. When leading by seven or fewer points in the final three minutes of a game, the Vikings have allowed quarterbacks to go 30 of 47 for 365 yards and three touchdowns, according to ESPN Stats & Information. Teams have run for another 36 yards and gained a total of 23 first downs. The Vikings' only sack, and only turnover, came when
Everson Griffen
took
Ben Roethlisberger
down and forced a fumble to end the Vikings' win over the
Pittsburgh Steelers
in London. But since Cutler beat them, Cleveland's
Brian Hoyer
and Dallas'
Tony Romo
have done the same, and Green Bay's
Matt Flynn
drove the Packers to a game-tying field goal last Sunday.
"The results don't say we've learned a lot [from the first Bears game]," coach Leslie Frazier said. "We haven't produced in these situations as often as we need to, obviously. I think we did learn some things from that situation. We've just got to find a way to make some plays. We did in the Washington game and the Pittsburgh game but we haven't done it enough."
There's not much of a silver lining in blowing four last-minute leads this season, but Frazier tried to find one Friday by pointing out the Vikings' defense stiffened and held the Packers to a field goal in Sunday's tie. The Vikings have also taken to calling timeouts on two-minute drills in their last two games, both to give their offense another crack at scoring and to make sure their defense is set. Frazier blamed himself for not getting more involved in the defensive play-calling at the end of the Bears game, and linebacker
Erin Henderson
said defensive coordinator Alan Williams' call on the touchdown was something the Vikings hadn't practiced in last-minute situations leading up to the game.
"It does help to get our guys settled," Frazier said. "Each situation is different. And with all the new people we're playing now. Being in these situations for the first time you want to make sure that we know what we're doing and you can't worry about the other team. We just got to make sure we know what we're doing.''
The youth of the Vikings' secondary has rarely been more apparent this season than it was that Sunday in Chicago, and Frazier wanted to believe they'd be better on Sunday if the Vikings found themselves in the same situation. With so many injuries sapping the Vikings' cohesiveness in the defensive backfield, though, it's hard to know exactly what would happen.
Against
Josh McCown
--
who's 10 years removed from his own memorable last-minute moment against the Vikings
-- now would be as good a time as any to turn it around.
"We'll get another opportunity -- maybe -- against Chicago," Frazier said. "And if we do I think there are some things we learned from that situation that should help us on Sunday."
November, 15, 2013
11/15/13
8:00
AM ET
Welcome to Around the Horns, our daily look at what's happening on the Vikings beat:
When the
Seattle Seahawks
took
Russell Wilson
in the third round of the 2012 draft, they seemed unsure at first if they had just unearthed a franchise quarterback. The Seahawks had former Vikings quarterback
Tarvaris Jackson
, and had added former
Green Bay Packers
backup
Matt Flynn
. But coach Pete Carroll saw something special in Wilson, and after an anxious wait between the second and third rounds, Seattle plucked Wilson with the 75th overall pick.
That decision,
as Mark Craig of the Minneapolis Star Tribune writes
, might be the biggest difference between the future of the Seahawks, who went to the second round of the playoffs last year and are 9-1 this year with Wilson, and the Vikings.
Minnesota will face Wilson on Sunday, and could head into the 2014 draft in search of a quarterback for the second time in four years after drafting
Christian Ponder
12th overall in 2011.
Wilson slipped to the third round largely because of concerns over his height (5-foot-11), but the Seahawks' decision undoubtedly left other teams wondering what they had missed in the University of Wisconsin product. The early bet is that the Vikings use their first-round pick on a quarterback next May, but spending a high pick on s quarterback means the consequences for making the wrong decision are that much higher. What Wilson has proved is that quarterback prospects aren't always as obvious as they seem, and good scouting departments can find unconventional answers at the position if they're looking for the right things.
The Vikings are still in the market for a long-term quarterback, and as they watch Wilson on Sunday, you can't fault them for having at least a little jealousy.
Here are today's other Vikings stories of note: