Minnesota Vikings:

Matt Ryan
March, 19, 2014
3/19/14
3:00
PM ET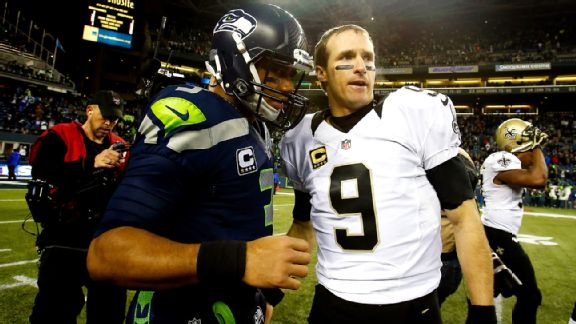 Jonathan Ferrey/Getty ImagesDespite a lack of height, Russell Wilson and Drew Brees haven't struggled with passes being batted at the line of scrimmage.
MINNEAPOLIS -- Over the course of the past few weeks, I've been chipping away at the
Hot Read piece that was published today on why evaluating quarterbacks is so difficult
-- and hasn't gotten any more precise in an era where teams have more information at their disposal than ever. In the process of talking to more than a dozen GMs and coaches for the story, I came across a number of interesting tidbits that didn't make the final edition.
I thought I'd pass them along here, in case they're of interest to you:
First, for Vikings fans, I had a good conversation with offensive coordinator Norv Turner about what he looks for in a quarterback. Turner was Troy Aikman's offensive coordinator in Dallas, worked with Philip Rivers as the San Diego Chargers' head coach and was the Chargers' offensive coordinator when they drafted Drew Brees (which is a prominent part of the story). He places a high emphasis on a quarterback's ability to learn quickly, understand complex systems and boil those systems down into manageable terms for the rest of the offense. Aikman and Brees both excelled at that, Turner said, and he also mentioned former Vikings quarterback Brad Johnson, whom Turner coached with the Redskins. One thing teams are doing now, as they try to put young QBs on the field sooner, Turner said, is simplifying the terminology of their offenses. "They're cutting down some of the verbiage, code-naming more things and helping them, where it's not just so much rote memorization and you don't get into the concepts," Turner said.
We talked in the story about the issue of short quarterbacks, and after talking to Turner and Colts GM Ryan Grigson in particular, the sense I got is that smart teams aren't dismissing short QBs simply because they're short -- they're looking to see how many batted balls come about because of a quarterback's stature. In some ways, shorter quarterbacks actually fare better here, because they've already learned how to compensate for their lack of height. In fact, Brees and Russell Wilson were tied for just 21st in the league in batted passes last season, with six each, according to Pro Football Focus. The leaders? The 6-foot-2 Chad Henne (with 20), the 6-2 Matthew Stafford (with 17) and the 6-5 Matt Ryan (with 14). Said Turner of Brees: "He'd been playing like that his whole life. It's not like he was 6-4 or you're going to make him 6-4. He understood how to play that way. He created lanes, he moved and he was very competitive against the rush. That's what it comes down to: that ability to visualize. You don't have to actually see the guy running free -- you 'see' him, you see where the defense is and you know where you're going to throw it."
A couple more good stories from Bill Polian and Ron Wolf about drafting Peyton Manning and trading for Brett Favre, respectively. Polian, who now works as a NFL analyst for ESPN, dispelled the since-developed myth that the Colts were split between Manning and Ryan Leaf until just before the draft. In reality, Polian said, the decision was made by mid-March.
"A lot of people now have amnesia, and said Ryan Leaf was by far the better product," Polian said. "The consensus of so-called experts on Peyton was, he had a weak arm, couldn't make all the throws and was 'a product of the system.' We worked him out, and found out he had a better arm than Ryan Leaf. He was much better than people gave him credit for. The athleticism thing, that one I can understand, because he looked a little bit gawky. But he had an incredible work ethic, incredible desire to be the best, incredible accuracy when he threw the ball, a unique understanding of defenses. None of that was present with Ryan." And Wolf, when he told the Packers' board of directors when he explained he was about to trade a first-round pick for a player the Atlanta Falcons had taken in the second round and no longer wanted, said this: "I compared him to a player like Lou Gehrig -- a face of the franchise. I told them everybody would one day around Green Bay wear No. 4. I'm sure they were a little shaken. I'm sure they thought they hired some idiot."Wolf said he hadn't thought about the obvious ironman parallels between Favre and Gehrig until we discussed it in our conversation; rather, he saw an aura about Favre that put him in that class. Wolf rightly gets credit now because few others saw what he did, but as he admitted, those evaluations are almost the more obvious ones to make."I thought the field tilted in his team's favor when he ran on the field," Wolf said. "He played teams [at Southern Miss] that did not have the same type of talent that he was playing against. By and large, he kept them in the game. I think [former Auburn coach] Pat Dye put it the best; was reading somewhere where he was asked 'Who's the best player you've seen as a head coach?' He said right away, 'Brett Favre.' I think a lot of people would have said that. He won games he had no business being able to win. He's just a rare, rare player."

Wolf, then, would agree with the point ESPN NFL scout Matt Williamson made -- that teams and executives who are often branded "quarterback experts" get that reputation unjustly, because all they had to do was be correct once. "If you do hit one, then you don't have to do it any more," Williamson said. "It's hard to say, 'Boy, these guys are great at developing QBs," because they did it once. They don't have to worry about it for 12 years."

Lastly, I'd commend to you a Sports Illustrated story published just after the 2001 NFL draft. The magazine followed Brees around during his entire pre-draft process and chronicled what the experience was like, and there are lots of cameos from talent evaluators who are still in the NFL limelight, from Turner to Vikings GM Rick Spielman and Seahawks GM John Schneider. And for the Minnesotans in the crowd, the story ran in an issue adorned with a cover photo of former Twins outfielder Matt Lawton, discussing the upstart Twins' hot start to the 2001 MLB season.
Just wanted to pass those things along, before we return to the rhythms of the Vikings beat. Hope you enjoyed them.
January, 3, 2014
1/03/14
8:00
AM ET
MINNEAPOLIS -- The
Minnesota Vikings
have seen for far too long, and know far too well, what it's like not to have a franchise quarterback. They've had a quarterback start all 16 games just three times in the past 10 seasons -- or as many times as they've used three starting quarterbacks in a season -- and they're looking at starting over once again after shuttling through two first-round picks (
Daunte Culpepper
and
Christian Ponder
), a second-round pick (
Tarvaris Jackson
) and an expensive free-agent acquisition (
Brett Favre
), among others, during that time.
But as the Vikings prepare for the possibility of looking for another franchise quarterback in the 2014 draft, they're undoubtedly aware of how expensive it can be to get caught in the middle with one who only looks the part some of the time.
The
Chicago Bears
proved that again on Thursday when they announced a
seven-year, $126 million extension
for
Jay Cutler
. According to ESPN NFL insider Adam Schefter, the deal has more than $50 million in guaranteed money. The total amount of the deal is interesting, though, because while the salary structure is obviously different, it's known as the Contract of Death in baseball.
Why? That deal has typically gone to players (Vernon Wells, Barry Zito, Jayson Werth) who are good, but not good enough to get the megadeals averaging more than $20 million a year. Those players have tended to fall short of expectations on their contracts, either through injuries or ineffectiveness, and though they're not getting absolutely top-shelf money, they're getting enough that they're expected to perform like franchise players, rather than just very good ones.
Baseball, of course, guarantees every dollar, but as the average annual value of NFL contracts continues to climb, the deals are starting to look more like baseball contracts, and Cutler's AAV of $18 million matches what the
Dallas Cowboys
gave
Tony Romo
. His guaranteed money puts him in an elite group, as well -- only seven quarterbacks are currently playing on deals that include at least $50 million in guarantees. Four of those (
Aaron Rodgers
,
Tom Brady
,
Drew Brees
and
Joe Flacco
) have Super Bowl rings, while two of the other three (
Matt Ryan
and
Sam Bradford
) were top draft picks before the NFL curtailed rookie spending.
Cutler, like Romo, has a history of wilting in big games, but his regular-season numbers have been even less impressive. He's only thrown for 4,000 yards once, has thrown at least 14 interceptions in a season five times and has never thrown more than 27 touchdown passes in a season. Flacco's put up plenty of pedestrian numbers, too, but he earned his deal after leading the Ravens to a championship last year. Cutler has only quarterbacked two postseason games, and before he got hurt in the 2011 NFC Championship Game at home against Green Bay, he had hit just 6 of 14 passes for 80 yards and an interception.
The deal the Bears gave him is an awful lot of money for a quarterback who remains an enigma at age 30, but after all the Bears gave up to get him, and all the time they'd invested in developing him, they might not have been able to risk starting over at the position. They're now essentially committed to Cutler for the rest of his prime, even if he has yet to reach an elite level, and he'll eat up a large chunk of their cap space during the deal. He'll have plenty of work to do to prove he's worth it.
On some level, the Vikings saw with Ponder what it's like to commit to a quarterback that's not providing commensurate returns, but their commitment to Ponder was a pittance compared to what the Bears have invested, and will continue to invest, in Cutler. They're spending premium dollars for a player who's yet to provide premium production, and they'll have spent a dozen years with Cutler by the time the deal runs out. If he only remains a quarterback who's just above average, the Bears will have wasted plenty of time.
The Cutler deal is an example of how high the stakes are at the quarterback position. The Vikings might not find a great QB in their next attempt, but if they make a Ponder-like mistake, their commitment is at least relatively short. It would be far worse for them to be where the Bears could find themselves at the end of Cutler's deal: having spent an astronomical amount of time and resources on a quarterback who never got past pretty good.