Minnesota Vikings:

Mike Singletary
February, 10, 2014
2/10/14
2:30
PM ET
MINNEAPOLIS -- Now that the
Minnesota Vikings
have finally announced their coaching staff for the 2014 season, we can take a look at the list of assistants and see what trends emerge with the group new coach Mike Zimmer has put together. And as it turns out, it won't take quite as long to peruse the list as it did with predecessor Leslie Frazier's staff.

The Vikings currently have just 17 coordinators and assistants on their staff, down from the 20 they carried last season under Frazier. As
ESPN.com Packers reporter Rob Demovsky pointed out this morning
, that makes the Vikings' staff the smallest in the division and one of the smallest in the NFL.
That's not to say a leaner staff is good or bad -- it's simply a different way of doing business -- but it does offer some insight into how Zimmer might conduct business. In Cincinnati last season, he had five position coaches under him while he was the Bengals' defensive coordinator (former Vikings defensive coordinator Alan Williams had six).
It could also help Zimmer that he has offensive and defensive coordinators in Norv Turner and George Edwards who have done those jobs before. Frazier, on the other hand, was working with first-time coordinators Bill Musgrave and Alan Williams, who both seemed to struggle at times in Minnesota. Turner also has 13 seasons of NFL head coaching experience on his resume.
"We already talked a little bit about things. Scheduling, how we did things," Turner said. "He's an extremely experienced coach. He's been with some outstanding people. I'm sure he has strong opinions of how he wants to do things and if there's something he wants to lean on me, I'll give him my opinion."
It's always possible the Vikings could add another coach or two, but assuming the staff is set for now, here are some factoids about each group:
The 17 coordinators and assistants on Zimmer's staff have a combined 278 years of coaching experience, for an average of 16.35 years per coach. Five coaches -- Turner, Edwards, special teams coordinator Mike Priefer, defensive backs coach Jerry Gray and offensive line coach Jeff Davidson -- have at least been coordinators for other teams before joining Zimmer's staff.
Frazier's 2013 staff had 336 years of experience across 20 coaches, or an average of 16.8 years per coach. Three coaches -- Priefer, Davidson and assistant linebackers coach Mike Singletary -- had at least been coordinators before coming to the Vikings. A fourth, assistant linebackers coach Fred Pagac, was the Vikings' defensive coordinator in 2010-11 until Frazier demoted him to assistant linebackers coach.
January, 1, 2014
1/01/14
10:58
PM ET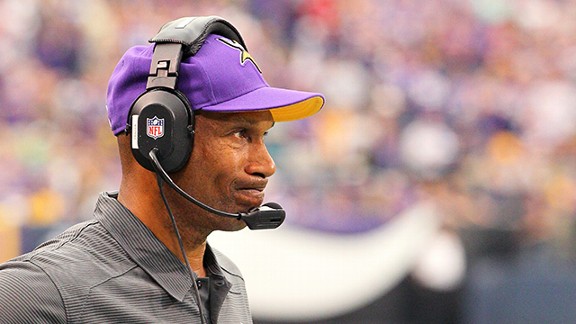 Adam Bettcher/Getty ImagesLeslie Frazier would have been a good fit with Lovie Smith, but he may not get the chance.
MINNEAPOLIS -- If Lovie Smith was going to get a second chance as a head coach this offseason, it also represented a good opportunity for Leslie Frazier to land on his feet after the
Minnesota Vikings
fired him.
Smith and Frazier come from the same tree and same mold of Tony Dungy-inspired coaches: both are men of faith, both are devotees of the Tampa-2 defense Dungy popularized with the Buccaneers, and both have had to fight the perception that they're just too darn polite to be successful in the NFL.
ESPN Buccaneers reporter Pat Yasinkas said Dallas Cowboys defensive line coach Rod Marinelli, who was Smith's defensive coordinator in Chicago, may become Smith's defensive coordinator. A league source said Frazier was in discussions to become Smith's defensive coordinator in Tampa Bay.
If Frazier does get a defensive coordinator job, he would have to address the perception that the Cover-2 is becoming an outdated scheme. The Tampa-2 scheme has been predicated on great personnel --
Warren Sapp
,
Derrick Brooks
and
John Lynch
in Tampa;
Dwight Freeney
and
Bob Sanders
in Indianapolis;
Brian Urlacher
in Chicago -- and it showed cracks in Minnesota once three-technique tackle
Kevin Williams
slowed down, the Vikings' play slipped at middle linebacker and safety
Harrison Smith
got hurt this year. The Buccaneers have some pieces in place to run the scheme, between tackle
Gerald McCoy
, linebacker
Lavonte David
, safety
Dashon Goldson
and cornerback
Darrelle Revis
, but whether he works with Tampa in some capacity or heads elsewhere, Frazier would have to deal with concerns that his scheme has been solved.
If Frazier does land as a coordinator, he could also provide a rebound spot for some Vikings players and coaches likely to be looking for work. If defensive coordinator Alan Williams is fired in Minnesota, he would be a logical choice to rejoin Frazier as a defensive backs coach. Linebackers coach Mike Singletary could find the same job with Frazier somewhere else, and Vikings free agents-to-be, like Williams and Jared Allen, would become fits for Frazier's new defense.
For Frazier, though, a quick turnaround would have to feel good after the Vikings let him go. He seemed to have a sense of his fate on Sunday, when he offered a defense of his work in Minnesota and left hints that some of the Vikings' problems -- namely, their quarterback situation -- weren't his fault. General manager Rick Spielman refuted a few of Frazier's points in his own press conference on Monday, which fueled the idea that the two men might not have seen eye-to-eye or parted on the most amicable terms.
Frazier will be 55 next year and might not get another shot to be a head coach, but if he does land a coordinator job, Frazier would at least keep himself in the hunt for another shot. If he did land in Tampa, he'd also get a chance to work with a friend, move back to the warmer Gulf Coast climate he grew up with and work with a defense that, for its flaws, created the third-most turnovers in the league this season.
The Vikings are also scheduled to travel to Tampa Bay next season. If he does land on Smith's staff, Frazier could be waiting for them, with a chance to exact a little revenge on his old team.
November, 1, 2013
11/01/13
8:00
AM ET
Welcome to Around the Horns, our daily look at what's happening on the Vikings beat:
Many Vikings fans will remember Brett Favre's final plays with the team as part of the coda to the team's macabre 2010 season. It was at the University of Minnesota's TCF Bank Stadium in December -- the Vikings were playing the Chicago Bears there after the Metrodome roof had collapsed -- and the field was not equipped with a heating system. On a cold night in Minneapolis, the surface "was like concrete," Favre said.
Favre hit his head on the turf and sustained a concussion that night, and it finally pushed him to do what he'd been unable to do for three seasons: walk definitively into retirement.
"As I was getting to the sidelines, I thought, 'Now if there was ever a time where the writing is on the wall, this is it,'" Favre recalled in an interview earlier this month with Sportstalk 570 Powered by ESPN in Washington this month. "[I] went in, took a shower, got some hot cocoa, got a hot dog and said, 'That's it.'"
In the interview,
recounted here in this piece by ESPN's Johnette Howard
, Favre admitted he is already experiencing memory loss at age 44, and suspects the many concussions he sustained during his legendary 20-year career. As many players as have come forward with chilling revelations about the physical toll of football, I'm not sure too many players can do it more effectively than Favre.
He built his reputation, more than anything, on being there every week, for 321 consecutive starts (including playoff games). He played through broken thumbs, sprained knees, dislocated shoulders and even concussions. During a 2004 game against the New York Giants, he sneaked back onto the field after sustaining a concussion and was celebrated for throwing a touchdown pass before leaving for good. At the time, no one was thinking -- no one knew -- what it was costing Favre.
He battled an addiction to painkillers in the 1990s with the Packers, all in the name of staying on the field. Eventually, he signed with the Vikings in part to prove to his former team they had moved on from him too early. That move made for great theater, but it cast a wedge between Favre and Packers fans that's just now starting to dissolve.
Most Vikings fans probably don't care much about when Favre gets his number retired in Green Bay, or when he is fully reconciled with the team for whom he played for 16 seasons. But what if the Packers wait another five years to bring Favre back, and he can't remember significant parts of his career?
That would be a sad footnote to his career, and a chilling testament to the toll that his 20-year career as the NFL's ultimate tough guy ended up costing Favre.
Here are Friday's other Vikings stories of note: