Minnesota Vikings:

Minnesota Vikings hire Mike Zimmer
January, 15, 2014
Jan 15
4:25
PM ET
EDEN PRAIRIE, Minn. -- Before the
Minnesota Vikings
fired Leslie Frazier on Dec. 30, there might not have been any player more outspoken in his desire for Frazier to stay than running back
Adrian Peterson
. The 2012 NFL MVP said after both of the Vikings' last two games that he wanted Frazier back as the coach, adding he planned to talk to ownership about his desire for Frazier to remain in charge.
Peterson got a chance to do that in a brief conversation before Frazier was fired, he told ESPN.com on Wednesday, but he quickly knew his input wasn't going to steer the Vikings' decision-makers in a different direction. Now that Peterson's had a chance to process the Vikings' decision to fire Frazier -- whom he called "a guy I trusted, a guy I believed in," -- the running back said he's moving forward with cautious optimism after the Vikings' decision to hire former
Cincinnati Bengals
defensive coordinator Mike Zimmer.
[+] Enlarge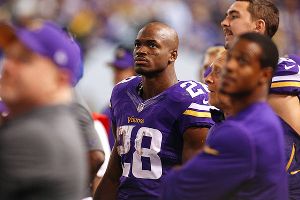 Adam Bettcher/Getty ImagesAdrian Peterson is anxious to see how Mike Zimmer will handle the Vikings offense.
"Trust me, I'm watching. I'm watching to see exactly what we're doing, just to see exactly what direction we're headed in," Peterson said. "I've been keeping my eyes open with the head coach; I knew he was probably the guy they were going to go with. It wasn't too much of a surprise. I've been watching for the coordinators -- are they going to keep Bill Musgrave around or what direction they're going to go with. With a new coach, that's when things start happening, too, that's all part of the process."
The running back hadn't talked to Zimmer as of Wednesday afternoon, but expected he would be in touch with the new coach shortly. He met one-on-one with general manager Rick Spielman after Frazier was fired, as many players did, to give him an idea of what he wanted to see from a new coach. But Peterson -- who'd been stunned the offseason before by the Vikings' decision to trade receiver
Percy Harvin
-- maintained a sober understanding of the business side of things.
"I've seen players come in with the Vikings -- guys I figured I'd probably play with until I finished playing with the Vikings -- and they're gone," Peterson said. "At first, it was, 'How could they let that person go?' It didn't really take me too long to kind of get over it and accept it for what it was. He (Frazier) is out, so we start a new chapter. My personal feelings, I didn't let it get in the way with business."
Now that Zimmer is in place, Peterson said he'll anxiously await news about what the Vikings will do on offense. ESPN NFL Insider Adam Schefter reported the team has received permission to talk with
Cleveland Browns
offensive coordinator Norv Turner, and Zimmer has been linked to offensive coordinator candidates like former
Jacksonville Jaguars
head coach Mike Mularkey, former
Detroit Lions
offensive coordinator Scott Linehan and Bengals quarterbacks coach Ken Zampese.
Whatever the Vikings do, Peterson said, he wants to see a game plan that will keep defenses honest. The Vikings have seen eight men or more in the box on 383 snaps during the last two seasons -- the second-most in the league, according to ESPN Stats and Information -- as teams have lined up to stop Peterson, effectively daring the Vikings' woeful passing game to beat them.
"When I play offense, I want to be able to have you on your toes, where you're not really expecting what's coming," Peterson said. "Being versatile offensively [is the biggest thing I'm looking for]."
Peterson called Musgrave a "good guy, a great mind," but said he hadn't given much thought to whether Zimmer would keep Musgrave on the staff.
The running back, who carried just 18 times in the Vikings' last four games, was replaced on the Pro Bowl roster by
Eddie Lacy
on Wednesday. He made the decision to let his body heal up after spraining his right foot and straining his groin during the 2013 season, but one thing in particular made it hard to skip the Pro Bowl -- the possibility that
Deion Sanders
might play.
"That's the only thing I was going to regret," he said. "Not the cash, not winning the Pro Bowl, not winning MVP. That's the only thing I was going to regret -- not getting the chance to line up against Deion."
January, 15, 2014
Jan 15
1:45
PM ET
EDEN PRAIRIE, Minn. -- The
Minnesota Vikings
' decision to hire Mike Zimmer as their next head coach was an immediate hit with one Vikings player in particular: tight end
Kyle Rudolph
.
The Cincinnati native grew up a fan of the Bengals, and had just started at Notre Dame when Zimmer became the Bengals' defensive coordinator in 2008. When word surfaced that the Vikings had hired Zimmer on Wednesday, Rudolph was one of the first players to take to Twitter with his reaction.
.
January, 15, 2014
Jan 15
11:20
AM ET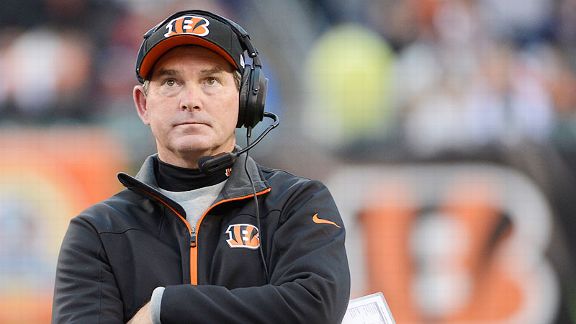 AP Photo/Michael KeatingHis defensive credentials are well known, but Mike Zimmer will have to fix an offense in Minnesota.
EDEN PRAIRIE, Minn. -- Mike Zimmer has coached 20 seasons in the NFL. He has been a defensive coordinator for 14, and has run some very good defenses in that time. In other words, he has been waiting a long time for a chance to do what the
Minnesota Vikings
hired him to do Wednesday: run an entire team.
The Vikings' new head coach has to set the direction for an entire 53-man roster, not just a defense. His input in the draft room will hold more sway, and he will be the one who gets the phone call at 3 a.m. when one of his players has been arrested. He will have to manage more egos in the locker room, answer more questions from reporters, and spend more time in the spotlight than he has at any point in his 20 years in the NFL and more than 30 as a coach.
Perhaps most important, he will have to put together an offensive staff who can solve the Vikings' chronic problem at quarterback.
That will be one of the first challenges facing Zimmer, and it could be the most daunting. The Vikings probably will take another young quarterback in this year's draft after devoting three years to
Christian Ponder
, who has given the Vikings little more than inertia at the position during three years of
Adrian Peterson
's prime. The Vikings defense was the second worst in the league last season, and Zimmer's record as a defensive coordinator is exemplary. But the Vikings aren't hiring him for that job, and of all their problems, none would inject more momentum into their team if it's fixed than the one at quarterback.
Zimmer will have to find a coordinator and a quarterbacks coach who can lift the Vikings out of their doldrums at quarterback. Zimmer will weigh in on the next big decision the Vikings make at the position, and he will determine how quickly a young quarterback plays. Those decisions, as Leslie Frazier learned in Minnesota, change the direction of a franchise, and just as the quarterback situation has defined general manager Rick Spielman's time with the Vikings, it also could define Zimmer's.
By all accounts, Zimmer had the respect and admiration of his players in Cincinnati, who appreciated his passion during the week and fiery manner on game days. He has the support of none other than Bill Parcells, who kept Zimmer as his defensive coordinator when he took over in Dallas. If ever there is a time for him to be a head coach, it's now.
But the Vikings have hired coordinators with no head-coaching experience the past two times they have had an opening, only to fire them after 4 1/2 and 3 1/3 seasons, respectively. They will now bet once again that a defensive coordinator can make the leap to the top job and direct a team with major problems on the opposite side of the ball from where he's made his money. That was ultimately a large part of what did in Frazier, and for the Vikings to move into their new stadium with any sense of momentum, Zimmer will have to be better.