November, 12, 2014
Nov 12
4:25
PM ET
EDEN PRAIRIE, Minn. -- Media conference calls with the head coach and one player from the opposing team are a Wednesday fixture across the NFL. They usually begin with the voice of a PR person on the phone, informing beat writers that the coach or player is ready to talk. But on Wednesday afternoon, the first voice from Chicago bellowed, "Put me on the phone with the media!"
And with that,
Jared Allen
had returned to talk to Vikings beat writers, assessing his departure from Minnesota, his first season with the Bears, and his team's disappointing start with his usual brand of candor, hum0r and defiance toward anyone who thinks the 32-year-old has lost a step as a pass rusher. Allen's numbers have dropped precipitously in his first season of a four-year, $32 million deal with the Bears. Slowed by a bout with pneumonia that caused him to lose 15 pounds and drop to a weight he said he hasn't been at "since high school," Allen has just 1.5 sacks this season for a Bears defense that has allowed more passing touchdowns than any in the league and a team that's 3-6.
[+] Enlarge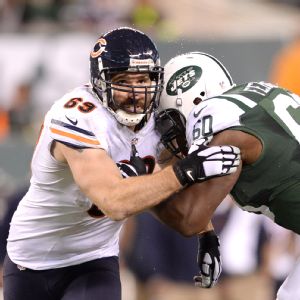 AP Photo/Evan PinkusJared Allen has just 1.5 sacks this season after signing a free-agent deal with the Bears.
"If I'm on the field, I expect to play at a high level. I expect to get to the quarterback," Allen said. "I've been playing probably some of the best run defense I've played in my career this year, but it just needs to translate to getting to the quarterback. We're 3-6. It's been up and down. I'll give myself a 6 [on a scale of 1 to 10]."
The Bears, of course, are expecting more -- and paying Allen for more -- than that. He's still looking for his first career victory at Soldier Field, and if the Bears start slow on Sunday after a 55-14 loss to the Packers last Sunday night, Allen joked he expects "total anarchy" from the fans.
The Vikings, on the other hand, expect to see a player eager to be at his best.
"Any time you play against a team that didn't sign you back, for whatever reason that you're not with them, I'm sure it's extra motivation to really go out there, give it your best and put something great on tape," said defensive end
Brian Robison
, who played with Allen for all six of his seasons in Minnesota. "I'm sure we're going to get his best shot, as we are the whole
Chicago Bears
team."
Allen never seemed like a good fit in new coach Mike Zimmer's system, and the Vikings decided to give
Everson Griffen
a new deal rather than pursue a new contract for Allen once he hit free agency in March. Allen said again on Wednesday that he assumed 2013 would be his final season in Minnesota, and he added he held no hard feelings toward the Vikings.
"I think [general manager] Rick [Spielman] and I, and [assistant GM] Rob [Brzezinski] were always honest with each other, in what direction we wanted to take," Allen said. "When I didn't get a deal done before my last season [in Minnes0ta], I knew I was going to test free agency. We didn't know who the coach was going to be, or the quarterback, so there were a lot of unknowns [before 2014]. I believe the Lord takes me where he's going to take me. I prayed hard and long about where I was going to end up, and these were the doors that opened. Did I know 100 percent last year? No. But I always knew it was a possibility, and the conversations were always honest. I've got no ill will toward anybody."