Minnesota Vikings:

Russell Wilson
February, 28, 2014
Feb 28
12:00
PM ET
MINNEAPOLIS --
We talked this morning
about the rising NFL salary cap and how veteran players like former
Cleveland Browns
linebacker
D'Qwell Jackson
(in whom the Vikings are reported to have interest) could find a kinder free-agent market this spring than they have in the past. What we didn't discuss was the projections for the salary cap in future years. Those figures, according to ESPN NFL Insider Adam Schefter, are expected to be stratospheric.
Schefter reports the cap will likely increase from $132 million in 2014 to over $140 million in 2015. It will surpass $150 million in 2016, Schefter reports, as new TV money juices the league's revenue even more. Teams aren't required to spend to the cap, but they must spend an average of at least 89 percent of the cap in cash on a four-year basis from 2013-16, and again from 2017-20. In other words, the NFL's rising financial tide will lift all boats, in one form or another.
[+] Enlarge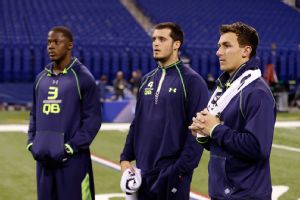 AP Photo/Michael ConroyIf the Vikings select one of the potential franchise quarterbacks -- such as Teddy Bridgewater, Derek Carr or Johnny Manziel -- in this year's draft, they'll have every incentive to play him early.
Where will the money go? It's a good bet we'll see some of it handed out in the form of new deals for young quarterbacks like
Andrew Luck
,
Russell Wilson
and
Colin Kaepernick
in coming years. Those QBs are all playing on their rookie deals, and they have six playoff appearances, four Pro Bowls, two Super Bowl trips and one championship between them. In other words, they've all delivered big results for their teams on the most cap-friendly contracts they'll ever have.
That brings us to the Vikings, and another aspect of their search for a franchise quarterback this spring. They've played with remarkably small expenses at the quarterback position for some time -- they've been in the league's bottom quarter of cap commitments at quarterback for six of the past nine seasons -- and thanks to the 2011 collective bargaining agreement, the Vikings are now in an era where they can get big-time production from a young quarterback before having to pay for it.
The financial reality means that if the Vikings can find the right quarterback in the draft this spring, they'll have every incentive to get him on the field quickly. It would certainly be a prudent move to sign the much-discussed veteran bridge this spring, whether that's by bringing back
Matt Cassel
or finding another quarterback on the open market, but if the Vikings get a franchise-caliber quarterback, the league's salary structure incentivizes them to play him quickly. If he can produce early, he'll also produce cheaply, and the Vikings could fill other holes under the league's rising cap ceiling, much like the 49ers and Seahawks have been able to do while going to Super Bowls with quarterbacks on their rookie deals.
None of this is to say the Vikings
should
rush a young quarterback into action; if he can't play, he can't play, and we've seen with
Christian Ponder
the organizational consequences of trusting a young quarterback who doesn't get the job done. But there's a major financial advantage waiting for teams who can get a young quarterback on the field quickly. It's why the days of
Aaron Rodgers
-like apprenticeships are essentially over, and why the Vikings can get ahead of the game, financially and competitively, if they make the right moves at quarterback in the draft.
February, 23, 2014
Feb 23
2:00
PM ET
MINNEAPOLIS -- The group of quarterbacks the
Minnesota Vikings
will assess during the lead-up to this year's NFL draft include Central Florida's
Blake Bortles
(6-foot-5), LSU's
Zach Mettenberger
(6-foot-4) and Virginia Tech's
Logan Thomas
(6-foot-6). It will also include Louisville's
Teddy Bridgewater
(6-foot-2), Fresno State's
Derek Carr
(6-foot-2), San Jose State's
David Fales
(6-foot-1), South Carolina's
Connor Shaw
(6-foot-0) and Texas A&M's
Johnny Manziel
(5-foot-11).
That there are so many shorter quarterbacks near the top of this year's draft class owes plenty to Seattle's
Russell Wilson
, who stands 5-foot-11 and led the Seahawks to a win over
Peyton Manning
and the
Denver Broncos
in Super Bowl XLVIII. It also owes something to New Orleans'
Drew Brees
, the record-setting quarterback and MVP of Super Bowl XLIV who stands just six feet tall. But it also is because of a changing game that's asking quarterbacks to move more and is setting them up to throw in places where being 6-foot-5 isn't as important as it used to be.
More teams are rolling their quarterbacks out and using moving pockets to neutralize pass rushes and keep defenses uncomfortable. Shotgun and pistol schemes have made it easier for short QBs to find throwing lanes. And players like Wilson have done enough to make general managers realize they might have discredited good QB prospects because of one trait.
"It was height, period," Colts general manager
Ryan Grigson
said. "But Ill tell you what: He's going to open the floodgates for people breaking through that stigma of, you need a really tall quarterback. You've got to pinpoint, are people batting down passes? He didn't have a lot of batted balls (in college) at Wisconsin. He's able to find those passing lanes that usually you'd think were solely based on height. But he's been effective."
Manziel's height was as big a topic at the NFL scouting combine as his off-field issues, but the 2012 Heisman Trophy winner said, "I feel like I play like I'm 10 feet tall," and turned heads with an unofficial time in the 40-yard dash of 4.56 seconds (his official time was 4.68). Manziel's hands are nearly 10 inches long, when measured from thumb to pinky, which should eliminate some of the concerns that would naturally come up with his size. The success of quarterbacks like Wilson and
Colin Kaepernick
should take care of others.
"For those guys, being able to evade a first wave of pass rush, really extend the play just a little bit, be able to move the pocket and do some things like that, it really opens the playbook up a little bit more," Manziel said. " The young guys who are doing that, the guys that I enjoy watching, I think they're really doing a good job for some of the mobile quarterbacks in college right now."
Shaw, who officially ran a 4.66 40 on Sunday, said he met with the Vikings twice at the combine, and added the team told him "there would be good opportunities if I were to land at that place because they had a little quarterback battle going on." His arm strength has been a concern, and his scouting report on NFL.com says he "can be too jittery vs. pressure and quick to tuck and run" (remind you of anybody?)
But Shaw will be another quarterback who gets a look because of his speed. Thanks to QBs like Wilson, he won't immediately be discredited because of his size.
"There is not a specific mold you have to fit anymore to be an NFL quarterback," he said. "You see Russell Wilson and he's kind of proved that. He's got a shiny rock on his finger now and he's 6-foot. I don't think there is a prototypical quarterback size anymore."
February, 6, 2014
Feb 6
7:00
PM ET
EDEN PRAIRIE, Minn. -- When he was asked if the
Minnesota Vikings
had to use the eighth overall pick in this year's draft on a quarterback on Thursday, new offensive coordinator Norv Turner happily scurried behind the limitations of his title.
"I don't have to answer questions like that any more," he joked, referring back to his days as the
San Diego Chargers
' head coach. "[General manager] Rick [Spielman] and [head coach] Mike [Zimmer], I'm sure, have been talking about it a lot."
But Turner did make clear the one thing that most have expected would be true of the Vikings this offseason: They'll try to find a young quarterback.
"I think everyone is in agreement that we are trying to add a young quarterback to the organization. We just have to make sure it's a good one wherever we get him," he said.
Turner used Seattle's
Russell Wilson
as proof that quarterbacks can come from many different backgrounds; Wilson is just 5-foot-11, and was drafted in the third round by the Seahawks in 2012. He also took a subtle jab at
Washington Redskins
owner Dan Snyder, who pushed out former Vikings quarterback
Brad Johnson
when Turner was the head coach there.
"I was with Brad Johnson in Washington when we went to the playoffs and won the division and the owner was convinced he couldn't win a Super Bowl, so we let him go and he went to Tampa and the next year he won a Super Bowl," Turner said. "I think you get a really good player and you get him with a really good team and you find out how far you can go."
The offensive coordinator had some good things to say about 2011 first-rounder
Christian Ponder
, who is the only Vikings quarterback on the roster at the moment. But the fact that Turner said everyone in the organization agrees the Vikings need a young quarterback should make it obvious Ponder isn't at the center of the team's plans. He also said his son, new Vikings quarterbacks coach Scott Turner, had talked briefly with
Matt Cassel
, who will opt out of the second year of his contract with the Vikings.
Cassel could come back to the Vikings on a new deal, and Turner said he'd be happy to work with him.
"There's a business side and there's a reason things get done. I think Matt is interested and he liked his experience here," Turner said. "I think he's excited about the things we're doing, the things we've done. I've known him for quite a while. We've talked football. So, I don't think I'm surprised by him opting out, if that's what he did. I'm not sure that's final or done yet. But I'm excited to work with Matt."
January, 29, 2014
Jan 29
10:00
AM ET
As he did in many NFL locker rooms,
New England Patriots
quarterback
Tom Brady
won the vote in the
Minnesota Vikings
' locker room for which quarterback players would want running their team with two minutes left in the Super Bowl. Brady led last-minute drives to set up game-winning field goals in his first two Super Bowls, and had
Randy Moss
been able to haul in a 65-yard pass from Brady in the final minute of Super Bowl XLII, the Patriots quarterback might have three last-minute comebacks and four titles.
Brady got six of the 10 votes in the Vikings' locker room, ahead of three for
Green Bay Packers
quarterback
Aaron Rodgers
and one for
New York Giants
QB
Eli Manning
(who's beaten Brady twice with clutch late-game throws in Super Bowls). Overall, Brady won the survey with 128 votes, ahead of
Peyton Manning
(86) and Rodgers (32).
As the Vikings continue to address their quarterback question going forward, they'll hope to find someone with the same cool under pressure that Brady has. They could've had
Seattle Seahawks
quarterback
Russell Wilson
, who will play in his first Super Bowl on Sunday, in the 2012 draft. But the Vikings had drafted
Christian Ponder
the year before, and even though their coaching staff was impressed with Wilson the year before, they passed on Wilson (and
Philadelphia Eagles
quarterback
Nick Foles
) to take cornerback
Josh Robinson
in the third round of the draft. This season, Wilson led the NFL with five game-winning drives.
November, 15, 2013
11/15/13
8:00
AM ET
Welcome to Around the Horns, our daily look at what's happening on the Vikings beat:
When the
Seattle Seahawks
took
Russell Wilson
in the third round of the 2012 draft, they seemed unsure at first if they had just unearthed a franchise quarterback. The Seahawks had former Vikings quarterback
Tarvaris Jackson
, and had added former
Green Bay Packers
backup
Matt Flynn
. But coach Pete Carroll saw something special in Wilson, and after an anxious wait between the second and third rounds, Seattle plucked Wilson with the 75th overall pick.
That decision,
as Mark Craig of the Minneapolis Star Tribune writes
, might be the biggest difference between the future of the Seahawks, who went to the second round of the playoffs last year and are 9-1 this year with Wilson, and the Vikings.
Minnesota will face Wilson on Sunday, and could head into the 2014 draft in search of a quarterback for the second time in four years after drafting
Christian Ponder
12th overall in 2011.
Wilson slipped to the third round largely because of concerns over his height (5-foot-11), but the Seahawks' decision undoubtedly left other teams wondering what they had missed in the University of Wisconsin product. The early bet is that the Vikings use their first-round pick on a quarterback next May, but spending a high pick on s quarterback means the consequences for making the wrong decision are that much higher. What Wilson has proved is that quarterback prospects aren't always as obvious as they seem, and good scouting departments can find unconventional answers at the position if they're looking for the right things.
The Vikings are still in the market for a long-term quarterback, and as they watch Wilson on Sunday, you can't fault them for having at least a little jealousy.
Here are today's other Vikings stories of note: