Minnesota Vikings:

Russell Wilson
May, 9, 2014
May 9
5:00
PM ET
EDEN PRAIRIE, Minn. -- Three years ago, the
Minnesota Vikings
took Florida State quarterback
Christian Ponder
with the 12th overall pick in the draft, setting in motion a chain of events that ended -- or at least crossed the start/finish line for a second lap -- on Thursday night, when they spent the 32nd overall pick on Louisville quarterback
Teddy Bridgewater
, hoping to give new coach Mike Zimmer a better solution at quarterback than they gave former coach Leslie Frazier.
[+] Enlarge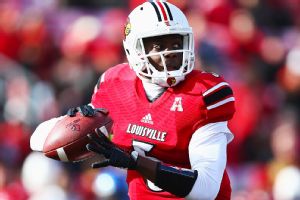 Andy Lyons/Getty ImagesWith QB Christian Ponder mostly ineffective in his three seasons in Minnesota, the team will be looking to quickly develop Teddy Bridgewater.
It was no surprise at all the Vikings would take a quarterback high in the 2014 draft, after emerging from the rubble of what turned out to be a disappointing 2011 quarterback class. What was interesting, though, was how much company they had in making a quick pivot at the position.
According to ESPN Stats & Information, the Vikings,
Jacksonville Jaguars
and
Cleveland Browns
became just the fourth, fifth and sixth teams in the common draft era to take a quarterback in the first round for the second time in three years. Before Thursday night, it had never happened twice in the same draft, and it hadn't happened at all since 2005, when the
Washington Redskins
took
Jason Campbell
three years after drafting Patrick Ramsey.
There are multiple reasons why it's easier to move on from quarterbacks after the 2011 collective bargaining agreement than it used to be, but the structure of the current CBA -- and the profound changes it's enacted on rookie contracts -- might also be driving teams to be less patient. Gone are the days of contracts like the six-year, $78 million deal the
St. Louis Rams
had to give No. 1 overall pick
Sam Bradford
in 2010.
It's much less cost-prohibitive to replace a quarterback, with both salaries and contract guarantees down significantly for young players, and there's also an incentive to get players on the field sooner. Four of the final six teams playing last season -- the
Seattle Seahawks
,
San Francisco 49ers
,
Carolina Panthers
and
Indianapolis Colts
-- all had quarterbacks playing in their rookie deals, and all four got high-level quarterback play at a price that allowed them to spend money on other players. Those teams all have bills coming due for
Russell Wilson
,
Colin Kaepernick
,
Cam Newton
and
Andrew Luck
, respectively, but they've combined to get seven playoff appearances out of those players while ranking in the bottom half of the league in quarterback spending.
With quarterbacks directing more complex offenses in college and high school, it's easier to expect more out of them at a young age, and while the Vikings have talked about wanting Bridgewater to sit this season, it wouldn't be surprising if they want to have him on the field by 2015. They've got a little extra time, thanks to the fifth-year option that will automatically be added to his contract after they took him in the first round, but one of the best tools in roster construction these days is to have good quarterback play at below-market cost.
If the Vikings can capitalize on those years from Bridgewater, they'll be in great shape to put a playoff team around him. If they can't? Well, as Ponder can attest, it isn't expensive to be impatient in today's NFL.
May, 8, 2014
May 8
11:00
AM ET
MINNEAPOLIS -- Well, we've reached draft day at last, which means our series looking at the Vikings' quarterback possibilities comes to a conclusion today. This post will be a quick-hit look at some of the other options in the class. Several of them, like Alabama's AJ McCarron, could be viable possibilities for the Vikings in this draft, so we'll spend more time on some quarterbacks than others in this post, but this is meant to wrap up the series with some final words from our resident experts: ESPN NFL analyst Louis Riddick (a former pro personnel director for the
Philadelphia Eagles
) and ESPN NFL scout Matt Williamson (who used to be a college and pro scout for the
Cleveland Browns
):
AJ McCarron, Alabama
2013 stats:
67.3 completion percentage, 3,063 yards, 28 touchdowns, seven interceptions
NFL combine measurements:
6-foot-3, 220 pounds, 31 1/2-inch arm length, 10-inch hand span
Williamson's take:
"I don't like McCarron at all, especially not for them. I think he's vastly overrated as a player, and certainly as a passer."
Riddick's take:
"I'm not someone who dings players for playing with other good players. AJ has shown more than enough, as far as executing the things you need to see a college quarterback execute, regardless of who he's playing with, to say he projects as being a good pro in the right context. Knowing his background, he's another guy that, despite playing in that pro style, can really benefit from going to a place where footwork, mechanics, progression reading, essentially staying within the structure of the offense and not being given any slack will benefit him greatly. A place like Kansas City -- and I say Kansas City because of Andy Reid -- is the kind of place he really needs to go. I like him a lot."
Aaron Murray, Georgia
2013 stats:
64.8 completion percentage, 3,075 yards, 26 touchdowns, nine interceptions
NFL combine measurements:
6-foot-1, 207 pounds, 30 5/8-inch arm length, 9 1/8-inch hand span
Riddick's take:
"I've talked to people who say, 'Slow down (on his return from a torn ACL).' If you're going to draft him high, understand that it's probably best for him to sit a year, whether that be starting off on the PUP (physically unable to perform list). If it weren't for the knee, and how much it would benefit him to have a quote-unquote 'redshirt' year, and not have to be rushed into action, the only thing you would be noticing about Aaron Murray is the same thing you were noticing about
Russell Wilson
when he came out. It was just, 'But he's not 6-5.' That's the only thing you would be able to say, because the kid ran an offense that was as multiple as any in college football, and probably as multiple as many in the National Football League. He executed from the pocket, from the shotgun, he executed situational football brilliantly. He made big plays with his feet, he threw on the run. He did every single thing. This past year, he lost his top three receivers, his top two running backs, and was still balling. If it wasn't for the knee, there would be no other reason besides our preconceived notions (to keep him from) being a top-level pick. What else are you going to say? I like Aaron Murray a whole, whole lot."
Jimmy Garoppolo, Eastern Illinois
2013 stats:
66.0 completion percentage, 5,050 yards, 53 touchdowns, nine interceptions
NFL combine measurements:
6-foot-2, 226 pounds, 31-inch arm length, 9 1/4-inch hand span
Riddick's take:
"Of all these guys, he has the longest road to travel before he's ready. His offense was nothing like what he's going to be asked to do in the NFL, unless they're going to take his offense there. He has so much to learn, just from a footwork perspective. He had a lot of yards last year, a lot of short passes, a lot of bubble screens, didn't look very comfortable in the pocket, didn't look comfortable at all under pressure. He seems to be the most green, and has the biggest road to travel as far as development. He's a great kid, very smart and he has a quick release. He doesn't have a great arm. He's never demonstrated pro-style footwork and/or mechanics, and he played at a lower level of competition, although he dominated that level of competition. To me, it's a very vague projection. It's almost more of a guess. When I start thinking in those terms, I'm not going very high for that player."
Logan Thomas, Virginia Tech
2013 stats:
56.6 completion percentage, 2,909 yards, 16 touchdowns, 13 interceptions
NFL combine measurements:
6-foot-6, 248 pounds, 34 1/4-inch arm length, 10 7/8-inch hand span
Williamson's take:
"He might be a real good fit for Minnesota's offense. He's got a rocket launcher for a right arm, and he's got unbelievable physical characteristics, but he needs time. He's the type of guy that, if you draft him in the second or third round -- the second's probably a little rich -- you'd hope he doesn't see the field at all in 2014. You groom him, you let Norv (Turner) and (Matt) Cassel take him under their wing. To me, he's got more upside than (Zach) Mettenberger, (Tom) Savage, maybe more than anyone in the draft, to be honest with you. I think he's as gifted, and probably more so, in terms of arm strength, athletic ability, size, he's more gifted than anyone else in the draft."
April, 28, 2014
Apr 28
6:30
PM ET
MINNEAPOLIS -- He might not have matched his MVP season of 2012, but in 2013,
Minnesota Vikings
running back
Adrian Peterson
was still among the most popular -- and profitable -- player in the league.
Peterson ranked 13th in overall sales during the NFL Players Inc. 2013 fiscal year, which concluded on Feb. 28. Sales of the running back's licensed replica jersey, as well as T-shirts, photos, bobbleheads and other licensed merchandise, made Peterson the second-most popular player in the NFC North, behind
Green Bay Packers
quarterback
Aaron Rodgers
, who finished fifth. Seattle's
Russell Wilson
, who topped Denver's
Peyton Manning
in the Super Bowl, once again came out on top, with Manning finishing second and
San Francisco 49ers
quarterback
Colin Kaepernick
placing third.
Peterson came in just ahead of Packers linebacker
Clay Matthews
, and was the only Vikings player in the top 50.
The fiscal year started March 1, 2013, less than a month after Peterson won NFL MVP honors, which probably boosted his popularity on a national level. He had the top-selling jersey of any non-quarterback last spring, and still finished the year fourth among non-quarterbacks, trailing only Seahawks running back
Marshawn Lynch
,
Houston Texans
defensive end
J.J. Watt
and Seattle cornerback
Richard Sherman
.
April, 22, 2014
Apr 22
8:00
AM ET
MINNEAPOLIS -- There are just 16 days to go until the 2014 NFL draft, meaning we're firmly in the time of year when general managers are more likely to top off their draft preparations with a dollop of misdirection than a scintilla of truth.
And yet, when
Minnesota Vikings
general manager Rick Spielman described the process of evaluating this year's quarterback class as "torturous" in an interview published Monday, his comments were structured around a consistent theme he's been hitting since the Vikings began draft preparations in earnest three months ago.
"Every one of these quarterbacks ... nothing is a sure thing," Spielman said
in a discussion with MMQB.com on Monday
. "There's no
Andrew Luck
, no
Peyton Manning
. It is such a mixed bag with each player -- every one of them has positives, every one of them has negatives. And if that's the way you end up feeling, why don't you just wait 'til later in the draft and take someone with the first pick you're sure will help you right now?"
[+] Enlarge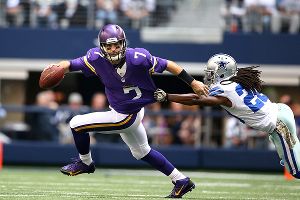 Matthew Emmons/USA TODAY SportsWould the Vikings have stayed with Christian Ponder as long as they did if he had been drafted in the second or third round?
Since January, Spielman has been talking about how far and wide the Vikings would search for a quarterback, how careful they would be not to get boxed into drafting one in the first round. He has described this class as being without a sure thing since February and has talked since March about how re-signing
Matt Cassel
gave the Vikings the freedom to wait on a quarterback.
There are a couple of viable explanations for the consistency. One possibility is that Spielman has been crafting the narrative that the Vikings won't force a quarterback pick at No. 8 for months, possibly to ward off teams that might be interested in leapfrogging the Vikings for a QB or to create a market for trading down. The other scenario is that Spielman is staring at the situation, knowing how damaging the fallout could be for him if he misses on another highly drafted passer, and is mulling the possibility that a first-round quarterback might just be too big of a gamble in this draft.
Plenty of people around the league believe the Vikings won't take a quarterback at No. 8, choosing instead to draft a defensive player or trade back a few spots to accumulate more picks before picking a defender. With the caveat that what you hear from people around the league has to be triple-filtered this time of year, I'm inclined to think it's likely the Vikings wait, for a couple reasons. First, the Vikings still have enough defensive needs that they would be helped sooner by a linebacker or defensive back than they would by drafting a quarterback who needs time to develop. There's some legitimacy to Spielman's statements that the Vikings aren't that far away from being back in the playoffs. That's based on how many close games they might have won with only slightly more efficient quarterbacking and a less porous defense last season. If you believe a full season of Cassel and the prospect of defensive improvement is enough for a quick pivot while
Adrian Peterson
is still in his 20s, wouldn't it be tempting to consider that route?
The second, and probably more important reason for the Vikings to wait on a quarterback, is this: They've seen just how much time and how many resources can be squandered on a quarterback who doesn't pan out. Peterson was 26 when
Christian Ponder
made his first start for the Vikings.
Percy Harvin
was a 23-year-old turning into a breakout star, and
Jared Allen
was in the midst of a 22-sack season at age 29. The Vikings were in the middle of a rebuilding project under Spielman and Leslie Frazier, but those don't have to take that long in the modern NFL when there are cornerstone players in place.
Heading into 2014, though, Harvin, Allen and Frazier are gone, Ponder has lost the benefit of the doubt, and the Vikings are still trying to figure out their long-term answer at quarterback. Spielman outlived Frazier in Minnesota and got a chance to hire his own coach in Mike Zimmer, but he probably can't survive another big swing and miss at quarterback. If the Vikings were to hitch their fortunes to the wrong guy at No. 8, Zimmer could eventually be dragged down with the GM.
It's interesting to think about what might have happened in 2011 if the Vikings had taken Ponder in the second or third round and if they would have felt less compelled to stand by him. Would they have made a play for
Robert Griffin III
the next year or taken
Russell Wilson
instead of
Josh Robinson
in the third round after Frazier and his staff coached Wilson at the Senior Bowl?
The Vikings might have decided to give Ponder time anyway, but it's difficult to argue any team faces the same pressure to stick by a second-day draft pick as it does with the 12th overall selection. It has to be in the back of Spielman's mind that taking a quarterback later in the draft wouldn't carry the same kind of inherent commitment as drafting one in the top 10, in addition to the fact that passing on QB at No. 8 would give him the opportunity to pick from a dynamic group of defensive players. Considering the quarterbacks that could be in next year's class -- such as Florida State's Jameis Winston, UCLA's Brett Hundley and Oregon's Marcus Mariota -- the Vikings had better know how tethered they want to be to a quarterback they would take this year.
The Vikings are in eight days of pre-draft meetings that conclude next Tuesday, when players return to the team facility for a three-day voluntary minicamp. That event will give Zimmer his first real chance to work with players and make some determinations about what he has in Cassel and Ponder. From there, the Vikings can have their final discussions about how they want to approach the quarterback position. But it seems possible, as it has for months, that they are seriously weighing the benefits of waiting if they're not completely enamored with a QB in the first round.
"How many franchise quarterbacks actually come out?" Spielman said earlier this offseason. "Last couple years, there have been a couple guys that have been taken in the second and third rounds that have been successful. I think there's some depth in this quarterback class. You're definitely not going to be forced to take a quarterback at 8 unless you're totally sold on that quarterback. I can guarantee you that it's not going to be a forced issue."
March, 19, 2014
Mar 19
3:00
PM ET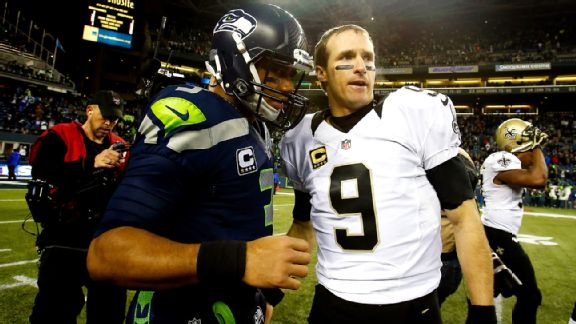 Jonathan Ferrey/Getty ImagesDespite a lack of height, Russell Wilson and Drew Brees haven't struggled with passes being batted at the line of scrimmage.
MINNEAPOLIS -- Over the course of the past few weeks, I've been chipping away at the
Hot Read piece that was published today on why evaluating quarterbacks is so difficult
-- and hasn't gotten any more precise in an era where teams have more information at their disposal than ever. In the process of talking to more than a dozen GMs and coaches for the story, I came across a number of interesting tidbits that didn't make the final edition.
I thought I'd pass them along here, in case they're of interest to you:
First, for Vikings fans, I had a good conversation with offensive coordinator Norv Turner about what he looks for in a quarterback. Turner was Troy Aikman's offensive coordinator in Dallas, worked with Philip Rivers as the San Diego Chargers' head coach and was the Chargers' offensive coordinator when they drafted Drew Brees (which is a prominent part of the story). He places a high emphasis on a quarterback's ability to learn quickly, understand complex systems and boil those systems down into manageable terms for the rest of the offense. Aikman and Brees both excelled at that, Turner said, and he also mentioned former Vikings quarterback Brad Johnson, whom Turner coached with the Redskins. One thing teams are doing now, as they try to put young QBs on the field sooner, Turner said, is simplifying the terminology of their offenses. "They're cutting down some of the verbiage, code-naming more things and helping them, where it's not just so much rote memorization and you don't get into the concepts," Turner said.
We talked in the story about the issue of short quarterbacks, and after talking to Turner and Colts GM Ryan Grigson in particular, the sense I got is that smart teams aren't dismissing short QBs simply because they're short -- they're looking to see how many batted balls come about because of a quarterback's stature. In some ways, shorter quarterbacks actually fare better here, because they've already learned how to compensate for their lack of height. In fact, Brees and Russell Wilson were tied for just 21st in the league in batted passes last season, with six each, according to Pro Football Focus. The leaders? The 6-foot-2 Chad Henne (with 20), the 6-2 Matthew Stafford (with 17) and the 6-5 Matt Ryan (with 14). Said Turner of Brees: "He'd been playing like that his whole life. It's not like he was 6-4 or you're going to make him 6-4. He understood how to play that way. He created lanes, he moved and he was very competitive against the rush. That's what it comes down to: that ability to visualize. You don't have to actually see the guy running free -- you 'see' him, you see where the defense is and you know where you're going to throw it."
A couple more good stories from Bill Polian and Ron Wolf about drafting Peyton Manning and trading for Brett Favre, respectively. Polian, who now works as a NFL analyst for ESPN, dispelled the since-developed myth that the Colts were split between Manning and Ryan Leaf until just before the draft. In reality, Polian said, the decision was made by mid-March.
"A lot of people now have amnesia, and said Ryan Leaf was by far the better product," Polian said. "The consensus of so-called experts on Peyton was, he had a weak arm, couldn't make all the throws and was 'a product of the system.' We worked him out, and found out he had a better arm than Ryan Leaf. He was much better than people gave him credit for. The athleticism thing, that one I can understand, because he looked a little bit gawky. But he had an incredible work ethic, incredible desire to be the best, incredible accuracy when he threw the ball, a unique understanding of defenses. None of that was present with Ryan." And Wolf, when he told the Packers' board of directors when he explained he was about to trade a first-round pick for a player the Atlanta Falcons had taken in the second round and no longer wanted, said this: "I compared him to a player like Lou Gehrig -- a face of the franchise. I told them everybody would one day around Green Bay wear No. 4. I'm sure they were a little shaken. I'm sure they thought they hired some idiot."Wolf said he hadn't thought about the obvious ironman parallels between Favre and Gehrig until we discussed it in our conversation; rather, he saw an aura about Favre that put him in that class. Wolf rightly gets credit now because few others saw what he did, but as he admitted, those evaluations are almost the more obvious ones to make."I thought the field tilted in his team's favor when he ran on the field," Wolf said. "He played teams [at Southern Miss] that did not have the same type of talent that he was playing against. By and large, he kept them in the game. I think [former Auburn coach] Pat Dye put it the best; was reading somewhere where he was asked 'Who's the best player you've seen as a head coach?' He said right away, 'Brett Favre.' I think a lot of people would have said that. He won games he had no business being able to win. He's just a rare, rare player."

Wolf, then, would agree with the point ESPN NFL scout Matt Williamson made -- that teams and executives who are often branded "quarterback experts" get that reputation unjustly, because all they had to do was be correct once. "If you do hit one, then you don't have to do it any more," Williamson said. "It's hard to say, 'Boy, these guys are great at developing QBs," because they did it once. They don't have to worry about it for 12 years."

Lastly, I'd commend to you a Sports Illustrated story published just after the 2001 NFL draft. The magazine followed Brees around during his entire pre-draft process and chronicled what the experience was like, and there are lots of cameos from talent evaluators who are still in the NFL limelight, from Turner to Vikings GM Rick Spielman and Seahawks GM John Schneider. And for the Minnesotans in the crowd, the story ran in an issue adorned with a cover photo of former Twins outfielder Matt Lawton, discussing the upstart Twins' hot start to the 2001 MLB season.
Just wanted to pass those things along, before we return to the rhythms of the Vikings beat. Hope you enjoyed them.
February, 28, 2014
Feb 28
12:00
PM ET
MINNEAPOLIS --
We talked this morning
about the rising NFL salary cap and how veteran players like former
Cleveland Browns
linebacker
D'Qwell Jackson
(in whom the Vikings are reported to have interest) could find a kinder free-agent market this spring than they have in the past. What we didn't discuss was the projections for the salary cap in future years. Those figures, according to ESPN NFL Insider Adam Schefter, are expected to be stratospheric.
Schefter reports the cap will likely increase from $132 million in 2014 to over $140 million in 2015. It will surpass $150 million in 2016, Schefter reports, as new TV money juices the league's revenue even more. Teams aren't required to spend to the cap, but they must spend an average of at least 89 percent of the cap in cash on a four-year basis from 2013-16, and again from 2017-20. In other words, the NFL's rising financial tide will lift all boats, in one form or another.
[+] Enlarge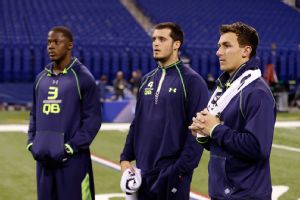 AP Photo/Michael ConroyIf the Vikings select one of the potential franchise quarterbacks -- such as Teddy Bridgewater, Derek Carr or Johnny Manziel -- in this year's draft, they'll have every incentive to play him early.
Where will the money go? It's a good bet we'll see some of it handed out in the form of new deals for young quarterbacks like
Andrew Luck
,
Russell Wilson
and
Colin Kaepernick
in coming years. Those QBs are all playing on their rookie deals, and they have six playoff appearances, four Pro Bowls, two Super Bowl trips and one championship between them. In other words, they've all delivered big results for their teams on the most cap-friendly contracts they'll ever have.
That brings us to the Vikings, and another aspect of their search for a franchise quarterback this spring. They've played with remarkably small expenses at the quarterback position for some time -- they've been in the league's bottom quarter of cap commitments at quarterback for six of the past nine seasons -- and thanks to the 2011 collective bargaining agreement, the Vikings are now in an era where they can get big-time production from a young quarterback before having to pay for it.
The financial reality means that if the Vikings can find the right quarterback in the draft this spring, they'll have every incentive to get him on the field quickly. It would certainly be a prudent move to sign the much-discussed veteran bridge this spring, whether that's by bringing back
Matt Cassel
or finding another quarterback on the open market, but if the Vikings get a franchise-caliber quarterback, the league's salary structure incentivizes them to play him quickly. If he can produce early, he'll also produce cheaply, and the Vikings could fill other holes under the league's rising cap ceiling, much like the 49ers and Seahawks have been able to do while going to Super Bowls with quarterbacks on their rookie deals.
None of this is to say the Vikings
should
rush a young quarterback into action; if he can't play, he can't play, and we've seen with
Christian Ponder
the organizational consequences of trusting a young quarterback who doesn't get the job done. But there's a major financial advantage waiting for teams who can get a young quarterback on the field quickly. It's why the days of
Aaron Rodgers
-like apprenticeships are essentially over, and why the Vikings can get ahead of the game, financially and competitively, if they make the right moves at quarterback in the draft.
February, 23, 2014
Feb 23
2:00
PM ET
MINNEAPOLIS -- The group of quarterbacks the
Minnesota Vikings
will assess during the lead-up to this year's NFL draft include Central Florida's
Blake Bortles
(6-foot-5), LSU's
Zach Mettenberger
(6-foot-4) and Virginia Tech's
Logan Thomas
(6-foot-6). It will also include Louisville's
Teddy Bridgewater
(6-foot-2), Fresno State's
Derek Carr
(6-foot-2), San Jose State's
David Fales
(6-foot-1), South Carolina's
Connor Shaw
(6-foot-0) and Texas A&M's
Johnny Manziel
(5-foot-11).
That there are so many shorter quarterbacks near the top of this year's draft class owes plenty to Seattle's
Russell Wilson
, who stands 5-foot-11 and led the Seahawks to a win over
Peyton Manning
and the
Denver Broncos
in Super Bowl XLVIII. It also owes something to New Orleans'
Drew Brees
, the record-setting quarterback and MVP of Super Bowl XLIV who stands just six feet tall. But it also is because of a changing game that's asking quarterbacks to move more and is setting them up to throw in places where being 6-foot-5 isn't as important as it used to be.
More teams are rolling their quarterbacks out and using moving pockets to neutralize pass rushes and keep defenses uncomfortable. Shotgun and pistol schemes have made it easier for short QBs to find throwing lanes. And players like Wilson have done enough to make general managers realize they might have discredited good QB prospects because of one trait.
"It was height, period," Colts general manager
Ryan Grigson
said. "But Ill tell you what: He's going to open the floodgates for people breaking through that stigma of, you need a really tall quarterback. You've got to pinpoint, are people batting down passes? He didn't have a lot of batted balls (in college) at Wisconsin. He's able to find those passing lanes that usually you'd think were solely based on height. But he's been effective."
Manziel's height was as big a topic at the NFL scouting combine as his off-field issues, but the 2012 Heisman Trophy winner said, "I feel like I play like I'm 10 feet tall," and turned heads with an unofficial time in the 40-yard dash of 4.56 seconds (his official time was 4.68). Manziel's hands are nearly 10 inches long, when measured from thumb to pinky, which should eliminate some of the concerns that would naturally come up with his size. The success of quarterbacks like Wilson and
Colin Kaepernick
should take care of others.
"For those guys, being able to evade a first wave of pass rush, really extend the play just a little bit, be able to move the pocket and do some things like that, it really opens the playbook up a little bit more," Manziel said. " The young guys who are doing that, the guys that I enjoy watching, I think they're really doing a good job for some of the mobile quarterbacks in college right now."
Shaw, who officially ran a 4.66 40 on Sunday, said he met with the Vikings twice at the combine, and added the team told him "there would be good opportunities if I were to land at that place because they had a little quarterback battle going on." His arm strength has been a concern, and his scouting report on NFL.com says he "can be too jittery vs. pressure and quick to tuck and run" (remind you of anybody?)
But Shaw will be another quarterback who gets a look because of his speed. Thanks to QBs like Wilson, he won't immediately be discredited because of his size.
"There is not a specific mold you have to fit anymore to be an NFL quarterback," he said. "You see Russell Wilson and he's kind of proved that. He's got a shiny rock on his finger now and he's 6-foot. I don't think there is a prototypical quarterback size anymore."
February, 6, 2014
Feb 6
7:00
PM ET
EDEN PRAIRIE, Minn. -- When he was asked if the
Minnesota Vikings
had to use the eighth overall pick in this year's draft on a quarterback on Thursday, new offensive coordinator Norv Turner happily scurried behind the limitations of his title.
"I don't have to answer questions like that any more," he joked, referring back to his days as the
San Diego Chargers
' head coach. "[General manager] Rick [Spielman] and [head coach] Mike [Zimmer], I'm sure, have been talking about it a lot."
But Turner did make clear the one thing that most have expected would be true of the Vikings this offseason: They'll try to find a young quarterback.
"I think everyone is in agreement that we are trying to add a young quarterback to the organization. We just have to make sure it's a good one wherever we get him," he said.
Turner used Seattle's
Russell Wilson
as proof that quarterbacks can come from many different backgrounds; Wilson is just 5-foot-11, and was drafted in the third round by the Seahawks in 2012. He also took a subtle jab at
Washington Redskins
owner Dan Snyder, who pushed out former Vikings quarterback
Brad Johnson
when Turner was the head coach there.
"I was with Brad Johnson in Washington when we went to the playoffs and won the division and the owner was convinced he couldn't win a Super Bowl, so we let him go and he went to Tampa and the next year he won a Super Bowl," Turner said. "I think you get a really good player and you get him with a really good team and you find out how far you can go."
The offensive coordinator had some good things to say about 2011 first-rounder
Christian Ponder
, who is the only Vikings quarterback on the roster at the moment. But the fact that Turner said everyone in the organization agrees the Vikings need a young quarterback should make it obvious Ponder isn't at the center of the team's plans. He also said his son, new Vikings quarterbacks coach Scott Turner, had talked briefly with
Matt Cassel
, who will opt out of the second year of his contract with the Vikings.
Cassel could come back to the Vikings on a new deal, and Turner said he'd be happy to work with him.
"There's a business side and there's a reason things get done. I think Matt is interested and he liked his experience here," Turner said. "I think he's excited about the things we're doing, the things we've done. I've known him for quite a while. We've talked football. So, I don't think I'm surprised by him opting out, if that's what he did. I'm not sure that's final or done yet. But I'm excited to work with Matt."
January, 29, 2014
Jan 29
10:00
AM ET
As he did in many NFL locker rooms,
New England Patriots
quarterback
Tom Brady
won the vote in the
Minnesota Vikings
' locker room for which quarterback players would want running their team with two minutes left in the Super Bowl. Brady led last-minute drives to set up game-winning field goals in his first two Super Bowls, and had
Randy Moss
been able to haul in a 65-yard pass from Brady in the final minute of Super Bowl XLII, the Patriots quarterback might have three last-minute comebacks and four titles.
Brady got six of the 10 votes in the Vikings' locker room, ahead of three for
Green Bay Packers
quarterback
Aaron Rodgers
and one for
New York Giants
QB
Eli Manning
(who's beaten Brady twice with clutch late-game throws in Super Bowls). Overall, Brady won the survey with 128 votes, ahead of
Peyton Manning
(86) and Rodgers (32).
As the Vikings continue to address their quarterback question going forward, they'll hope to find someone with the same cool under pressure that Brady has. They could've had
Seattle Seahawks
quarterback
Russell Wilson
, who will play in his first Super Bowl on Sunday, in the 2012 draft. But the Vikings had drafted
Christian Ponder
the year before, and even though their coaching staff was impressed with Wilson the year before, they passed on Wilson (and
Philadelphia Eagles
quarterback
Nick Foles
) to take cornerback
Josh Robinson
in the third round of the draft. This season, Wilson led the NFL with five game-winning drives.
November, 15, 2013
11/15/13
8:00
AM ET
Welcome to Around the Horns, our daily look at what's happening on the Vikings beat:
When the
Seattle Seahawks
took
Russell Wilson
in the third round of the 2012 draft, they seemed unsure at first if they had just unearthed a franchise quarterback. The Seahawks had former Vikings quarterback
Tarvaris Jackson
, and had added former
Green Bay Packers
backup
Matt Flynn
. But coach Pete Carroll saw something special in Wilson, and after an anxious wait between the second and third rounds, Seattle plucked Wilson with the 75th overall pick.
That decision,
as Mark Craig of the Minneapolis Star Tribune writes
, might be the biggest difference between the future of the Seahawks, who went to the second round of the playoffs last year and are 9-1 this year with Wilson, and the Vikings.
Minnesota will face Wilson on Sunday, and could head into the 2014 draft in search of a quarterback for the second time in four years after drafting
Christian Ponder
12th overall in 2011.
Wilson slipped to the third round largely because of concerns over his height (5-foot-11), but the Seahawks' decision undoubtedly left other teams wondering what they had missed in the University of Wisconsin product. The early bet is that the Vikings use their first-round pick on a quarterback next May, but spending a high pick on s quarterback means the consequences for making the wrong decision are that much higher. What Wilson has proved is that quarterback prospects aren't always as obvious as they seem, and good scouting departments can find unconventional answers at the position if they're looking for the right things.
The Vikings are still in the market for a long-term quarterback, and as they watch Wilson on Sunday, you can't fault them for having at least a little jealousy.
Here are today's other Vikings stories of note: