Minnesota Vikings:

Scott Tolzien
November, 21, 2013
11/21/13
5:15
PM ET
EDEN PRAIRIE, Minn. -- The Vikings have played a Cover-2 defense ever since
Aaron Rodgers
became the
Green Bay Packers
' starting quarterback, directing an offense that's leaned as heavily on the pass as any in the NFL. So it's made sense that the Vikings' only two times stacking the box against the Packers came in Rodgers' first career start -- when Packers coach Mike McCarthy was being more conservative with the offense -- and his most recent matchup against the Vikings in October, when the Packers ran for 182 yards, held the ball for more than 40 minutes and pounded the Vikings with a bruising running game.
In both of those matchups, the Vikings put eight or more defenders in the box 11 times, according to ESPN Stats and Information. In the other nine matchups? They only did it a total of 47 times. In the four times they've beaten Rodgers, the Vikings showed the Packers an eight-man front on six, four, one and one snaps. They've usually opted to sit back in coverage and let their defensive line come after Rodgers.
But the 2011 NFL MVP won't be the quarterback for the Packers on Sunday at Lambeau Field.
Scott Tolzien
will be, and in the three games the Packers have played since Rodgers has been out, they've seen teams defend them in a similar manner to what the Vikings often see with
Adrian Peterson
. The
Philadelphia Eagles
and
New York Giants
put eight or more defenders in the box 48.4 percent of the time,
according to ESPN Stats and Information (via our Rob Demovsky)
. The Packers had seen that defense 25.5 percent of the time against Rodgers.
Sunday could see the Vikings take a similar approach to stop running back
Eddie Lacy
; they've used eight or more defenders in the box on 72 snaps this year, which is the ninth-most in the league, according to ESPN Stats and Information. But defensive coordinator Alan Williams was quick to point out how willing the Packers have still been to throw deep with Tolzien, and with a depleted secondary, the Vikings could decide against loading up on Lacy, too.
"That's what type of team they are," Williams said of the deep shots. "I think every team in the NFL has the next-man-up mentality, and they're no different. He's a NFL quarterback, and he's quite capable of making those plays. If he's making them, I fully expect them to keep doing them. The receivers are making big plays for him."
November, 21, 2013
11/21/13
3:35
PM ET
EDEN PRAIRIE, Minn. -- Though the headlines in the past five years of Vikings-Packers matchups have been dominated by quarterbacks from both teams (Brett Favre vs.
Aaron Rodgers
in 2009 and 2010,
Christian Ponder
's debut as a starter in 2011, and the biggest win of his career against Rodgers in 2012), defensive end
Jared Allen
has been a constant presence for the Vikings. And in the games Minnesota has won, Allen has often been the equalizer.
His first game with the Vikings was the same as Rodgers' debut with the Packers, when Allen talked during the week about how he wanted to "put my helmet square in the back of (Rodgers) spine" and left Lambeau Field without a sack or a tackle. But in a 28-27 win that November, Allen's sack of Rodgers for a safety was the difference.
[+] Enlarge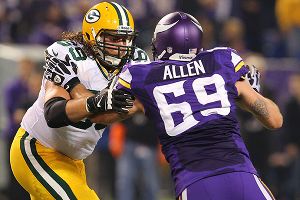 Adam Bettcher/Getty ImagesJared Allen has had some memorable games against the Packers, but was shut down by Green Bay's David Bakhtiari in October.
And though Favre's revenge against the Packers as a Viking was the main storyline the next year, Allen made it possible, blowing through backup tackles
Daryn Colledge
and T. J. Lang to sack Rodgers 7 1/2 times in two games, forcing another safety in the Metrodome when Rodgers was called for intentional grounding. Even last December, when the Vikings beat the Packers 37-34 to reach the playoffs on the final day of the season, Allen recovered Rodgers' fumble to set up a third-quarter touchdown.
Allen has recorded 15 1/2 sacks in 11 regular-season games against the Packers, and before last month's game at the Metrodome, he'd only been held without a sack in two games against Green Bay. But Packers rookie
David Bakhtiari
shut him out in Green Bay's 44-31 win last month, and as Allen goes to Lambeau Field for possibly the final time as a member of the Vikings, he won't be chasing Rodgers, with whom he's developed a friendship and mutual respect over the years.
Instead, it will be
Scott Tolzien
at quarterback for the Packers, filling in for Rodgers against a 2-8 Vikings team with seemingly little to play for. Allen has just five sacks this season, and will hit free agency in a few months. It doesn't seem like the way his time in the Vikings-Packers rivalry should end, which is perhaps why Allen was trying to rekindle some of the old fire when talking about the matchup on Thursday.
"Obviously at 2-8, you're trying to ruin everybody else's season as well as yours, right?" Allen said. "So, they say, misery loves company. I hope this year no one makes the playoffs. So, it's a division rival, going to win in Green Bay. I think it's one of those places where it don't matter what our record tends to be, but if we went up there and beat them in Green Bay, we got a little bit of bragging rights, especially after the whooping they gave us here. I try to tell our guys, 'Heck, every week is like our Super Bowl.' You go up to Green Bay, you might as well treat it as such, as a playoff game, and spoil their dreams along with whatever they're trying to get accomplished."
Allen called Lambeau Field one of his favorite road venues, along with his former home stadium in Kansas City, and Oakland ("That stadium's terrible, but I'm from the Bay Area," he said). He'll likely play in Lambeau again, but possibly not as a central figure in a major rivalry.
"There's a lot of history there. I'm just a fan of the game, so a fan of just playing on the same field, the same stadium a lot of those greats played," Allen said. "Their crowd is cool. It's just a fun atmosphere to play in. I've never played there as the home team, obviously. But playing there over the years, it's great. It's always fun and competitive games, the weather, outdoor football, it's kind of throwback football in this age of, even though they're an up-tempo, throw-it-first, but that atmosphere of Lambeau just kind of reminds you of this is some old school football. If it snows, we're still going to play."
And is he happy not to see Rodgers? "Yeah, I guess, after what he did to us last time. I like playing against Aaron though. It's fun to play against top-quality guys.
"People always say they want people at their best, I'm going, 'Fine, I'll take them at their weakest.'"
November, 21, 2013
11/21/13
10:00
AM ET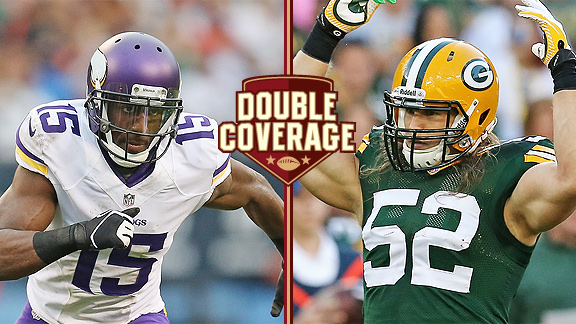 Jonathan Daniel/Getty ImagesIt's been a rough season for Greg Jennings and the Vikings, who hope to split their season series with Clay Matthews' Packers.
A month ago, when the
Green Bay Packers
left Minnesota with a 44-31 victory over the Vikings, all seemed right in their world.
They were 5-2 and in first place in the NFC North.
A week later, their season took an unexpected turn when quarterback
Aaron Rodgers
broke his collarbone. He hasn't played since, and the Packers have lost three in a row.
Meanwhile, the Vikings' slide has continued. They have lost five of their last six and still haven't answered their questions at quarterback.
Packers reporter Rob Demovsky and Vikings reporter Ben Goessling discuss Sunday's rematch at Lambeau Field.
Demovsky:
Ben, when these two teams met last month in Minneapolis, the Vikings had just gone back to quarterback
Christian Ponder
after
Josh Freeman
's disastrous start against the
New York Giants
. Has their quarterback situation -- both short term and long term -- cleared up at all since then? From here, it sure doesn't seem like it has.
Goessling:
It looked like it might have, until last week. Ponder had started every game since then and was having one of his best games of the season Nov. 7 against the
Washington Redskins
when he left with a dislocated shoulder. We've got to grade that one on a curve because of the Redskins' porous defense, but Ponder looked more decisive, a little less skittish in the pocket and more confident while throwing on the run. That lasted through the first half Sunday in Seattle, but the two interceptions Ponder threw in the second half were unconscionable and the Vikings might make another switch at quarterback this week. If I'm them, I would take a look at Freeman and see if he's improved at all with a month to study the offense. The Vikings know what Ponder is at this point, and he's not going to be a franchise-level quarterback. The Vikings continue to say they don't need Freeman to play to evaluate him, but with so little on the line, why not put that $2 million to good use, see if he can give the team a spark and roll the dice on something different?
Speaking of quarterbacks, it seems like
Scott Tolzien
has played well for the most part, but he's been unable to avoid the turnovers that Rodgers simply doesn't commit. Can the Vikings -- a team that has been terrible at generating takeaways -- count on a couple this weekend, or do you see Tolzien excelling against a weak defense?
Demovsky:
After throwing five interceptions the past two weeks, including three Sunday against the Giants, Tolzien knows he absolutely must take care of the ball. The strange thing is, he's been fantastic throwing the deep ball. Some backups get into trouble with interceptions when they're trying to force the ball down the field. That wasn't the case with Tolzien last week. All three interceptions were on short or underneath throws, including the one
Jason Pierre-Paul
returned for a touchdown. Assuming Tolzien does a better job taking care of the ball this week, where he really needs to improve is in the red zone. The Packers have scored just two touchdowns on their past nine trips inside the 20, so along with taking care of the ball, that's where I expect a lot of Tolzien's focus to be this week.
I know I asked you this about
Greg Jennings
before the first meeting, but given the somewhat strange circumstances surrounding him being inactive last week, how do the Vikings feel now about the investment they made in the former Packers receiver this offseason?
Goessling:
You know, when Leslie Frazier talked about Jennings on Monday and said how he couldn't predict for sure whether Jennings would be back against the Packers, it was the first time I wondered about that. It seemed to me Frazier was miffed about the whole situation, whether Jennings decided he couldn't play or whether a valid injury cropped up at the last moment and kept him out of the game. Durability was absolutely a concern with Jennings before the Vikings signed him, and it was a day they were counting on him, with
Jerome Simpson
probably due to sit because of his drunken driving arrest. Whatever caused it, there's no question the Vikings were hoping Jennings could lend some stability to their passing game and help their quarterback, be that Ponder, Freeman,
Matt Cassel
or whomever. They're paying him enough that they have to count on him to make that contract worthwhile.
We've talked before about Jennings' digs at the Packers. What kind of a reception do you expect he'll get on Sunday, and could he be in for a better game with injuries surfacing again for the Packers in the secondary?
Demovsky:
I can't imagine the reception for Jennings will be friendly at Lambeau Field. People here don't take too kindly to those who bash their team or their quarterback. Jennings said some pretty hurtful things this offseason, and regardless of whether he was "just messing around," those words have not been forgotten. I would be willing to bet that every time Jennings touches the ball -- which lately hasn't been much -- he'll get booed. Regarding the Packers' secondary, the fact that it's still having communication breakdowns this late in the season isn't a good sign.
Jennings didn't do much of anything in the first meeting against the Packers, and neither did
Adrian Peterson
. I'm not sure which one was more surprising. But since Peterson carried only 13 times (for 60 yards) against the Packers, he has gotten 25, 20 and 21 carries in the past three games. Is he the Vikings' only hope for success on offense?
Goessling:
Depends on what the Vikings get at quarterback -- which is pretty hard to predict these days. They had planned this year to have more balance on offense, and without it, they've suffered from Peterson having merely a good, not historic, season. He said after Sunday's game that his groin injury was bothering him a lot, and it's the first time in the past two years I've heard Peterson admit an injury was affecting him like that. There were certainly runs where it looked like he just didn't have that top gear like he normally does, and it kept him from breaking a couple. I'm not so sure the best thing wouldn't be to sit him down for a game or two and let him get healthy, rather than having him try to play when he's clearly not 100 percent. The fact the Vikings could be missing center
John Sullivan
because of a concussion doesn't help either. Their best chance to get going on offense would be to feed Peterson, get a lead and try to pressure Tolzien. If Peterson is not at his best, it might not be feasible to lean on him so much.
What about the Packers' running game? It was striking to see
Eddie Lacy
& Co. pound the ball at will against the Vikings in October. Was that legit, or are teams taking that away now because Rodgers is gone?
Demovsky:
That was legit. He leads the NFL in rushing over the past seven games. Less than three weeks ago, the Packers ran for a season-high 199 yards against the Bears. The past two weeks, however, both the Eagles and the Giants have loaded the box to stop the run, and it has worked. There weren't many yards for Lacy to get last week against the Giants, and he averaged only 1.9 yards per carry on 14 attempts. It's like defenses have completely changed the way they're playing the Packers. With Rodgers, they used to dare the Packers to run the ball. Now, they're daring them to throw it by bringing extra defenders up to the line of scrimmage.
November, 19, 2013
11/19/13
3:40
PM ET
MINNEAPOLIS -- If there's any team that would have historical precedent for a quixotic hope of making the playoffs at 8-8, the
Minnesota Vikings
technically would fit the bill. Since the NFL went to its current playoff format in 2002, awarding spots to the four division winners and two wild-card teams in each conference, the Vikings are one of three teams to earn a wild-card berth with an 8-8 record. Both they and the
St. Louis Rams
did it in 2004, and the
New York Giants
did it in 2006.
So those of you who believe the Vikings can win their last six games, leapfrog 11 teams and make the playoffs can read this post one way. Those of you who are already pining away for the 2014 draft -- and its deep group of quarterbacks -- can read it another way.
The Vikings' six-game finish to their 2013 season is, in a word, formidable. They face just one team with a losing record the rest of the season, and that team -- the defending Super Bowl champion
Baltimore Ravens
-- is 4-6, still in the thick of the AFC wild-card race and will play host to the Vikings on Dec. 8. Minnesota hasn't won on the road this season (though the Vikings' victory over the Steelers in London was a home game in name only), and as much as the Ravens have struggled, they've only lost once at home in 2013.
In fact, the Vikings' best shot at a win the rest of this season might come on Sunday against the
Green Bay Packers
. They will face
Scott Tolzien
at quarterback, not
Aaron Rodgers
-- who has carved them up with fierce regularity throughout his career and did so again last month in a 44-31 win. Whoever starts at quarterback for the Vikings will face a Packers defense that might be without cornerback
Casey Hayward
or
Sam Shields
. The Vikings don't know who their quarterback will be, but you can bet
Greg Jennings
-- who was a surprise scratch on Sunday against Seattle -- will be motivated for his return to Lambeau Field. Rarely has a trip to Green Bay lined up so well for the Vikings since the last time they went east with a scorned former Packers star (the notorious B.L. Favre, of course).
After that, it's on to a home game with the
Chicago Bears
, who are still in the thick of the NFC North race. Then it's the Ravens game, followed by a date with the Eagles, who could give the Vikings' defense all sorts of problems on Dec. 15. Minnesota finishes its road schedule against 7-4 Cincinnati on Dec. 22, and closes down Mall of America Field with the 6-4 Lions on Dec. 29.
From a draft pick standpoint, the only problem with the Vikings' schedule being so tough the rest of the way is if they end up tied with another team. They currently would have the No. 2 pick in the draft, beating out three other 2-8 teams because they've played the weakest schedule so far.
But as our Kevin Seifert pointed out yesterday
, the Vikings have the second-toughest remaining schedule against 2-8 teams, and if another team loses the same number of games against weaker opponents, they could leapfrog the Vikings for a spot near the top of the draft order.
Whatever your angle, there's no disputing how tough the Vikings' slate is the rest of the way. That could mean more trouble this year, but a better draft slot for 2014. Stay tuned.
November, 19, 2013
11/19/13
2:00
PM ET
A weekly examination of the Vikings'
ESPN.com Power Ranking
:
Preseason
: 17 |
Last Week
: 30 |
ESPN.com Power Ranking since 2002

The Vikings have only one spot further to fall in ESPN.com's Power Rankings, after they got thumped on the road against the
Seattle Seahawks
over the weekend and the
Tampa Bay Buccaneers
got their second win of the season to move up the rankings. The Vikings are now tied for the worst record in the NFC, and if the season ended today, they'd hold the second pick in the draft behind the
Jacksonville Jaguars
.
Once again, the Vikings will have to make a quarterback decision before Sunday's game against the
Green Bay Packers
, after
Christian Ponder
threw interceptions on back-to-back drives in the 41-20 loss to Seattle.
Josh Freeman
could get his chance to start against the reeling Packers, or the Vikings could use
Matt Cassel
. They might even trot Ponder back out there -- coach Leslie Frazier hasn't ruled that possibility out yet. Whatever they do, there's not much on the line for the Vikings other than trying to sort out their QB situation and solve some of their many questions before the end of the 2013 season.
If you're the type who's into draft-pick positioning, the good news is the Vikings might have a tough time winning many games the rest of the season. They play only one team with a losing record the rest of the season, and that's a Dec. 8 road matchup against the 4-6 Ravens (who also happen to be the defending Super Bowl champions and are still in the AFC wild-card hunt). In fact, Sunday's game against Green Bay might be the Vikings' best chance at a win; they'll avoid familiar nemesis
Aaron Rodgers
and will face a Packers team that's lost three in a row, including two at home. The Vikings have won once at Lambeau Field since 2005, but Sunday might give them a chance to score a road win with
Scott Tolzien
, and not Rodgers, at quarterback.