Minnesota Vikings:

Scott Turner
August, 21, 2014
Aug 21
5:15
PM ET
EDEN PRAIRIE, Minn. -- The
Minnesota Vikings
were in the market for a veteran backup quarterback a year ago, believing they needed a steady alternative to
Christian Ponder
after their first playoff appearance in three years was short-circuited by a disastrous outing from
Joe Webb
. The
Cleveland Browns
were looking for the same thing, as new offensive coordinator Norv Turner sought stability behind young starter
Brandon Weeden
.
Both teams set their sights on former
Kansas City Chiefs
quarterback
Matt Cassel
, who had needed just four years to go from the ranks of promising young starters to the discard pile. Cassel was seen at that point as an insurance policy who could lend some stability in a pinch -- and was paid as such -- but both Vikings general manager Rick Spielman and Browns offensive coordinator Norv Turner hung onto the thought that in the right system, the 31-year-old was still capable of more.
[+] Enlarge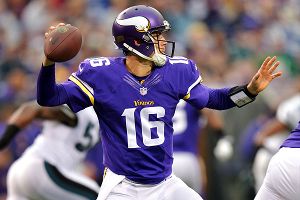 Drew Hallowell/Philadelphia Eagles/Getty ImagesMatt Cassel seems likely to open the regular season as Minnesota's starting quarterback.
"He'd had some struggles in Kansas City, but he went to the Pro Bowl one year with them," Spielman said. "He came through that whole system with
Tom Brady
(in New England). That kind of set him apart -- not only the abilities he had, but the experience and the knowledge."
Seventeen months later, as Cassel returns to Kansas City for the Vikings' preseason game this weekend, he has taken a circuitous -- and sometimes bizarre -- route back to the fraternity of NFL starting quarterbacks. It involved a season where Cassel led the Vikings to their first victory of the year, was named the starting quarterback for the next game -- and was deactivated a week later once the Vikings decided to start
Josh Freeman
two weeks after signing him. The stench of the quarterback situation clung so closely to coach Leslie Frazier that the Vikings fired him after a 5-10-1 season, hiring
Mike Zimmer
to replace him in January. And after the Cleveland Browns dumped coach Rob Chudzinski and his staff after just one season, Turner -- the offensive coordinator who wanted Cassel in Cleveland -- was hired to work with him in Minnesota.
That chain of events took Cassel from being an afterthought in October to the quarterback the Vikings determined they couldn't lose this spring. He will make his third start of the preseason on Saturday night in Kansas City, and though he hasn't been named the team's starter yet, all signs point to him being on the field for the regular-season opener Sept. 7 in St. Louis. He has developed a productive working relationship with rookie
Teddy Bridgewater
, intent on paying forward the favor Brady did for him as a young quarterback, and he has a two-year, $10 million contract after opting out of his original 2014 deal in February. As he heads back to Kansas City, Cassel does so in the middle of an impressive reboot of his career.
"We ask a lot of our quarterbacks, and he's able to handle it, plus more," said quarterbacks coach Scott Turner, who was the receivers coach in Cleveland when the Browns were pursuing Cassel in 2013. "He's done a great job of learning the system and really just kind of owning it."
Cassel might have the starting job in his grasp at the moment, but his grip on it is tenuous at best, thanks to Bridgewater's presence. The Vikings didn't trade up to select Bridgewater in the first round in order to keep him on the bench forever, and if Cassel struggles, it could expedite the process of making Bridgewater the starter. Spielman, though, said Cassel, who is now 32, has a unique understanding of his role as a mentor.
"That's what makes Matt so special," Spielman said. "Some guys would probably not be as positive about that situation, but Matt understands where he's at in his career. Even when we signed Matt here, we laid everything out. I don't like to sit there and BS people; this is the circumstance they're coming in. Matt understood everything. There was no question he was going to come in here and compete, regardless, to be our No. 1 quarterback. We're very fortunate to have a Matt Cassel, not only from the ability to play, but also, if that role does reverse, the ability to be a mentor and bring that young one along. That's a hard combination to find."
Cassel is 17-for-22 with a touchdown pass in the preseason, and seems more confident in his role with the Vikings -- to the point where Zimmer has mentioned the need to remind Cassel that while his suggestions are welcome, they don't represent final decisions. In whatever role he's playing, though, the Vikings seem grateful to have him.
"Matt wants to start and play; so does Teddy, and so does Christian," Scott Turner said. "Matt's doing everything he can to prepare himself to be the best player he can possibly be, and that's as far as it goes. I think he understands that Teddy's here, and we think he's going to be a very good player in this league someday. He's not looking into the what-ifs down the road, and I think you've got to commend him for that."
July, 21, 2014
Jul 21
2:30
PM ET
MINNEAPOLIS --
Teddy Bridgewater
will begin his first training camp as a
Minnesota Vikings
quarterback later this week under close scrutiny, as he tries to win the Vikings' starting job as a rookie. Bridgewater, however, doesn't plan to pay much attention to the race for the job -- or at least he's saying he doesn't.
[+] Enlarge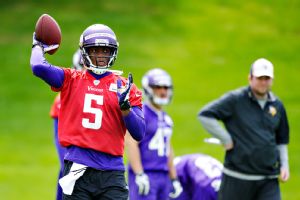 Hannah Foslien/Getty ImagesTeddy Bridgewater said he didn't feel comfortable talking about the QB competition.
After a workout at the University of Minnesota on Monday, Bridgewater said he hasn't thought much about the number of first-teams snaps he has received to this point, and he doesn't plan to keep track of it during training camp. He wouldn't talk much about his bid for the job against
Matt Cassel
and
Christian Ponder
, discussing instead what he has been doing since the end of the Vikings' minicamp last month.
"That's something I don't feel comfortable talking about," Bridgewater said of his chances to start. "I'm just looking forward to training camp. Can't wait to get to Mankato, put the pads on and just continue doing what we've got to do -- play football."
Bridgewater, who has been training in Florida with former NFL quarterback Ken Mastrole, said he has been studying the Vikings' playbook for two hours each morning since the end of minicamp. He wouldn't discuss how much contact he'd had with offensive coordinator Norv Turner and quarterbacks coach Scott Turner in the last month, but he said he feels good about the relationship he has with both men and his preparation for his first season.
"I've been doing everything the Minnesota Vikings asked me to do," Bridgewater said. "I can't wait to put the pads on and get started."
The quarterback worked out with Vikings tight end
Kyle Rudolph
on Monday, as part of the workout group organized by
Arizona Cardinals
receiver
Larry Fitzgerald
. He said he plans to do some work at the Vikings' facility this week, as well, before players report to training camp on Thursday.
July, 16, 2014
Jul 16
2:00
PM ET
MINNEAPOLIS -- Between now and the
Minnesota Vikings
' first training camp practice July 25, we will break down each position group. We'll get started at quarterback.
Returning players:
Matt Cassel
,
Christian Ponder
Gone from last season:
Josh Freeman
, coach Craig Johnson
New this season:
Teddy Bridgewater
(first-round pick from Louisville)
Position coach:
Scott Turner (first season), hired from Cleveland to replace Johnson (now the
New York Giants
' running backs coach).
Ponder
Cassel
Biggest issue:
The Vikings need to settle on a starting quarterback who can provide stability. Cassel heads into training camp as the incumbent after one of the most chaotic years the Vikings have ever had at the position, but Bridgewater (and probably to a lesser extent, Ponder) will get a chance to compete for the job. We've been of the opinion that the Vikings shouldn't rush Bridgewater into action unless he's clearly shown he's the best quarterback on the roster, and the Vikings have decided they're going to let him keep the job and run with it. The Vikings will spend a fair amount of training camp trying to answer that question, and it could determine the direction of the most important position on the roster.
Player to watch:
Bridgewater was impressive during the Vikings' OTAs and minicamp, throwing a better deep ball than many expected him to have and making a number of difficult sideline throws down the field. He's shown an eagerness to learn the Vikings' offense and was already making checks at the line of scrimmage during minicamp, after about a month in the playbook. He hit 53.5 percent of his passes under pressure at Louisville last season, according to ESPN Stats & Information; Ponder hit only 46.9 percent of his throws under pressure, while Cassel was at 38.5 percent. Defenses will certainly be tougher in the NFL, and Bridgewater will have to make even quicker decisions, but his success under pressure in college gives him a good foundation for the NFL.
Medical report:
Both Cassel and Ponder were healthy at the end of last season, and the Vikings shouldn't have many medical concerns about their quarterbacks headed into camp. Bridgewater could stand to put on muscle, but that won't happen overnight.
Help wanted:
The Vikings should be set at quarterback, barring injury. They don't have a developmental quarterback on their roster at the moment, and probably wouldn't have many snaps for one in camp as they try to sort through a three-man race for the starting job.
Quotable:
"Matt's been a productive player and he's a better player than a lot of people think," offensive coordinator Norv Turner said. "I'm excited about Christian. This is still a very young player whose done a lot of really good things and been put in a tough situation. We're just going to work with both of them and get the best out of them we can."
June, 6, 2014
Jun 6
8:00
AM ET
MINNEAPOLIS -- It will be months, if not longer, before we have a complete idea of where
Teddy Bridgewater
is at in his development as a NFL quarterback. But in an interview after his impressive showing at the Vikings' organized team activity on Thursday, Bridgewater offered a hint that he already understands an important key to success in the pros.

Bridgewater
Bridgewater went 9-for-9 in the Vikings' first 11-on-11 period on Thursday, taking one sack but connecting with
Adam Thielen
on a couple of tough throws against tight coverage. In a 7-on-7 drill red zone drill, he hit a couple of corner routes to
Kain Colter
and Thielen, and connected with
Jarius Wright
on a long pass during his two-minute drill. Afterward, when asked about his biggest challenge so far, he said this:
"The biggest challenge is just anticipating throws. In college, open was 10 feet. Now in the NFL, open can be just a couple of inches. So just being more decisive, anticipating throws more and I feel like I'm doing a great job learning from Matt (Cassel) and Christian (Ponder). Also, (quarterbacks) coach (Scott) Turner has been teaching me to throw it on time, trust your feet and everything will happen."
Any Vikings fan who's spent the last three years watching Ponder knows Bridgewater hit on a central trait of being an effective NFL quarterback. One of Ponder's biggest hindrances has been his inability to make throws into tight windows, or to trust himself enough to try them. Bridgewater completed 68.4 percent of his passes in college (compared to 61.8 percent for Ponder), and turned himself into a first-round pick by being one of the more accurate passers in the draft, so the Vikings have reason to be confident in his ability to hit tough throws. The job will ultimately require Bridgewater to be confident enough in himself to put the ball just beyond defenders, but he seemed to have little hesitation about doing that on Thursday. It's dangerous to assume too much before Bridgewater is throwing in live games, but the Vikings have to be encouraged by signs that their first-round pick is able -- and willing -- to make some of the throws that gave their last first-round QB trouble.
"I thought Teddy did a nice job in the 2-minute situation, had a nice long ball there, took them down and scored," coach
Mike Zimmer
said. "He left for those two days (for a NFL rookie marketing event in Los Angeles last week), he was a little rusty when he came back, (but) he's picked it up these last two days, so he's doing well."
February, 27, 2014
Feb 27
10:25
AM ET
MINNEAPOLIS -- If the
Minnesota Vikings
aren't able to land a quarterback with the No. 8 overall pick in the draft in May, one popular alternative is for them to take a linebacker -- possibly Buffalo's Khalil Mack or Alabama's
C.J. Mosley
-- who could help shore up the middle of their defense.
They might, however, have another option worth considering before then. The
Cleveland Browns
released linebacker
D'Qwell Jackson
on Wednesday, parting ways with the leader of their defense instead of paying him $4.1 million in bonuses on March 15.
Jackson is 30 years old, and reportedly already had interest from seven teams after the Browns cut him, so the Vikings would have to decide how much they'd want to pay for a linebacker entering his eighth season. They unsuccessfully tried a similar tack with former
Green Bay Packers
linebacker
Desmond Bishop
last year, though injuries were a major risk factor with Bishop while Jackson has been durable for most of his career. But Jackson, like Bishop, is well-respected around the league and might be worth a look from the Vikings, especially considering how much their new coaching staff already seem to know about him.
Offensive coordinator Norv Turner and quarterbacks coach
Scott Turner
were on the Browns' staff with Jackson last season, and though they wouldn't have coached him directly, they could vouch for his character and leadership abilities. Similarly, coach Mike Zimmer and linebackers coach Adam Zimmer wouldn't have game-planned against Jackson while they were in Cincinnati, but they'd at least have had two chances to watch him each season.
Jackson has been a solid tackler throughout his career, though he's historically not been the kind of linebacker you look to for a huge number of impact plays. The Vikings already have a linebacker like that in
Chad Greenway
, who turned 31 in January, and there's an argument to be made for younger, cheaper middle linebacker options like
Audie Cole
and
Michael Mauti
. But the Vikings defense suffered a leadership void when the team released
Antoine Winfield
last March, and Jackson could help provide some direction for a defense that figures to change dramatically under Zimmer this season. That alone might be enough for the Vikings to take a look at him.
February, 6, 2014
Feb 6
7:00
PM ET
EDEN PRAIRIE, Minn. -- When he was asked if the
Minnesota Vikings
had to use the eighth overall pick in this year's draft on a quarterback on Thursday, new offensive coordinator Norv Turner happily scurried behind the limitations of his title.
"I don't have to answer questions like that any more," he joked, referring back to his days as the
San Diego Chargers
' head coach. "[General manager] Rick [Spielman] and [head coach] Mike [Zimmer], I'm sure, have been talking about it a lot."
But Turner did make clear the one thing that most have expected would be true of the Vikings this offseason: They'll try to find a young quarterback.
"I think everyone is in agreement that we are trying to add a young quarterback to the organization. We just have to make sure it's a good one wherever we get him," he said.
Turner used Seattle's
Russell Wilson
as proof that quarterbacks can come from many different backgrounds; Wilson is just 5-foot-11, and was drafted in the third round by the Seahawks in 2012. He also took a subtle jab at
Washington Redskins
owner Dan Snyder, who pushed out former Vikings quarterback
Brad Johnson
when Turner was the head coach there.
"I was with Brad Johnson in Washington when we went to the playoffs and won the division and the owner was convinced he couldn't win a Super Bowl, so we let him go and he went to Tampa and the next year he won a Super Bowl," Turner said. "I think you get a really good player and you get him with a really good team and you find out how far you can go."
The offensive coordinator had some good things to say about 2011 first-rounder
Christian Ponder
, who is the only Vikings quarterback on the roster at the moment. But the fact that Turner said everyone in the organization agrees the Vikings need a young quarterback should make it obvious Ponder isn't at the center of the team's plans. He also said his son, new Vikings quarterbacks coach Scott Turner, had talked briefly with
Matt Cassel
, who will opt out of the second year of his contract with the Vikings.
Cassel could come back to the Vikings on a new deal, and Turner said he'd be happy to work with him.
"There's a business side and there's a reason things get done. I think Matt is interested and he liked his experience here," Turner said. "I think he's excited about the things we're doing, the things we've done. I've known him for quite a while. We've talked football. So, I don't think I'm surprised by him opting out, if that's what he did. I'm not sure that's final or done yet. But I'm excited to work with Matt."
January, 29, 2014
Jan 29
4:45
PM ET
MINNEAPOLIS -- As we wait for the grand unveiling of the
Minnesota Vikings
' new coaching staff, another one of the team's former assistant coaches has found a new job.
Defensive line coach Brendan Daly, who was in that position for the last two years after first working with the Vikings from 2006-08, was hired on Wednesday as a defensive assistant with the
New England Patriots
, the team announced on Wednesday. It was unclear whether Daly would get a chance to stay on with new coach Mike Zimmer, but he's evidently moved on to a job with the Patriots.
That means the name of a Vikings defensive line coach hasn't surfaced yet, which leaves at least one gap in our understanding of the team's defensive staff. Zimmer's son, Adam, is expected to take a job on the defensive staff, former
Tennessee Titans
defensive coordinator Jerry Gray will reportedly be the defensive backs coach, and former defensive backs coach Joe Woods said last week that linebackers coach Fred Pagac would be among those who got a chance to interview for a job on Zimmer's staff. Offensive coordinator Norv Turner's staff will reportedly include his son, Scott, and former
Pittsburgh Steelers
running backs coach Kirby Wilson. Woods also said offensive line coach Jeff Davidson and wide receivers coach George Stewart would get chances to interview for jobs with Zimmer.
Zimmer had said he would wait to confirm any coaching hires until the whole staff was in place, but he did confirm that Norv Turner will be the offensive coordinator on ESPN's "NFL Insiders" show on Wednesday afternoon. That had been widely reported, as had the addition of defensive coordinator George Edwards to the staff, but Wednesday's interview was Zimmer's first confirmation of the Turner hire after both general manager Rick Spielman and running back
Adrian Peterson
had talked about it in previous interviews.
One holdup to the staff, as we've discussed, might be the investigation of former punter
Chris Kluwe
's allegations against special teams coordinator Mike Priefer. Woods said Priefer would likely interview for a job, and it is believed Priefer would have a strong chance to stay, but the Vikings might be waiting to see where an independent investigation of Kluwe's allegations goes. Considering the conclusion of that investigation might still be a month away, it should become evident if the Priefer situation is holding things up if the Vikings still haven't announced a staff in the next week or two.
January, 25, 2014
Jan 25
8:15
PM ET
MINNEAPOLIS -- We say this with a disclaimer, since the
Minnesota Vikings
haven't released any names on their coaching staff and new coach Mike Zimmer has declined to comment on any hires until the whole group is in place. But based on what we've been able to cobble together from various reports and sources, the team's coaching staff could be almost complete.
The Vikings have hired
Pittsburgh Steelers
running backs coach Kirby Wilson to do the same job for them,
according to the Pittsburgh Post-Gazette
. Wilson would replace James Saxon, the Vikings' running backs coach for the last three seasons.
The Minneapolis Star Tribune has reported Scott Turner, the son of new Vikings offensive coordinator Norv Turner, was seen conducting the Vikings' quarterback meetings at the Senior Bowl. Former Vikings defensive backs coach Joe Woods said earlier this week that offensive line coach Jeff Davidson and wide receivers coach George Stewart would be given opportunities to interview for jobs on Zimmer's staff. It's unknown whom the Vikings would hire as a tight ends coach after letting Jimmie Johnson go, but other than that, their main position coaches under Turner would appear to be set.
On defense, the Vikings have reportedly hired former
Tennessee Titans
defensive coordinator Jerry Gray to coach their defensive backs under coordinator George Edwards, and Zimmer's son Adam could also land a role on his father's staff. Woods also said linebackers coach Fred Pagac and would get a chance to interview for a job with Zimmer.
It remains to be seen whether the Vikings would keep defensive line coach Brendan Daly, and it's entirely possible that some of the holdovers from Leslie Frazier's staff wouldn't get jobs after interviewing with Zimmer. The Vikings could also add a second coach at a number of positions, as they had under Frazier. But the Vikings appear to be closing in on completing their offensive staff, with their defensive group not far behind.
The big question, of course, is what will happen with special teams coordinator Mike Priefer in light of an investigation into former punter
Chris Kluwe
's allegations that Priefer made homophobic remarks during the 2012 season. Kluwe's attorney, Clayton Halunen, said on Saturday that it would be "very irresponsible" for the Vikings to announce Priefer was staying on the team's staff until after the investigation is complete. But Woods said earlier this week he believed Priefer would stay on staff with the Vikings.
January, 22, 2014
Jan 22
11:35
PM ET
MINNEAPOLIS -- As the
Minnesota Vikings
continue to fill out their coaching staff, they've started to let more of former coach Leslie Frazier's assistants know where they stand.
Defensive backs coach Joe Woods, who had been with the Vikings since Brad Childress took over as head coach in 2006, said new coach Mike Zimmer told him today he was going in a different direction. The Vikings reportedly will bring in former
Tennessee Titans
defensive coordinator Jerry Gray as their defensive backs coach.
Woods said Zimmer has told a handful of coaches they'll get opportunities to interview for jobs on the Vikings' staff. Woods said he believed special teams coordinator Mike Priefer, offensive line coach Jeff Davidson, wide receivers coach George Stewart and linebackers coach Fred Pagac are among those who will get interviews for jobs on Zimmer's staff.
The Vikings had blocked Davidson from interviewing for a job with the
Atlanta Falcons
, and a league source said on Tuesday that Davidson and Stewart both had solid chances to stay. Stewart, whose time as a receivers coach dates back to his work with
Jerry Rice
and
Terrell Owens
in San Francisco, had developed a relationship with rookie receiver
Cordarrelle Patterson
, and could be brought back to continue his work with the talented wideout, among others.
Former offensive coordinator
Bill Musgrave
had already accepted a job as the
Philadelphia Eagles
' quarterbacks coach, and former quarterbacks coach Craig Johnson was announced on Wednesday as the
New York Giants
' running backs coach. Linebackers coach Mike Singletary had already informed the Vikings he was leaving, and defensive coordinator Alan Williams is believed to be joining Jim Caldwell's staff as a defensive backs coach in Detroit, after doing the same job for Caldwell when both were in Indianapolis.
Priefer, whom former punter
Chris Kluwe
alleged had made homophobic remarks during the 2012 season, could stay if an internal investigation clears him of any wrongdoing. He is well-respected around the league, having interviewed for the
Chicago Bears
' head coaching position last winter, and might retain his job based on the strong performances of return men like Patterson,
Marcus Sherels
and
Percy Harvin
over the years.
As for Woods, who presided over a secondary in transition after general manager Rick Spielman decided to cut
Antoine Winfield
last spring, the defensive backs coach said he didn't expect to be brought back. The Vikings allowed more points than any team in the league last season, and their secondary was a major reason why.
Woods was given the opportunity to go to the Senior Bowl with the Vikings' staff, but declined. He said he's talked to several other teams about jobs, but is still waiting to see where he'll land.
"I kind of anticipated it," he said of being let go by the Vikings. "When we played so poorly on defense, it seemed likely."
Zimmer has said he will announce his entire coaching staff at once, but the Vikings have already hired former
Cleveland Browns
offensive coordinator Norv Turner to run their offense, and former
Miami Dolphins
linebackers coach George Edwards to be their defensive coordinator. Turner's son Scott has reportedly been running the Vikings' quarterback interviews at the Senior Bowl, and Zimmer's son Adam -- who was the Bengals' defensive backs coach under his father last year -- appears to be a likely addition to the staff, as well.
January, 22, 2014
Jan 22
5:00
PM ET
MINNEAPOLIS -- Another former Vikings assistant coach has found a different job.
Craig Johnson, who was the Vikings' quarterbacks coach the past three seasons under Leslie Frazier, was hired to be the
New York Giants
' running backs coach under new offensive coordinator Ben McAdoo -- who, like Johnson, is a former NFC North quarterbacks coach. McAdoo (the former
Green Bay Packers
quarterbacks coach) hired Johnson to replace Jerald Ingram. Johnson used to coach running backs for the Titans before coming to the Vikings, after serving as Tennessee's quarterbacks coach.
His move makes sense in light of what the
Minneapolis Star Tribune reported from the Senior Bowl earlier this week
-- that former
Cleveland Browns
wide receivers coach
Scott Turner
, the son of new Vikings offensive coordinator Norv Turner, was seen running the Vikings' interviews with quarterback prospects, indicating he will likely be the Vikings' new quarterbacks coach. The Vikings still haven't confirmed any of their coaching hires, and have said they'll wait to announce the entire staff at a later date, but the pieces of their staff continue to fall into place.
The Vikings did announce, however, that they've signed former Bengals defensive tackle
Kheeston Randall
to a reserve/future contract. Randall didn't see any game action for the Bengals last season, but it's safe to assume new coach Mike Zimmer -- who coached Randall last year in Cincinnati -- saw something in the 6-foot-4 tackle.
Randall had previously played for the
Miami Dolphins
, suiting up for 12 games and making six tackles in 2012.
January, 21, 2014
Jan 21
3:15
PM ET
MINNEAPOLIS -- The
Minnesota Vikings
will announce all of Mike Zimmer's coaching staff once it's finished, but we're starting to get some sense of how the group will look.

We know it will not include former offensive coordinator Bill Musgrave; Fox Sports reported on Tuesday that Musgrave has accepted a job as the Eagles' quarterbacks coach. That's not a big surprise, considering the Vikings had already replaced Musgrave with Norv Turner, but Tuesday's news rules out any chance of Musgrave returning to the Vikings in a smaller role.
The Vikings have defensive coordinator George Edwards reportedly in place, as well, and the
Minneapolis Star Tribune's Master Tesfatsion, who's at the Senior Bowl in Mobile, Ala., reports he saw Turner's son Scott
conducting the Vikings' meetings with quarterbacks -- which is a likely indicator the younger Turner, who was the Browns' wide receivers coach last season, will be on his father's offensive staff for a second season in a row.
Cincinnati Bengals
defensive backs coach Adam Zimmer, who worked for his father last season,
is also expected to join the Vikings' staff.
How many of former coach Leslie Frazier's assistants could stay on with Zimmer? According to a NFL source, wide receivers coach George Stewart and offensive line coach Jeff Davidson both have decent chances. Stewart, who is at the Senior Bowl this week, had developed a bond with rookie receiver
Cordarrelle Patterson
dating to last year's scouting combine, and he has worked with Jerry Rice and Terrell Owens in the past. The Vikings blocked Davidson from interviewing for a job with the
Atlanta Falcons
, which would seem to indicate they would like to keep him on Zimmer's staff.
There are bound to be plenty of questions about special teams coordinator Mike Priefer, who was accused by former punter Chris Kluwe of making homophobic remarks during the 2012 season. The Vikings are investigating the matter, and that investigation could help delay an announcement of the Vikings' coaching staff. Priefer is well-respected as a coach, but the Vikings might want to get the situation resolved before announcing a staff with or without Priefer on it.
The rest of the group is still waiting to see what decisions Zimmer makes, but the Musgrave move is at least an indication that the Vikings have given some coaches the chance to accept jobs elsewhere.