Minnesota Vikings:

Stephen Burton
December, 19, 2013
12/19/13
10:00
AM ET
EDEN PRAIRIE, Minn. --
Greg Jennings
' transition from the
Green Bay Packers
to the
Minnesota Vikings
was always going to have some fits and starts, well beyond the border-hopping rivalry stuff that fans soak up (and Jennings fed with several rounds of well-publicized comments earlier this year). He went from playing with two quarterbacks --
Brett Favre
and
Aaron Rodgers
-- for all but one game of his time with the Packers, to having three in his first six games with the Vikings. On top of that, Jennings had to learn how to exist in an offensive system that revolved not around an MVP quarterback, but an MVP running back.
That meant fewer opportunities as the Vikings went through their quarterback changes. And it meant Jennings taking a more serious approach to the art of downfield blocking.
[+] Enlarge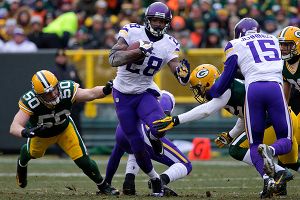 Tom Dahlin/Getty ImagesMoving from a team where the quarterback was the star to one where the running back is meant that Greg Jennings (15) had to work on his blocking.
"I kind of saw that the role, my mindset had to change, making sure that I was doing my job and not becoming a distraction at all," Jennings said. "Embracing the run game even more, making sure that I did my part from that aspect of what we were trying to on the offensive side of the ball. ... It didn't get to me. I just had to shift my mindset to more of a run-blocker because that's where we were having success at. That's what was going to get our offense rolling."
For much of Jennings' time in Green Bay, the Packers were either so committed to the pass or so inept at the run that he wasn't asked to do much other than get open and catch passes. The most Jennings had to run-block was in his first season with Rodgers -- in 2008, when he was blocking on 33.8 percent of his offensive snaps, according to Pro Football Focus. His run-blocking dropped in each of the next three seasons (32.3 percent in 2009, 30.9 percent in 2010, 26.7 percent in 2011) before jumping back up to 29.1 percent in 2012. But this season, Jennings is back to blocking almost as frequently as he's ever done.
The Vikings have asked him to do it on 33.4 percent of his snaps this season, and in wide-receivers coach George Stewart, Jennings has a former offensive-line coach who stresses proper blocking technique. During his disappointing 2012 season, wide receiver
Jerome Simpson
won praise from the coaching staff for the way he worked to improve as a blocker, and that might have helped him earn a new contract from the Vikings this season. It also might have helped converted quarterback
Joe Webb
make the team out of training camp; Webb has blocked on 42.1 percent of his offensive snaps, filling the role
Stephen Burton
had occupied for the Vikings last season.
Jennings' productivity has increased since
Matt Cassel
took over as quarterback, and the Vikings are paying him primarily to do what he always did in Green Bay. But run-blocking is always going to be a reality in an offense with
Adrian Peterson
, and it's been one of several adjustments for Jennings in his first year in Minnesota.
He had a career-high 11 catches last week in a win over the Eagles, and has 59 catches for 733 yards this season. But Jennings will need a big finish to the season to avoid his lowest full-season yardage total since his rookie year, and his four touchdowns also match his fewest since his rookie year.
"It's a challenge," he said of working with so many quarterbacks. "That's why you get a lot of receivers, and a lot of people tag us as divas. Because a lot of times the work that we put in, not to get a result, it can be frustrating for anyone. For a team that's lost as many games as we've lost, we put in a lot of work in practice not to get the production and have the success that we feel we deserve or that we're putting in on Wednesday, Thursdays and Fridays, it can be frustrating. But you have to keep rolling with the punches, and right now we're having some success and that's where we are."
August, 29, 2013
8/29/13
5:05
PM ET
The
Minnesota Vikings
close out the preseason at home on Thursday, playing host to the
Tennessee Titans
. The Vikings are expected to sit most of their starters, but a number of players will still have something to prove in advance of final roster cuts this weekend. Here are some things to watch:

Matt Cassel:
The quarterback hasn't been terribly impressive this preseason, doing his best work in the Vikings' exhibition opener against Houston. Since that game, where Cassel went 12-for-19 for 212 yards, a touchdown and an interception, he has completed just 7 of 18 passes for a total of 57 yards and has been sacked twice. With
Christian Ponder
likely to sit out, Cassel should get plenty of time to end his preseason on a good note and remind the Vikings why they are paying him $3.7 million this season to back up Ponder.
Cornerback battle:
Several position battles still have to be settled on the Vikings' roster, but the competition for the team's final cornerback spot is one of the more prominent ones.
Bobby Felder
, who spent last season on the practice squad, has had some impressive moments this preseason and might have a shot to unseat
Marcus Sherels
for a spot on the roster. Felder is bigger and more physical than Sherels, who served as the Vikings' fifth corner last season, and he's been productive enough as a punt returner that it looks like he could unseat Sherels there, too. If
Josh Robinson
falters in the slot, the Vikings would likely go to whomever wins this spot, so it could be important for them to get it right. Thursday will give them one final look at both players, and unless they wind up keeping six cornerbacks, Thursday's game could play a pivotal role in helping the Vikings decide whether Felder or Sherels stays.
The thin D-line:
With
Kevin Williams
and
Sharrif Floyd
still sitting out because of knee injuries, and
Christian Ballard
still away from the team because of personal issues, the Vikings will have plenty of work for their backup defensive tackles on Thursday night. Players such as
Anthony McCloud
,
Chase Baker
and
Everett Dawkins
should play extensively, and if it looks like Ballard's absence will extend into the season, the Vikings might have a roster spot for one of them. None of the players have distinguished themselves during the preseason, but a longer stretch of playing time could lend some more clarity to the situation.
Desmond Bishop:
He played 33 snaps on Sunday night in San Francisco, and Bishop should have plenty of time again on Thursday night to prove he should start at weak-side linebacker over
Marvin Mitchell
. He still had some lapses in pass coverage against the 49ers, but made nine tackles and looked more assertive against the run than he did in the previous game against the Bills, which was Bishop's first in more than a year after a torn hamstring ended his 2012 season after one game.
Final receiver spot:
Here's another area where Thursday's game could have plenty to say about who sticks on the roster.
Stephen Burton
has had an impressive camp, and caught three passes for 67 yards in the Vikings' first preseason game, but Ponder's interception on Sunday night in San Francisco could be attributed at least partially to Burton, who stopped his route and gave
Nnamdi Asomugha
a clear path to the ball. (Asomugha tipped the ball, and
C.J. Spillman
made the pick.) In that same game,
Joe Webb
caught a 3-yard touchdown pass from Ponder, showing what kind of a red-zone threat he could be. It seems unlikely the Vikings would keep six receivers, unless they only went with two quarterbacks, so they might have to decide between two players who spent all of last season on their roster. Another factor here could be the Vikings' impression of Webb as a run blocker; Burton has fared well there in the past, and in the Vikings' offense, a receiver's ability to block downfield for
Adrian Peterson
will always be important.
August, 26, 2013
8/26/13
12:15
AM ET
If
Christian Ponder
's preseason is done, at least he saved his best work for his closing act.

Ponder went 7-of-9 for 48 yards on his final drive during the
Minnesota Vikings
'
34-14 loss
to the
San Francisco 49ers
on Sunday night, directing a 12-play, 78-yard drive that ended with a 3-yard touchdown pass to
Joe Webb
on a fade route. It was as assertive and accurate as Ponder has looked all preseason, and though most of his completions were underneath the 49ers' coverage, he converted two third downs (one on a 7-yard scramble, the other on his touchdown to Webb), and the scoring pass was Ponder's second of the night. It helped him finish with his best stat line of the preseason -- 17-of-23 for 116 yards, two touchdowns and an interception -- but it also dressed things up after another ragged start for Ponder.
On the Vikings' first play, he threw too far out in front of
Greg Jennings
, who was in single coverage against a safety, on a deep ball off play action. He threw incomplete to
John Carlson
on second down, and fumbled on third down after
Ahmad Brooks
beat
Phil Loadholt
and sacked Ponder. It took the Vikings four series to get a first down, and on their first sustained drive of the night, Ponder floated a couple of high passes -- one caught by Jennings, the other caught by
Stephen Burton
out of bounds -- instead of driving the ball downfield.
He finished the night with an average of 5 yards per pass, not unlike much of the work he did last season, and while the night again came with a significant caveat --
Adrian Peterson
was on the field for just two plays -- Ponder had opportunities to connect on a few big throws that he didn't hit. He'll likely sit out the Vikings' final preseason game Thursday night, which means fans will head into the regular season relying more on faith than concrete evidence that Ponder is progressing.
Here's a rundown of the rest of the night:
It wasn't a good night for the Vikings' secondary. Chris Cook left the game with a groin injury (no small thing, considering all the trouble Cook has had staying on the field) and Josh Robinson spent much of the night dealing with the attention 49ers quarterback Colin Kaepernick paid to him. Kaepernick targeted Robinson four times on a 84-yard touchdown drive, hitting rookie Quinton Patton for a 19-yard gain in the slot against Robinson and connecting with Patton on a 5-yard touchdown after two completions to Marlon Moore against Robinson. If Cook is out for any length of time, the Vikings' big gamble in the secondary could become even riskier with Robinson and rookie Xavier Rhodes starting.
Defensive tackle Kevin Williams left the game with a knee injury after a chop block in the second quarter and will have a MRI on Monday. Early indications are that the injury isn't serious, but defensive end Jared Allen was ticked about the low hit; interviewed on TV he called it a dirty play. Sharrif Floyd also is out for the rest of the preseason after a chop block caused him to have a minor knee operation, and Christian Ballard is still away from the team because of personal issues. The Vikings' lack of depth at defensive tackle, at the moment, looks a bit unnerving.
The Vikings' offensive line had another uncharacteristically bad night. Loadholt offered little resistance to Brooks on Ponder's fumble, and was later flagged for holding. And left tackle Matt Kalil had a pair of unnecessary-roughness penalties, earning one after he joined a shoving match between Brandon Fusco and a 49ers player. Coach Leslie Frazier had to sit Kalil down for a play to cool him off, and after Kalil sustained a knee injury in a poor performance in the Vikings' second preseason game, tonight wasn't a good follow-up.
On Ponder's interception, Burton stopped early on a crossing route and was a step shy of catching the pass. Burton's had a strong preseason, but Ponder's interception might have been a completion had Burton finished his route.
Webb, the former quarterback who is competing with Burton for one of the final receiver spots, provided another reminder of why he might fit in as a pass-catcher. He did a nice job on his touchdown, going up for a jump ball and pulling down Ponder's pass in the corner of the end zone. With his size, strength and leaping ability, Webb could be a nice weapon in the red zone.
As promised, Desmond Bishop got plenty of work, playing with the Vikings' first-team defense in the first half and remaining in the game with the No. 2 defense in the second half. He gave up a catch to Moore when Kaepernick stepped out of the pocket and drew Bishop toward the line of scrimmage, but Bishop stopped Kendall Hunter for a loss and made a nice open-field tackle of D.J. Harper in the fourth quarter. Though he's still struggling somewhat in pass coverage, Bishop can help the Vikings' run defense, and he looked more assertive Sunday than he did against Buffalo.
Before he left with his injury, Cook made an impressive tackle of Chad Hall, coming across the field to drag down the receiver after a four-yard screen pass.
Chad Greenway sold the 49ers on the idea that he was rushing before dropping back into coverage on his second-quarter interception of Colt McCoy. The turnover set up the Vikings' first touchdown, when Ponder hit Zach Line -- who turned a screen pass into a 61-yard touchdown in the Vikings' first preseason game -- for a 1-yard score.