Minnesota Vikings:

T.J. Lang
October, 6, 2014
Oct 6
8:30
AM ET
MINNEAPOLIS -- As difficult as it is to pick the toughest challenge of all the formidable offenses the
Minnesota Vikings
have faced during the first five weeks of the 2014 season, the
Green Bay Packers
might have earned that distinction.
When the Packers are at the peak of their powers, they combine one of the game's best quarterbacks in
Aaron Rodgers
with 24-year-old
Eddie Lacy
, a battering ram of a running back that requires extra attention from defenses and creates opportunities for Rodgers to burn defensive backs off play action. The Packers' running game hadn't complemented their quarterback very effectively before Thursday night, but as a powerful running game found its stride for the first time in 2014, the Vikings' defense was flattened in the process.
Coach Mike Zimmer seemed more upset with the team's run defense than any other aspect of the game on Friday, pointing out the times he saw players "freelancing" on film and not staying committed to a scheme that would have choked off running lanes if defenders did their jobs. The Packers ran for 156 yards on 28 carries, with Lacy picking up 105 yards and two touchdowns on 13 attempts. Rodgers was there to sting the Vikings every time they committed an extra defender to the run, firing his 66-yard touchdown to
Jordy Nelson
after a play-action fake got safety
Robert Blanton
and the Vikings' three linebackers to cheat up.
The Vikings spent their first six defensive plays in nickel, and Lacy ran for 58 yards on four carries in those plays. Then, on the Vikings' first play in their base package, Rodgers found
Randall Cobb
in single coverage against
Captain Munnerlyn
, hitting him for an eight-yard touchdown on a corner route.
Here are some other observations from a film review of the Vikings' defense during the Packers' 42-10 win.
The Packers' guards -- T.J. Lang and Josh Sitton -- make their running game work, but it was rookie center Corey Linsley who might have done the most to neutralize defensive tackle Linval Joseph, who probably had his worst game of the season. Sitton cut Joseph on Lacy's 18-yard run in the first quarter, and it was Linsley winning matchups with Joseph on back-to-back nine- and 10-yard runs in the third quarter. Joseph also missed a tackle on James Starks' 17-yard run in the third quarter. Lacy averaged a league-high three yards after contact per carry, finishing several runs by pummeling defensive backs Xavier Rhodes and Robert Blanton.
Zimmer had enjoyed success against Rodgers as the Bengals' defensive coordinator thanks to his ability to confuse Rodgers on blitzes, and the one he dialed up on Sharrif Floyd's first-quarter sack might have been his best of the night. The Vikings showed a double-A gap blitz with Anthony Barr and Gerald Hodges on third-and-9, but Barr dropped back into coverage as Harrison Smith surged around the right side of the line unblocked. Rodgers evaded Smith and Brian Robison, keeping the play alive for 5.91 seconds, but never got a chance to look downfield before Floyd wrapped him up. It was a rare moment for Zimmer's blitz package, though; he only sent extra pressure on five Rodgers dropbacks, and Rodgers hit 3 of his 4 passes for 62 yards against the blitz.
Rhodes had one of his better days of the year, allowing just 2 completions on 4 targets and breaking up a long throw to Nelson after he got turned by Nelson's initial move.
Barr also was more reliable in pass coverage than he's been early this season; he helped take away Rodgers' checkdown options before Everson Griffen brought the quarterback down for a second-quarter sack.
November, 21, 2013
11/21/13
3:35
PM ET
EDEN PRAIRIE, Minn. -- Though the headlines in the past five years of Vikings-Packers matchups have been dominated by quarterbacks from both teams (Brett Favre vs.
Aaron Rodgers
in 2009 and 2010,
Christian Ponder
's debut as a starter in 2011, and the biggest win of his career against Rodgers in 2012), defensive end
Jared Allen
has been a constant presence for the Vikings. And in the games Minnesota has won, Allen has often been the equalizer.
His first game with the Vikings was the same as Rodgers' debut with the Packers, when Allen talked during the week about how he wanted to "put my helmet square in the back of (Rodgers) spine" and left Lambeau Field without a sack or a tackle. But in a 28-27 win that November, Allen's sack of Rodgers for a safety was the difference.
[+] Enlarge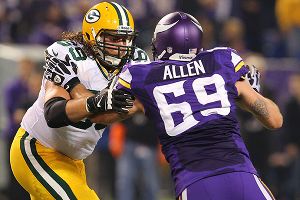 Adam Bettcher/Getty ImagesJared Allen has had some memorable games against the Packers, but was shut down by Green Bay's David Bakhtiari in October.
And though Favre's revenge against the Packers as a Viking was the main storyline the next year, Allen made it possible, blowing through backup tackles
Daryn Colledge
and T. J. Lang to sack Rodgers 7 1/2 times in two games, forcing another safety in the Metrodome when Rodgers was called for intentional grounding. Even last December, when the Vikings beat the Packers 37-34 to reach the playoffs on the final day of the season, Allen recovered Rodgers' fumble to set up a third-quarter touchdown.
Allen has recorded 15 1/2 sacks in 11 regular-season games against the Packers, and before last month's game at the Metrodome, he'd only been held without a sack in two games against Green Bay. But Packers rookie
David Bakhtiari
shut him out in Green Bay's 44-31 win last month, and as Allen goes to Lambeau Field for possibly the final time as a member of the Vikings, he won't be chasing Rodgers, with whom he's developed a friendship and mutual respect over the years.
Instead, it will be
Scott Tolzien
at quarterback for the Packers, filling in for Rodgers against a 2-8 Vikings team with seemingly little to play for. Allen has just five sacks this season, and will hit free agency in a few months. It doesn't seem like the way his time in the Vikings-Packers rivalry should end, which is perhaps why Allen was trying to rekindle some of the old fire when talking about the matchup on Thursday.
"Obviously at 2-8, you're trying to ruin everybody else's season as well as yours, right?" Allen said. "So, they say, misery loves company. I hope this year no one makes the playoffs. So, it's a division rival, going to win in Green Bay. I think it's one of those places where it don't matter what our record tends to be, but if we went up there and beat them in Green Bay, we got a little bit of bragging rights, especially after the whooping they gave us here. I try to tell our guys, 'Heck, every week is like our Super Bowl.' You go up to Green Bay, you might as well treat it as such, as a playoff game, and spoil their dreams along with whatever they're trying to get accomplished."
Allen called Lambeau Field one of his favorite road venues, along with his former home stadium in Kansas City, and Oakland ("That stadium's terrible, but I'm from the Bay Area," he said). He'll likely play in Lambeau again, but possibly not as a central figure in a major rivalry.
"There's a lot of history there. I'm just a fan of the game, so a fan of just playing on the same field, the same stadium a lot of those greats played," Allen said. "Their crowd is cool. It's just a fun atmosphere to play in. I've never played there as the home team, obviously. But playing there over the years, it's great. It's always fun and competitive games, the weather, outdoor football, it's kind of throwback football in this age of, even though they're an up-tempo, throw-it-first, but that atmosphere of Lambeau just kind of reminds you of this is some old school football. If it snows, we're still going to play."
And is he happy not to see Rodgers? "Yeah, I guess, after what he did to us last time. I like playing against Aaron though. It's fun to play against top-quality guys.
"People always say they want people at their best, I'm going, 'Fine, I'll take them at their weakest.'"