Minnesota Vikings:

Walter Payton
December, 27, 2013
12/27/13
5:35
PM ET
EDEN PRAIRIE, Minn. -- Even before Friday's news that he would be listed as doubtful for the final game of the
Minnesota Vikings
' 2013 season, this year would have to qualify as a trying one for
Adrian Peterson
. The reigning NFL MVP began with talk of breaking
Eric Dickerson
's season rushing record after falling just 8 yards short last year, and his team had aspirations of a deep playoff run after a surprising 10-6 finish in 2012.
[+] Enlarge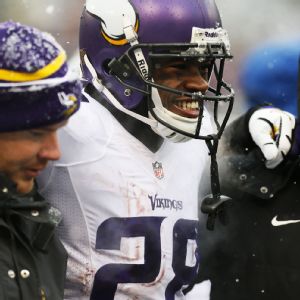 Mitch Stringer/USA TODAY SportsHistory suggests that Adrian Peterson, who will be 29 at the start of next season, may have peaked as a running back.
Only time will tell whether Peterson's 2013 season was an injury-induced fluke, a regression to the mean or the toll of a heavy workload catching up with him. And it's not like he's had a bad season. Assuming he doesn't play Sunday, Peterson will still, in all likelihood, finish among the league's top five or six rushers, despite carrying just 18 times in the Vikings' final four games. He had a shot at his second straight rushing title despite playing much of the year with nagging hamstring, groin and foot injuries that sapped his breakaway speed and made Peterson, by his own admission, run tentatively at times.
But time won't give Peterson -- or the Vikings -- this year back, and by the next time he steps onto a football field, he'll be 29 years old, gearing up for the first of two seasons outdoors. The Vikings' next indoor home game will come when Peterson is 31 years old in 2016. In light of all that, it's not hard to feel a lingering sense that Peterson's time as an elite running back might be slipping away.
History certainly doesn't play in his favor. Peterson has run for at least 1,300 yards in four of his seven NFL seasons; since the 1970 AFL-NFL merger, only 11 running backs have run for at least 1,300 in a season. The number of 1,300-yard seasons by a 30-year-old running back drops to nine, and by age 31, it's down to five. Only one running back since the merger -- Walter Payton in 1986 -- has run for more than 1,300 yards at age 32, and Payton is the only one even to eclipse 1,200 yards at that age.
Peterson's 1,266 yards are the 20th-most by a 28-year-old running back, behind lesser lights like William Andrews, Christian Okoye and
Terry Allen
. None of those players eclipsed 1,300 yards again after their age-28 season, and only Okoye posted another 1,000-yard season.
Peterson has much more in common with thoroughbreds like
Emmitt Smith
,
Barry Sanders
and Payton, and all three had seasons between the realms of great and dominant after they hit 29; Smith hit 1,332 yards at 29 and 1,397 at 30, Payton ran for at least 1,300 yards each year from 29 to 32, and Sanders had his MVP-winning, 2,053-yard season at 29 before running for 1,491 at 30 and then calling it quits.
But let's say Peterson can do that. He'll still have to carry a Vikings team that could be breaking in another new quarterback, and he'll have to play the next two seasons outdoors, where he's averaged about a quarter yard less (4.84) a carry in his career than he has indoors (5.08), according to ESPN Stats & Information. The running back has made no secret of his disdain for playing outdoors, and while bad weather might limit passing games, it can also slow down backs looking for big gains.
These numbers won't be popular with Vikings fans -- and probably not with Peterson, who enjoys few things more than excelling in the face of long odds. But Smith, Sanders and Payton enjoyed defying the odds, too, and time eventually caught up with all of them; Payton retired after a 533-yard season at age 33, while Smith never averaged more than four yards a carry after 32.
There's strong statistical evidence that elite seasons by a running back become increasingly rare after the age of 28, and even if Peterson can crank out a few more, the Vikings can't count on him being in a stratosphere of his own for much longer. That they couldn't do more with his age-28 season has to register as a disappointment.
December, 1, 2013
12/01/13
9:10
PM ET
MINNEAPOLIS --
Adrian Peterson
had just gotten done with his second consecutive game of more than 30 carries, lugging the ball a career-high 35 times in the Vikings' overtime win over the
Chicago Bears
. He had run for 211 yards -- the fourth-most of his career -- despite playing another game with a strained groin that again appeared to keep Peterson from breaking away when he had the chance. And as usual, Peterson wanted more.
"I condition real hard, and actually, I get stronger as I go," Peterson said. "I could have went for 50, maybe 55 carries."
[+] Enlarge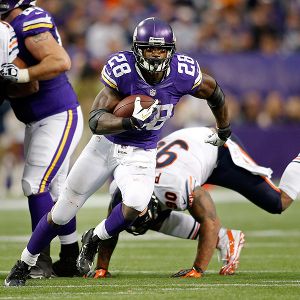 Bruce Kluckhohn/USA TODAY SportsDespite battling a groin injury, Adrian Peterson had his best rushing day of the season, racking up 211 yards.
Peterson's belief in himself is almost purely based in can-do optimism, but it only crosses over into defiance when it's suggested to him that something might have been difficult. It's what made him the third-fastest running back in NFL history to rack up 10,000 yards on Sunday, in just his 101st career game. Only Jim Brown and
Eric Dickerson
reached the plateau sooner. And when Peterson was asked what he would have said if someone had told him at age 16 what he'd do, he said his reply would have been, "You're right.
"I would have believed it," he said. "This has been my mindset since I was young, to be the best to ever play. You have got to believe it in order to accomplish it. So if you had told me that, I would have been like, 'Hmm, he is thinking what I'm thinking."
Peterson has a long ways to go to reach the lofty records he wants to hit, but in a season where he's been hampered by leg injuries, he's got 1,208 yards through 12 games. That might register as a disappointment after Peterson talked of following up a 2,097-yard season with 2,500, but he's still on pace for more than 1,600 yards this year, and could win another NFL rushing title.
It also helps that the Vikings seem to have no plans to marginalize Peterson. They are now 5-0-1 in games where he's carried at least 30 times, and coach Leslie Frazier said, "I can't imagine ever getting away from Adrian being the featured guy in the offense, so long as we can put some more pieces around him."
Frazier played with Walter Payton, and hesitated when asked if he thought Peterson could be the greatest of all time.
"In raw numbers, sure," Frazier said, before adding, "We watched Mr. Payton play, and I've talked to Adrian about that a few times. Adrian is, in today's football, the best running back in pro football. Walter, he's pretty special. That would be a good argument to have."
Peterson seems intent on forcing his way into that argument. Has for a long time, actually.
"Jim Brown [and] Eric Dickerson are the guys that I looked up to, the guys that motivated me to be better than them," he said. "I still have a long ways to go. I've reached this mark and it's great, but I still have a long ways to go to surpass those guys, and that is what I look to do."