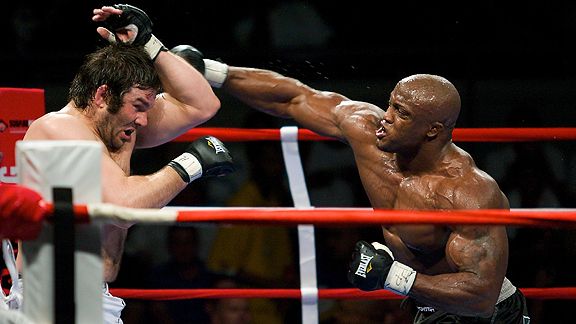 Fightwireimages.com
Expect more of this from Bobby Lashley when he returns to the ring on Friday.
Inflatable Bobby Lashley will attempt to build on his 2-0 MMA career at Friday's Maximum Fighting Championship (airing live on HDNet at 10 p.m. ET) when he meets 7-3 athlete Mike Cook.
Numbers, as usual, only tell some of the story: Cook recently had a very auspicious loss to Ruben "Warpath" Villareal, a professional narcoleptic who hasn't beaten a fighter with a winning record since 2005 …
… unless you count Cook himself.
If Lashley beats him, Cook could wind up going 0-2 against former WWE performers: he lost to Daniel Puder in 2006.