No Reem? Consider these guys for JDS
April, 6, 2012
4/06/12
11:51
AM ET

By Chuck Mindenhall
ESPN.com
Archive
Another day, another hot urine test, another busted main event ... and, alas, another (potential) domino sequence. So continues life in the mixed martial arts.
This time it's
Alistair Overeem
who raised the red flag, the very same Overeem who eluded such conflict ahead of UFC 141 by simply skipping a mandatory drug test. If nothing else, this is a man who knows how to poke at the chest of scrutiny. Overeem showed up March 27 for the UFC 146 hype conference in Las Vegas apparently unaware that this could be a perfect moment for the Nevada State Athletic Commission to spring a "random" test on him (part of the deal from the
Brock Lesnar
fight fallout). Out of six heavyweights tested, only Overeem's came back positive. His testesterone/epitestosterone registered a 14:1 ratio, more than double the particularly generous threshold in Nevada of 6:1.
So much for the biggest fight of his career. And all that promotional material the UFC was creating, the big pay day, the belt he could have added to his collection? Moot.
As Dana White said upon hearing the news, he doesn't have a plan B. Meaning, at least at the time of this writing, waiting out Overeem's "B" sample becomes the plan B by default. Problem is, those results could take a couple of weeks to get back, and "B" samples rarely contradict "A" samples anyway. But the show must go on. White has said that dos Santos will defend his title at UFC 146 whether it's against Overeem or somebody else.
In other words, it's time to speculate into these somebody else's, and -- just for theatrical value -- assess their chances in carefully considered odds.
Frank Mir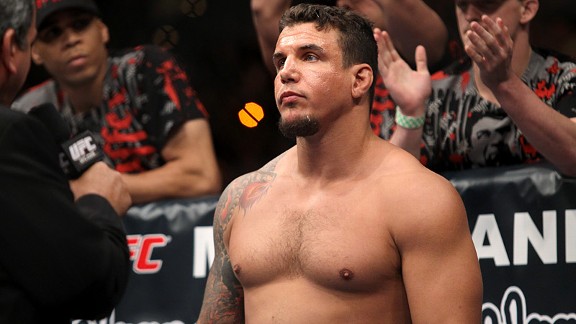 Ed Mulholland for ESPN.comFrank Mir made it clear he'd be willing to challenge for the heavyweight title if need be.
The NSAC's Keith Kizer sent out the mass email at 4:40 p.m. ET with the results of the UFC 146 news conference tests. Twitter went wild. At 6:15 ET, Mir released a statement via email saying, "I would be excited if given the opportunity to compete for the UFC's heavyweight title at UFC 146 if the reports released earlier today regarding Alistair Overeem failing his "A" sample drug test are true." Mir went on to say it's a dream of his to be the first three-time champion. He swooped in quicker on a dangling title shot than he did on Antonio Rodrigo Nogueira's ill-placed limb.
His case:
How many times have we heard Dana White say he admires it when guys step up? That's what Mir's doing. A no-hesitation lobby job, knowing that out of the full panoramic spectrum of heavies he has the best credentials to get the shot, having won three in a row. He also snapped dos Santos' friend Big Nog's arm, which makes him a sort of dark cloud gathering over the champion.
Chances of him getting it:
2-1
Cain Velasquez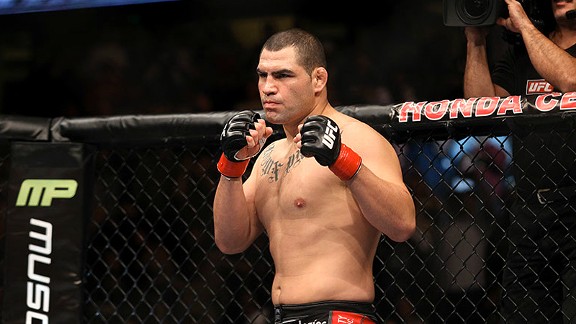 Ed Mulholland for ESPN.comWould a fully healthy Cain Velasquez fare better in a rematch with JDS?
Velasquez had the belt for 13 months, but lost it in the 64th second of his first title defense against dos Santos. How's that for anticlimax? Though a rematch between Velasquez and dos Santos might appear sort of uninspired, the fact is, there were conditions.
His case:
Velasquez was dealing with a bum knee that night in November, but couldn't back out of a fight that was hyped as the biggest thing since Frazier/Ali across FOX platforms. It was a red carpet affair, the long-stemmed aperitif to the seven-year network deal, the bonus bout meant to tempt the semi-curious masses into peeping. Whether coaxed or not, he went through with it, and lost. Everybody knows we didn't see the best Cain Velasquez that night, just as everybody knows we probably would this time through.
Chances of getting it:
3-1
Mark Hunt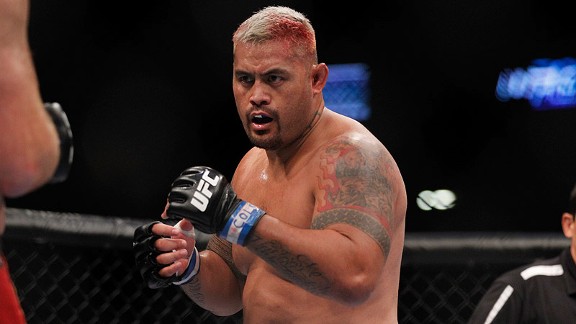 Ross Dettman for ESPN.comBack in the hunt: Could Mark Hunt be in the running for a shot at Junior dos Santos?
It seems ridiculous to even type Mark Hunt in this space, but Hunt is a fan favorite and a surprisingly popular choice for the gig. Have people lost their marbles in wanting to see a resurrected 38-year old New Zealander step in there with the champion? Is this not a meritocracy? The answer is no: This is a pinch. And so long as Hunt is a nice guy, a long-shot Cinderella and a bad basher to boot, he'll get the sentimentalist's vote. We're a nation of softies.
His case:
Hunt was a liability to the UFC when he came over, a barnacle on the Pride purchase. Hunt lost to Sean stinking McCorkle in his Octagon debut, further exacerbating the situation. Then the unthinkable started happening. Hunt knocked out
Chris Tuchscherer
, decisioned
Ben Rothwell
, and then flattened
Cheick Kongo
. Talk about resuscitation! And here we thought we had lost him.
Chances of getting it:
15-1
Dan Henderson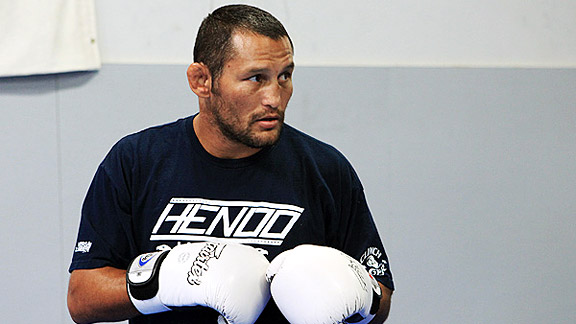 Sherdog.comDan Henderson has never been one to pass on a challenge -- or a big payday.
Henderson as a candidate sort of slowly dawned on people. It went like this -- "Henderson? LOL!" to "isn't he waiting for
Jon Jones
-
Rashad Evans
to play out?" to "you know something, that dude's batty enough to do it" to "Hendo would plant JDS into the soft earth!" The truth is, Henderson has flirted with the idea of fighting at heavyweight -- which he's done before, most recently against
Fedor Emelianenko
in Strikeforce -- and he doesn't concern himself with the usual neuroses of modern day fighters (short notice, size discrepancies, JDS's mangling hooks). Why? You tell Henderson he can't do something, he gets defiant. It's his most admirable trait. And he likes money, which is his more cliché one.
His case:
Besides willingness? He wouldn't have to cut weight. He could still feasibly keep his spot in line at light heavyweight regardless of outcome with the relative meshing of schedules and the dearth of viable contenders behind him. Remember that he fought
Quinton Jackson
(205) and
Anderson Silva
(185) in back-to-back title challenges in 2007-2008.
Chances of getting it:
12-1
Fedor Emelianenko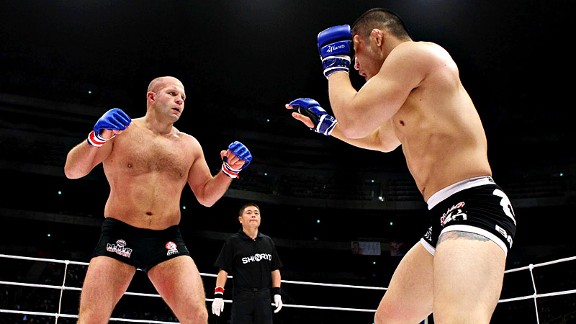 Susumu NagaoFedor might have the same aura he once had, but he still has the legions of fans.
This is more of a fan's choice than a UFC one. Dana White reluctantly gave into the idea of signing Emelianenko a couple of years ago, offered him wheelbarrows of cash that would turn other comparable fighters faces purple with rage, and was rebuffed. White's assessment then -- that Fedor's people were crazy and crooked -- is probably his assessment now. Negotiations between M-1 and the UFC ride along the Cold War divide. But given that White's running refrain has always been to give the people the fights they want to see, you can't just accept it as impossible. Fedor still has his legions. He still sells.
His case:
What, beating
Jeff Monson
over the course of three rounds doesn't say it all? Flattening
Satoshi Ishii
doesn't carry the right momentum? The "Last Emperor" and a million loyalists care what you think. And besides, the idea of Fedor against
Junior dos Santos
has something beyond novelty appeal. In the spirit of a fight, it has actual curiosity.
Chances of getting it:
About the same as the Ukraine opening up Chernobyl as a tourist attraction next week.