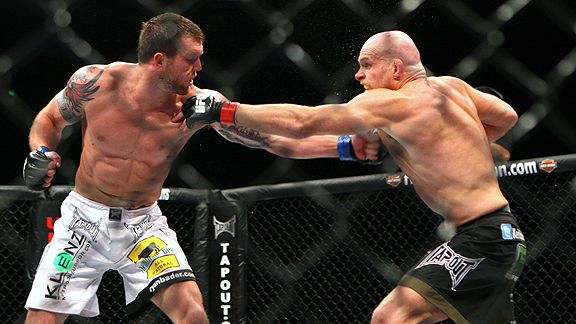 Daniel Herbertson for ESPN.com
Do or die: Keith Jardine, right, is fighting for his place in the UFC on Saturday.
If there's one story that stands out among the weekend's six hours of fight programming, it's the idea of Keith Jardine having one foot on the mat and the other dangling off the cliff.
Jardine, an "Ultimate Fighter 2" runner-up from 2005, has had his share of quality wins. He knocked out Forrest Griffin, decisioned Chuck Liddell and shut down a prospect in Brandon Vera.
But the Vera bout was nearly two years ago, and it represents Jardine's last win. He's 0-3 since, including two stoppage losses. If the UFC has a violence quota, he's falling pretty far down the leaderboard.
Loss No. 4 against Matt Hamill on Saturday would be in pretty flagrant violation of Octagon expectations. Jardine doesn't need a pretty win -- he rarely delivers one, anyway -- but he does need to defend his job. If he fights like he's aware of that, he could be involved in one of the weekend's better bouts.
What: "The Ultimate Fighter 11" finale, a nine-bout card from the Pearl at the Palms in Las Vegas, live on Spike at 9 p.m. ET Saturday; World Extreme Cagefighting 49, an 11-bout card from Rexall Place in Edmonton, Alberta, live on Versus at 9 p.m. ET Sunday
Why you should watch: Because the "TUF" card has at least two go-for-broke fighters in Chris Leben and Spencer Fisher; because you're either looking for Jamie Yager to deliver a beating or sustain one; because on the WEC's end, Jamie Varner and Kamal Shalorus can only disappoint if the arena power goes out; and because doing anything but watching television is highly overrated.
Fight of the weekend: Varner-Shalorus. Varner is looking to rebound from a tough loss to Ben Henderson and Shalorus looking to top off his unblemished record with a win over a valued name in the WEC's 155-pound division.
Hype quote of the shows: "It's like looking in the mirror. We're the same size. He likes the weights, I like the donuts; but everything else, we're pretty much even on." -- Fisher, on opponent Dennis Siver, to UFC.com.
Five questions: "Ultimate Fighter 11" finale and WEC 49
Q: Is winning "The Ultimate Fighter" still a big deal?
A: Despite the learn-as-they-go production nature of "The Ultimate Fighter" in its early seasons, the series still managed to produce a sizable number of relevant athletes in different divisions. Season 1 winner Forrest Griffin held the light heavyweight title and Josh Koscheck contends for a belt soon. Season 2's Rashad Evans has only lost once and Michael Bisping is a valuable U.K. headliner.
Get past the first three seasons, though, and that roster support begins to thin out. Nate Diaz and Mac Danzig have been on the bubble; Ryan Bader looks like a monster but hasn't proven it against top competition yet. The stigma of being a "reality TV fighter" may be over, but with as many disappointing winners as contenders, it hasn't been replaced with anything else.
Q: What is Mark DellaGrotte going to do for Spencer Fisher?
A: There are two outcomes to uprooting your life and submitting your body to a new training camp. You'll either benefit from the new environment, or you'll be contorted into a style that doesn't suit you.
In packing his bags for DellaGrotte's gym in Massachusetts, Fisher is going to be exposed to a lot of kickboxing. A heavy-handed slugger by trade, he'll either add to his ammunition or confuse and dilute the talent that brought him three straight wins before a loss to Joe Stevenson in October.
Q: Is Jamie Yager a product of reality television's influence?
A: Who can know the real Yager? Due to either strategic editing or strategic posturing, Yager came off as the star antagonist of "The Ultimate Fighter," a role that's led to recurring employment for past instigators like Junie Browning and Josh Koscheck.
It's gotten to the point where the past rewards for bad behavior have to have some influence on cast members that follow. If Yager is secretly working soup kitchens in his off-hours, it's another bit of evidence that reality television is only as real as producers allow.
Q: Is the WEC's 155-pound class creating consumer confusion?
A: Unless casual fans sit down to think about it, there's a real redundancy in having two Zuffa-endorsed 155-pound champions on television. In a WEC pay-per-view (without a trace of the WEC brand) last month, Benson Henderson retained his title, while a month prior, Frankie Edgar obtained the UFC's 155-pound title. Are we supposed to value one more than the other?
The UFC's spinoff promotion works when it's clearly distinguishable from its bigger brother, namely highlighting the 145-pound-and-under weight divisions. Having Henderson and Edgar carry two belts only winds up tarnishing both.
Q: Is weight cutting out of control?
A: Josh Grispi, who fights L.C. Davis on Sunday, is a 145-pound featherweight who can ride any theme park attraction he wants. He walks at 172 pounds, larger than some lightweights. While cutting 25 pounds isn't unusual for bigger men, slicing that much off your weight when you're in the WEC's lighter divisions is some kind of feat.
Grispi is only playing the system to his advantage, but his body's ability to endure that kind of radical recomposition gives his opponents another problem. Dehydration might be winning as many fights as skill.
Red Ink: Hamill versus Jardine
More than anyone in the UFC's 205-pound division, Jardine represents the idea of a blue-collar laborer. He alternates wins and losses with regularity, he's a muted presence in media and his style is completely without grace. Compared with the hyper and video game-influenced performances of some of his peers, Jardine is the fighter equivalent of an art film.
Hamill isn't much of a contradiction. A wrestler from Utica, he's engendered some ready-made affection for the perception of a deaf athlete overcoming adversity in a highly dangerous career. That wrestling pedigree usually goes out the window when he chooses to stand up, which would likely be Jardine's preference.
It's not a high-profile fight, but fans may find more to recognize in both than in the athletes finding fame and fortune further on up the ladder.
What it means:For Hamill, a chance to wash out the taste of a disqualification "win" against Jon Jones; for Jardine, a chance to escape the heat of four straight losses and the real threat of being given his walking papers.
Wild card:The vague idea of a cracked chin being an unreliable chin. Jardine has been put down in two of his last three.
Who wins: Hamill's grindhouse striking style is a perfect fit for Jardine, but he can take the fight into his waters on the ground anytime he wants. Hamill by TKO.
Red Ink: Varner versus Shalorus
Excuses are as necessary in fighting sports as cups and hand wraps, but some resonate more than others. When Varner fought Henderson in January, most expected his takedown defense and striking to be to his advantage. Instead, Henderson skyrocketed his career by sinking a choke in the third.
Either Henderson is that much better or Varner's personal issues -- his mother was diagnosed with cervical cancer prior to the fight -- affected his thinking. Whatever the case, Varner has a chance to reassert himself as a contender for Henderson with a win over Shalorus, an undefeated boulder of a wrestler who plans to match his tenacity with Varner's A-minus striking game.
What it means:A likely crack at Henderson's title.
Wild card:Shalorus, 7-0, is getting an expedited trip to the upper level of the WEC's lightweight division, but he might not have cured all of the mistakes that come from a handful of trips to the ring.
Who wins:Varner has too many tools for Shalorus. If his head is on straight, Varner takes it via decision.