How will 'TUF Live' deal with Cruz injury?
May, 9, 2012
5/09/12
5:04
AM ET

By Chad Dundas
ESPN.com
Archive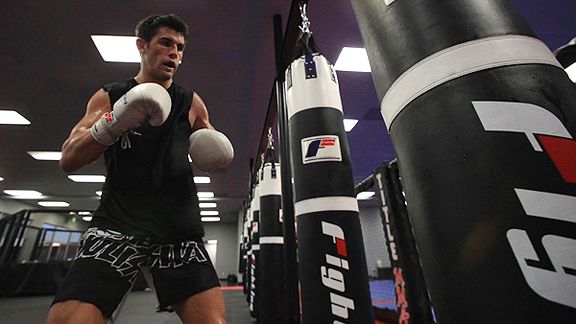 Dave Mandel for Sherdog.com After two knee operations, Dominick Cruz has been cleared by doctors to do some training.
We've already noted that
Dominick Cruz
was the only guy
to truly capitalize on the new live format of "The Ultimate Fighter"
this season. Now, it appears he could become a test case for how the show responds to real, actual drama.
UFC President Dana White confirmed via Twitter on Monday afternoon that the reigning bantamweight champion suffered a torn ACL while filming "TUF Live." The obvious result is, Cruz's upcoming grudge match against opposing coach
Urijah Faber
is off the UFC 148 card and the future of the 135 pound title, the division's first real rivalry and perhaps even Cruz's gig on the show are all in doubt.
So, yeah, pretty much the biggest bummer imaginable for TUF's first run on FX, which was already fetching disappointing ratings.
"Sorry to all the fans out there!" Cruz tweeted after news of his injury broke. "I WILL recover and I WILL be back to put on a show!"
If there's any upside at all to this, it's that now we might get to see how "TUF Live" responds to genuine adversity.
The cancellation of Cruz-Faber marks the third time in the show's last five seasons that some calamity has befallen a proposed fight between the coaches, but Cruz is the first coach to suffer a major injury during filming. Given this season's revamped format -- episodes are shot during the week, edited, then aired on Friday along with a live contestant fight -- that could make this week's installment the most interesting episode of "The Ultimate Fighter" in quite some time. Maybe ever.
If Cruz's injury occurred at the TUF training center, if footage exists of it, we'll all be curious to see how showrunners decide to play it. Considering the high probability that a Cruz injury would also throw the show and the UFC's planning into utter chaos behind-the-scenes, let's hope they give us a quality dose of that action as well.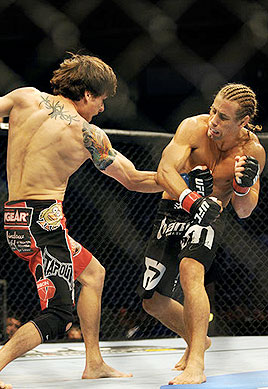 Rodd Mar for ESPN.comHow will the UFC handle Dominick Cruz's injury -- and the matter of finding Urijah Faber a foe?
The smartest way for the show to handle the situation would be to show the impact of Cruz's injury not only on the fighter himself, the TUF contestants and his prospective opponent, but to also show how matchmakers and UFC brass respond to it. Show us the discussions of what to do with Cruz's coaching spot. Show us the efforts to find a replacement for him to fight Faber and UFC 148.
There is already talk of setting Faber up with an interim title bout against
Renan Barao
, who was scheduled to take on
Ivan Menjivar
on the UFC 148 preliminaries anyway. A majority of MMA fans probably think that's the right thing to do -- best that the fledgling bantamweight division avoids delays and stagnation at all costs -- but it'd be interesting to see footage of how the UFC eventually comes around to the decision of how to handle this unfortunate situation.
That would necessarily give this episode of "TUF Live" a different feel and would be appointment viewing for most MMA fans. It might also give the show the kind of ratings boost it's been looking for all along.